If the family were a fruit, it would be an orange, a circle of sections, held together but separable – each segment distinct.  Letty Cottin Pogrebin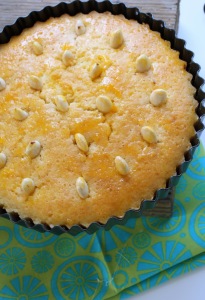 Baking is an obsession and I'm in love with it.  The basic cake is spruced up with freshly squeezed orange juice and  it's zest.  The freshness of the ingredients make this for a  light and irresistible dessert.  California is famous for their oranges, we find them everywhere.  Backyards are filled with trees blooming with oranges.  I'm one of those fortunate few, with friends who have a green thumb and a big heart to share their produce.  What can I do to thank them, I bake for them:)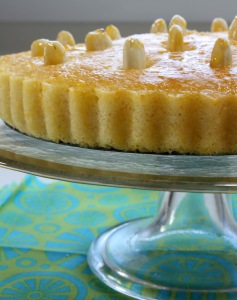 It's really funny how I sometimes relate a certain food to someone, it's rare though and this is one of those cakes.  This month is quite special to me, it's the birthday month of some of the people I adore,  my friend of  22 years is one very special gal.  A thoughtful friend, a great person, wonderful mom and one of  the most patient girls I know.   We don't talk often with our busy schedules but when we do, it's just so sisterly.  I'm infamous for calling on different dates to wish…every  year I call but just not on the day itself…..feel guilty(but am I the only one who does that??)…so this year has to be different(I vowed to myself)..Baked a cake to celebrate her birthday.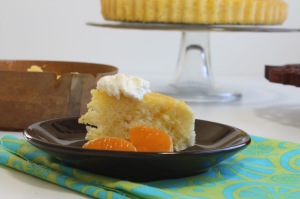 A simple, flavorful cake with very few ingredients and requires no bells and whistles.  Simply garnished with some peeled almonds and served with small dollop of whipped cream. You can make couple of layers, fill it with cream and frost,  and you have a grand cake to display for a special occasion.  Today, I let the cake speak for itself.  For my lovely friend…and my friends who keep the blog running…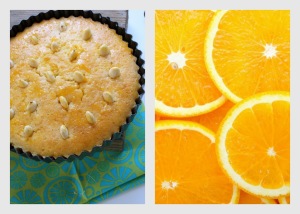 Orange Chiffon Cake - fresh and light
A fresh light airy cake which is low fat and easy to make.
Ingredients
1¼ cups All Purpose Flour
⅛ cup Cornstarch
11/4 cup Powdered sugar
2 tsp baking powder
3 large eggs separated
5 tbsp vegetable oil
6 tbsp Orange Juice
Zest of one whole orange
½ tsp orange extract(if you cannot find it, use vanilla extract, but I use orange extract)
pinch of salt
12 almonds soaked in hot water for 15 minutes and peeled for garnishing
Instructions
Preheat oven to 325 degrees.
Sift Cornflour+All Purpose Flour+baking powder+salt+ powdered sugar
Beat egg whites to soft peaks
Mix oil+yolks+orange juice+zest+orange extract
Add the dry ingredients, all purpose flour and everything with the oil, yolks, orange juice and zest. Mix well to incorporate everything.
Then fold in the egg white in 3 parts to incorporate well.
Pour in round pan and bake for 40-45 minutes in a 325 degree oven or until a toothpick comes out clean.
Let cool for 20 minutes before slicing
ENJOY..