Happy Ganesha Chaturthi to all who celebrate!!
It is one of the biggest festivals of India this week.  It is the birth of Ganesha, the Elephant God.  To me, I love the vibes that this festival brings.  I'm enamored with the colors and the mood it creates.
In short: Ganesha the Elephant God is always prayed at the beginning of anything important.  So, this week marks the beginning of the many more festivals.  Throughout India, this festival is celebrated in a grand manner.  Large twenty foot to small five inch idols are made with clay, painted intricately, and decorated.  The prep for this festival starts a couple of months before the actual day. Each household will have one particular style of Idol they will keep every year. They will bring Him with care and decorate Him with flowers. Food is key for this festival.  Ganesha is supposed to be a food lover, especially sweets.  You will see laddoos and modaks (sweet dumplings) prepared in every home in India.  Kids will visit neighbors to see how the others have decorated their Ganesha.  This festival can run anywhere from 1 to 10 days.  At the end of the festival, the idols are immersed in water, the sea, and lakes.  It's quite an emotional moment.  Until next year, they pray and send him off.
I absolutely love celebrating festivals here.  It makes me feel closer to home and the kids get to experience what I had when I was growing up.  They enjoy dressing up in new clothes, praying, attending the parties, and most of all, eating the food.
This year, it's Coconut-Cashew Chocolate Ladoos.  It's almost fudge-like and tastes amazing, a very quick and easy one. Check out what I made last year: Moon cake with Nuts.  Have a wonderful week everyone :).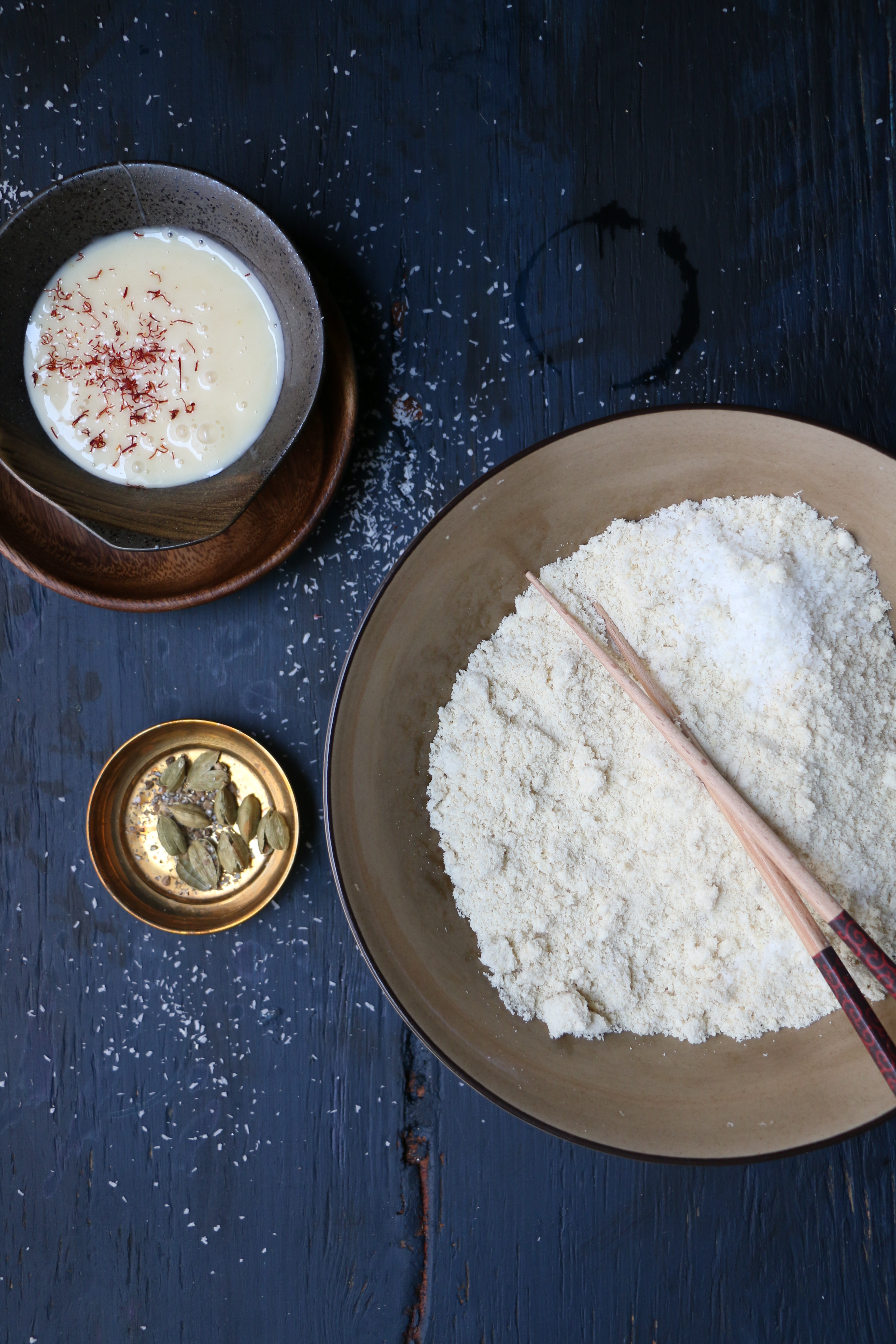 Coconut-Cashew-Chocolate Fudge/Ladoo
An easy simple 30 minute ladoo, with full of flavor
Recipe type:
Dessert, Sweets,
Ingredients
2 cups dessicated dry unsweetened coconut powder
2 cups cashew powder(not too fine, keep it coarse)
⅓ cup condensed milk
1//3 tsp cardamom powder
a pinch of saffron strands
2 tsp raw cocoa powder
2 tsp melted milk chocolate
1 tbsp butter
Some dessicated coconut to roll the fude/laddoo balls in.
Instructions
Heat a non stick pan. Add the butter and let it melt on low medium to low heat. Add the powdered cashews and keep stirring to toast everything. Do not brown it. Toast for 3-4 minutes.
Add the coconut powder, condensed milk and stir well to incorporate and cook for another 3-4 minutes on low heat/temperature.
Take the pan off the heat and add the cardamom, saffron strands and mix well.
Separate the mixture into 2 bowls. In one bowl add the cocoa powder and milk chocolate and mix very well.
Make round balls and roll in some dessicated coconut.
Stays good for 10 days in an airtight container, you could refrigerate it too. Just bring it to room temperature before serving.