This is my favorite recipe of Belgian Waffles that I've been making for years, and they are a winner.  They are crazy simple, yeast free, and it comes together quickly.  It is adapted from tasteofhome.com, and added the fruits and matcha to make these Fruity Belgian Waffles.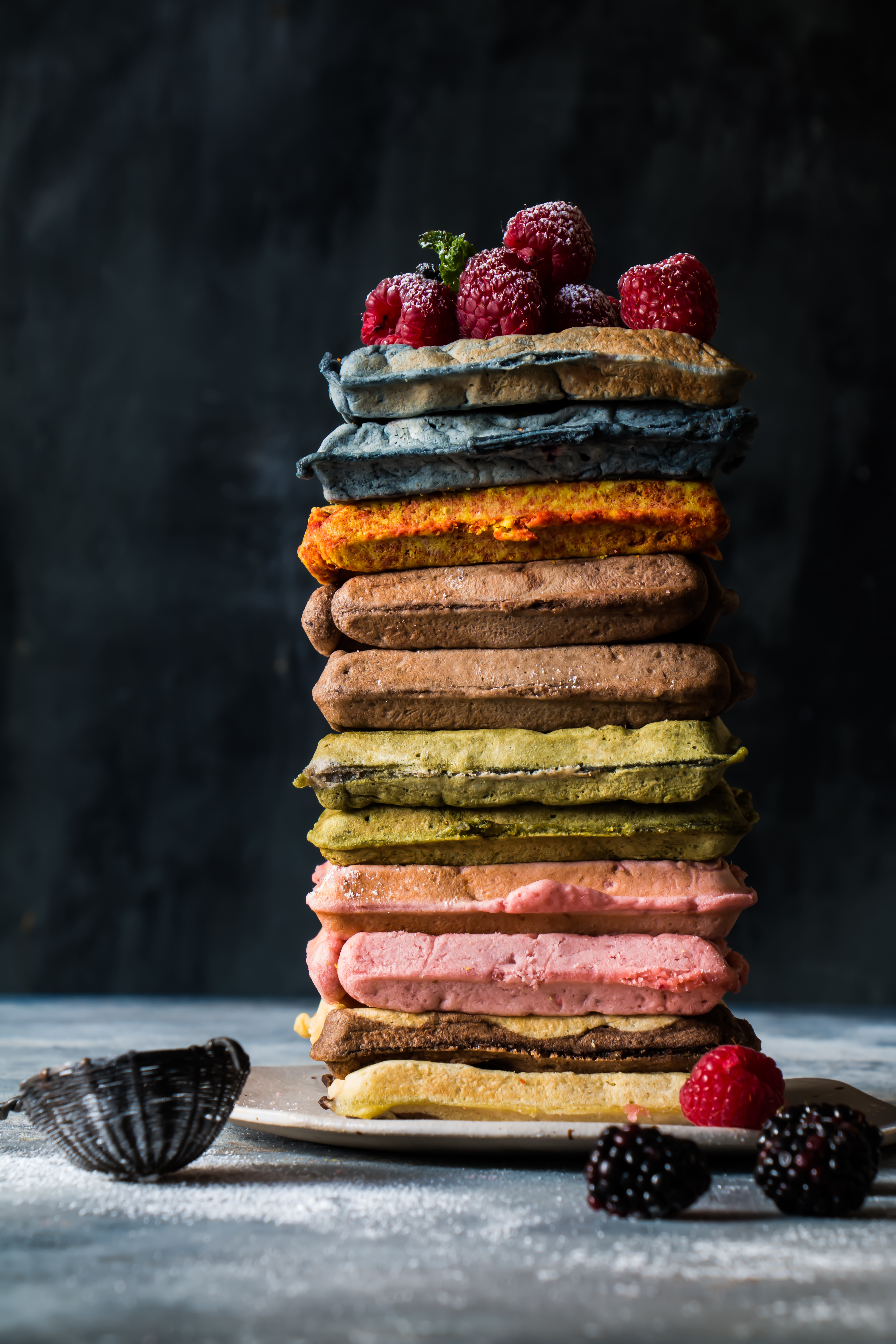 Hey hey, Spring is here.  Bay Area saw some beautiful weather, and some nasty rain when least expected. The drought crisis is finally over!
We made colorful waffles for National Waffle Day.
We love Waffles. One of my go to recipes for waffles is Ricotto whole grain waffles. We even named our puppy Waffles :).
After the first bite of these fruity waffles, there was a satisfaction in the eyes of the kiddos.  In fact, the colors made them smile even before they took a bite. Well, not all of them made the kids smile. There was an orange turmeric waffle that my little one nearly spit out in disgust. Suffices to say that that recipe is not included here.
My little one has been eating waffles for years, for breakfast.  Every single day.  He will have his eggs, or pancakes and then go back to toasting a waffle for himself.  A cousin of mine even jokingly nicknamed him Waffleboy :).
These waffles call for a party, just not for the kids, for the adults who are kids at heart.  What better time than on Easter weekend?!!
What are your plans for spring break and Easter weekend?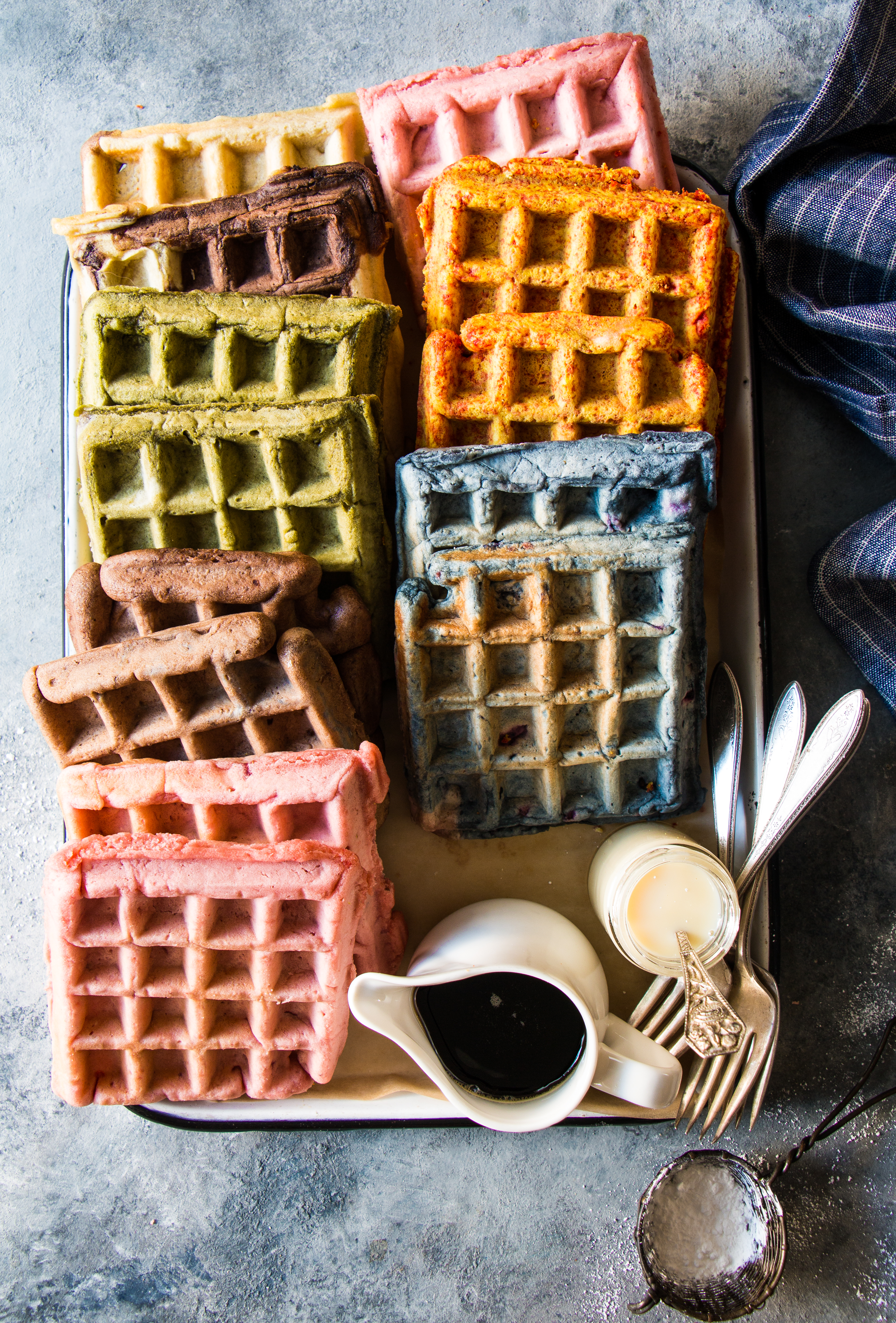 The batter is thick.  The blackberry and raspberry will be thinner, you can add a few tablespoon of flour and fold it in you want.  It's an easy fuss free batter, lumps are totally fine.  Mix the matcha, the fruits and the cocoa and admire the colors.  They sizzle as they cook, turn into these colorful, crispy, soft pillowy , thick  waffles.  I like to rest my waffles on an iron rack so that they don't get soggy in the bottom.  These are tender and sweet, but not overtly sweet.  Drench them in powdered sugar or syrup, or enjoy them right off the grill.
Let's enjoy the weekend!! Happy Easter!!

Fruity Belgium Waffles
Ingredients
2 cups all-purpose flour
¾ cup sugar
3-1/2 teaspoons baking powder
2 large eggs, separated
1-1/2 cups milk
⅓ cup full fat ricotta
1 cup butter, melted
1 teaspoon vanilla extract
For variations
1 tbsp Matcha
3 tablespoon raspberry puree
3 tablespoon blackberry puree
2 tbsp cocoa powder
Instructions
In a bowl, combine flour, sugar and baking powder. In another bowl, lightly beat egg yolks. Add milk,ricotta, butter and vanilla; mix well. Stir into dry ingredients just until combined. Beat egg whites until stiff peaks form; fold into batter.
Divide the batter equally into four portions.
Add matcha in one, raspberry puree in one, blackberry puree and cocoa powder. Mix and fold in gently.
Bake in a preheated waffle iron according to manufacturer's directions until golden brown. It will take about 2-3 minutes. Serve with strawberries or syrup.