It's National Garlic Month! Here, the Gilroy Garlic Fest is considered the Ultimate Summer Food Fair.  So today, I have Roasted Garlic and Onion Relish.  It goes great with pretty much everything.  Top it on bruschetta like I did here, or add it on burgers as a relish, or even top it on a broccoli and pea soup to bring it all together. It's a relish you will be eating in spoonfuls.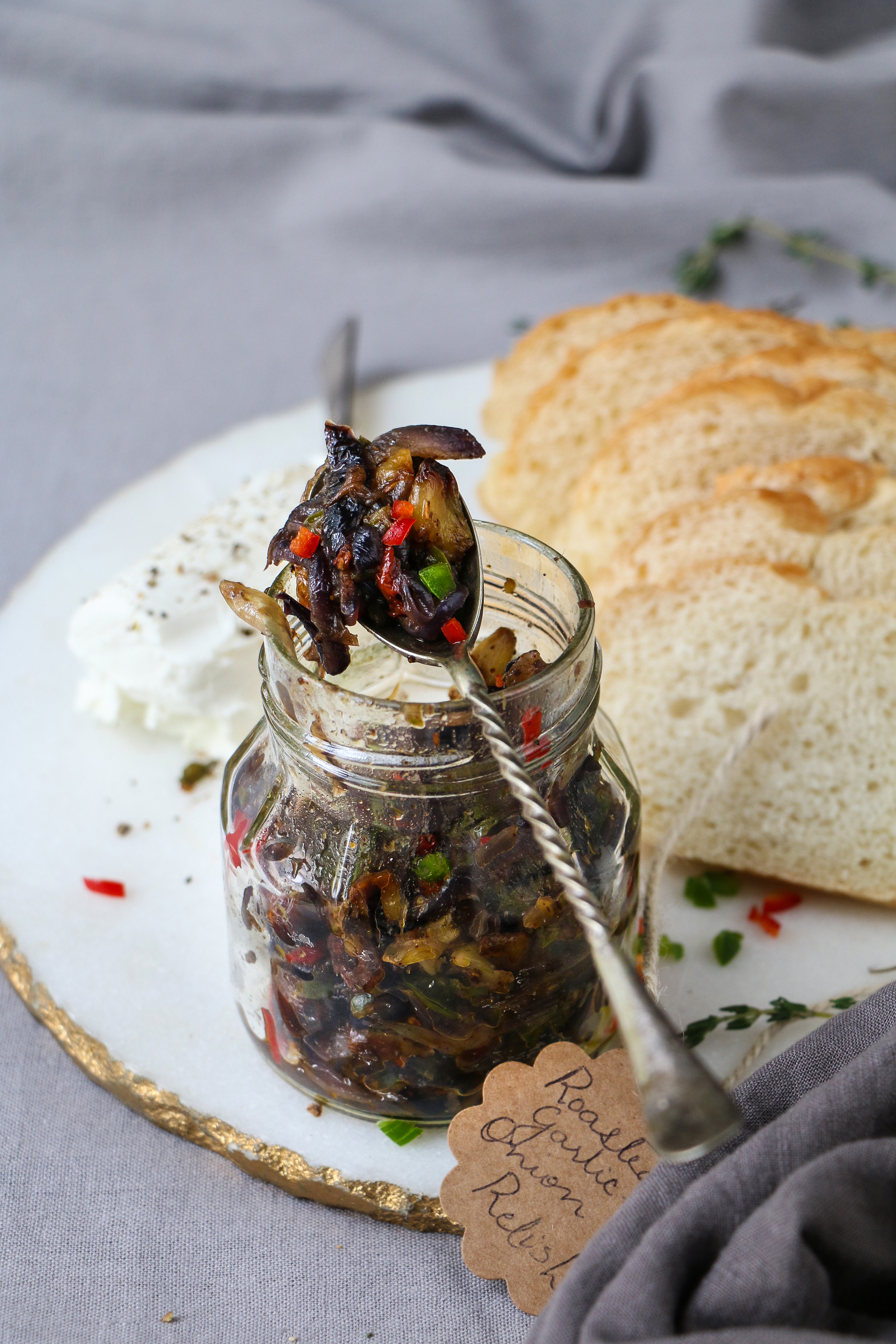 Happy mid week!!
Fun Fact. Did you know that Gilroy, California is known as the garlic capital of the world?  It is, although China is said to be the biggest producer of garlic.
Gilroy, a short drive away from where we live hosts the biggest festivals that the little town sees every year.  It's in the midst of the scorching hot summer. It's the Coachella for garlic lovers. There's even Miss Gilroy Garlic and her court, ensuring a garlicky good time.
As you park and get off your car, an air filled with the smell of garlic hits you.  It is quite welcoming.  You see garlic shaped plastic hats, garlic posters everywhere. A bus takes us to the heart of the festival.  There are more than 4000 people, and many volunteers working hard for months to put on a festival like this.  As you enter the garlic park, you see stalls everywhere.  Music playing, there are contests going on, and people are lined up to try garlic ice cream(which, by the way, I am not a big fan of).  There's art and crafts, and there's more than 60 bands playing. There is everything you can imagine and more made with garlic.
I once went into a stall where they had 21 different types of garlic and this was years ago when I decided to just listen and learn, than take a video or shoot it.  Among the many weird ones I've tried at the festival, these were some of my standouts…. garlic bagel, garlic popcorn, garlic noodles,  of course garlic fries, garlic infused whiskey, a popular one, garlic candy, and so much more.
By the end of it all you don't care if you smell, breath like garlic, the "STINKING ROSE"  is loved for a reason.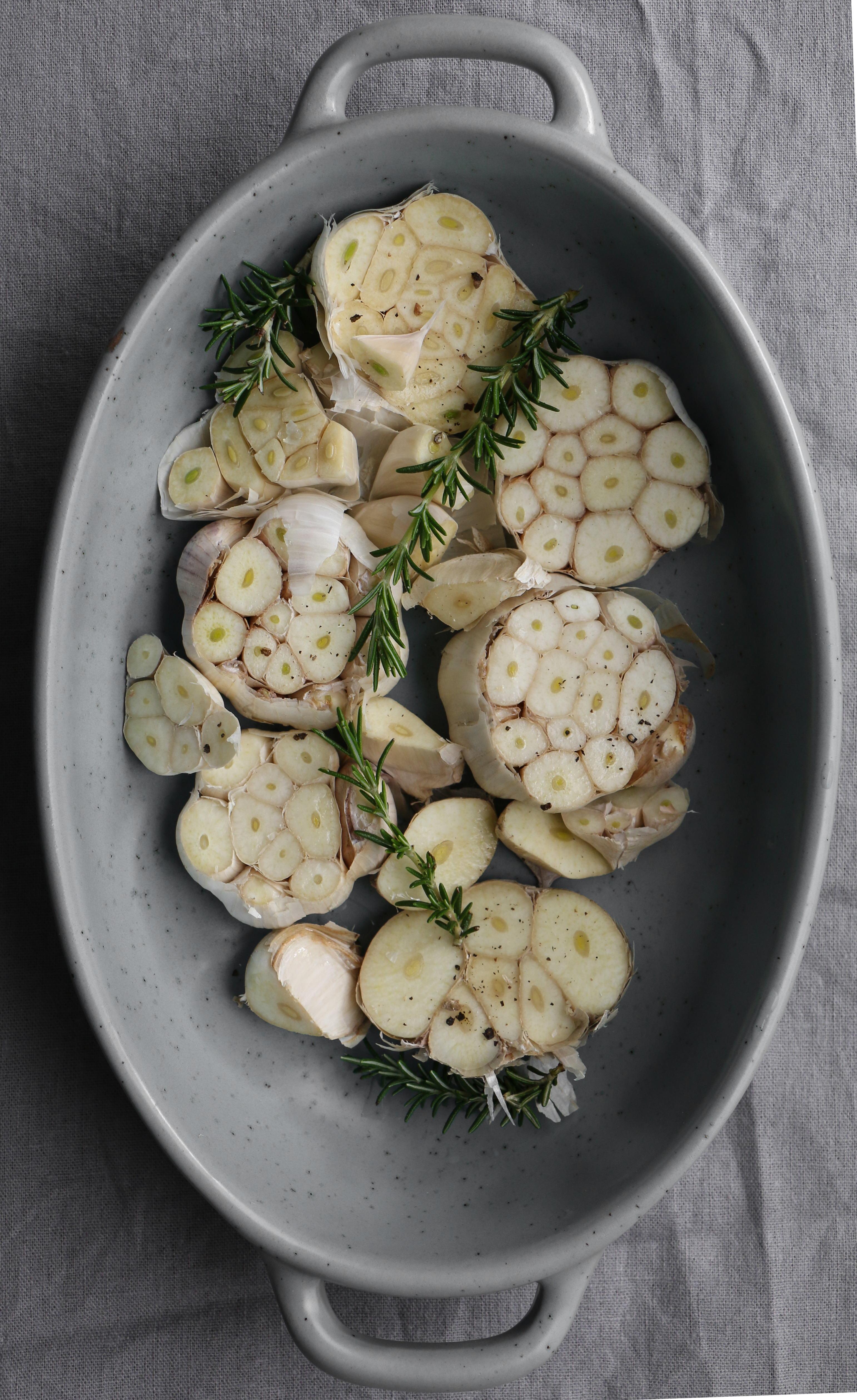 This is a dish completely inspired by the festival with Indian pickling spices.
The more the garlic, the better here.  When we bake the garlic, it turns like sweet soft candy.  Bake it more, and it really is chewy and hard, just like candy.
Here, I've used sauteed onions for that extra sweetness and to cut the pungency of the garlic.  It is absolutely amazing on chicken burgers, pita wraps, and on a toast, bruschetta.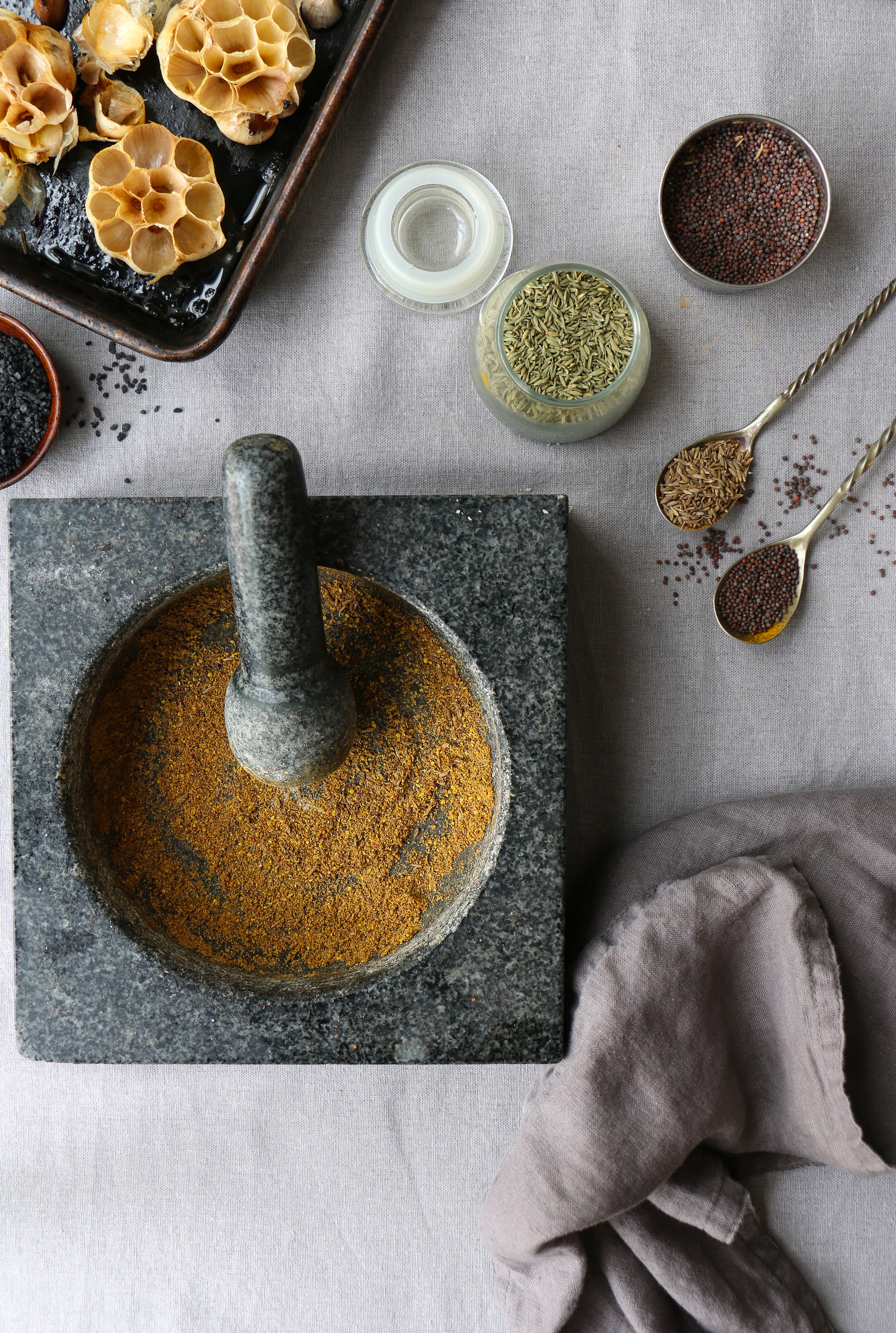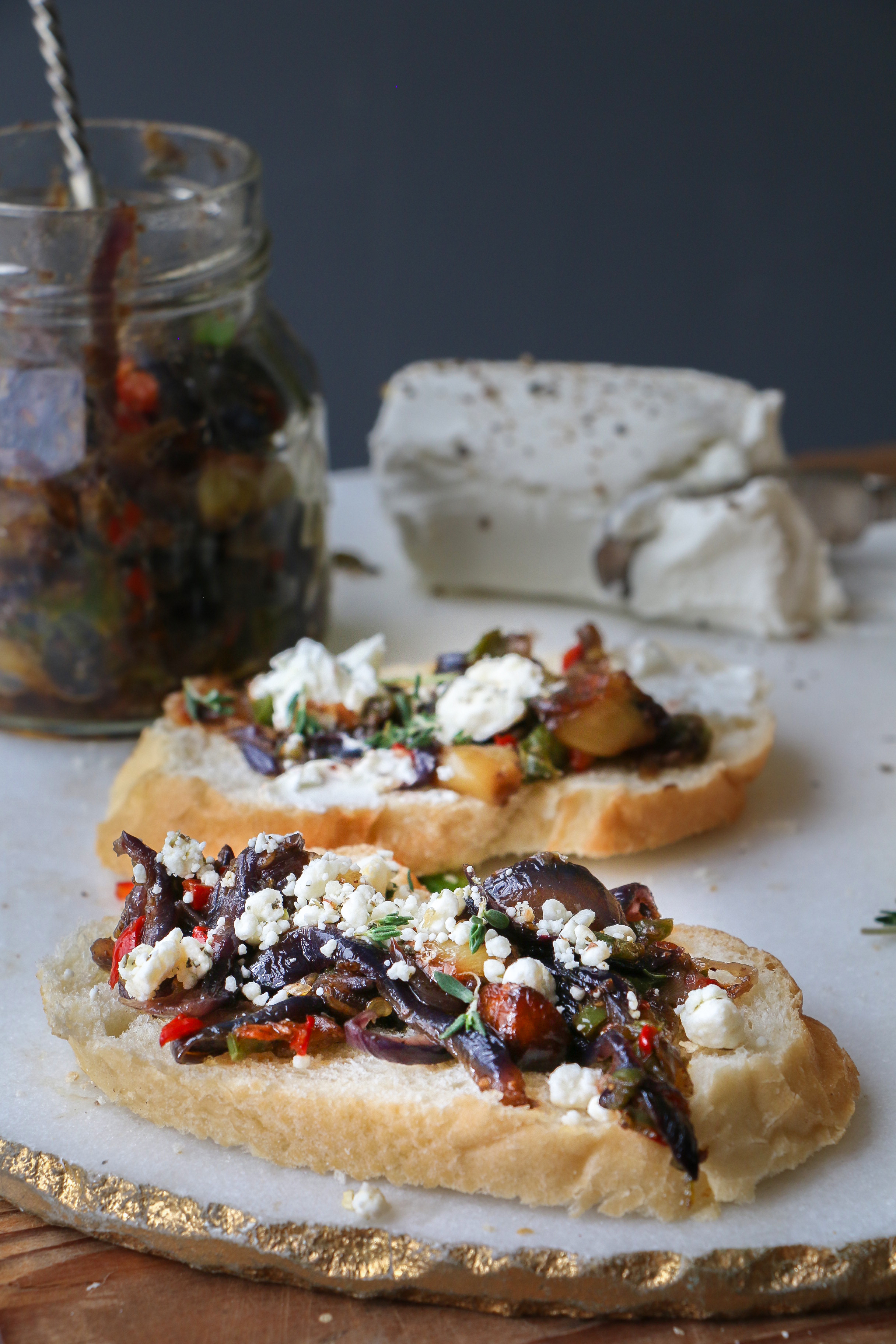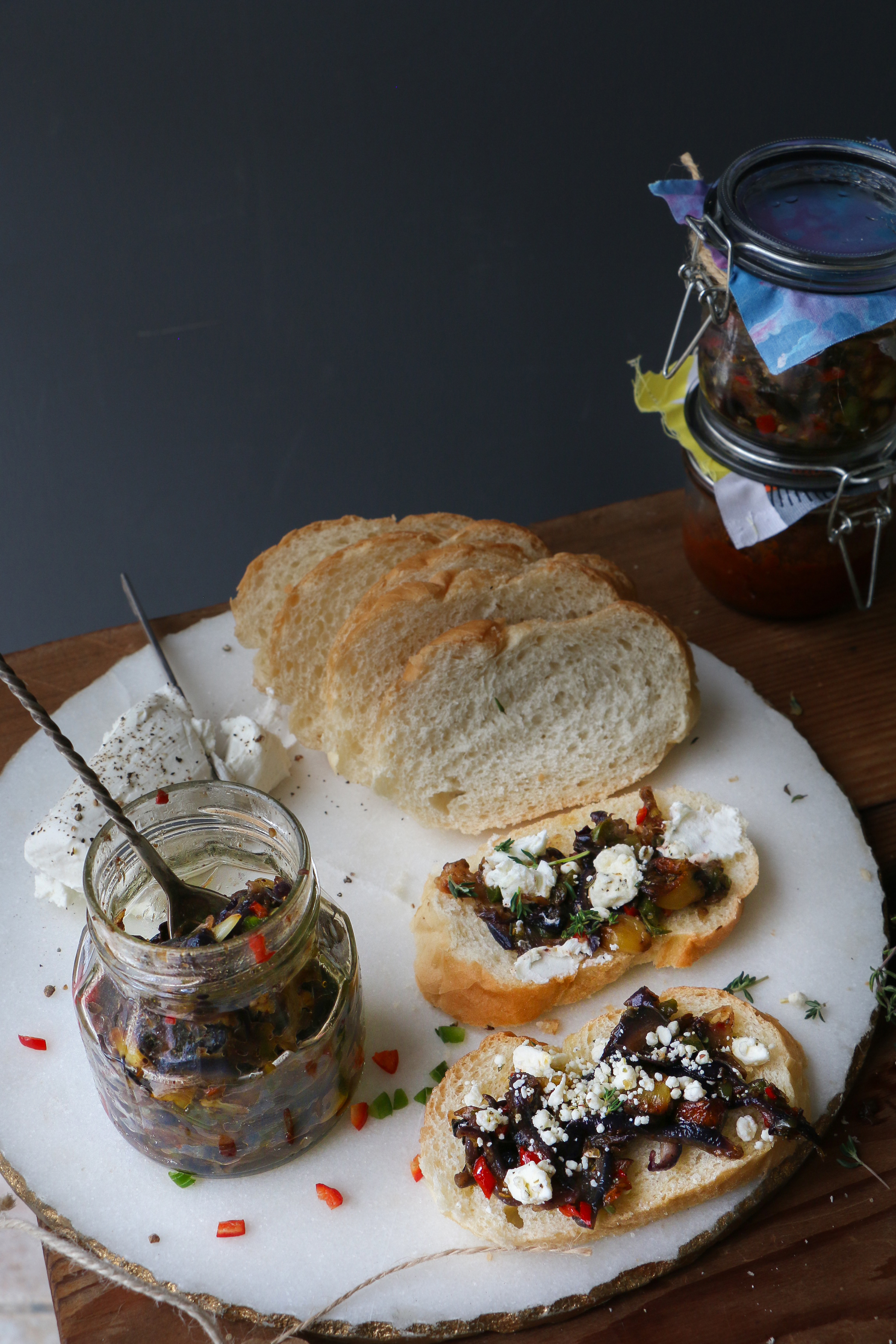 Props I've used:
The white platter: http://www.zgallerie.com/p-16564-acropolis-platter.aspx
The spoon is vintage from etsy.
Thanks for reading.  Have a great day.
Stay in touch for  on Instagram , Pinterest and Snapchat (ashfoodfashion) for daily doses of food.

Roasted Garlic and Onion Relish/Pickle on bruschetta
Dark, tangy and sticky-sweet, this relish is simple to make, and there's no need to worry about it setting. Slather it inside sandwiches (Panini or grilled cheese!) or serve with cheese and crackers or on a bread with some cheese.
Ingredients
4 heads of garlic cut in halves
1 +3 tablespoons of vegetable oil
pinch of salt and pinch of freshly cracked pepper
2 large onions, thinly sliced lengthwise
3 jalapenos, finely chopped
1 red jalapeno, finely chopped(optional)
1 teaspoon black mustard seeds,
½ teaspoon fennel seeds,
1 teaspoon cumin seeds
1 teaspoon salt
2 tbsp balsamic vinegar
Instructions
Take a baking sheet, and line with some parchment. Cut the garlic in halves horizontally, keep it face up on the baking sheet. Drizzle 1 teaspoon oil, salt and pepper it and bake in a 400 degree oven for 30 minutes. Take it out and let cool before you take all the flesh from the garlic peel. Set aside.
In a small non stick pan, add the mustard seeds, fennel and cumin, fry them on medium heat until you smell the spices, about a minute. Turn off the heat and powder it in a mortar and pestle or use a small coffee grinder meant only for spices. Grind it finely and set aside.
In a non stick pan, add the 3 teaspoon of oil and let it get hot. Add the onions, jalapenos and fry on medium heat for 1 minute. Add ½ teaspoon of salt and let it sweat. Then add the spice powder, the balsamic vinegar and the roasted garlic and the remaining salt. Mix well and let it all cook together on low heat for 5 minutes. Turn off the heat once you see it is dry.
Store in a bottle in the refrigerator for about a week.