An easy appetizer to sip with some wine.  Eggplant with Paneer scramble aka Paneer-bhaingan bhurji is so good topped on a lightly buttered and toasted french bread.  The perfect summer pick me up.  Thanks to Revol cookware for sponsoring this post.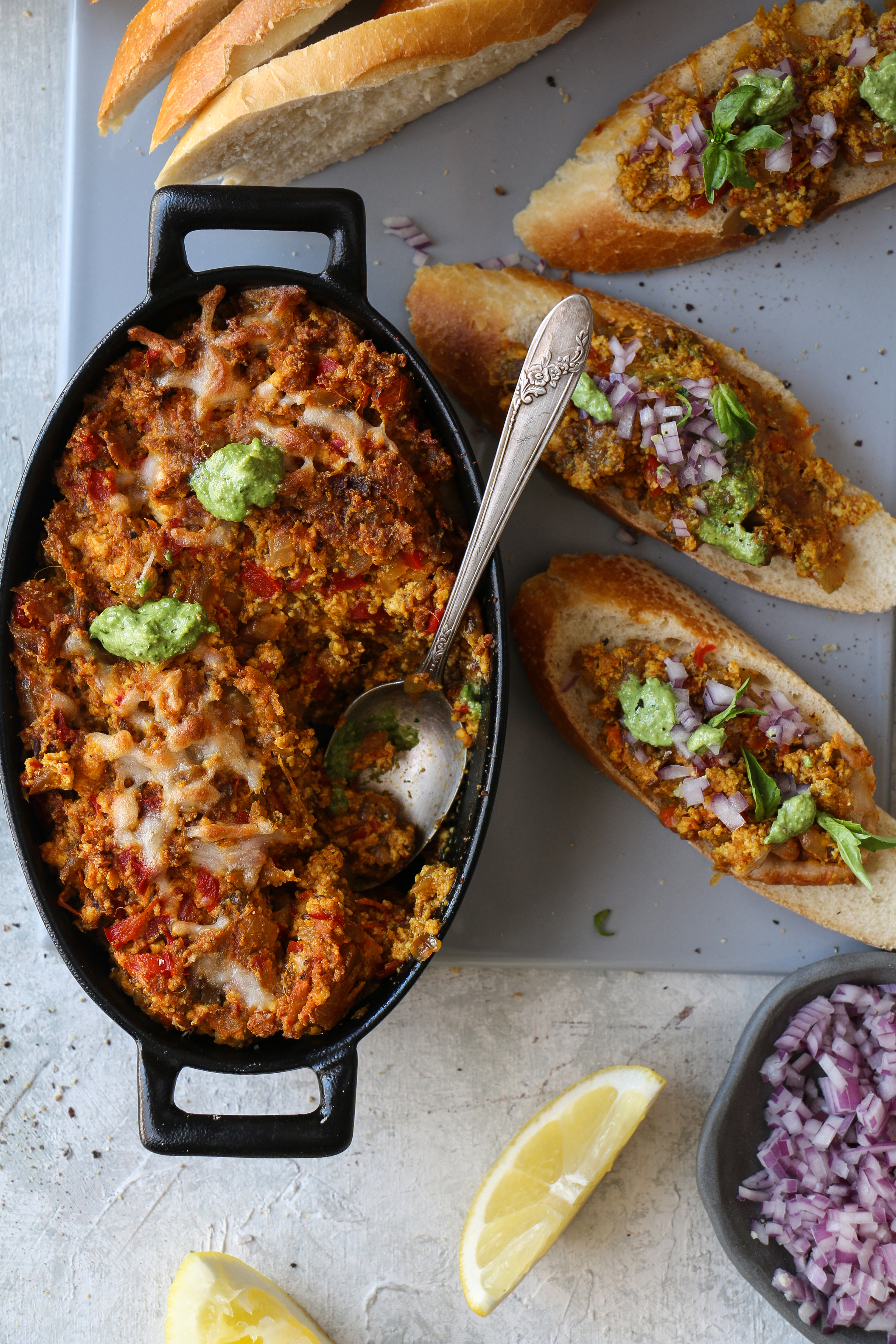 Right now, I am over the moon thrilled and thankful to all of you for reading my previous post about my book announcement.  It has been one of the most read posts in the last many months and that shows how supportive you are.  Thank you!! I will fill in more details very soon.  For now, sharing one of the dishes I enjoy making for company or just for the family with some rotis.
Indians have a love affair with paneer.  Before we were introduced to mozzerella, parm or all the variety of cheese that's available now, we knew only paneer in India.  It's often compared to ricotta or halloumi.  We use it in curries, grill it and even deep fry it.   I often find myself scooping just one more nibble of chewy, milky-tasting paneer from the dish long after I'm officially full.  It's that delicious.
Paneer is a fresh cheese, no aging or culturing required. It's also one of the easiest cheeses to make at home.  If you have a pot, a strainer, and some cheesecloth, you can have fresh homemade paneer/cheese in about 30 minutes. All you need is milk, lemon juice or vinegar, and a bit of salt to season. When you mix the milk and lemon juice, the acidity in the lemon juice will cause the milk to separate into curds and whey. The slurry magically blends, then splits, with a layer of thick soft crumbly cheese. I add a cup of ice cubes to stop the cheese from over cooking and getting rubbery. Remove the whey and press the curds, and you have a tasty, simple easy cheese, paneer.  It doesn't melt nor is it tangy, it holds it's shape when pressed or weighed down with something heavy.  Cut into squares and add it to curries.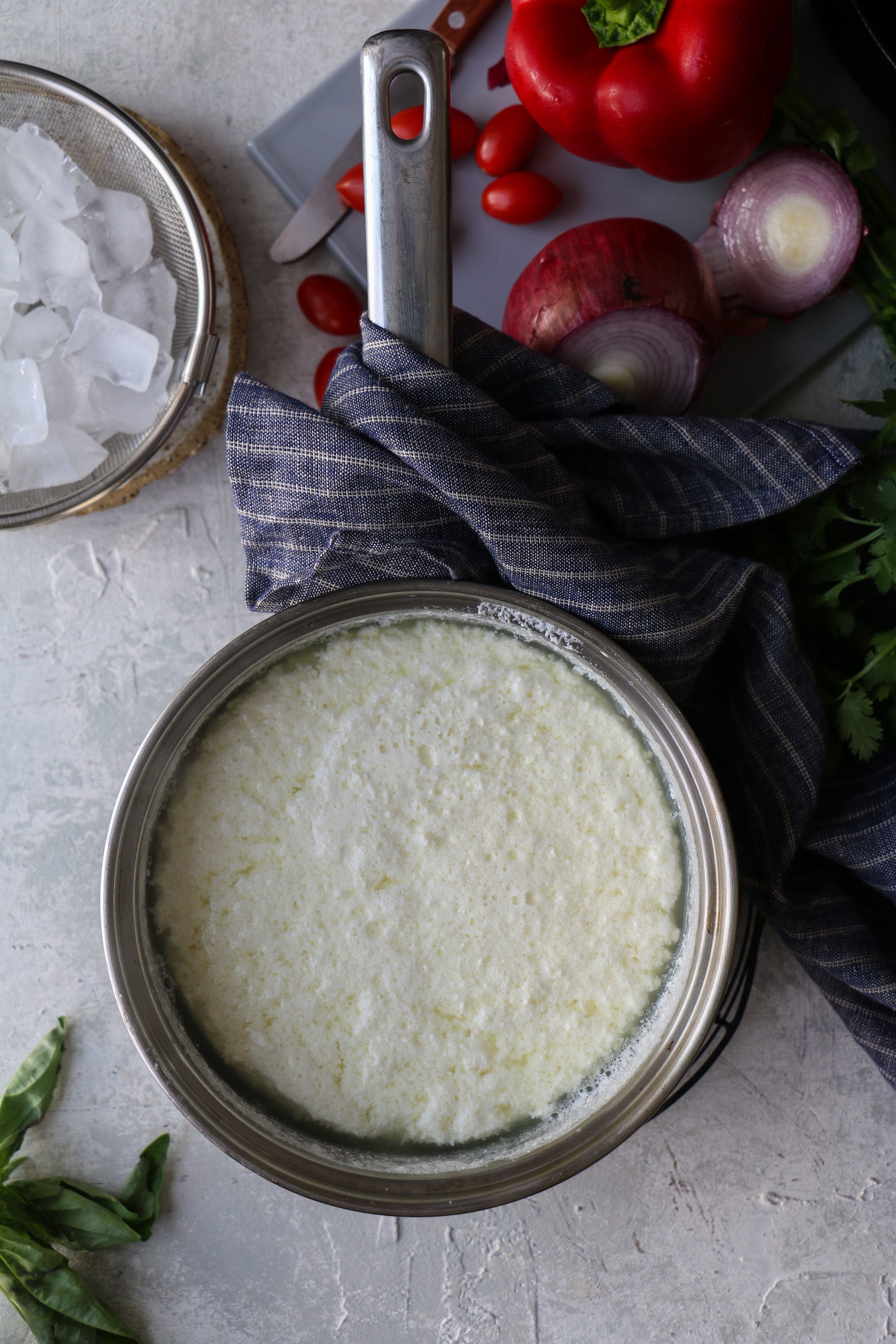 Eggplant is something I wasn't fond off, but eventually have fallen in love with.  Grilling the eggplant or baking it at a high temperature gives this dish a slight smokey flavor and adds a special something.  It's a Eggplant/bhaingan bhurji and paneer bhurji combined.
This started as a recipe for the book and then got twisted for the blog.  I am always looking for everyday simple lunch or dinner which  can be put together relatively quickly, and can be entertained with also. During the summer holidays, I enjoy having friends for coffee and snack, and this works so good. I bake these in small shallow baking dishes, to serve in,  but a large any dish works  great as well. Put out some thinly cut fresh bread, some chutneys and there is a meal.
I can't say enough good things about this dish, you have to give it a try.
Thanks for reading.  Have a great day!!
Stay in touch for  on Instagram , Pinterest and Snapchat (ashfoodfashion) for daily doses of food.
Have a fabulous week.

Paneer-Bhaingan Bhurji /Eggplant Cheese spread
This simple mix of eggplant and paneer is mildly spicy and is a great side for rotis or topped on some good bread.
Ingredients
For the fresh soft Paneer
1 liter whole milk or 4 cups
2 tsp lemon juice, Juice from a whole lemon
½ cup of ice cubes
For the eggplant
1 eggplant
1+1 tbsp vegetable oil
1 tsp cumin
½ onion, peeled and finely diced
2 green chilies, finely sliced
1 tbsp ginger garlic paste
1 large tomato, chopped
1 tsp salt
¼ tsp turmeric powder
1 tsp chili powder(hot)
½ tbsp garam masala
3-4 tbsp of finely chopped cilantro
2 tbsp of shredded mozzarella
For the Basil Pesto
1 small fistful of basil, washed
2 tbsp walnuts
3 whole garilc, peeled
2 tbsp olive oil
⅓ salt
pepper
1 tsp lemon juice
To serve with:
French bread, sliced diagonally
¼ red onion, very finely chopped
Fresh basil leaves for garnish
Instructions
Making the fresh paneer:
In a sauce pan, add the milk and bring it to a boil. Once you see the milk boil, add the lemon juice and keep mixing it. You will see the milk curdle and when you see the milk solids separate from the whey, switch off the flame. Add the ice cubes to cool off the cheese. Let the cheese settle for 2 minutes and drain it in a cheese cloth or a thin strainer. Add a cloth over it and a weight on it so the extra water will drain off. Let it stand for 30 minutes to an hour.
How to make the Bhaingan/Eggplant
Brush the eggplant with 1 tbsp oil and bake it in a hot 400 degrees oven for 30 minutes. Take it out and let rest for 15 minutes and peel the skin. Finely chop it, set aside.
In a saute pan, add 1 tbsp oil and once it gets hot, add the cumin and let it brown. Add the onion and saute until it softens for about 1 minute. Add the green chilies, ginger garlic paste and saute for 30 seconds. Add the tomatoes, salt, turmeric and chili powder and saute on medium heat for a minute. Add 2 tbsp of water and let the spices cook. Keep sauteing for 2-3 minutes. If it gets too dry, add another few tablespoons of water.
Add the chopped eggplant, garam masala and turn the heat to low and cook on low for 5-7 minutes. Add the drained paneer and toss well. Turn the heat to high and let it brown for 2 minutes tossing regularly.
Turn off the heat and add the cilantro, mix well.
Pesto:
Grind the basil, walnuts, garlic, olive oil and salt and pepper, lemon juice. Set aside.
Assembly:
Preheat the oven to 400 or turn the broiler.
When you are ready to assemble, take a oven proof dish, add the eggplant-paneer bhurji and top it with mozzarella cheese and bake until the cheese browns and melts.
Arrange the bread on a board.
Top it with some warm eggplant-paneer bhurji, top with some onion, some pesto and garlic with some fresh basil leaves.