These are a loaded, ultimate Mexican Frittata with leeks and potato hash is stuffed with tortilla chips.  It is spicy, filled with veggies, and a perfect Mother's Day brunch.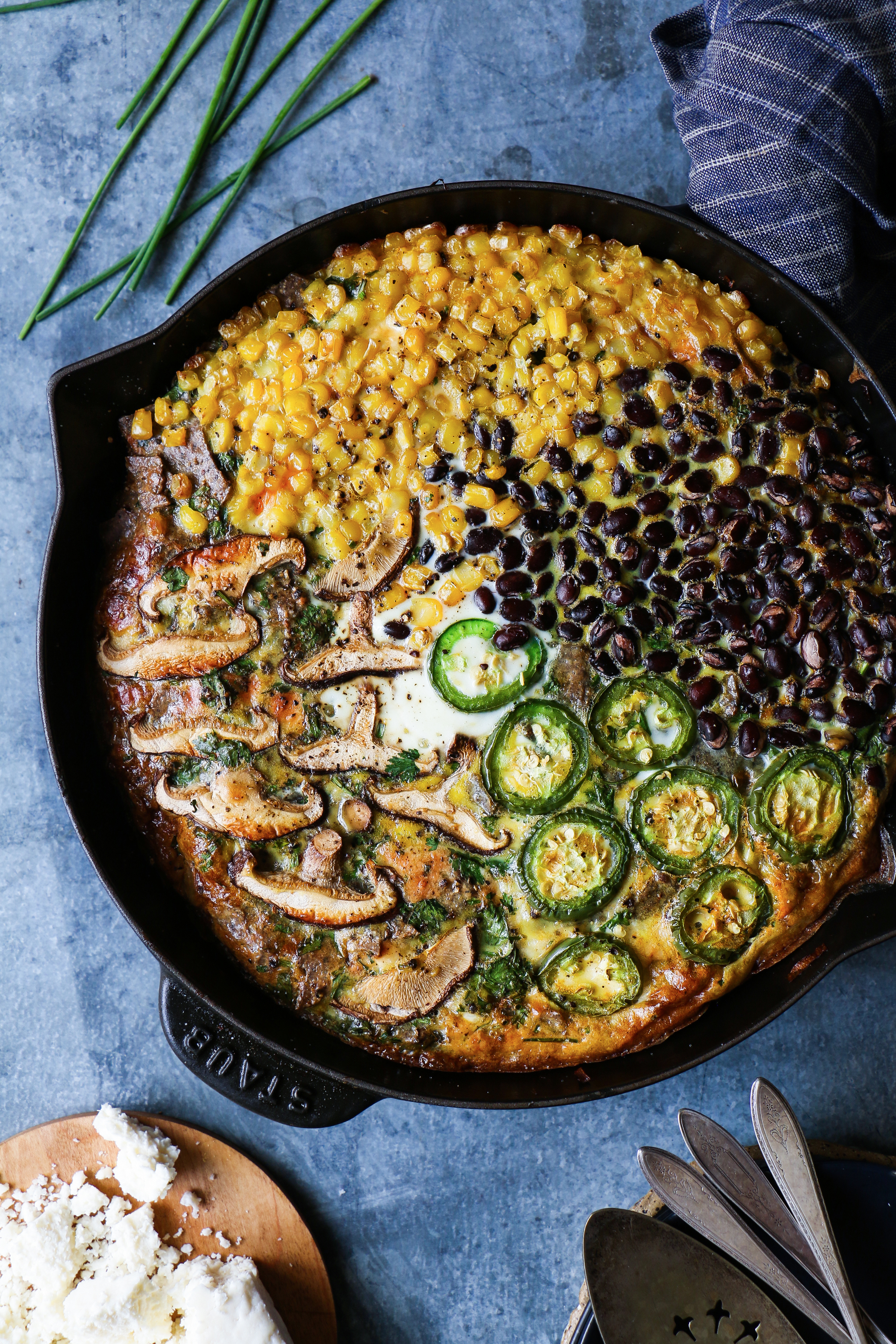 I love being a woman.  Being a woman is very empowering.  Being born as a woman is a celebration in itself.
I look at women differently now.  Each face has its story.  Some more intense than others, some deeper than others, but we all do carry a story.  Few vocal, and few are thinkers.  Oscar Wilde's quote, "a woman's face is her work of fiction" is often quoted to remind us that what's on the surface may have little connection to what we're feeling. Women are deeper.
A woman's smile is on auto pilot, and her behavior is a blend of nature and nurture.
A woman need not necessarily have to bear a child to be a "mom", in my opinion.  If she is the oldest of the family, she behaves like a mom to her siblings.  Once she gets married, she takes care of her husband like his mom would and more.  She sometimes becomes the mom to her parents; she babies them. She advises them.  When her friends need her, she drops everything to listen to them and hugs them with warm feelings.  When she disapproves of something someone closest to her does, she raises her opinions like a mom would.
To me, just being a woman is a beautiful thing.
I love being a mom.  It has changed me, forever. As a mom, we are expected to be super humans. ALWAYS.
Being a mom is something I cannot articulate in words fully. All I can say is, it's a force that hits and takes you by storm leaving you mesmerized and smiling always.  Well, there are frowns some days with an internal smile.  It's like the wind swept your face, leaving it feel fresh and alive.  The feeling that you get when you take a bite of your most favorite thing to eat, after a year. That feeling, that is what you sense every time you look at your kid.
To me, women always have a maternal side.  Celebrate being a Woman every single day.  Happy Mother's Day Month!!!!!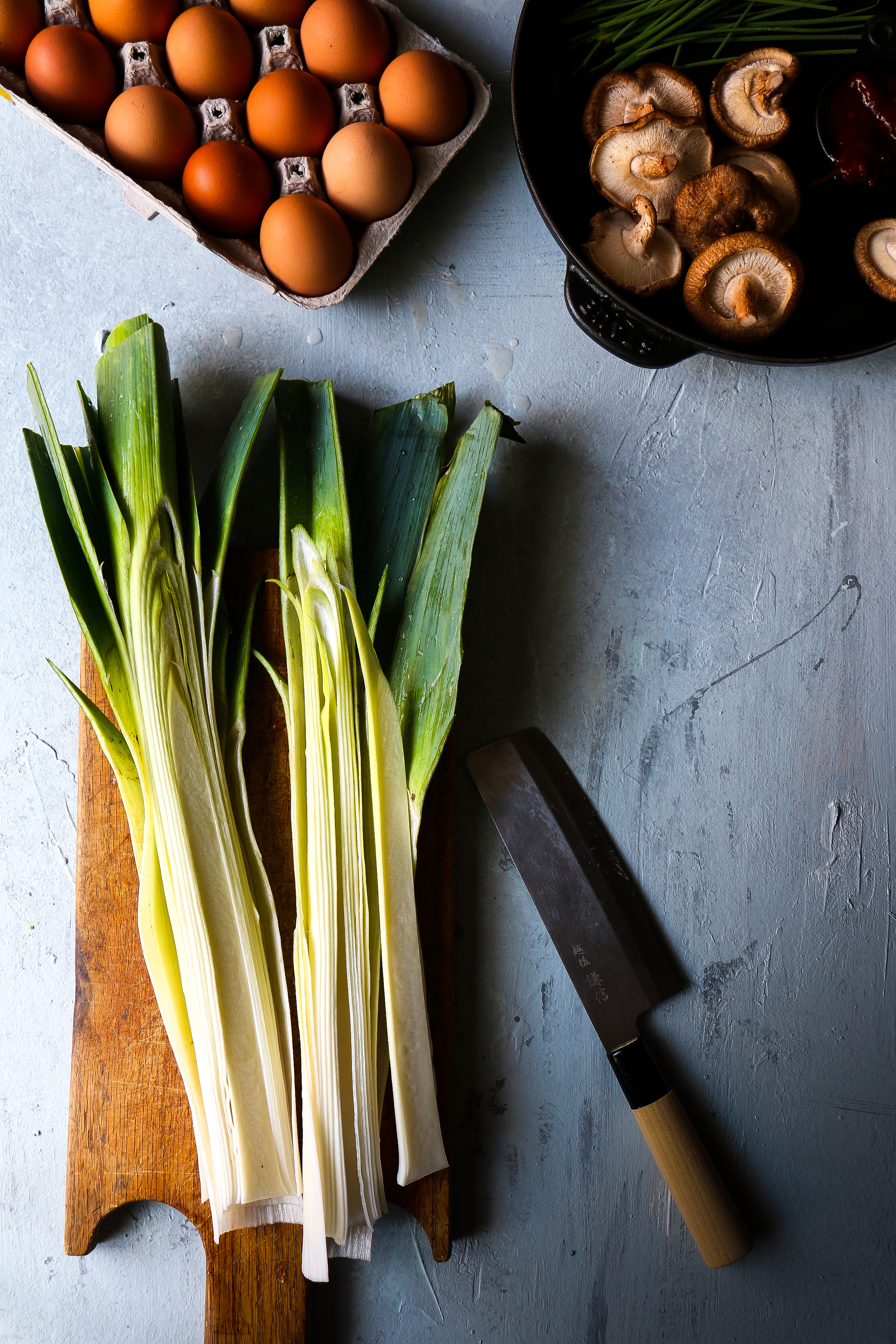 And here is a beautiful treat to make for yourself or your mom or sister, your wife or a friend.
This is my take on a Mexican flavored frittata, which is loaded with vegetables and comes together quite quickly.  Get everything ready to go, and it bakes up beautifully in minutes.  Quite a hearty breakfast or brunch.  I've made it with a number of other veggies, just make sure you don't use watery vegetables.
Every step, try to press the egg mixture so that it all sticks and forms a beautiful frittata.  I used this brand of  Chipotle in Adobo sauce and it added the perfect smokiness, body and balance. I used a mix of sweet potato and yam, you can use just one or even plain russet potatoes. You can make this an all white frittata too.
Enjoy!!!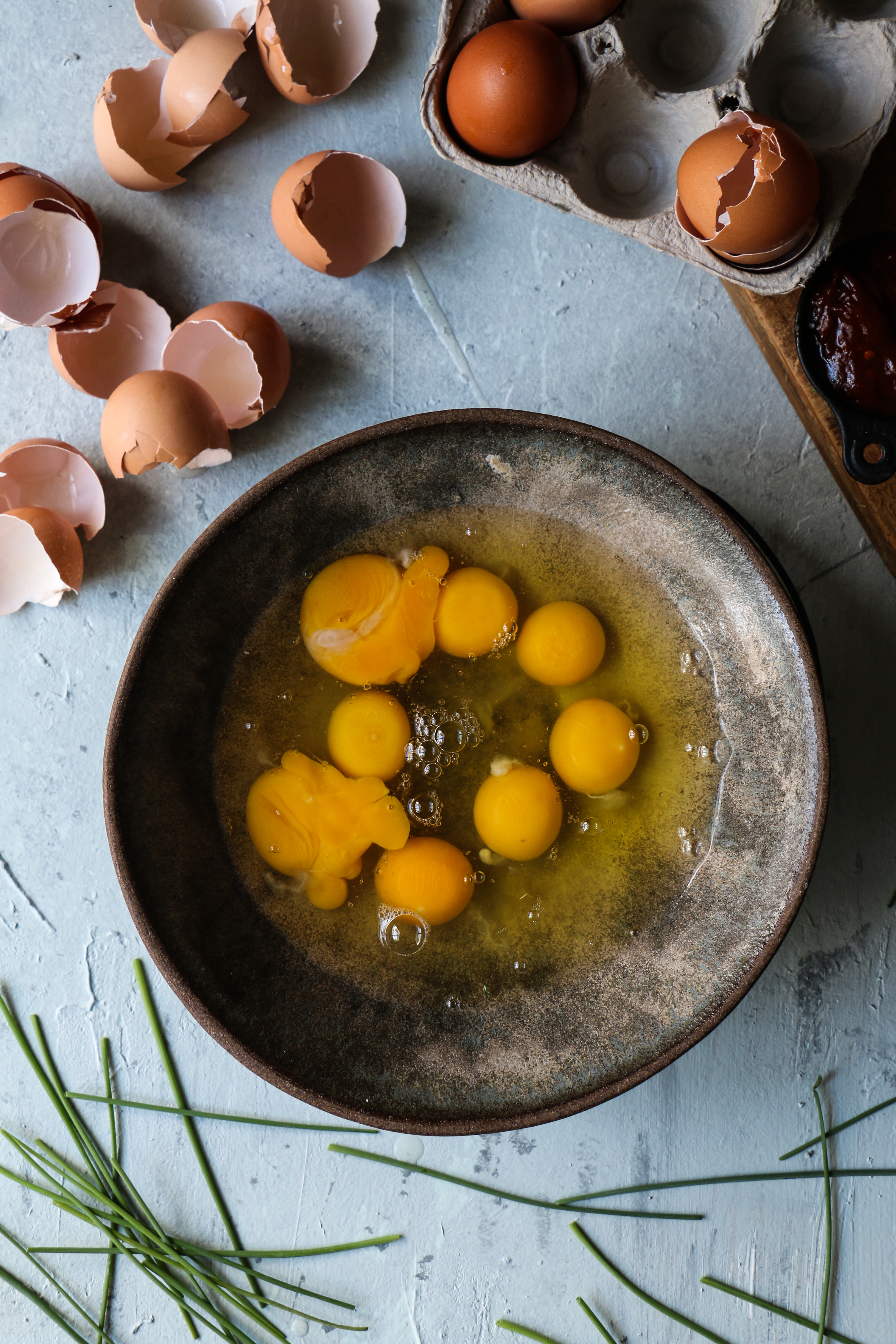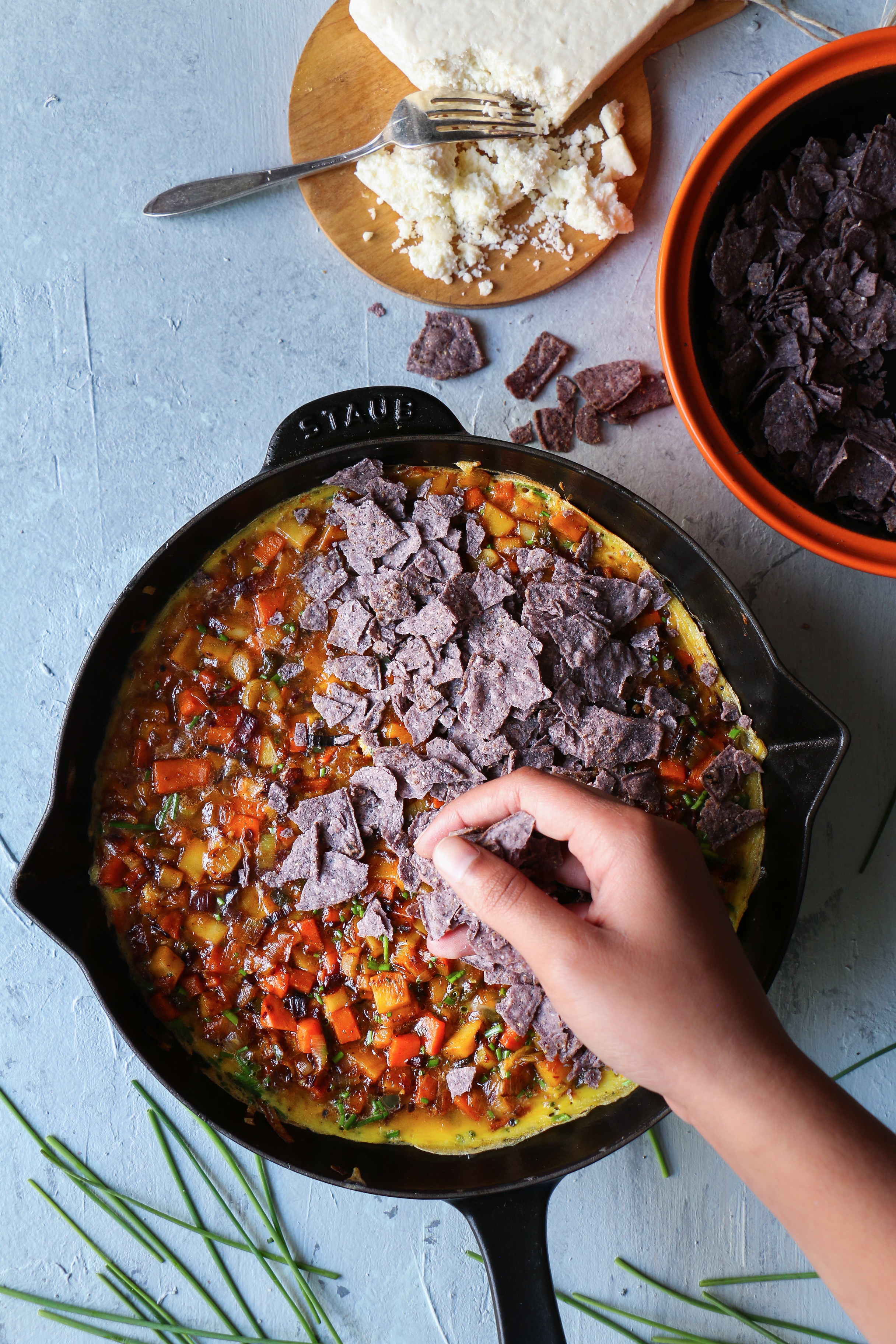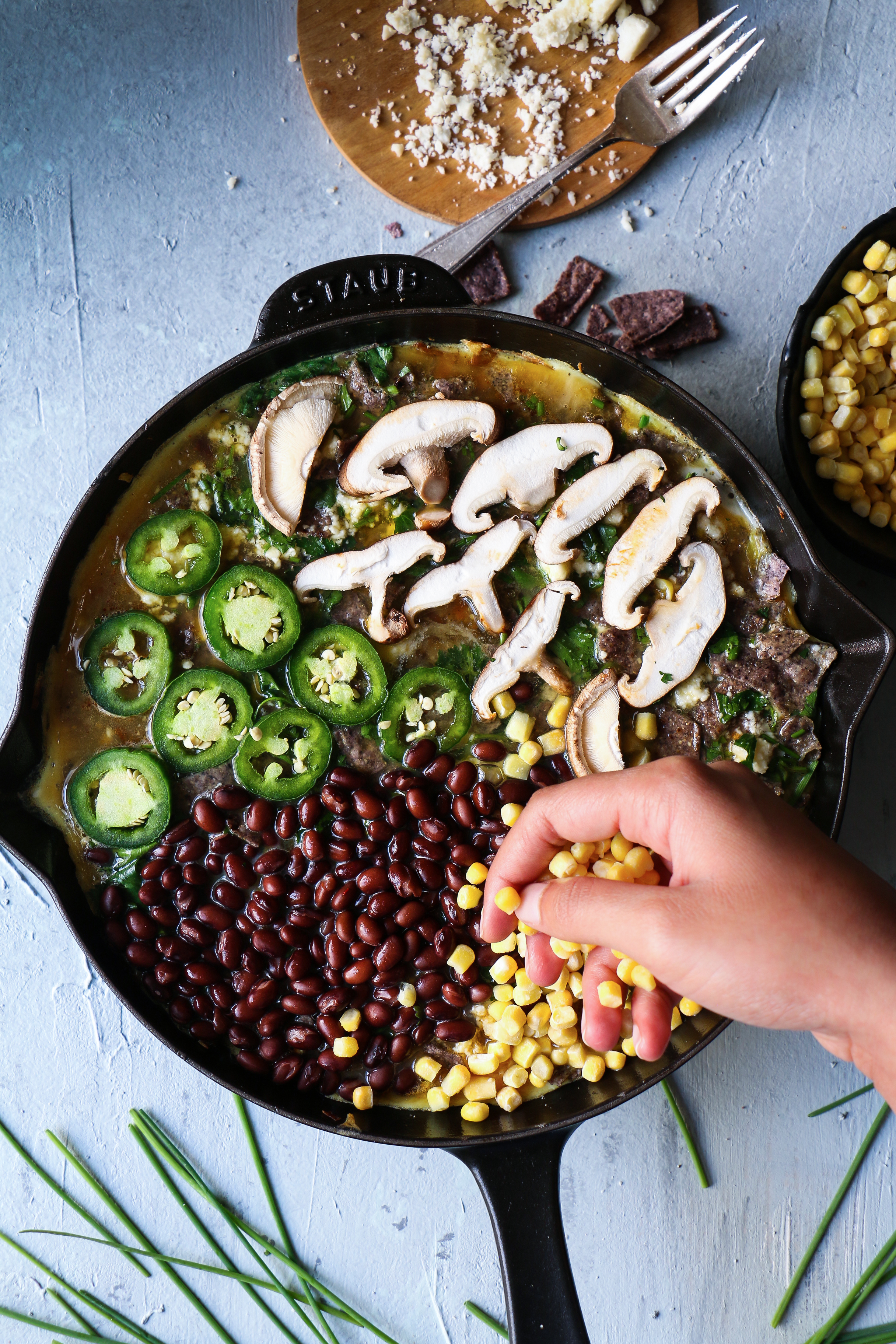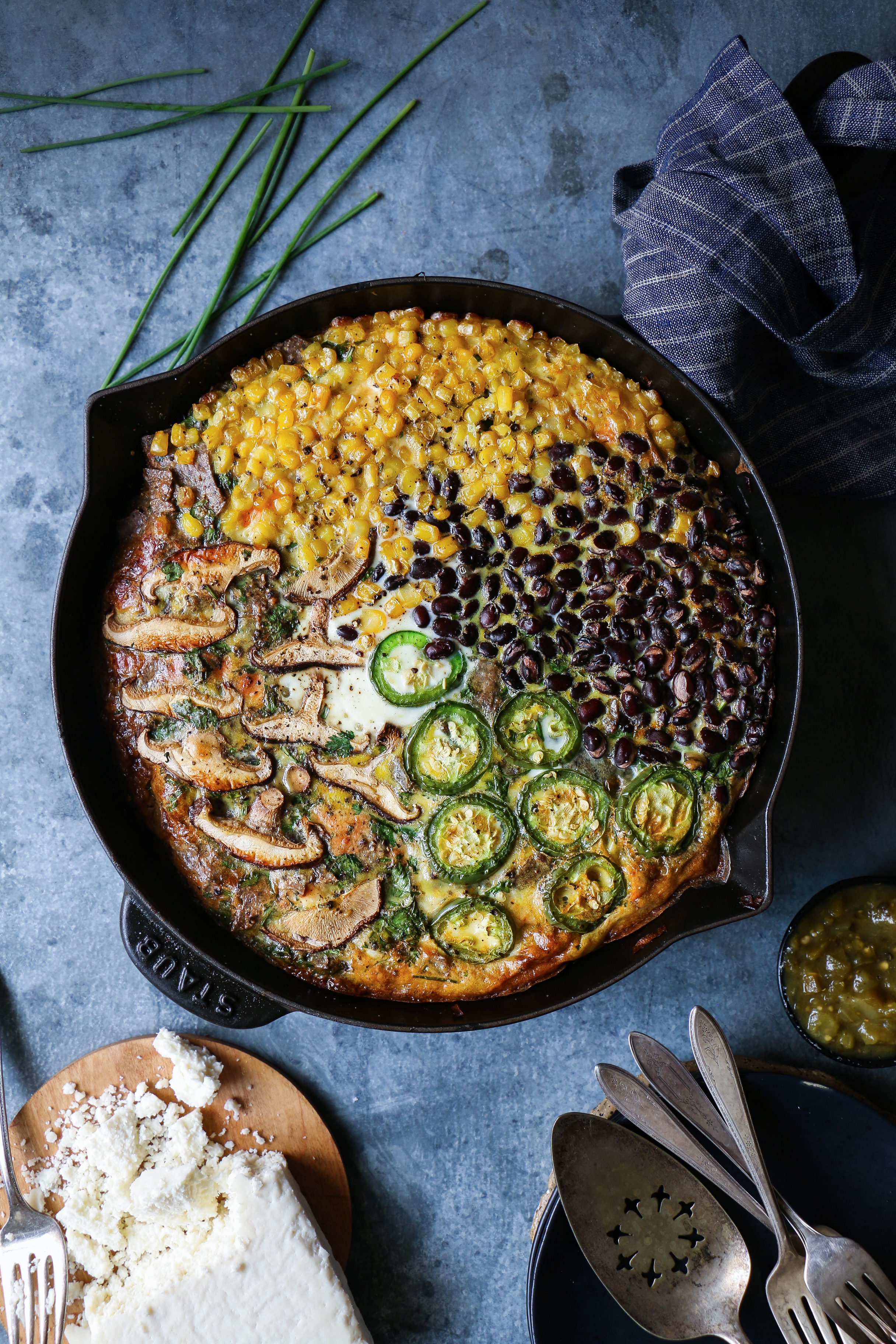 The winner for the last post's give-away is A hint of yellow.  Thanks all for participating.
Thanks for reading.  Have a great day.Stay in touch for  on Instagram , Pinterest and Snapchat (ashfoodfashion) for daily doses of food.
Have a fabulous week.

Ancho chili potato hash and corn Omelette
A quick and impressive brunch which comes together in no time.
Recipe type:
Brunch, breakast
Ingredients
3 tbsp of olive oil
1 stalks leeks, thinly sliced and washed very well
1 jalapeno, finely diced
¼ tsp salt
1 small sweet potato, washed peeled and diced pieces
½ yam, washed peeled and diced to small pieces
1 tbsp chipotle in adobo sauce
10 large eggs
½ teaspoon salt
⅓ teaspoon freshly cracked pepper
2 tbsp, chives chopped
2 tbsp cilantro, finely chopped
handful of blue corn tortilla chips, crushed( or any your prefer)
3 tablespoons cojita cheese or goat cheese
2 tbsp salsa verde, store bought or fresh
few thinly sliced mushrooms
⅓ cup corn
⅓ cup black beans
1 jalapeno, sliced
Few cilantro sprigs to garnish
Instructions
Keep a cast iron pan or a non stick pan on medium heat. Add the oil and let it get hot. Add the leeks and saute for a minute and then add the jalapenos, add the diced potatoes and ¼ tsp salt. Keep tossing and brown it on high heat. When you pierce the potato with a fork, it should be 80 perfect cooked, not fully. Chop the chili in adobo, and add it to the mix, saute it for a minute.
In a bowl, add the eggs, ½ tsp salt, pepper and whip well. Add ½ of the egg mixture in the pan. With a spatula bring the edges inside, and let the potatoes and leeks fully drench in the mixture evenly and let it cook on medium flame 2 minutes. Then add the crushed tortilla chips and top it with the remaining egg mixture, turn the heat to low and cover it and let it set for 2-3 minutes. The top should still be a little jiggly. Now arrange the jalapenos, add some salsa verde, top it with black beans, corn and some mushrooms or any veggie of your choice. Press the top with a spatula a little. You can either cook this over direct flame until the top is completely cooked and set or transfer it to a 400 degree oven and bake it for 15 minutes. Finishing it in the oven gets the best results.
Once it full cooked and the egg has set, take it out.
Sprinkle with some cilantro and serve with some salsa.