These Rhubarb Pistachio Cakes are made with olive oil, and can be made in a cake pan or mini muffin tins like this. The rich pistachios combined with cardamom make for a tasty, addictive treat.  Thanks to Revol for sending me some of their pretty pieces.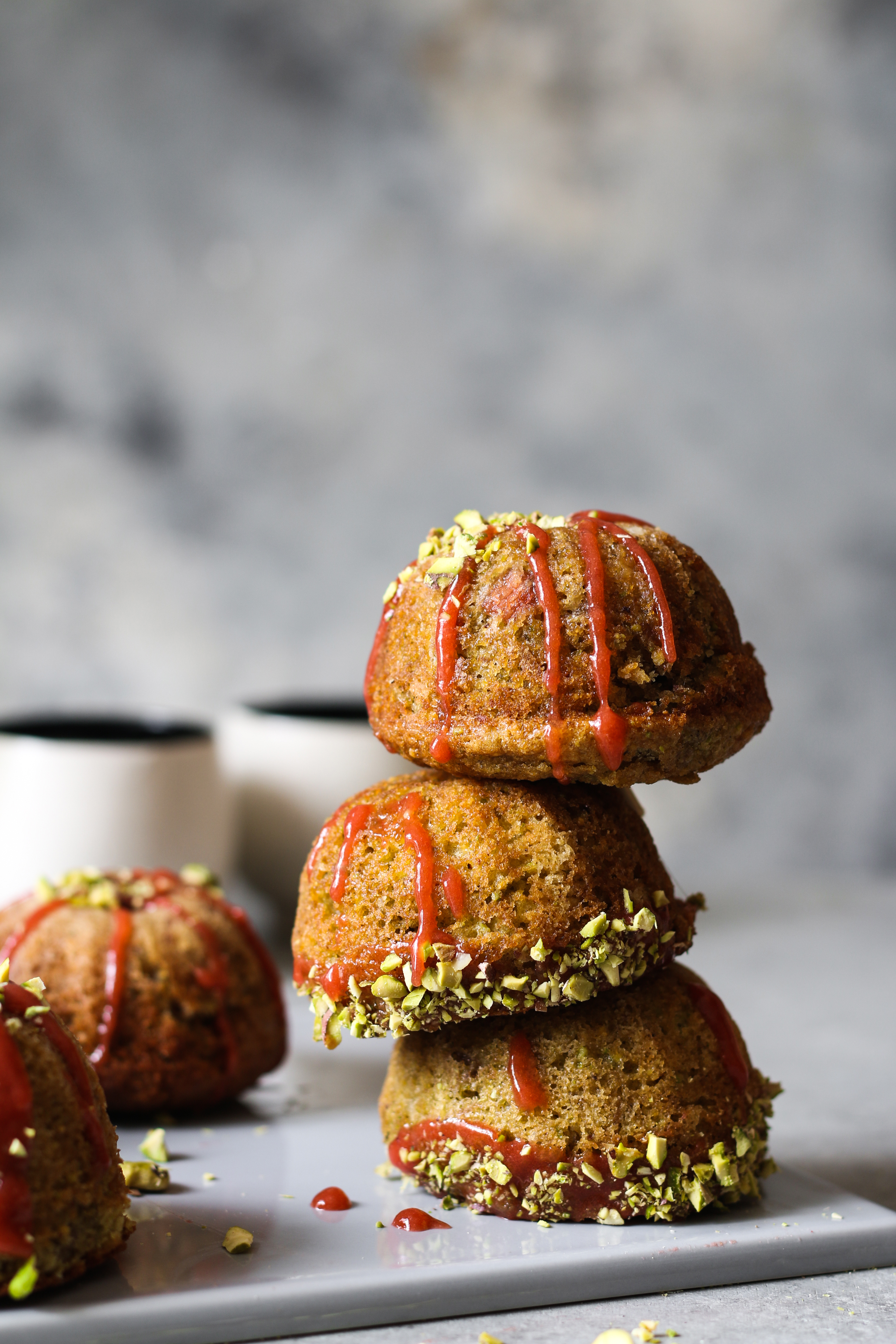 Happy May!!
A favorite month of mine, mother's day and a special birthday.
As spring is setting in, I immediately dream of warm days, long evening walks, and vacations. Light sunny days, and mildly cool nights.  I struggle to choose between Autumn and Spring; I love them both. 
Subconsciously, salads make more of an appearance.  My humongous cane fruit basket is filled with fruits and summery melons.  There are rolling hills to one side, and strawberry and vegetable patches to the other.  I stop by every week at the local farm, and the guy fondly asks how the kids are and gives me an extra basket of strawberries.
A perfect way to use the freshest of strawberries and the first rhubarb I see in the farmers market, was to make a jam. 

And here is a spring inspired cake. Rhubarb and strawberries are a pair that just works.  My love for rhubarb started a couple of years ago, and I now combine it in my desserts quite a bit.  We love it.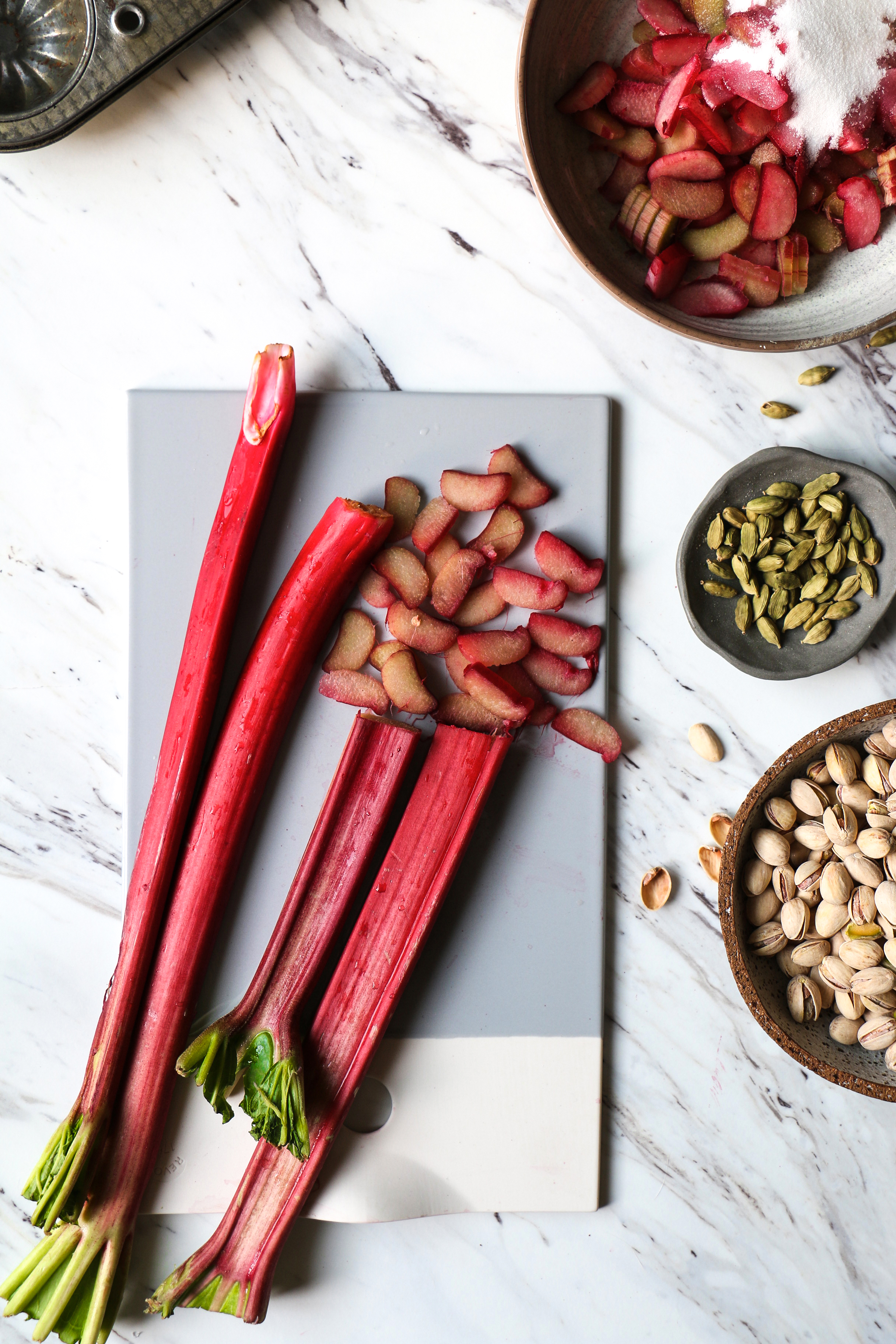 Any time I make mini cakes, it calls for a party.  Of course, the other way around is true too. I may be a wee bit crazy for nut based cakes; I just think they are richer and add so much texture to the cake.
This is a rich olive oil cake, which is moist, nutty, and so flavorful.  The cardamom is just a perfect pairing with the pistachios.
The tart rhubarb when combined with the rich pistachio and yogurt batter, cuts down the sweetness, making it just perfect.
I got 2 of these boards and one for a giveaway, just to say Thanks. I am so happy to GIVE AWAY this beautiful 13.5 inches by 8 inches cheese board that I love to use as a serving board too. To enter the giveaway, all you have to do is comment and you will be entered.  This giveaway is only for US residents, I'm sorry about that.  We will be hosting few give-ways for Indian residents and world-wide very soon.
I will announce the winner in my next post.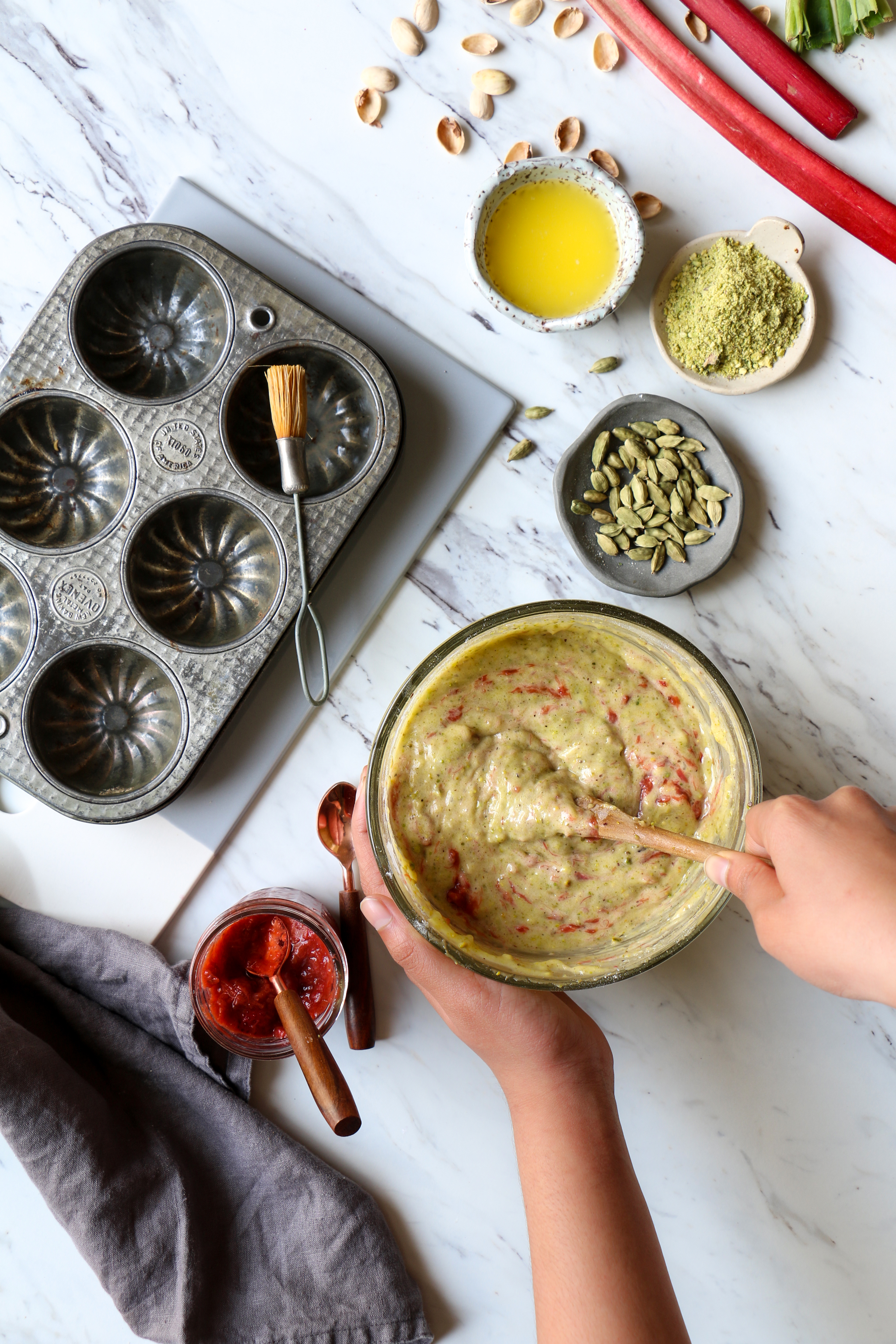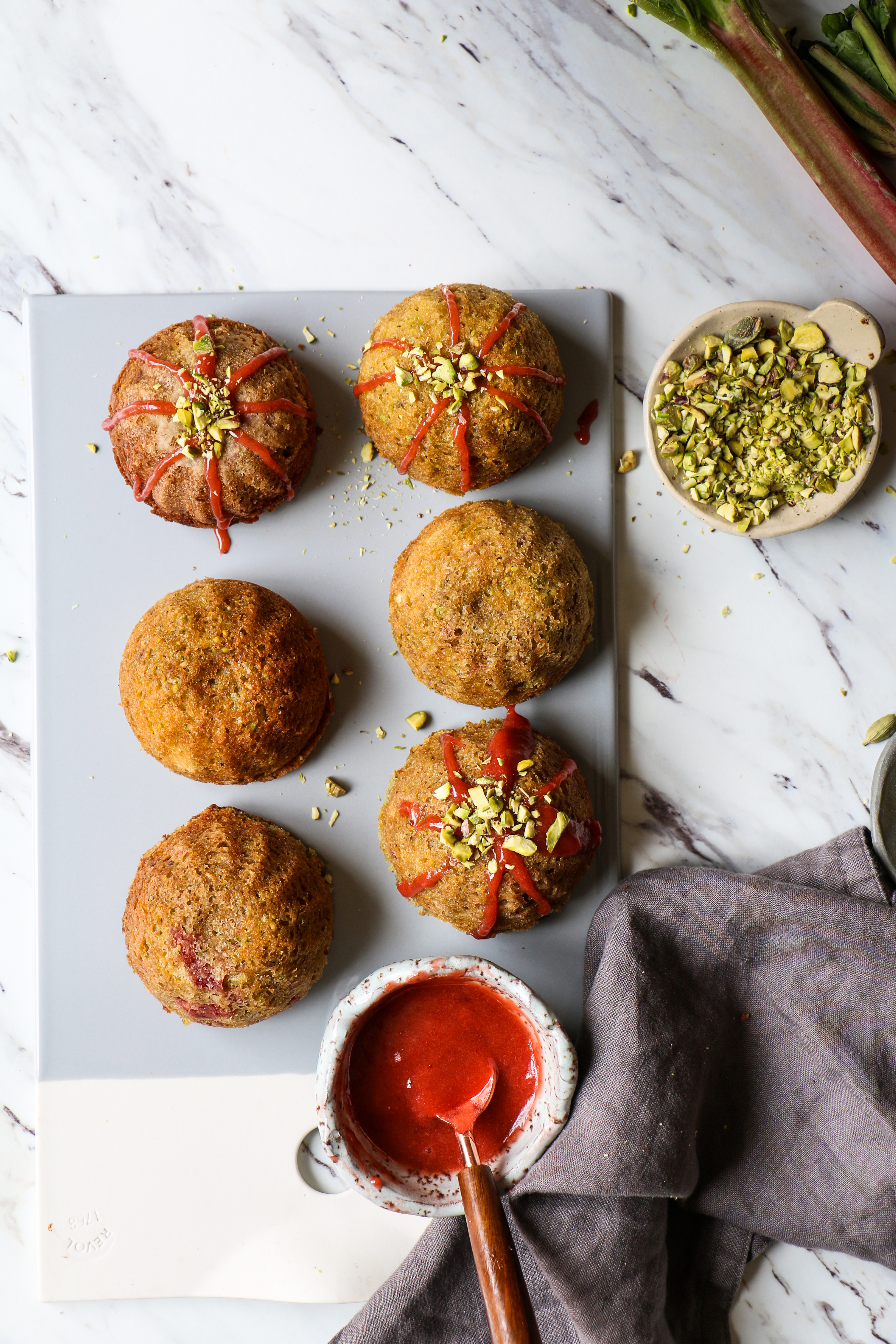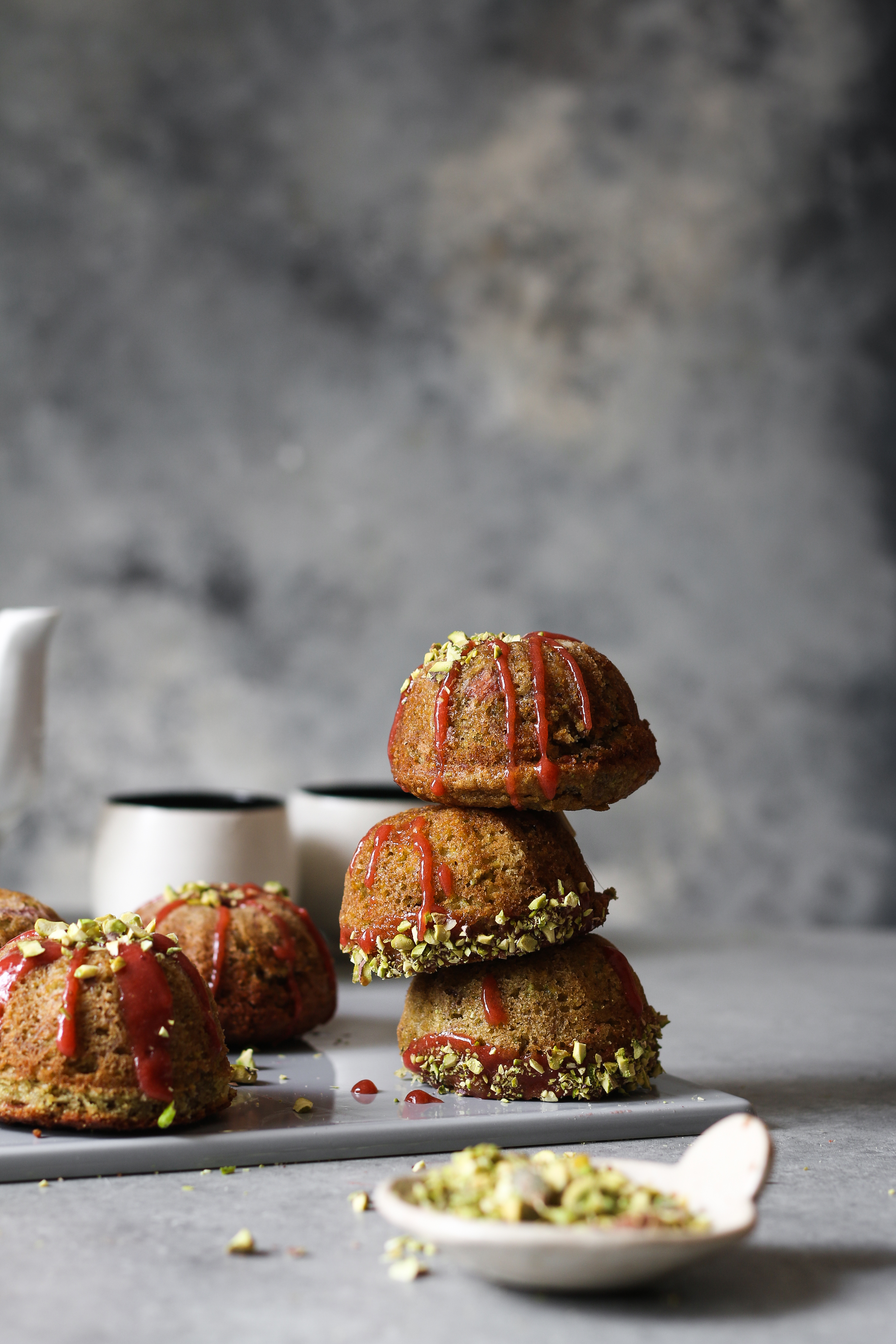 Thanks for reading.  Have a great day.
Stay in touch for  on Instagram , Pinterest and Snapchat (ashfoodfashion) for daily doses of food.

Mini Rhubarb Pistachio Cakes
Ingredients
Rhubarb and Strawberry Quick Jam
½ lbs rhubarb(1 or 1½ cups chopped)
1 cup chopped strawberries
lemon zest from 1 large lemon
½ cup white granulated sugar
For the Cake
1 cup white sugar
½ olive oil (8 tablespoons)
2 eggs
½ cup full fat Greek yogurt
1 tablespoon orange zest
¾ tsp. vanilla extract
1½ cups all-purpose flour
1 cup pistachio meal
1 tsp. baking powder
½ tsp. baking soda
1 tsp. ground cardamom
¼ tsp. salt
Powdered sugar for serving, if desired
½ cup of the rhubarb compote to fold into the batter
Instructions
In a heavy bottom pan, add the rhubarb and strawberries with sugar and lemon zest. Bring it to a boil on medium heat. Keep stirring and let it cook down for about 5-7 minutes or until it coats the back of a wooden spoon. Turn off the heat and let cool completely.
Pre-heat your oven to 350 degrees. Generously spray the 12 cup tin/muffin pans or the mini bundt pans with a non stick spray. If you want to be more cautious, dust it with some flour too. Set aside.
In the bowl of your stand mixer with the paddle attachment or just a wooden spoon and a bowl, mix 1 cup of the sugar and the olive oil until creamy, about 2-3 minutes. Add the eggs in one at a time, mixing after each addition. Then beat in the yogurt, orange zest and the vanilla extract.
In a medium bowl, combine the flours, baking powder, baking soda, cardamom and salt. Add these dry ingredients to the cake batter, adding in about one-third at a time, mixing on low speed until no more white streaks remain. Set aside.
The batter will be thick and a bit tacky. Mix in ½ cup of the rhubarb jam and fold it in. Use a large icecream scoop or a huge ladle to pour the batter in the molds.
Reduce the oven temperature and Bake at 325 degrees for 20 minutes or until a toothpick inserted into the middle comes out clean. Remove the cakes form the oven and set it on a wire rack to cool. Let it cool completely.
In a blender, blend ½ cup of the rhubarb jam with ⅓ cup powdered sugar or confectioners sugar until it of a pouring consistency. Drizzle over the cooled cakes and sprinkle with some pistachios.
The cake can be stored at room temperature in an airtight container for up to 2 days.
Notes
You can make this in a 10 inch spring form and 45-50 minutes. You can sprinkle some pistachios on it and some sugar before baking.