I absolutely enjoy turning salads into something special and this Rustic spring sweet kale and egg tart is one of my favorite ways.  Easy to entertain with and put together.  I am so happy to partner with Taylor Farms to bring this recipe with one of my go to salad kits.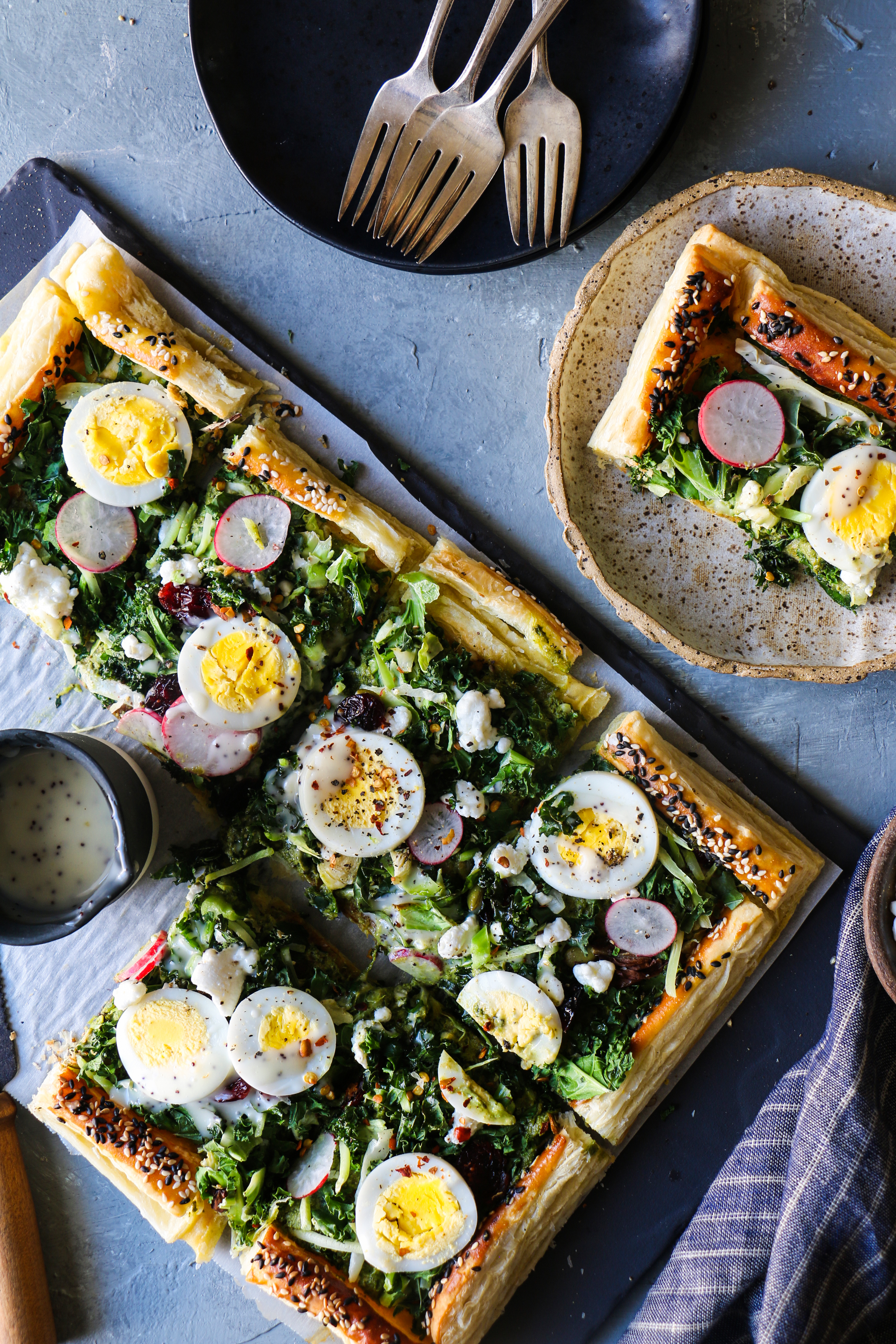 When I moved from India some 20 and more years ago, I was shocked when people served salads. It always left me hungry and craving for my carbs.  Eating habits are something we grow up with and I did not grow up having salads, yes a cucumber salad with onions and tomatoes, if you can even call a salad.  That was the most adventurous I got.
As years went by, I really have come to love a good hearty salad.  Given a choice, salads are not something we gravitate towards, even on a healthy day.  Although not a huge fan of having salads on it's own, I've found ways to incorporate and enjoy a good healthy green salad.  I may  have a wee bit of an obsession to add salads to everything.  I add it to stir fry, noodles, even my South Indian style potato fry.
This is one of my favorite ways to incorporate this salad kit from Taylor Farms which has kale, Brussels sprouts, broccoli and radicchio. I was pleasantly surprised by the poppy seed dressing, it is quite a delicious one.
This is a tart I love making for picnics, for brunch or a light lunch with girlfriends. All you have to prep ahead is the pesto, boil some eggs and bake the puff pastry and the meal comes together fast.  Try it out, you will be impressed.
In honor of National Salad month, Taylor farms is offering a chance to win a month's supply of their Chopped Salad Kits! So make sure to check Instagram out.
Thanks for reading.  Have a great day.Stay in touch for  on Instagram , Pinterest and Snapchat (ashfoodfashion) for daily doses of food.
Have a fabulous week.

Rustic Spring Tart with sweet kale and eggs
This rustic tart is perfect for picnics, entertaining or just a simple brunch. It's easy to put together and a show stopper.
Recipe type:
Breakfast, Appetizer, Brunch
Ingredients
For the base:
2 puff pastry sheets, defrosted for 15 minutes
1 tsp mix of white and black sesame seeds(optional)
For Pesto:
1 cup packed basil
⅓ cup walnut
2 tbsp olive oil
3 tbsp parmesan grated
2 tbsp lemon juice
⅓ tsp freshly cracked pepper
⅓ tsp salt
Taylor farms Sweet Kale salad kit(http://www.taylorfarms.com/products/chopped-salad-kits/sweet-kale-chopped-kit/
1 tbsp olive oil
salt and pepper
3 hard boiled egg thinly sliced
4 red radishes, washed and thinly sliced
Goat cheese crumbles
Dressing
Instructions
Preheat the oven to 425 degrees.
On a large baking sheet, Roll out 1 sheet of the pastry sheet so it all uniform and the seams are blended well. Cut a few long 1 inch strips from the other pastry sheet and stick it with a help of some water on the sides. Pierce the middle of the puff pastry well so it does not puff up too much. Sprinkle some sesame seeds on the sides on top of the thin strips and bake in the oven for 15 minutes or until it is fully crispy and baked.
Take it out and let it cool completely before topping it with the salad.
Once completely cool, spread a few tablespoons of the pesto evenly in the middle of the pastry. Top it will the sweet kale salad. Drizzle with some olive oil, don't drench it. Sprinkle some salt and pepper. You can cover the sides of the puff pastry with some silver foil so that it doesn't burn or turn dark.
Put it in the oven again for another 10 minutes for the kale to wilt and crisp up. Take it out and arrange the eggs, radishes and top with some goat cheese crumbles. When you are ready to serve, top it your favorite dressing or the dressing that comes with the kit.