These baked Nippat, or spiced crackers, are loaded with peanuts and sesame seeds. Make a huge batch and store in air tight container, and they are perfect with a cup of coffee or tea.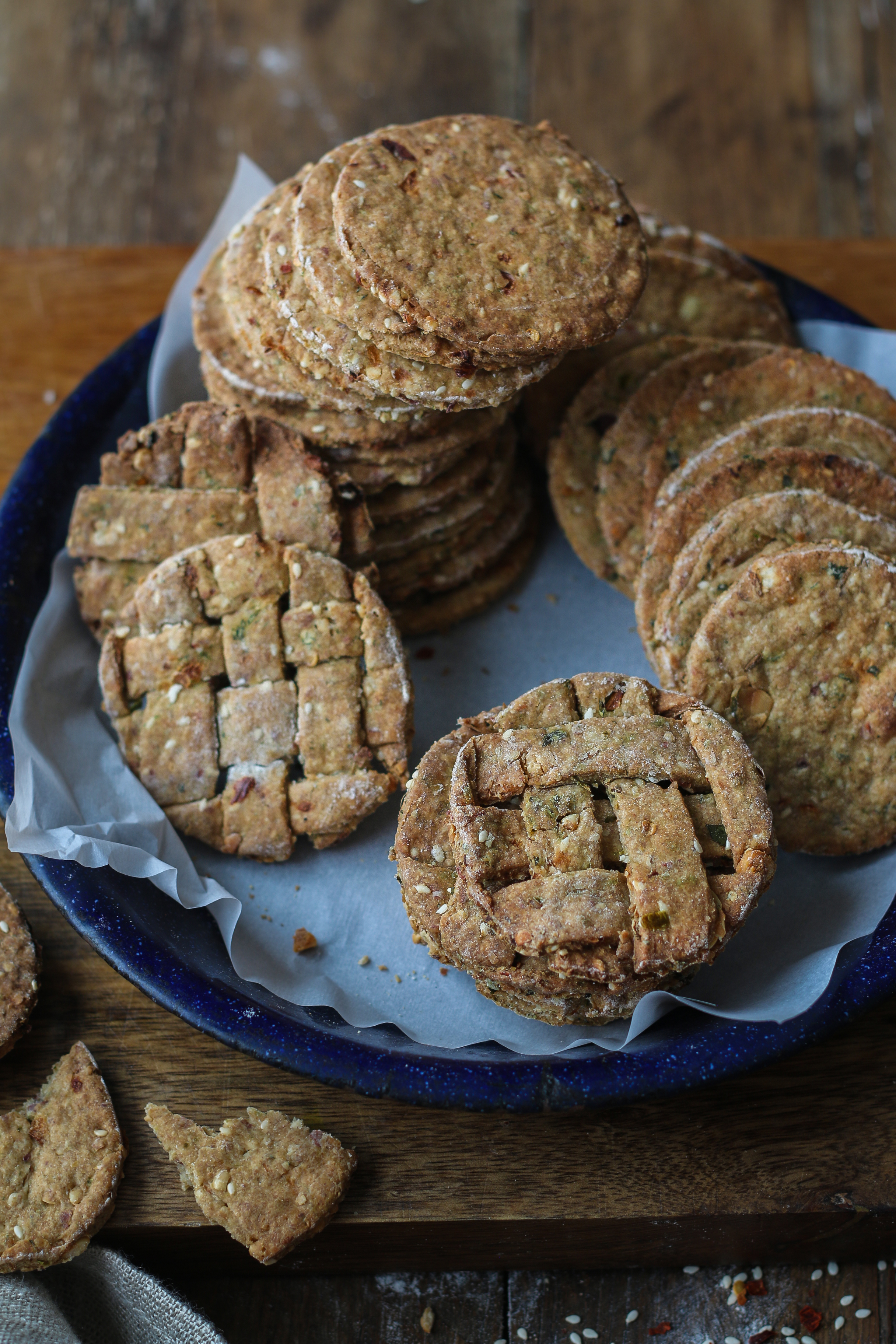 The kids are days away from summer break, and I cannot wait.
Indian summers were special.  As I open my bedroom double door at a little past 8.00 a.m.  to walk onto my balcony, the smell of magnolia hits me.  I try to seize the moment.  The air has a slight touch of warmth in it.   After a brief rendezvous with the smells and sounds of birds, I run in to start the day.  Mum has already started off breakfast, but it's at a more leisure pace than usual.  She was on a break too, a two month long break from her work to stay with me on my summer vacation.
We both finish our breakfast and sit on her four poster bed, refolding all her cotton sarees. We talk about the wedding, discuss the color combos, we even talk about jewelry. My potential wedding, I was just 16. She made special lunches; she had all the time to relax and cook now.  One thing she did was to make treats. She made murrukku, nippat, and sweets, and boxed them up.  The box was filled with treats throughout summer.  After a relaxing nap, evening would be long walks to the nearest Market place where we ate plates of chaat and munched on corn. Time flew.
And here I am, what seems like hundred years later and miles away, still the same jumpy girl who loved summer holidays.  It brings back a bout of memories of long walks, the smell of magnolia, endless gossip sessions with mum about how my wedding would be like and making boxes of treats. The thought that I brushed aside as being the duty of a mom, is now engraved in mind as a mother's love and wanting to be her best for her little girl. A paradigm shift of thought.
As summer approaches, I am deeply thankful that I can be there for my boys throughout doing what I love, mother them. I'd like to be tucked in with them late into the morning, talk tons to them, listen to them, cook with them and make treats with them just like mum did. I would like to fill boxes with snacks for those little hands and their friends.
In the end, we don't stray far from our roots.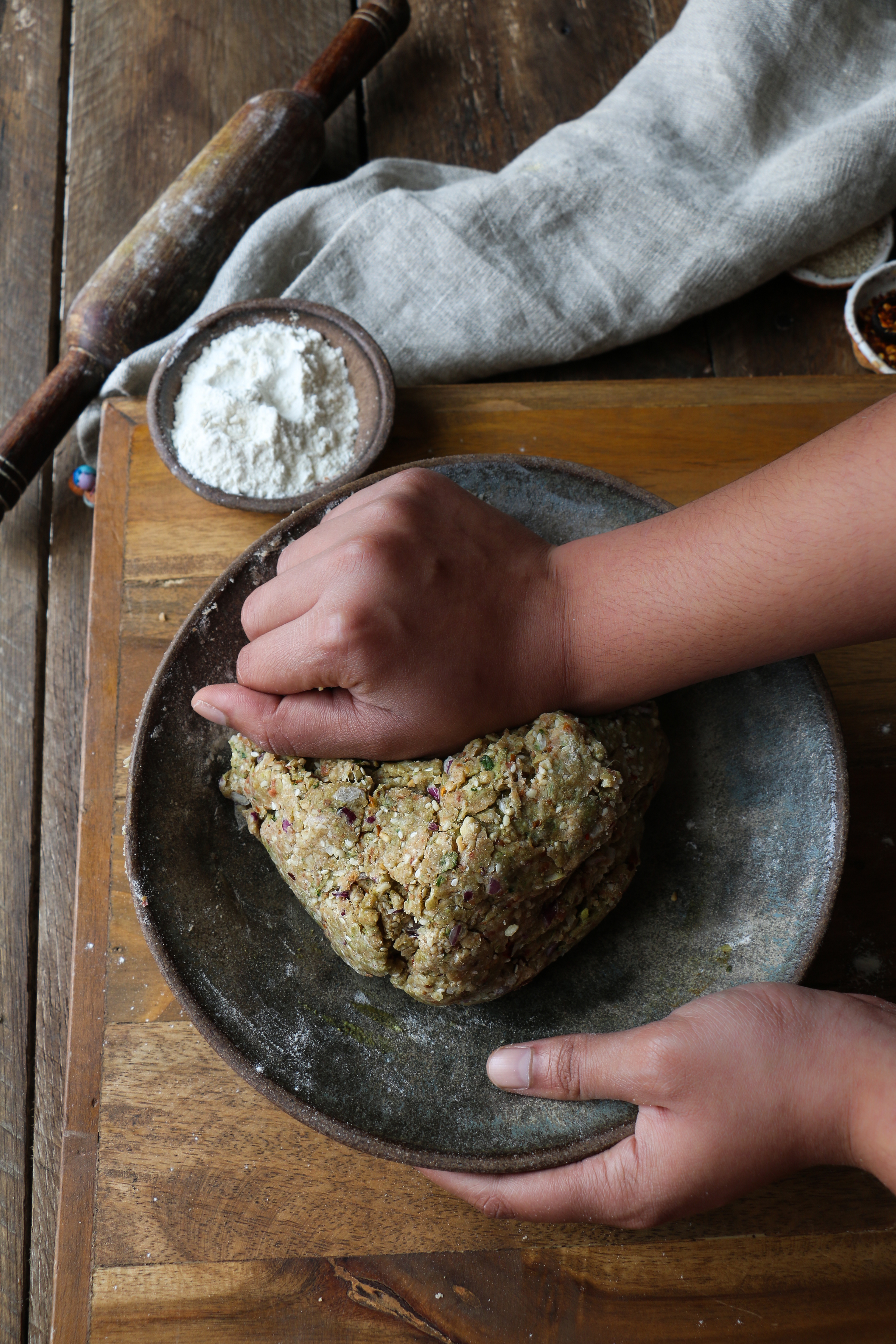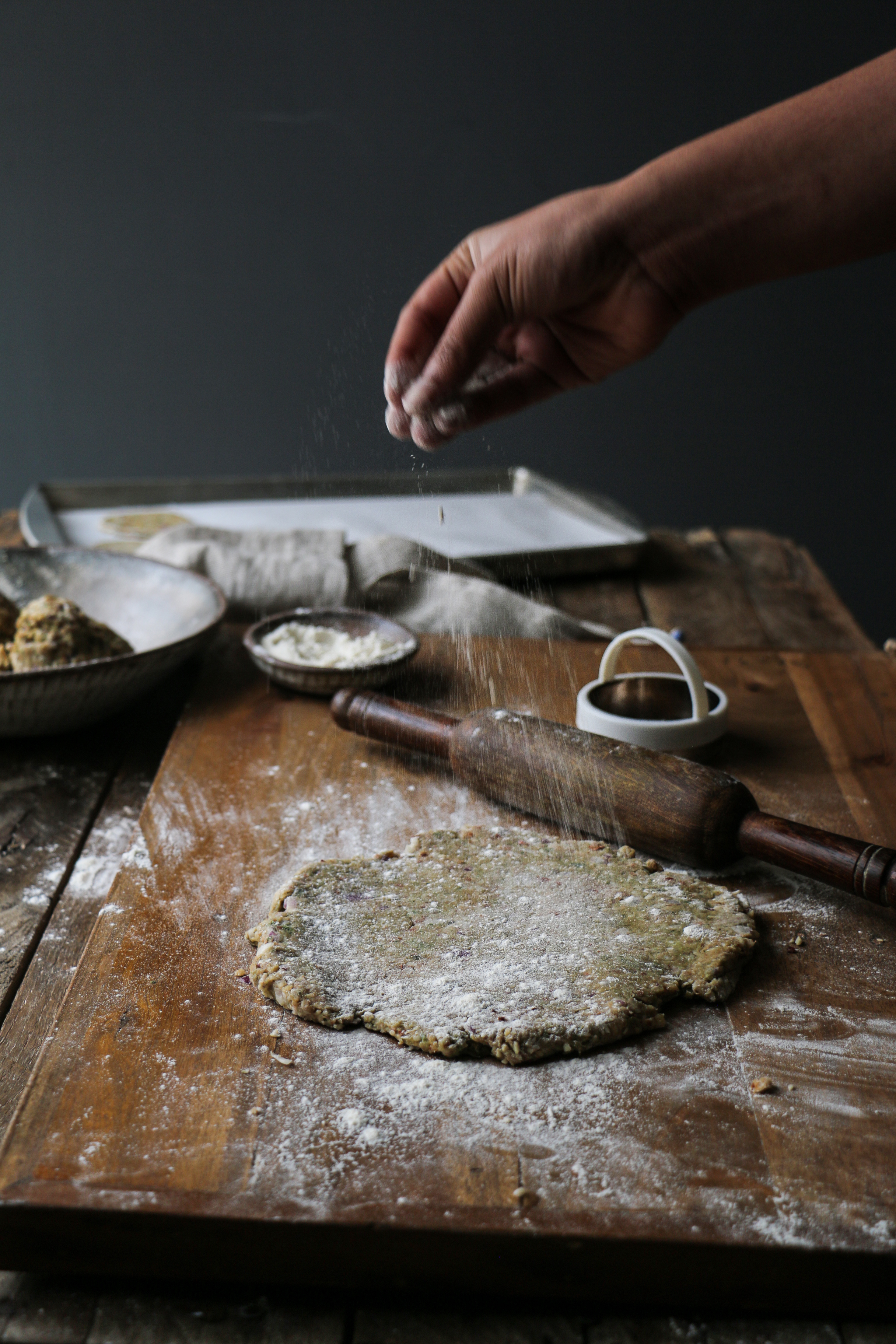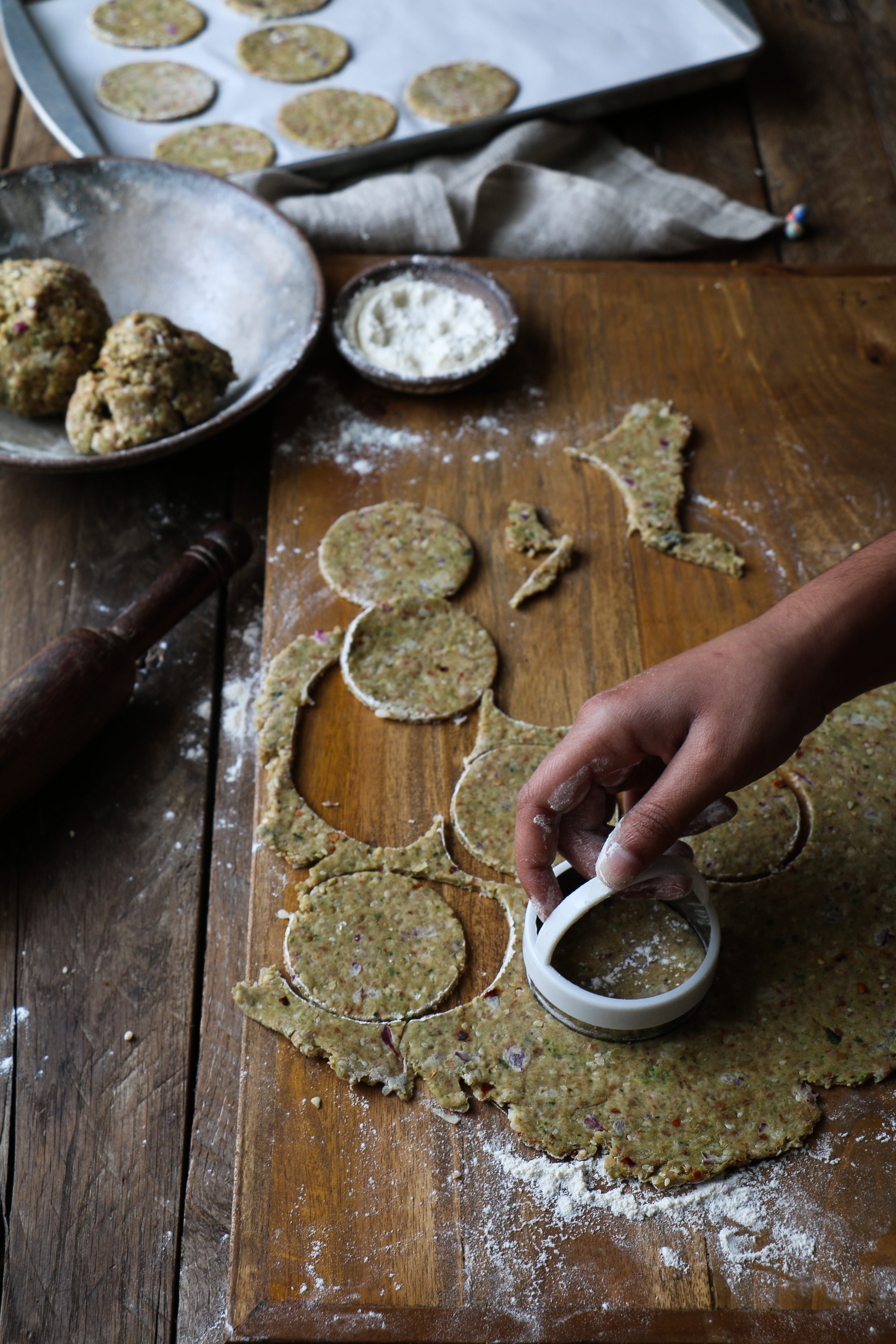 Thanks for reading.  Have a great day.Stay in touch for  on Instagram , Pinterest and Snapchat (ashfoodfashion) for daily doses of food.
Have a fabulous week.

Baked Nippat/ Spiced Cracker with buckwheat and peanuts
Recipe type:
cookies, crackers, snacks
Ingredients
2 cups Whole Wheat flour
1 cup All purpose flour
½ tsp baking soda
½ cup peanuts, toasted to 50%, coarsely powdered
2 tbsp white sesame seeds
1 tsp cumin seeds
2 teaspoon salt
2 teaspoon sugar
½ teaspoon red chili flakes
3 green chilies
1 small red onion
3 stalks cilantro
10 mint leaves
10 curry leaves(optional)
3 tablespoons unsalted butter, melted
2 tbsp vegetable oil
3-4 tbsp cold water
Instructions
In a mixing bowl, add the whole wheat flour, all purpose flour, powdered peanuts, sesame seeds, cumin, salt and sugar and chili flakes. Mix well and set aside.
In a food processor, finely chop the green chilies, red onion, cilantro and mint leaves. It's almost crushed finely. You can chop with a knife too, just make sure it is very finely chopped. When you go to roll them out, you don't want the onion, or chili breaking or making holes in the crackers.
Add the crushed/minced green chilies, red onion, cilantro and mint mixture to the flour mix. Add the unsalted melted butter and using clean hand mix and bring the dough together. You will need few tablespoons of water to make a hard dough. This step is important, do not add too much water, just 1 tbsp at a time. I needed 3 tbsp of water. The moment it comes together, stop working the dough. Cover the dough with a kitchen towel and let it rest for 15 minutes.
Preheat the oven to 375 degrees if using the conventional oven and 350 degrees for convection oven(the small counter top ones).
Take the dough out and divide it into 4 equal portions. Roll it out on a floured surface to ⅛ of an inch thickness. I like my crackers thin, so you can roll it as thin as possible. Use a circular cookie cutter to cut out the crackers. Gently transfer and place it on a baking tray lined with parchment paper.
Bake it for 20-25 minutes or until it is golden brown. Mine baked exactly for 25 minutes in a conventional kitchen counter top oven at 350 degrees.
Keep an eye on them after 20 minutes, they do go from golden brown to burnt and dark in minutes.
Take it out and let cool completely and store in air tight container.
Notes
You can use full Whole wheat flour and omit the all purpose flour.
I have used buckwheat flour instead of all purpose flour and it's come out really well.
If you want to keep this vegan, omit the butter and use vegetable oil instead.