Creamy, delicious and simple.  These Almond coconut milk raspberry popsicles are not only beautiful, but also quite simple to whip up.  They freeze beautifully, and the agave nectar adds a subtle fruity flavor.  The chocolate, though optional, works so well with the raspberries.  A summer must make recipe.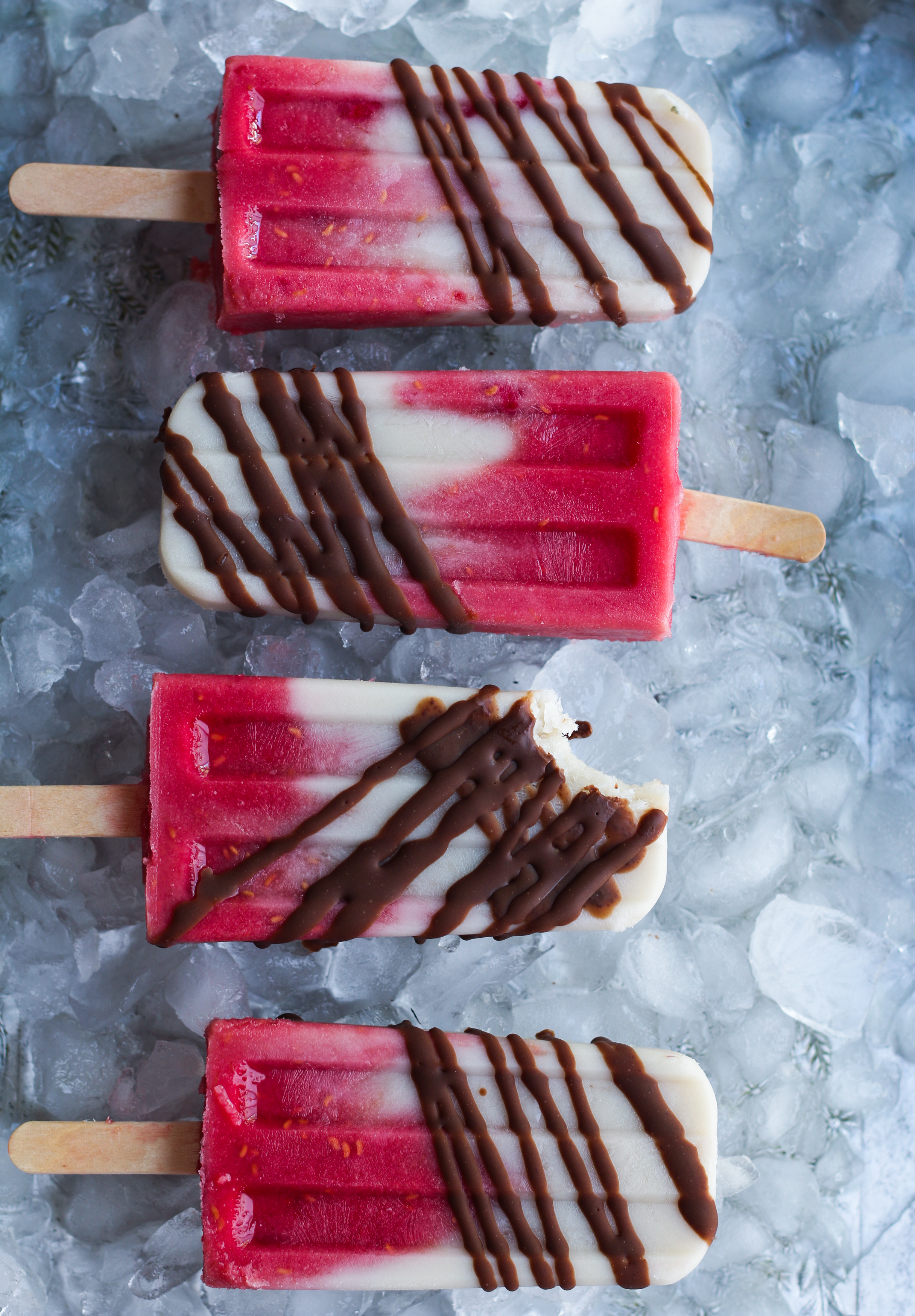 Happy Summer!! Happy Popsicle Week!!
We are all big fans of popsicles, but can you believe that I had never made them at home until I was recipe testing for my book? The talented and lovely Alanna from The BOJON GOURMET shot the pictures for my book, and she is one talented woman.  While we were shooting, she asked me if I had popsicles in the book, and if not, she said I HAD to put it in.  And then, my obsession with popsicles started. On a side note, it was such a pleasure working with her.  I learnt so much in the process.  These pictures are definitely inspired by Alanna.
Even with all windows open, a blazing summer heat filled our home last week.  Waffles lays on the coolest floor next to the door panting for some fresh air.  There's an almost lethargic feel to the air. Noon comes and we close the doors and curtains to relax with a cooling drink and books in each hand. All we've been craving for is some cold desserts that don't mess your summer arms and salads.
This is a simple popsicle that sets well and is so creamy with almond and coconut combination. I used Califia unsweetened Almond Milk (not sponsored, I just love the brand), but you can make your almond milk too.  The agave nectar has a slight fruity touch and the subtle sweetness it adds is delicious in this mix.  You can use vegan chocolate for the drizzle to make this completely vegan.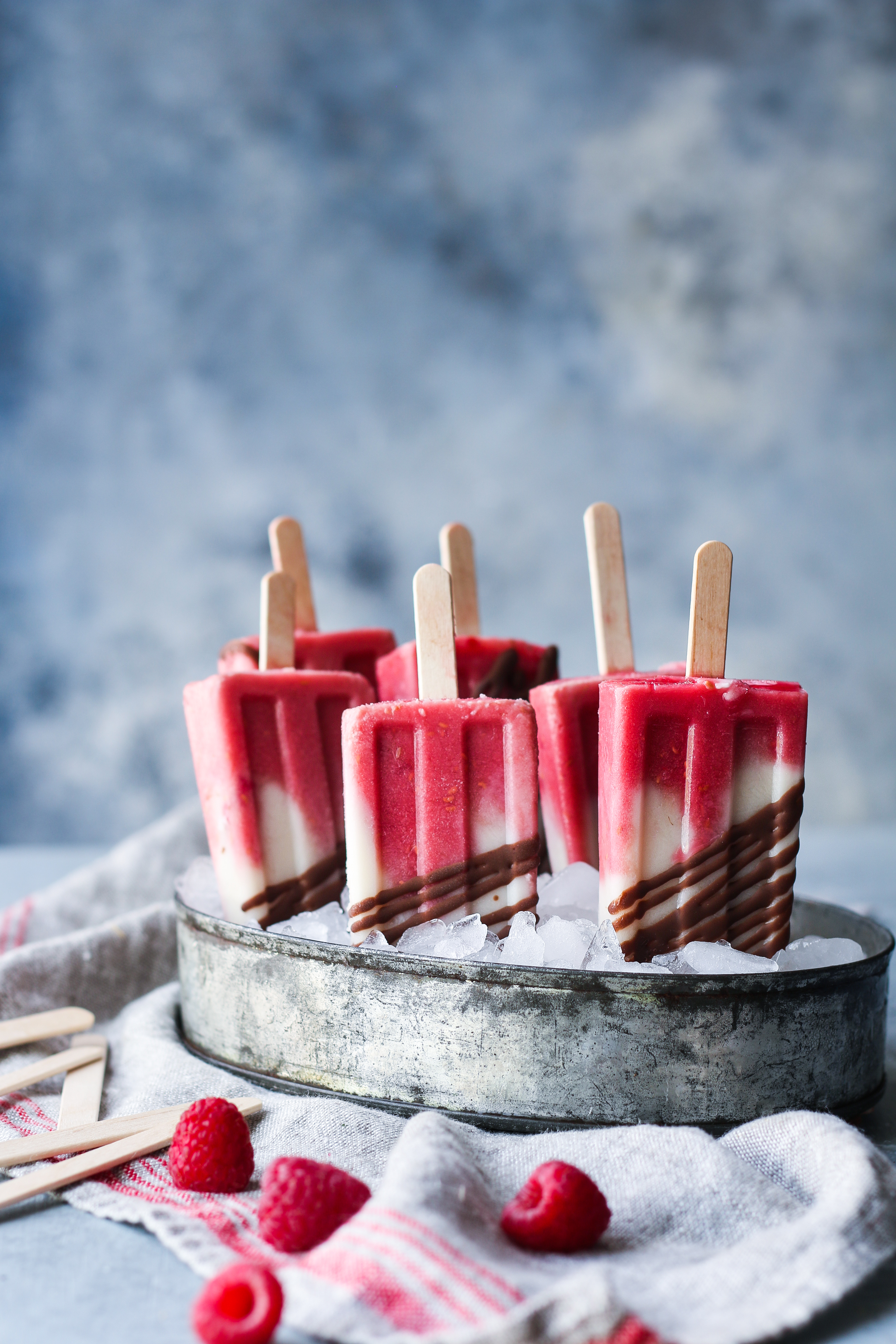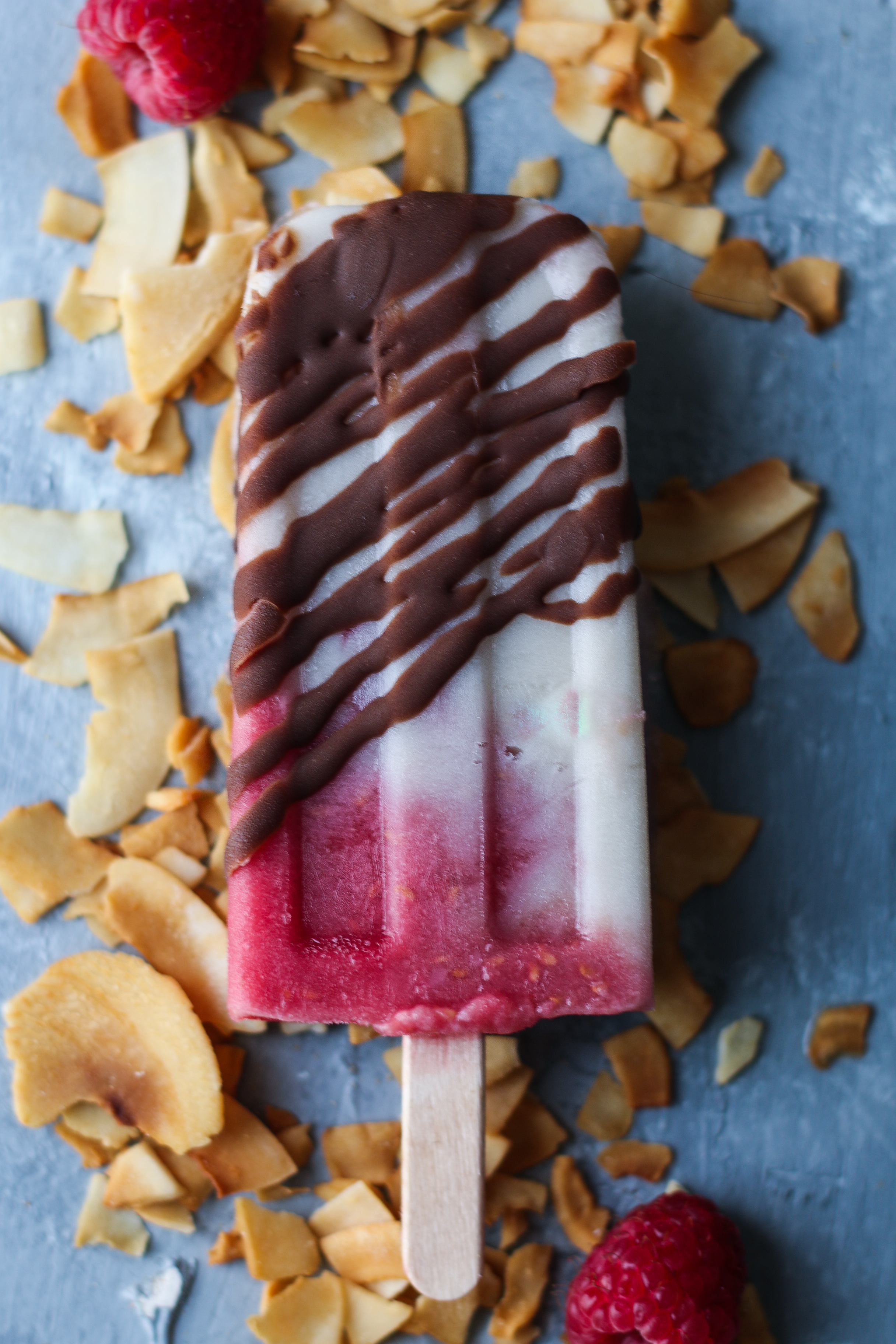 Thanks for reading.  Have a wonderful cool day!!
Stay in touch for  on Instagram , Pinterest and Snapchat (ashfoodfashion) for daily doses of food.
Have a fabulous week!!

Creamy Almond-Coconut milk Raspberry Popsicles
Ingredients
1 cup full fat coconut milk or 15 oz
1½ cup almond milk(I used Califia unsweetened Almond milk)
⅓ cup agave nectar
1 tsp vanilla extract
1 tsp cornstarch
½ cup raspberries
For chocolate drizzle
⅓ cup semi sweet chocolate chip/bar /or vegan chocolate
2 tbsp coconut oil
Instructions
Whisk together the coconut milk, almond milk, vanilla, cornstarch and 3 tbsp of the agave, until smooth and creamy. Bring it to a simmer for 5 minutes on low flame and switch it off. Set aside and let cool completely.
Take ½ cup of the almond and coconut milk mixture and add the berries and blend with the remaining agave nectar. Set it separately.
For a creamy pop: Stir together the coconut/almond milk and berry puree, and divide evenly between the popsicle molds. Freeze for 30 minutes, then insert the popsicle sticks, and continue freezing for 4 hours, or until firm.
For a layered pop: Divide the coconut/almond milk equally between the popsicle molds. Place in the freezer for 1 hour, or so, then top with the berry puree. Use a skewer to swirl it. Freeze again for 30 minutes, then insert the popsicle sticks and continue freezing for 4 hours, or until firm.
For the chocolate drizzle
Melt the chocolate in a double boiler or a microwave and mix well till smooth. Then add the coconut oil and milk well. Let cool completely.
To remove the popsicles, either let them sit out for 5-10 minutes until soft enough to pull out, or submerge the bottom of the popsicle mold (up to the edge of the top) in room-temperature water for 10-15 seconds, then gently pull to release.
Once you pop the popsicle out, drizzle it with some chocolate.