A moist easy moist German Chocolate Cake smothered with saffron coconut and cashew, almost like a coconut burfi on top.  It's simple to make and quite an addictive cake.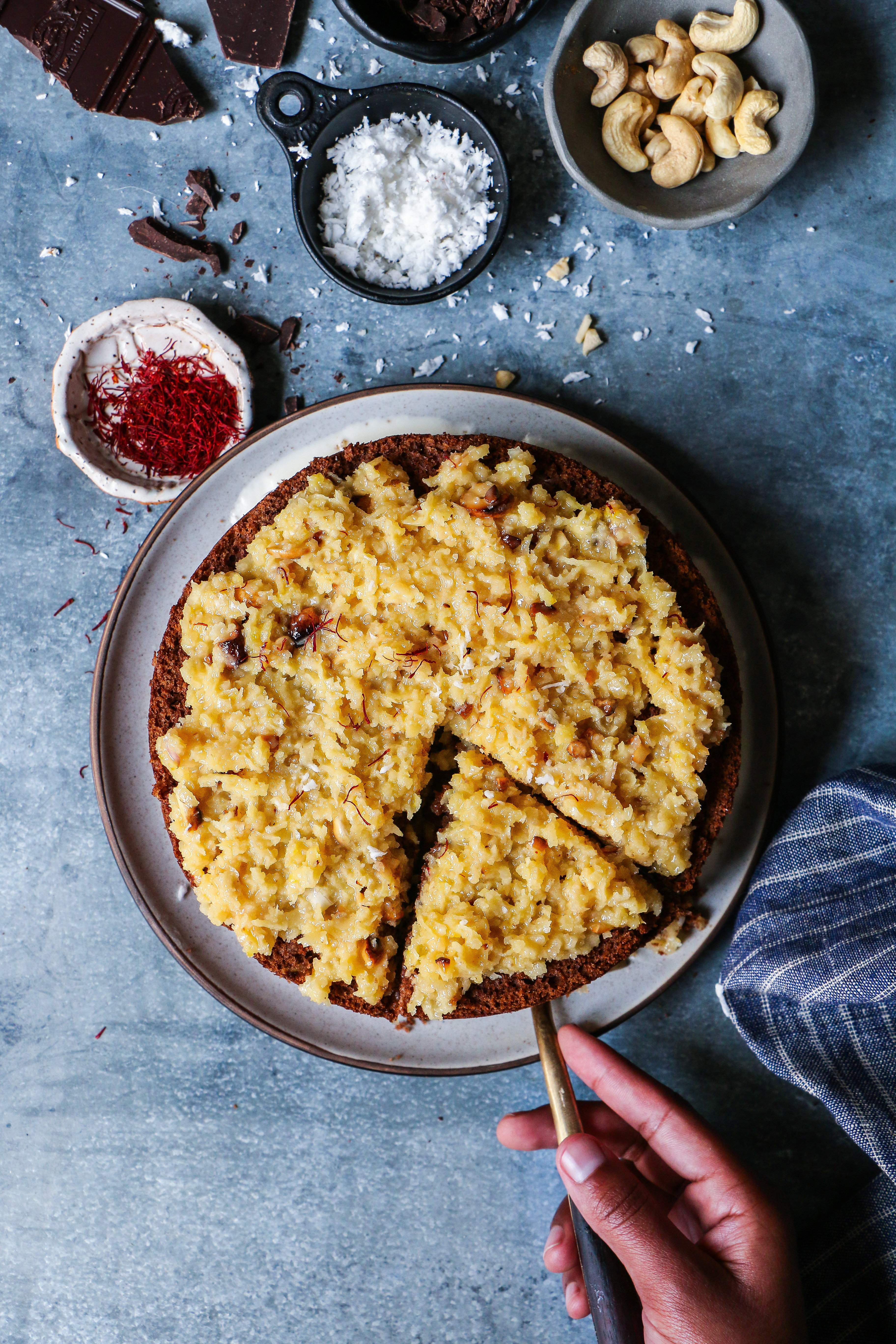 I wanted to tell you, and then, I'd tell myself, I'll tell after my next deadline was met.  Two weeks ago, at around noon, I heard a knock, I opened the door and was handed a big brown package.  I opened it and there was a yellow note which said, "check and return by….".  It was my manuscript for review.  It hit me.  I am officially going to be a COOKBOOK AUTHOR!!
There, I said it and it feels WONDERFUL.  Honestly speaking, one of the things I wanted to do was, to shout out loud and tell you all that someone wants to publish my recipes.  I had to wait, and it was, in a way easy for me.  I was overwhelmed and nervous with a giddy sort of excitement.
It is quite weird writing this or saying it aloud: I have always wanted to write a cookbook, even when I knew nothing about cooking.  If I could go back in time and tell my younger self that I would be given an opportunity to write a book, I would have not believed it back then.
So when I was approached by the publisher to write this book,more than a year earlier,  I was thrilled and overwhelmed.  It truly dawned on me only a few months later, when my table of contents was due.  What is it that I can give you, and to myself?  After weeks of thinking, my editor and I decided on the theme which would be based on my blog.   Isn't that the most appropriate thing to do?
The table of contents was just the beginning, which, by the way, took me weeks.  What was in store was long working hours, testing, re testing, eating, and writing.  After almost a year of working on my little project, I finally get to talk about it to you, my friends.
I am psyched and excited about it.  It has been my dream, but this book is becoming a reality only because of your support, love, and constant inspiration.  You would've heard this before, but I'd like to stress it.  THIS BOOK HAPPENED BECAUSE OF YOU.
I am looking at it as a book where I can go get inspiration and cook from.   A book that I can gift to a friend who loves an Indian touch in any cuisine.  A book which will help you plan a party or just a regular weekday meal.  We love our traditional food, and I made sure to add in many traditional recipes with my personal twist.   I love the amalgam of modern Indian cooking .  You will see that in the book.  I will talk about the process, how I was approached, title cover, the fabulous photographer, the theme of the book, maybe share the cover too, and all the details in later posts.
For now, I am grateful.  The higher power is great, HE brings things to you when you need it the most.  This book deal was a savior in a way, it came at a low point in my life for which I am very Grateful.  The day I signed, I cried, I looked up, and thanked everyone who helped me make my dream come true.
Thanks to you.
Heartfelt thank you to all who keep cheering me on, and keep giving me the strength to continue what I am passionate about.  I hope I can do each one of you proud.  I hope you will love it as much as I do.
YAYAY!!! Now that was my giddy little news, and here is my new favorite dessert.  If I could, I would share a slice with all of you and celebrate this news.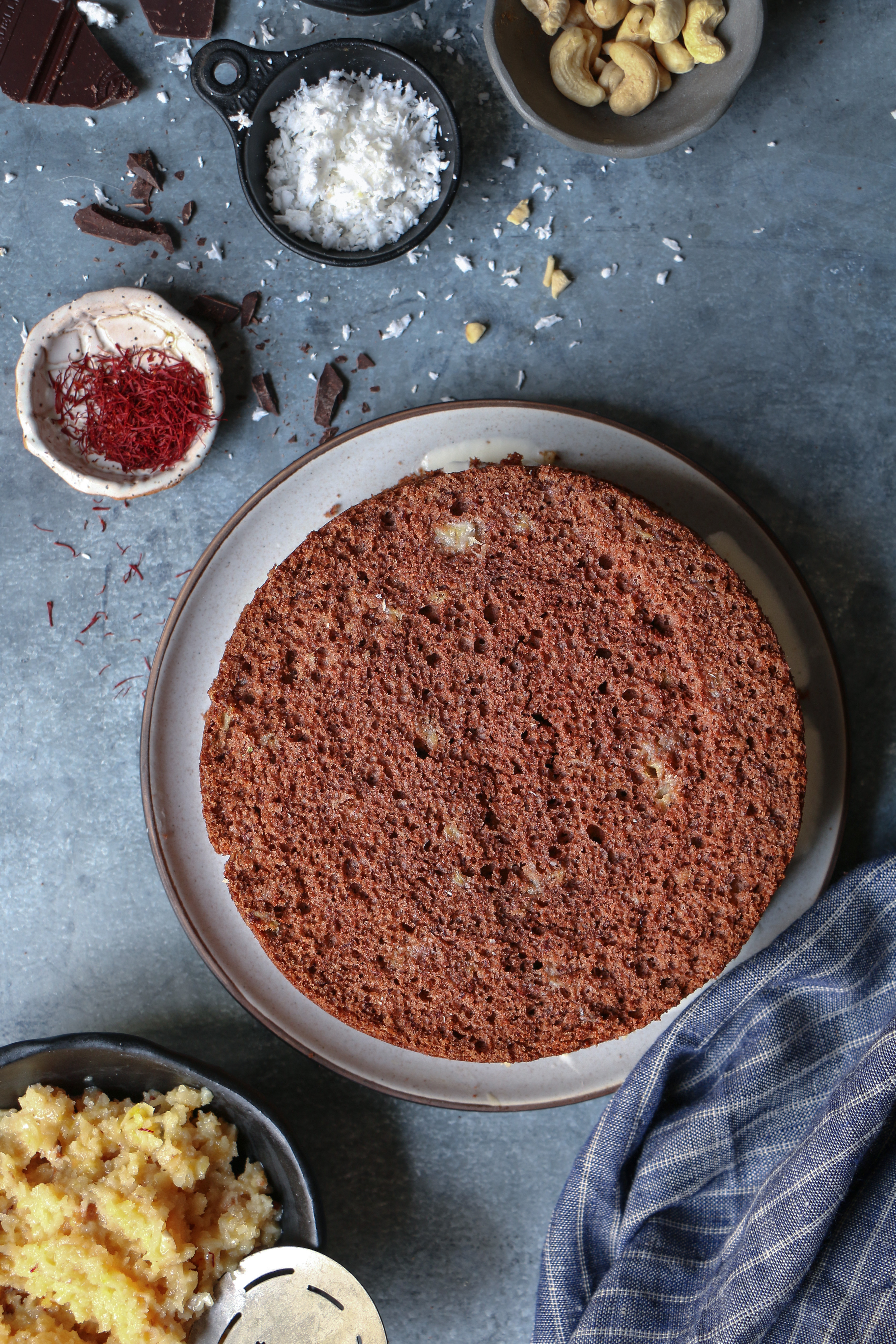 While I often appreciate a simple chocolate cake, I never deny a slice frosted with coconut. This is  most lush when eaten warm, or at room temperature, which makes it an ideal all year around cake.
This cake is  subtle and straightforward. I use a mix of buttermilk and banana,which makes it moist with a fruity touch. With this cake, I like some embellishments that complement, rather than echo, that coco-nutty sweetness. Turning to the freezer drawer, frozen coconut can save the day, cook it quickly with some cashews and cardamom, and add it as a frosting.
The sauce from the coconut mixture  seeps into whatever it touches. Serve a slice; it's so good, all in one.  The chocolate, hint of banana, coconut, saffron,  and nuts for gratifying crunch.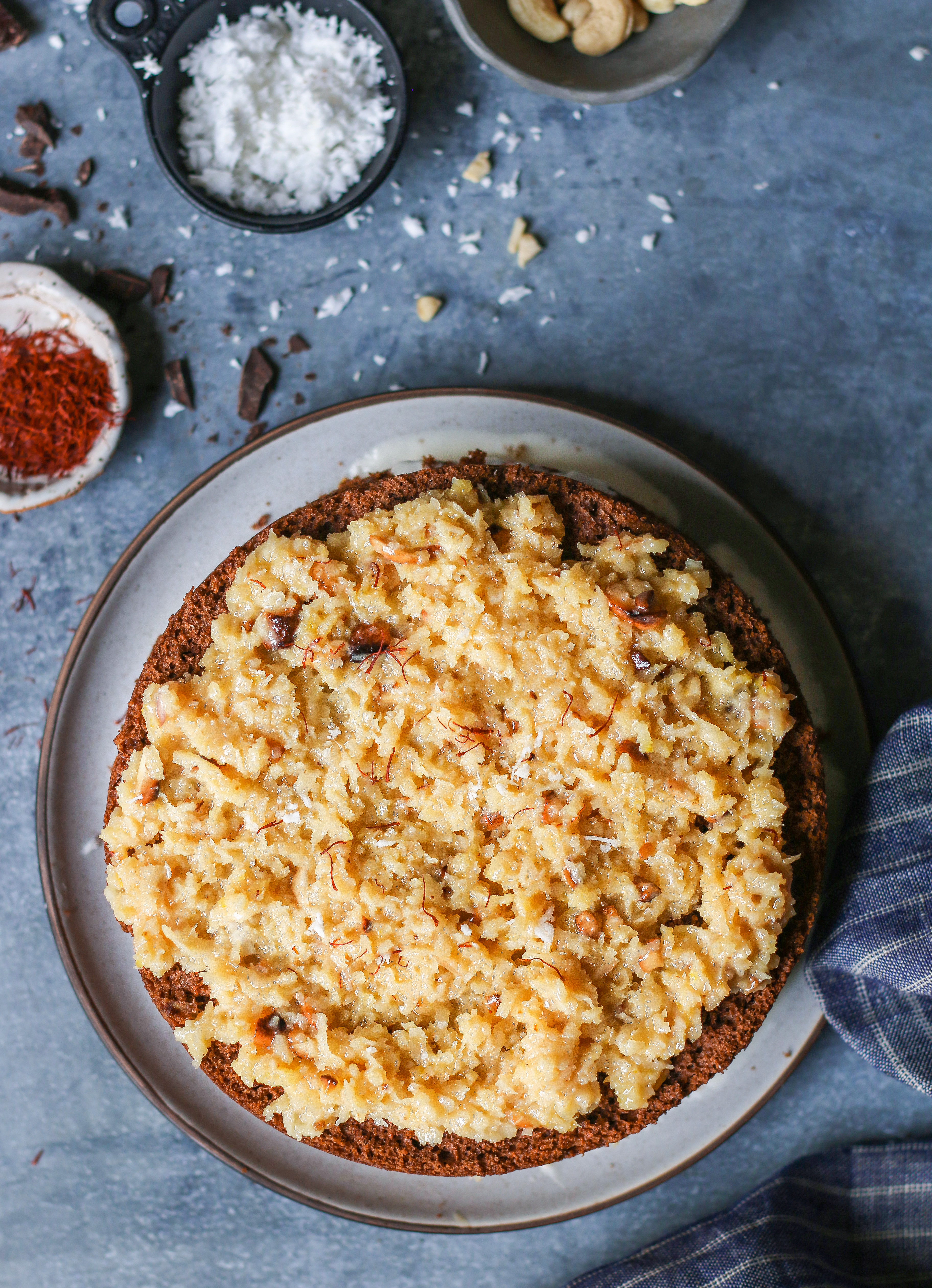 Easiest Moist German Chocolate Cake with Saffron-Coconut Cashew topping
Ingredients
½ pkg. (2 oz.) BAKER'S GERMAN'S Sweet Chocolate
¼ cup water
2 large eggs
¼ cup vegetable oil
1 ripe banana
1 cups sugar
1 tsp. vanilla
½ cup buttermilk
1 cups all purpose flour
½ tsp. baking soda
pinch of salt
For the topping
1 cup fresh coconut/frozen or dried flaked coconut
½ cup evaporated milk
⅓ cup white castor sugar
⅓ tsp cardamom powder
10 strands of saffron
12 cashews toasted and chopped
Instructions
Heat oven to 350°F.
Cover bottom of a 9-inch round pan with parchment; spray sides with cooking spray.
Microwave chocolate and water in large microwaveable bowl on HIGH 1-1/2 to 2 min. or until chocolate is almost melted, stirring after 1 min. Stir until chocolate is completely melted.
In a mixing bowl, add the eggs, Combine flour, baking soda and salt. Beat oil and sugar in large bowl with mixer until light. Add egg yolks, 1 at a time, beating well after each. Blend in melted chocolate and vanilla. Add flour mixture alternately with buttermilk, beating until well blended after each addition.
Add egg whites; stir gently until well blended. Pour into prepared pan.
Bake for 30 min. or until toothpick inserted in centers comes out clean. Immediately run small spatula around cakes in pan. Cool cake in pan 15 min. Remove from pan on to wire rack; cool completely.
For the topping
In a sauce pan, add the coconut, evaporated milk, castor sugar, and bring it to a boil. Simmer it and add the cardamom and saffron. Let the mixture thicken, which will take 3-5 minutes stirring continuously. The consistency should be similar to a rice pudding, not too thick.
Assembly
After the cake is cooled. Slice it in the middle. Use the smooth side as the top of the cake. Place the bumpy top of the cake face down on a plate. Use ¼ of the coconut filling on the slice. Spread the whipping cream on top. Carefully place the top of the cake. Spread the remaining filling,
Let it sit for an hour or two before slicing and serving.