This beet greens yogurt soup with curried cauliflower is slightly spicy, and cooling for a warm summer night.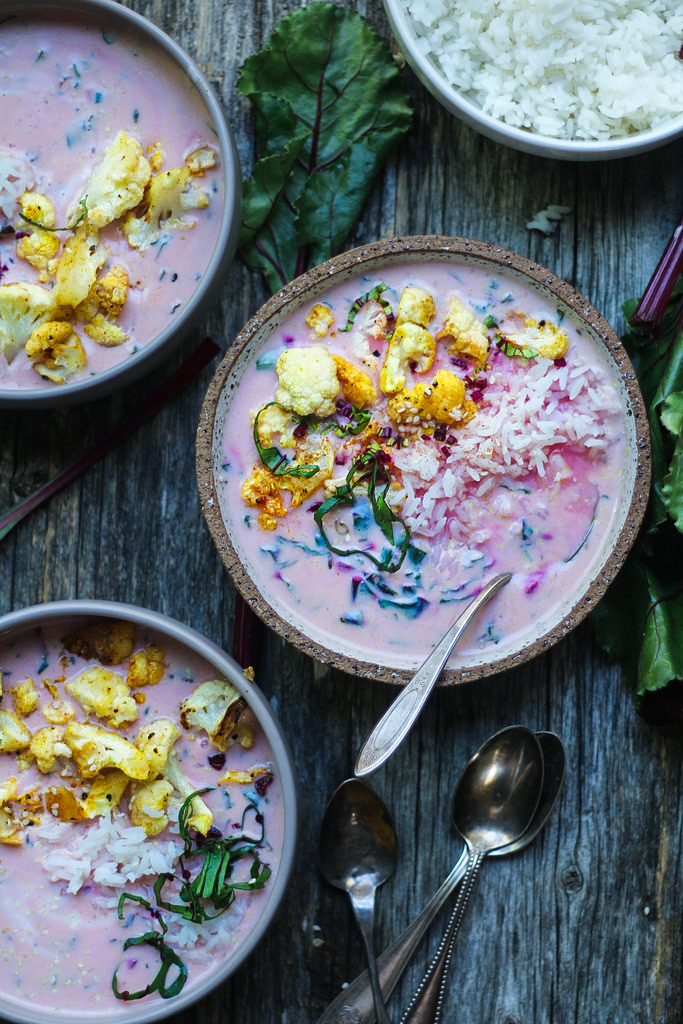 As years fly by, I find myself more and more in love with my own space.  I tend to seek refuge within the umbrella of my family.  Flaws have just not affected me the same way as before. If there's one thing I've learnt in the past few years, it is to simplify life. I am trying.  Enjoying the little things as much as I can.  Yes, there's a ton to do, more to achieve, but just pausing to see what we've achieved is such a mind-cleansing process.  It might be not have to be something material, just something that you can feel.  A feeling of satisfaction.  A simple smile that your child gives you for being supportive of him is a gift.  I find myself no longer attached to material things, in a way I used to.
I have been in a funk lately though.  I'd hate to admit it, but sometimes social media does that to you.  It's easier said than done, I guess, living a simple life, a satisfied life, especially when you see a whole world around you paint a perfect picture.  Now, that said, I am satisfied where I am, but every once in a while there's a slight unsettling feeling of, "What am I doing?  Why am I not aggressive enough?"  In an industry where everyone around you is absorbed by the trials of social media, it's difficult to not be absorbed yourself.  Then I tell myself, the world is filled with different kinds of people and this is who I am, and I need to embrace that. The dreamers, over achievers, the relentless worker, the business minded, the inquisitive and the positive thinkers.  All different, and each one does what their mind wants and heart says.  But, in the end, it's nice to be you. The word "happiness" cannot be taken easily. It's a state of mind we all want to achieve at some point of our lives.
If you have a few minutes, comment on how you've been.  Do you get wound up with social media at times?
On to this perfectly cooling and spicy soup, a well balanced one for warm summer months.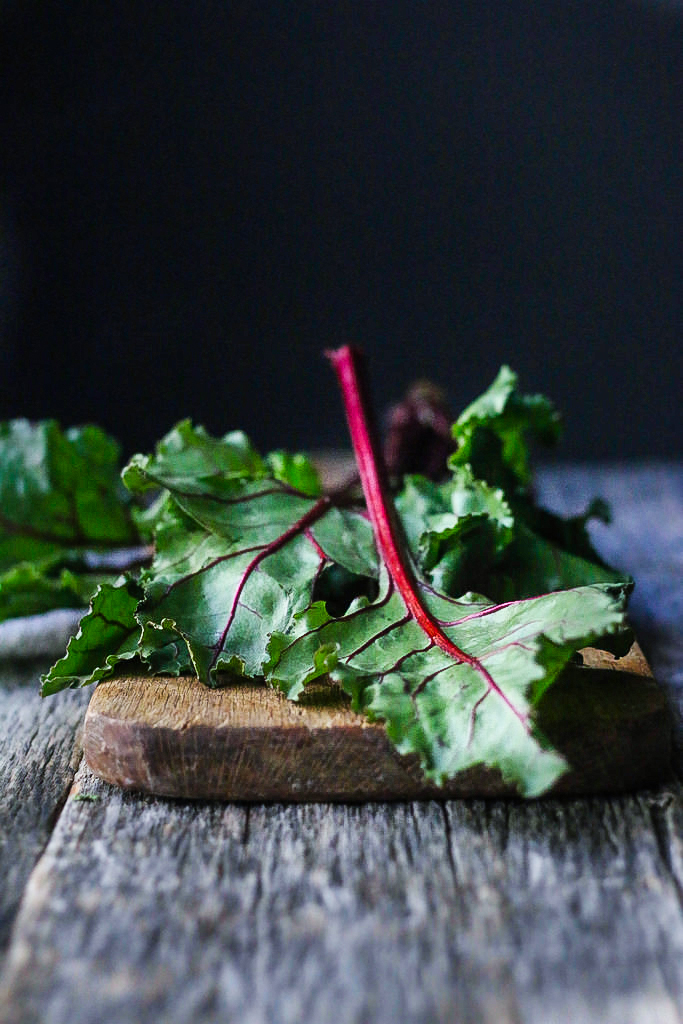 I used to throw away beet greens for many years, and I am not happy about that.  This yogurt soup is a twist on a traditional south Indian dish called morkhozumbu.  I absolutely like adding these beet greens and it really works well.  The Beet greens are milder than the musky flavored beets, and it compliments the yogurt.  A slightly tangy, spicy and mildly sweet soup that goes great with some roasted cauliflower and rice.  You can omit the rice and just have it as a soup, it's perfect either way.

Yogurt-beet green spicy soup with Curried Cauliflower
Ingredients
½ head of cauliflower chopped to 1 inch pieces
½ tsp curry powder
½ tsp salt
2 tsp unflavored oil
2 cups low fat yogurt(unflavored)
4 cups water
1 tsp coconut oil
1 tsp cumin
pinch of asafoetida or hing
2 green chillies finely chopped
4 stalks of beet greens chopped finely
1 tsp sugar
SERVE with some steamed rice.
Instructions
Preheat the oven to 400 degrees.
Take a sheet pan and add the cauliflower. Sprinkle the curry powder, salt and oil. Toss it well and bake for about 10-15 minutes or until crispy and set aside.
In a bowl, add the yogurt and water and whip/mix it well. Set aside.
In a large pan, add oil and cumin seeds. Let it brown and add the hing/asafoetida and green chillies. Keep the heat at medium. After a few seconds, add the beet greens and let it wilt and cook for 4-5 minutes. Lower the heat completely and add the yogurt mix and keep stirring with a whisk. Let it not come to a boil. Add the salt, sugar and when you see bubbles on the sides, Turn off the heat and serve with roasted cauliflower on top and steamed rice.
Thanks for reading.  Have a great day!!
Stay in touch for  on Instagram , Pinterest and Snapchat (ashfoodfashion) for daily doses of food.
Have a fabulous week.