These Mango and Peach Margarita frozen pops, topped with some wine and vodka, are easy to make and perfect for entertaining.  I'm so happy to partner with Master of Mixes to bring  you this amazing recipe.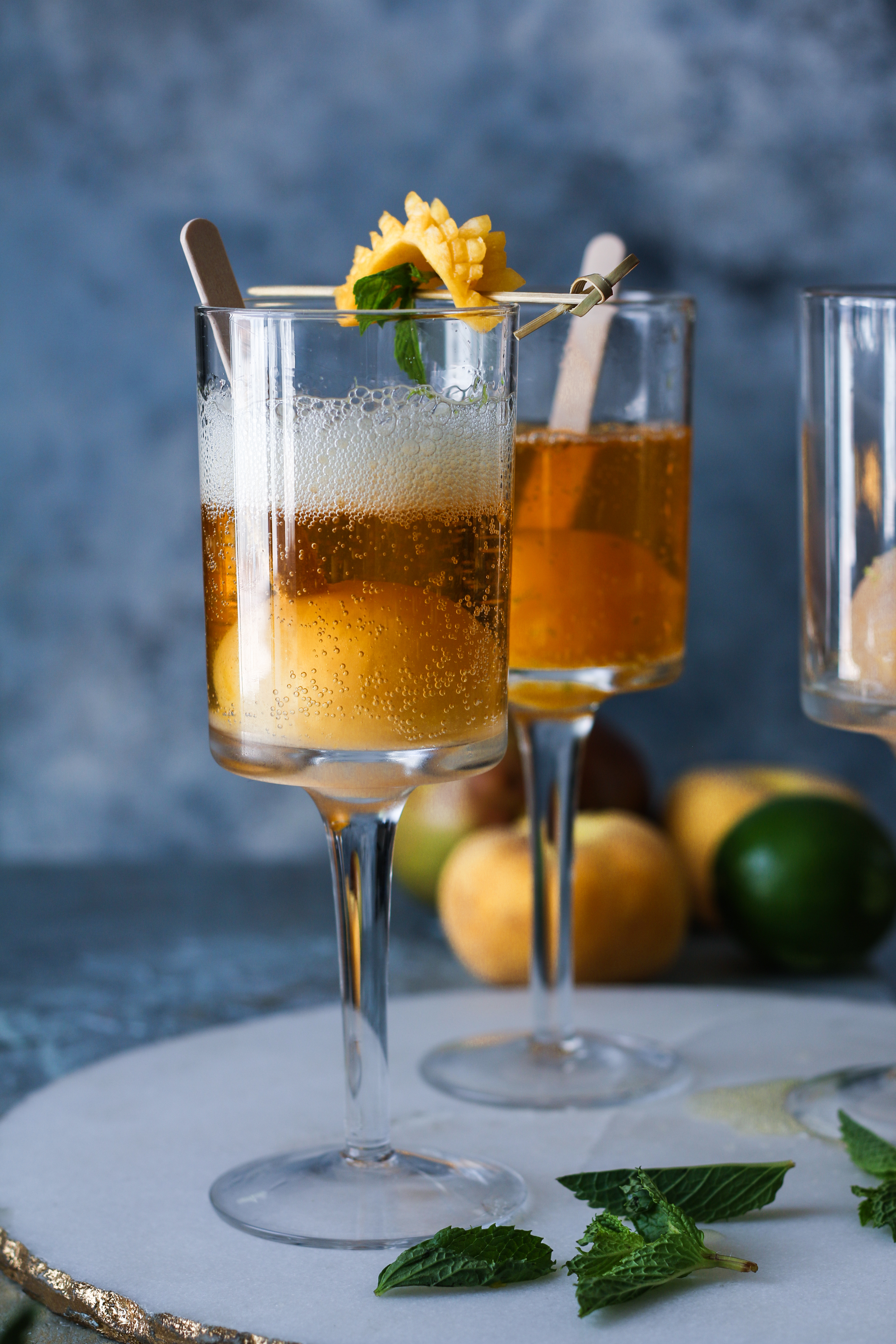 The sun is shining through our large windows, and the mid afternoon heat is draining.  The fan is on, and the windows are drawn in to let the heat settle outside.  Waffles is by my feet, huffing a bit, the teen is on the sofa with his headphones, and the little one is with a book.  I am parked in between papers, a cocktail party to plan, but wondering what will cool us.  We all, every few minutes, look at each other for some sort of cooling comfort.
When I moved to San Francisco, hubby's words were something like this, "You are lucky, you've come into perfect weather".  I can't complain, Cali weather is just so beautiful.  In the warmth, there is a comfort of staying indoors with the boys.
I jump up startling the sleepy pup who gives me startled look.  I pour myself the Master of Mixes Mango Daiquiri/Margarita Mixer, add a touch of vodka and top it with champagne. When has adding vodka and cold wine been a bad idea, especially when the weather beckons us to stay inside sitting on a cool floor? It's naughty for me, and with some fizzy non-alcoholic grape juice mixed in, we sip with a sense of gratitude for the cooling drink.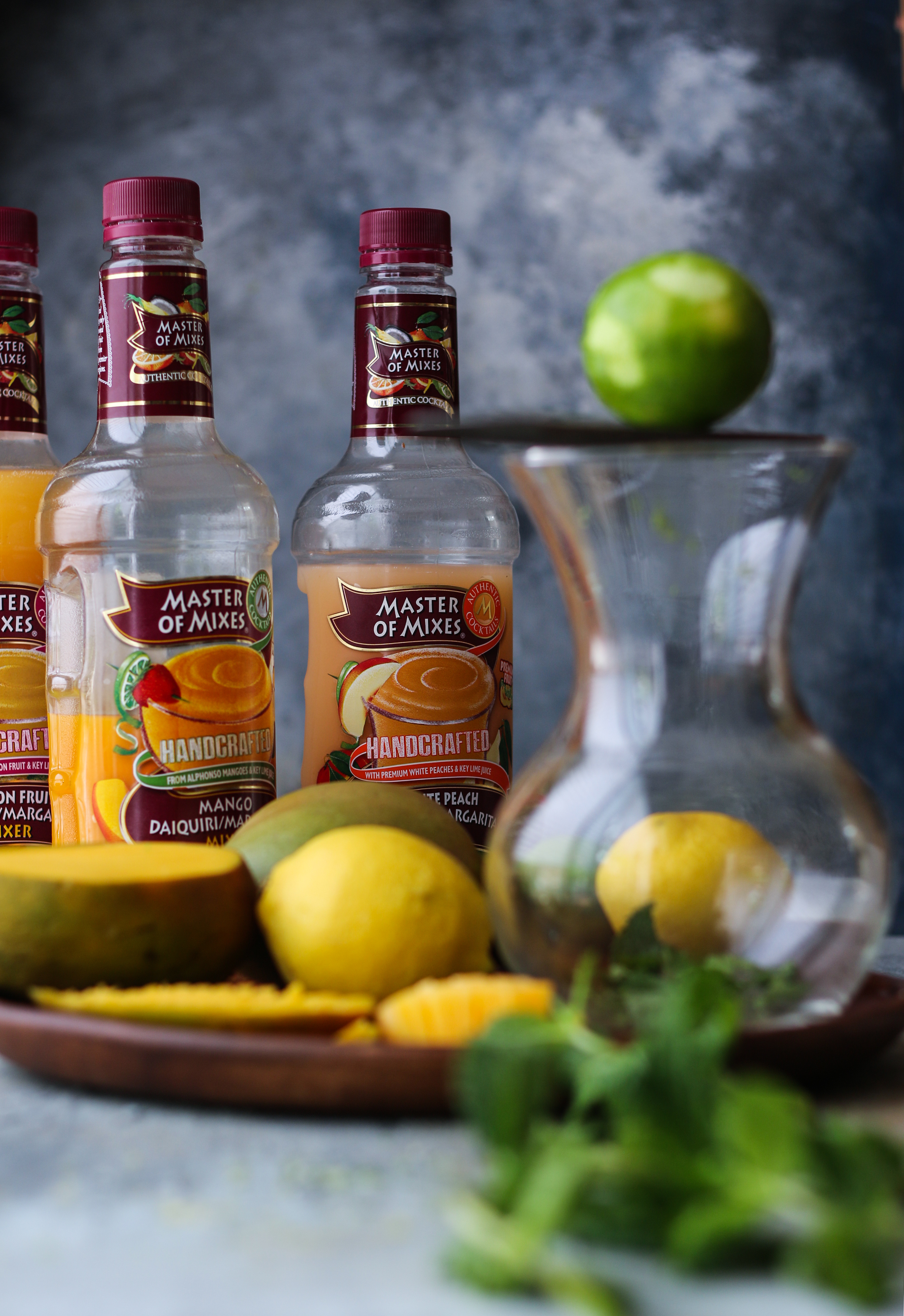 I am a big fan of mixes like this.  Especially the white peach and mango, it feels so tropical, and in no time makes for a fun or fancy, easy or fizzy, alcoholic or non alcoholic drink.
I've been using this mix for years and love the flavors.  Adding lemon zest and some mint spikes up the fresh flavors and helps add an extra dimension to the drink.  I like to keep this stocked in my refrigerator, or I just pour it in ice cube trays and put the cubes in zip bags to use it for an impromptu drink.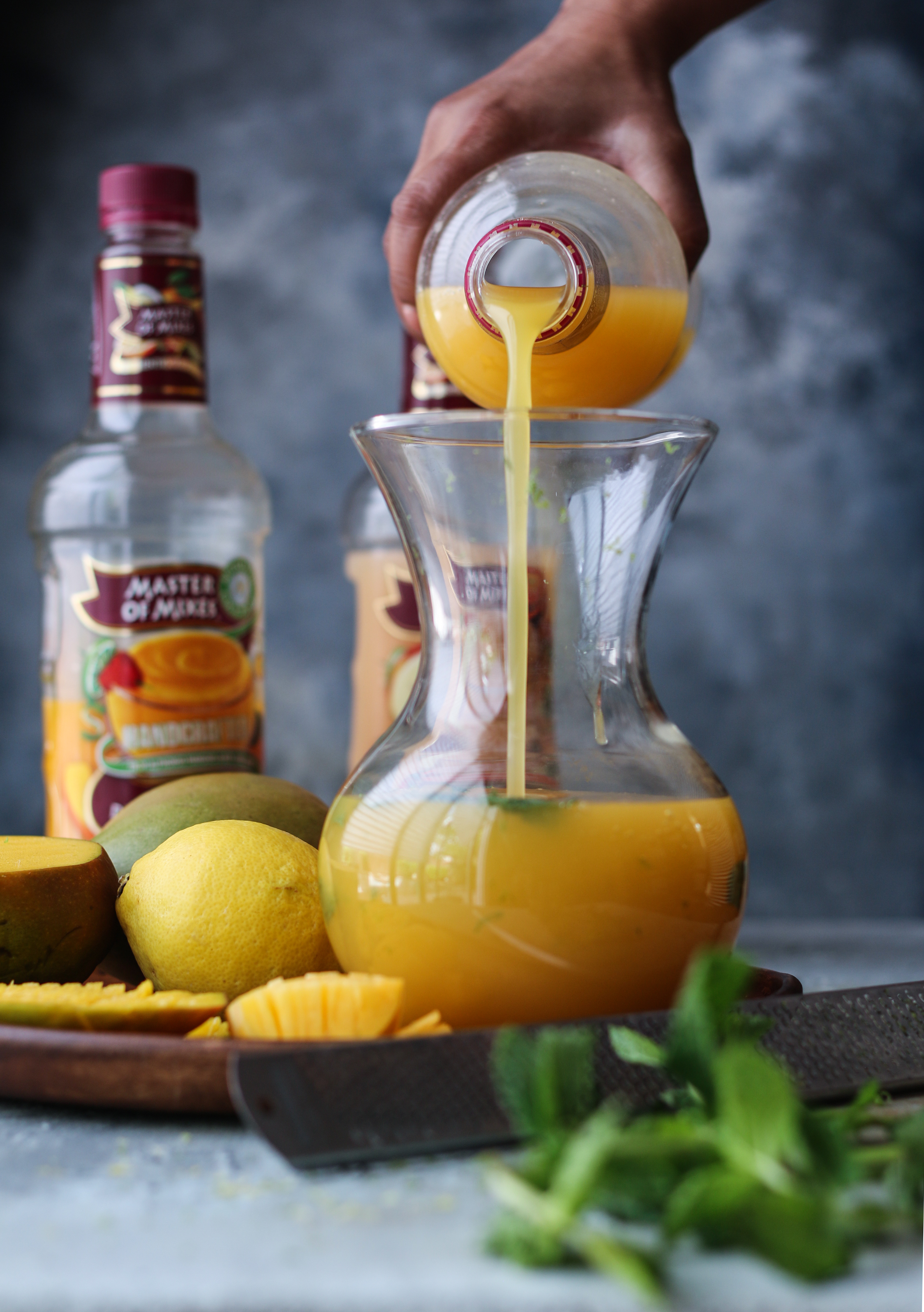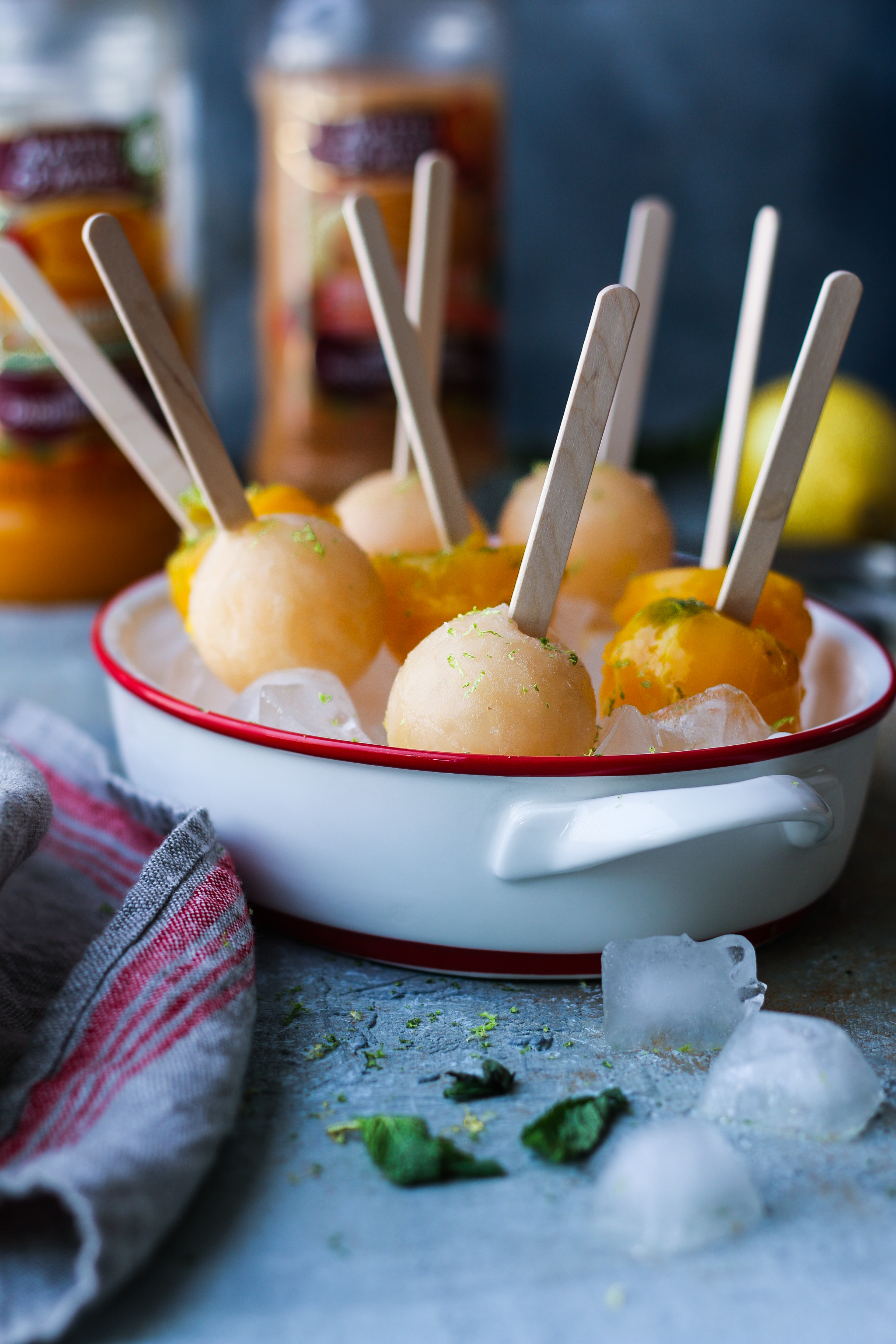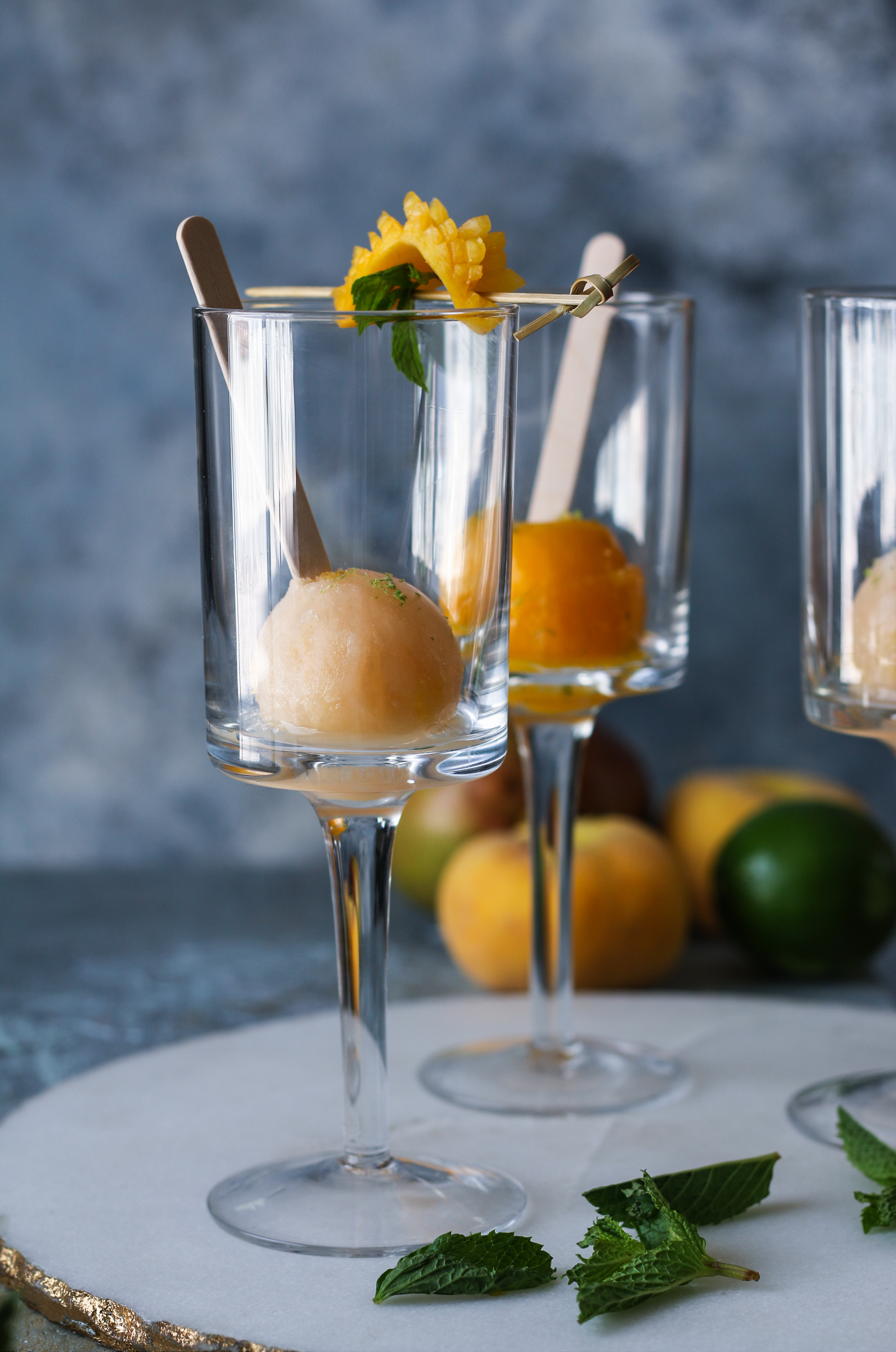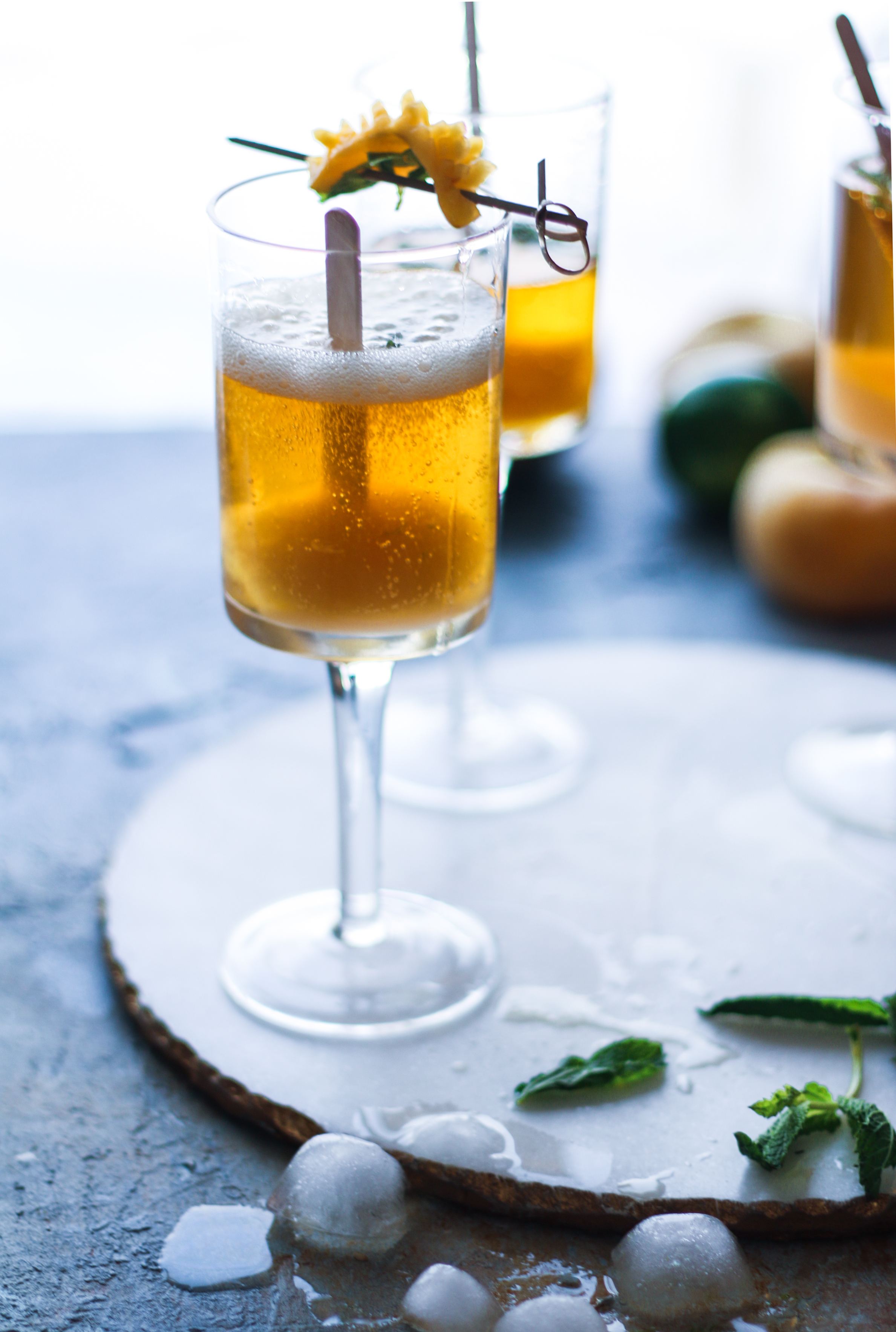 Thanks for reading. This is an #ad for the product, but all opinions are mine and I love these mixes.
Have a great day!!
Stay in touch for  on Instagram , Pinterest and Snapchat (ashfoodfashion) for daily doses of food.
Have a fabulous week.

Mango-Peach Margarita PopSpritzers
Fresh, simple and an easy cocktail to please everyone.
Ingredients
8 oz or (480 ml) Master of Mixes Mango Daiquiri/Margarita Mixer and 8 oz Master of Mixes White Peach Daiquiri/Margarita Mixer
lime zest from 1 lime
2 tbsp lime juice
mint leaves
1 tbsp vodka for 1 glass of drink
Young white wine to top like, Pinot Grigio, Albarino, Vinho Verde, Muscadet
Instructions
Pour the mango diaquiri mix in a mixing jar and add the lime zest and 1 tbsp lime juice. In another jar, add the White Peach Daiquiri mix and add the lime zest and 1 tbsp lime juice. Mix well and freeze in different shaped freezer trays. Freeze it for 1 hour. Take it out and add a popsicle stick to it and freeze for 4 hours to overnight. You can skip the popsicle stick and just pop them in the glass and top it with a stirrer when serving.
For serving, add a frozen mango or white peach pop to a glass. Add 1 tbsp of vodka and top it with some wine. Add some mint leaves to the glass and serve.