The maple walnut pie no-churn ice cream cradled in between two crispy black sesame pizzelles are just a perfect match.  The mildly sweet cookies compliment the cold, delicious flavors of the ice cream.  Perfect for Ice Cream Month or anytime.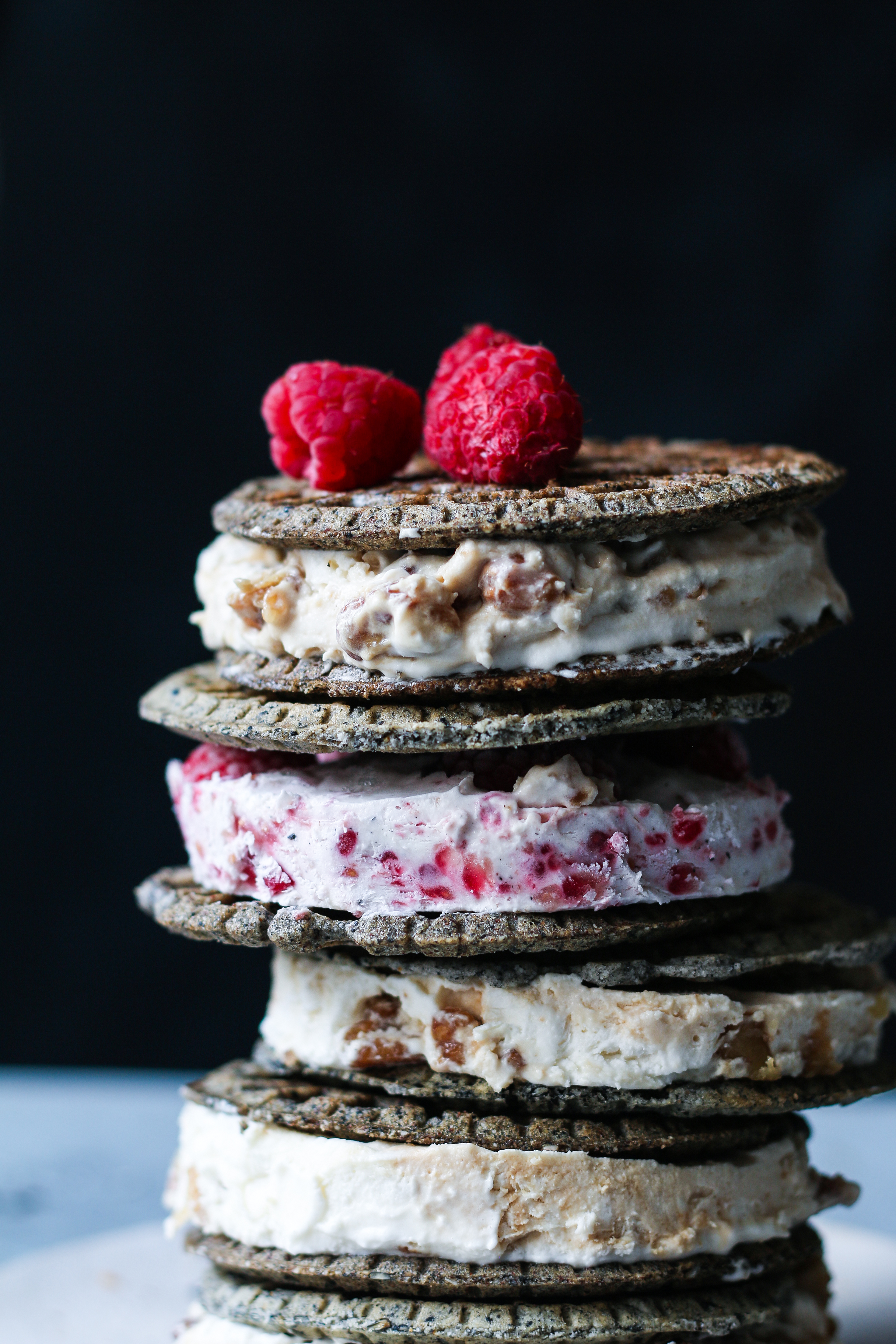 When life gives you sesame, make desserts with it.
I might or might not have tried this recipe six times before I decided to post it.  The first time I made it, it was the late evening, when the teen and I were watching a movie—Queen of Katwe, to be exact.  Both of us have a sweet tooth and both stay up very late in the night, especially during summers.  We really don't have a routine. It's also funny that we both crave some of the same things at the same time. That evening we craved something light and simple to snack on.
I thought about it for a while, heard some bells ringing in my head, and lo and behold.  I asked the teen to pause the movie and rushed into the kitchen.
I whipped up a egg, quickly ground up some black sesame powder, and added a few dashes of melted butter and almond flour (just because I'm on a gluten free kick now).  I made a semi thick paste while I let the pizzelle iron preheat.  The smell was a mixture of some Indian sweet that I couldn't figure out and a Chinese bakery.  A few minutes later, we were snacking on this crumbly, perfectly sweetened, nutty cookie.  All the eight thin cookies were gone in minutes and we returned to watch our movie.  I smiled at myself at how good they were when nothing was even measured.  Every now and then, I do surprise myself.  Thrilled with the turnout, I decided to put it in my drafts to blog.
With confidence, knowing the direction I was going to take, I decided to double or maybe even triple the batch for the cookies.  I whipped the eggs, powdered the sesame seeds, and realized I ran out of almond meal.  With the same confidence, I used coconut flour to make those cookies this time.  And how awful a fail it was.  They were soft, not crumbly or crispy, and didn't taste right.  They were just wrong.  Well, I told myself, I can't get always get lucky.
"It is common sense to take a method and try it. If it fails, admit it frankly and try another. But above all, try something."
― Franklin D. Roosevelt
I tried it few more times and here it is…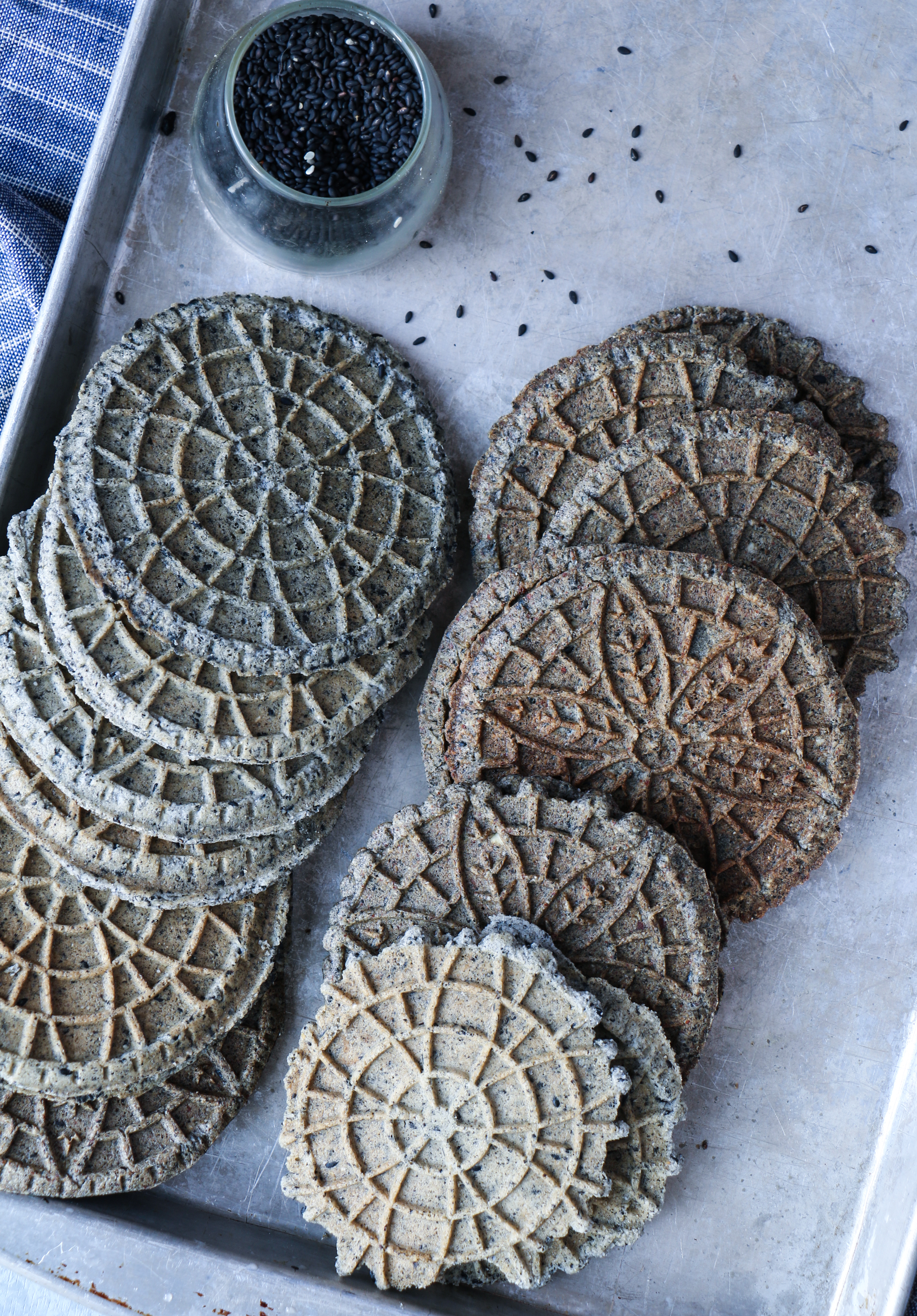 Sesame seed desserts are not very common here.  However, their popularity is increasing.  These tiny seeds are very well known and widely used in Indian desserts and are also popularly used in Japan.  Their nutty flavor is so unique, which makes for some seriously delicious desserts. We eat with our eyes, so the appearance of the sesame desserts might not be that appealing.  Still, this little seed is packed full of flavor; and it's a taste you should get to know.  Another favorite dessert of mine with sesame seeds is this Sesame Apple cake.
These cookies are the easiest, and if you don't have a pizzelle maker, just spoon a tablespoon of the batter on a parchment laid cookie sheet and bake at 350 degrees for 5-8 minutes or until the edges turn brown, and take it out and cool completely, almost like a fortune cookie.
The combination of these cookies with the walnut ice cream is just a great match.  The ice cream is an easy no churn recipe.
Thanks for reading.  Have a great day!!
Stay in touch for  on Instagram , Pinterest and Snapchat (ashfoodfashion) for daily doses of food.
Have a fabulous week.

Maple walnut Pie icecream sandwiches with black sesame waffles
These non traditional ice cream cookie sandwiches are so delicate in flavors and fun to make.
Ingredients
For the ice cream
2 cups of heavy whipping cream
1 14-ounce can of sweetened condensed milk
1 tablespoon of pure vanilla extract
2 cups of walnuts (chopped or whole)
4 tablespoons of butter
¼ cup of brown sugar
½ cup maple syrup
For the Black Sesame and Almond Pizzelle
1 egg, beaten
½ cup of white sugar
¼ teaspoon vanilla extract
½ cup almond meal/flour
½ cup of black sesame powder
pinch of salt
⅓ tsp baking soda
2 tbsp unsalted butter, melted and cooled
Instructions
In a chilled electric mixer bowl, whip your heavy whipping cream until thickened. You don't want stiff peaks to form, however.
Pour in the sweetened condensed milk beat on low until combined.
Add vanilla extract and stir until combined and smooth. Pour into a metal loaf pan or a glass bowl and cover with plastic wrap. Place in the freezer.
In a small saucepan, combine the butter, walnuts and brown sugar.
Stir until the brown sugar has melted into the butter (about 3 to 4 minutes).
Remove from the stove top and allow to cool slightly. Pour into your ice cream pan and stir to combine. If you find that the walnut topping "falls" to the bottom of your ice cream, then allow the ice cream to set for a few hours before adding walnut topping and mix it in well.
Be sure ice cream is in the freezer at least 10 to 12 hours or overnight.
For the pizzelles
In a mixing bowl, add the egg and whip it with sugar and vanilla extract until lightly frothy. Add the almond flour, back sesame powder salt, baking powder and melted and cooled butter. Mix well and set aside.
Preheat the pizzelle iron for 5 minutes. Lightly butter or brush the top so the pizzelles don't stick, add a tablespoon of the mix and close and cook for 3 minutes. Take it out on a cooling rack and let cool completely.
You can use it immediately or store in a airtight container for a week.
Alternatively, line a baking sheet with parchment paper. Pour a tablespoon of the batter and flatten it with a offset spatula or cake spatula to little bit thicker than a fortune cookie. Bake it at 325 degrees for 5-8 minutes or until the sides are golden. Take it out carefully and place it on a cooling rack.
Serve it as is or make ice cream sandwiches with it.