Juicy, moist, and flavorful.  This grilled tomato chicken with herbed corn is made with tomato powder and other spices.  It's a perfect dish to entertain with.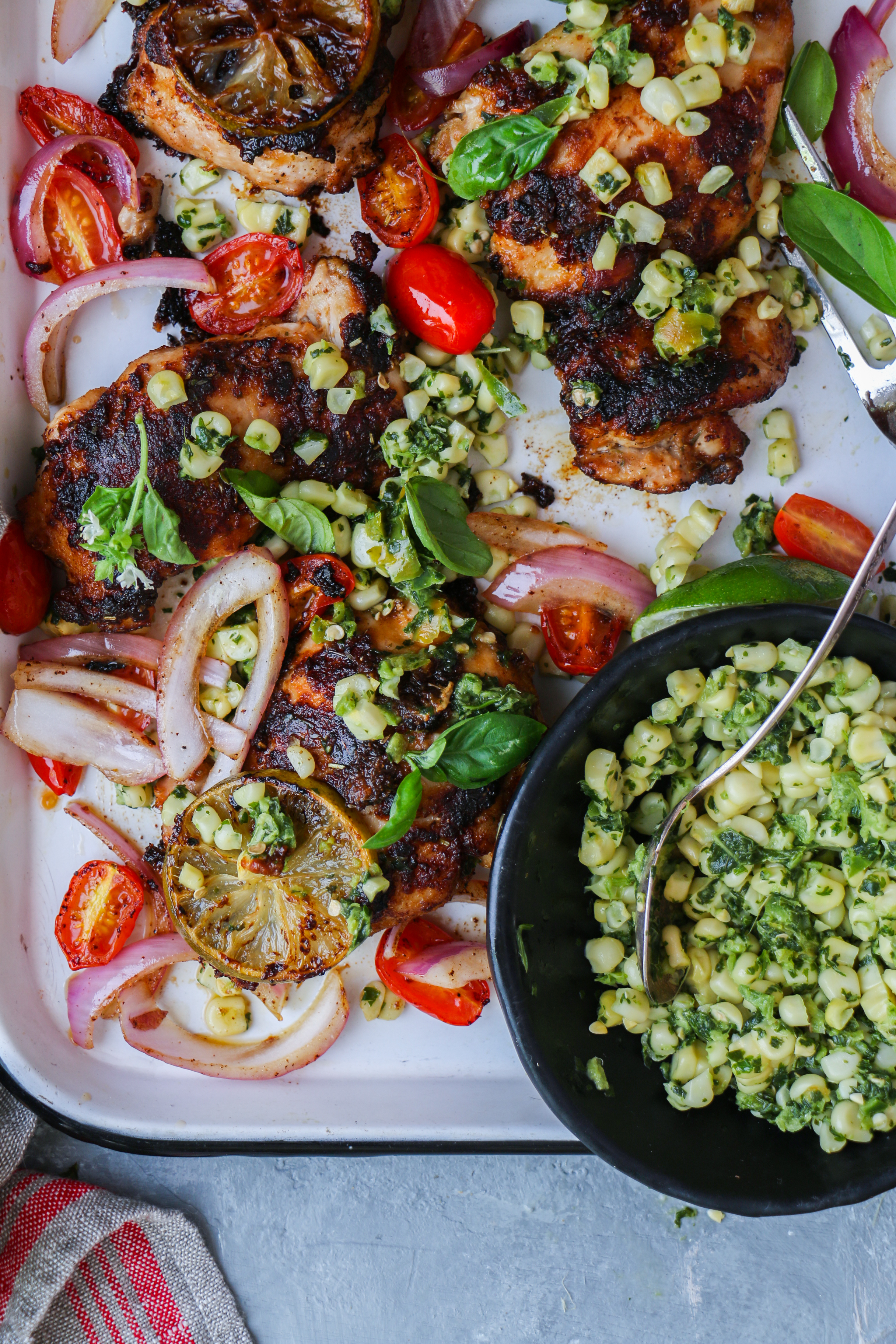 Trying to settle back into the swing of things, a.k.a. the routine after a two and half month summer break, has been pretty crazy. I feel like I have a long list of things I need to take care of, but feel like a caged parrot, screaming his lungs out to no avail.  Now, I'm getting back to work, and trying to get blog posts up. Testing recipes and shooting.
Writing and creating a post requires a melange of inspirations.  There's a part of me that wants every post to be a perfection, woven seamlessly.  But that's not possible, is it?  Cooking and building flavors come naturally to me; it's instinctual to me. Some days, shooting a post involves cooking up a quick bread, and some days it's a curry that is simmered for hours to get the best flavor.  Some days it just works out.  Then comes the writing.  Words some days are mangled and fall apart, and some days they just flow.
I don't force anything.  Not everything has to be perfect.  Not all the time.
Like this one.  I made this chicken probably 10-12 times in summer.  Every time I made it, I told myself I need to blog it, because it was that simple and that amazing. One day, I just shot few quick pictures and absolutely wasn't satisfied by it.  This has been sitting in my drafts for weeks now.  Today I decided, so what?  Not everything has to be perfect.  It's okay.  I've always tried to keep things quite honest, and tried to discuss the reality of things.  Here's to that.
Making tomato powder at home is easier than it seems.  With an abundance of tomatoes in summer, it's a great way to make use of.  You could use a dehydrator or an oven. I thinly slice the tomatoes and air dry it on very warm days and I get dry crispy tomatoes in two days.
If using an oven, bake the tomatoes at the lowest temperature, using the oven fan if you have one. If using a dehydrator, dry on a low setting. either way, continue to dry the tomatoes until they are dry and brittle. You want the tomatoes to be brittle because that's a good sign that you have thoroughly removed the moisture from the tomatoes. If they are still flexible, they likely have a tiny bit of moisture still. It's a good idea to flip the tomatoes partway through the process, especially if using the oven.
Once it is completely dry, I like to cut it into small pieces and powder it and store in an airtight container.
You can find tomato powder in Whole foods.  If you want a simper method, you can order on Amazon .
It is so versatile, works great sprinkled over popcorn, vegetables, cheese, winter stews, barbecue sauces, ramen bowls, grilled pineapple, top on scrambled eggs, rub it on corn or in this dry rub it on chicken and grill it.  It is so flavorful and the acid in the tomato makes the chicken super moist and yummy.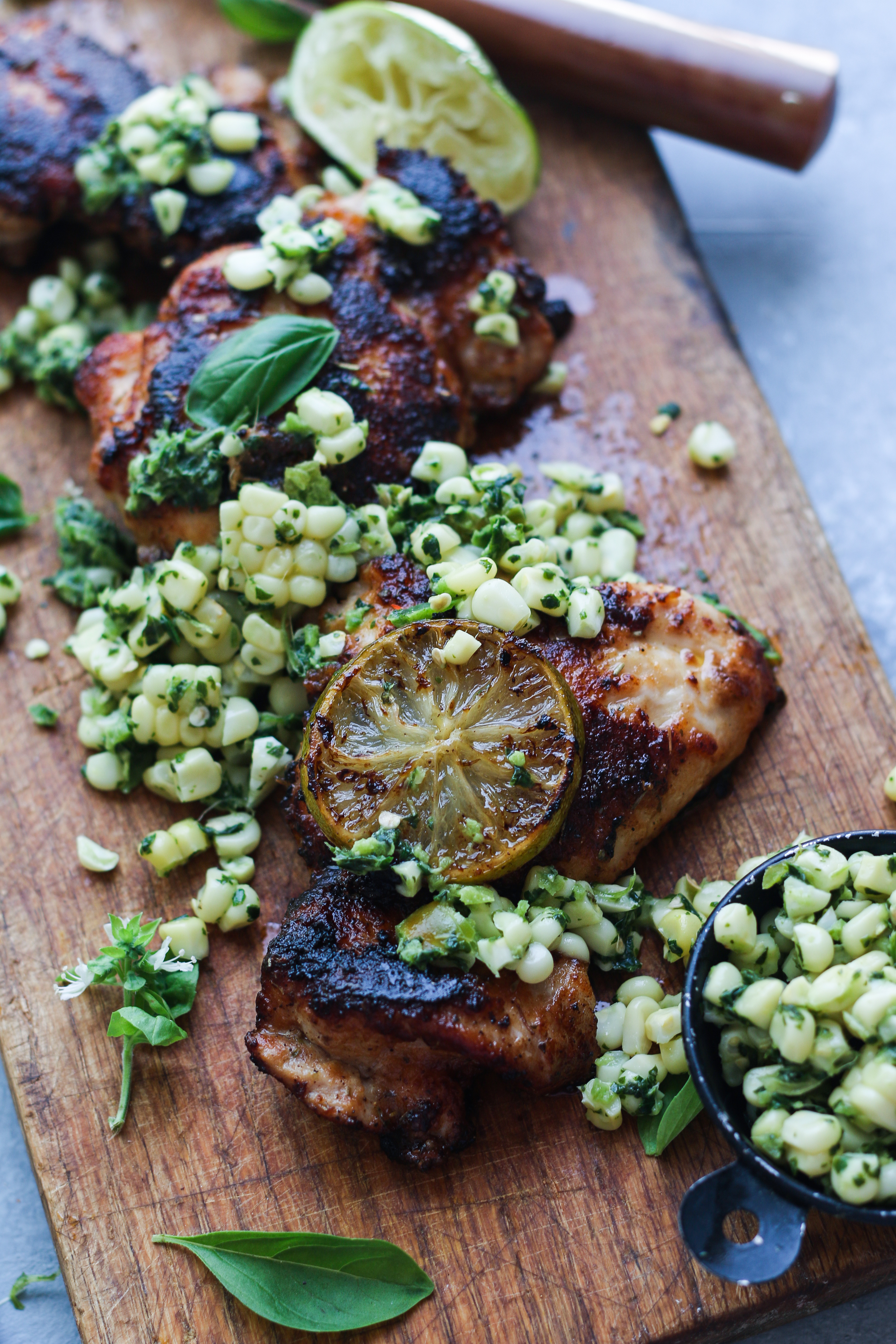 Have a pleasant Labor Day weekend!!!
Also a big shout out and prayers to all the folks in Houston, Mumbai, Bihar and Assam.  Everyone been hit by torrential rain.  My heart goes out to them.
Stay safe, lots of love.
Stay in touch for  on Instagram , Pinterest. Follow on Snapchat (ashfoodfashion) for daily doses of food.
Have a fabulous week.

Grilled Tomato Chicken with Herbed corn
Juicy, moist and flavorful. This grilled tomato chicken with herbed corn is made with tomato powder and spices. Its a perfect dish to entertain with.
Recipe type:
Lunch, Brunch
Ingredients
For the tomato powder
5 tbsp tomato powder(you can make your own or buy it on Amazon)
1 tbsp onion powder
1 tbsp garlic powder
1 tsp paprika
1 tsp brown sugar
1 tsp dried provencial herbs(optional) or any dried herb like basil
1tsp salt
For the chicken
2 pounds or 6 Chicken thighs or 4 breasts
⅓ cup of the spiced tomato powder
3 tbsp Olive oil
lemon slices to top off
For the herbed Corn
2 corn on the cob, boiled and shucked
1 small bunch of ⅓ cup packed cilantro
⅓ cup packed mint
3 tbsp basil
1 green chili
2 garlic
1 tbsp lime juice
⅓ tsp salt
2 tbsp olive oil
Instructions
Wash and dry the chicken very well. I used the chicken breasts.
Cut the chicken breasts in the middle to butter fly them. Arrange on a rectangular platter. Drizzle it with olive oil and generously sprinkle half the tomato powder on tops of the butterflled chicken and pat the powder in well. Use a tong and turn it. Again drizzle some oil on the chicken and sprinkle the rest of the tomato powder. Cover and let it sit for 30 minutes.
You can use the outdoor grill or an indoor griddle or a cast iron pan. Get the temperature to about 400 degrees in the outdoor grill. Get the pan hot. Once it is hot, grill the chicken on one side for 2-3 minutes and turn and brown the other side on 2-3 minutes. Now top each chicken with a slice of lemon. Then cover or tent and cook it for 10 minutes or until completely cooked. When you slice it, it should be white inside and the juices should run clear. Take it out carefully on a clean platter and cover it immediately and let it sit 10 minutes before cutting and serving it.
For the Herbed corn
In a food processor, add everything except the corn and coarsely grind it. Mix it with the corn.
Top the chicken with the corn and and serve warm.
Notes
1. You could use a dehydrator or an oven. I thinly slice the tomatoes and air dry it on very warm days and I get dry crispy tomatoes in two days.
2.If using an oven, bake the tomatoes at the lowest temperature, using the oven fan if you have one. If using a dehydrator, dry on a low setting. either way, continue to dry the tomatoes until they are dry and brittle. You want the tomatoes to be brittle because that's a good sign that you have thoroughly removed the moisture from the tomatoes. If they are still flexible, they likely have a tiny bit of moisture still. It's a good idea to flip the tomatoes partway through the process, especially if using the oven.
3.Once it is completely dry, I like to cut it into small pieces and powder it and store in an airtight container
Ways to use it- sprinkle over popcorn, vegetables, cheese, winter stews, barbecue sauces, ramen bowls, grilled pineapple, top on scrambled eggs