Kheema matar or chicken mince is a popular Indian dish.  Top it on pizza and it becomes a delicious treat.  Spicy chicken mince pizza for the win!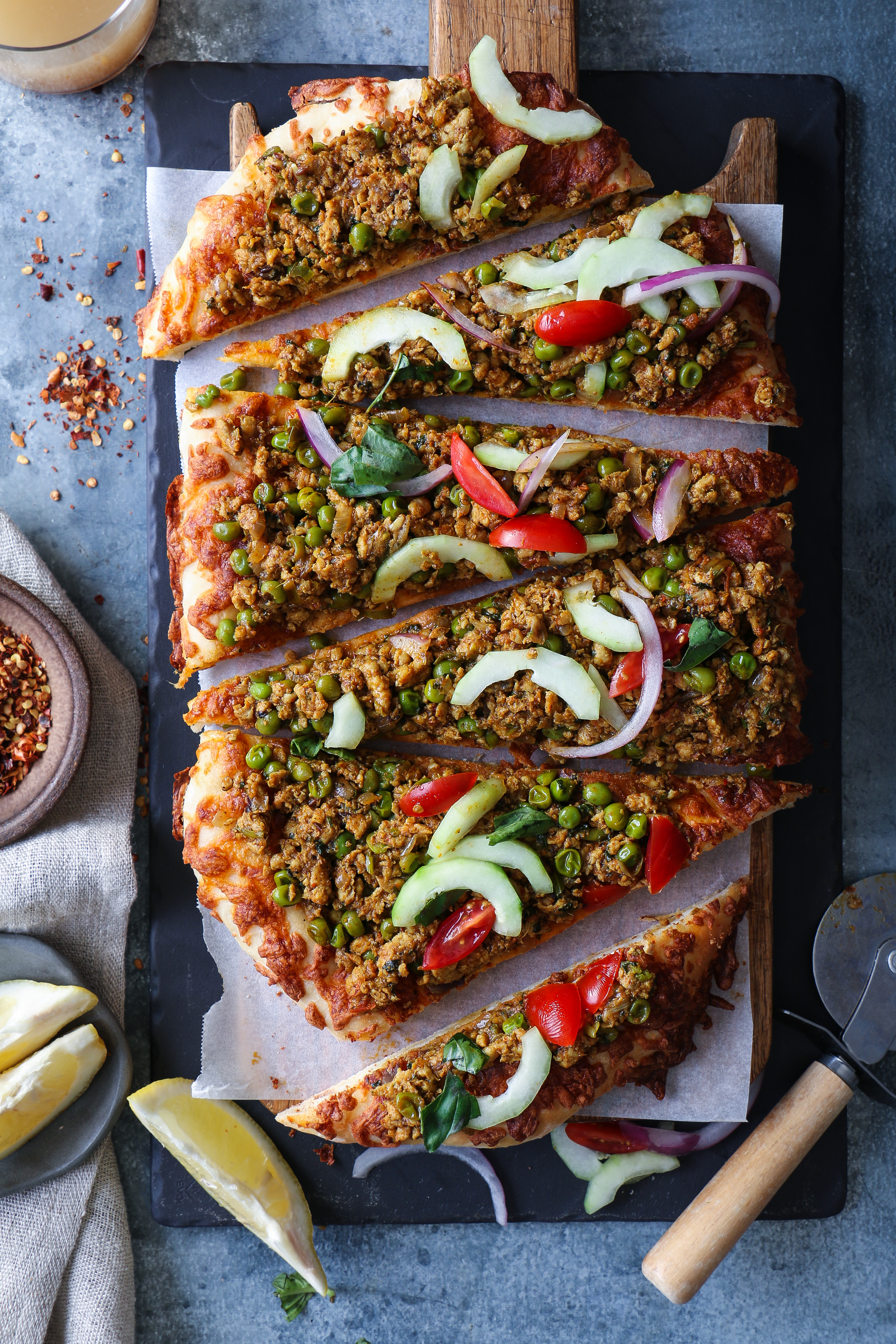 THE INSIDES
"If you get the insides rights, the outsides fall into place."
The older I get, the more comfortable I feel with myself.  Whether it's my introverted side, which I discovered recently, or just accepting the now, the present, not only of ourselves but of others, I'm learning and improving everyday.
It's a very simple proposition—loving yourself.  Loving oneself comes from self-acceptance, and the ability to unconditionally value all the parts of yourself.  Easier said than done, one might say, but in reality, it's a subconscious effort of taking steps.
Human nature is as such that one will love oneself if they lose weight, get a raise, more money, more vacations, job, a girlfriend/boyfriend or whatever else it might be.  That's conditional love.  We must accept ourselves, love ourselves, unconditionally.
I had a huge epiphany a few years ago.  An incident that shook us to the core.  Life is short.  That realization led me to believe that anything can happen, so being kind to myself had become a priority.
Love is an action, not how you feel about yourself, physically, or your status.  It's what you do for yourself.  You can only love yourself by doing, not thinking.  Execute feats of love, feats of respect, for your own benefit.
Educate yourself. Learn. Equip yourself with skills, languages, abilities and arts, photography classes, a pottery class, anything you want.  Developing skills is the most immediate and liberating way to shoot your self-esteem through the roof.
You simply cannot love others until you love yourself.
So, on that note: Cheers to a beautiful August.  Love, and be kind to yourself.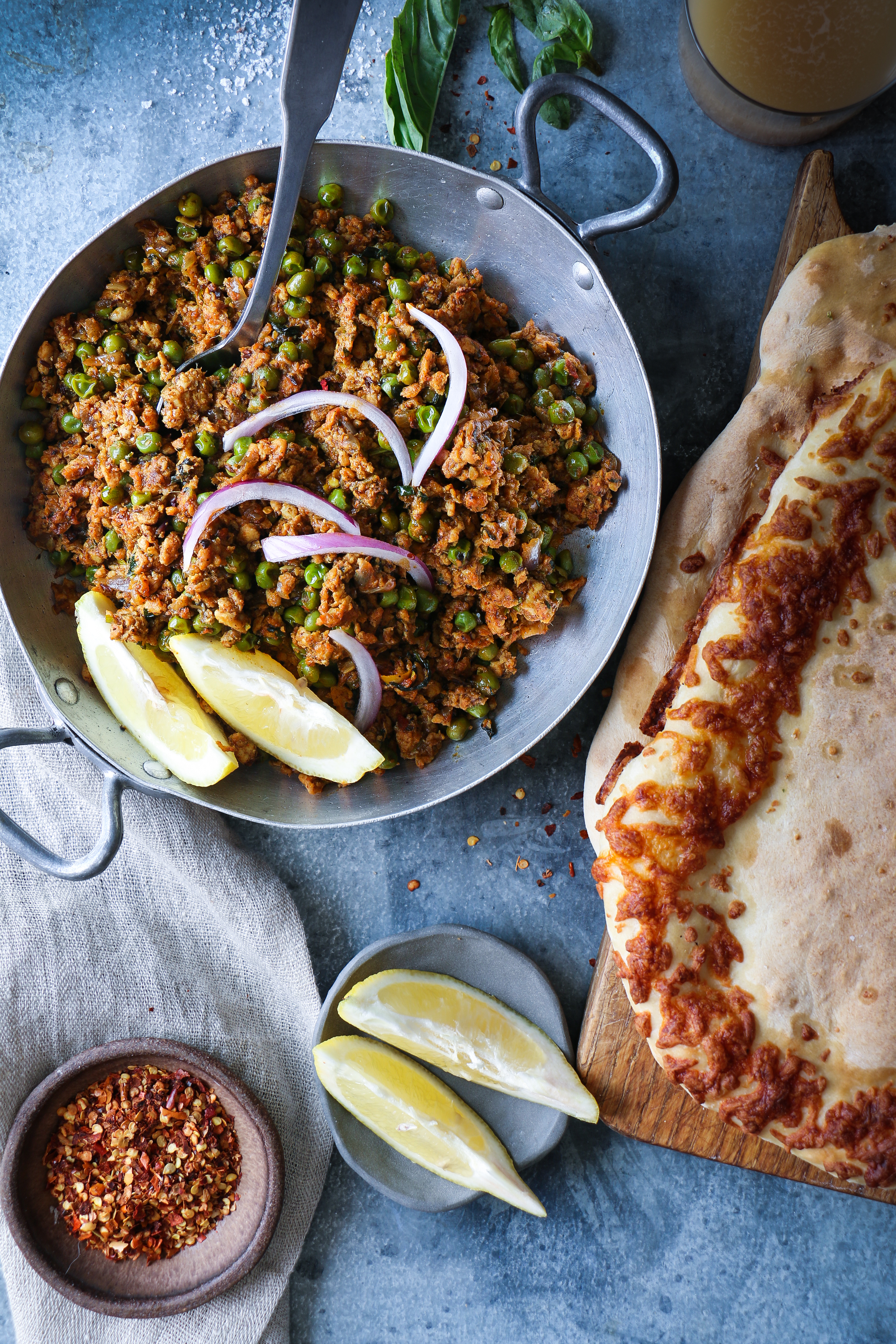 This is one of those iconic dishes that's quite easy to make and really does satisfy the meat craving.  I tend to use chicken mince often, but do indulge in goat mince once in a while.  It's quite a versatile dish and is eaten with rotis, naan, a pizza like this or my new favorite, layer it with basmati rice and you have a great kheema biryani.
Make sure not to use too much oil while making this dish since, there is a tiny bit of fat while they make the mince. If  you make the mince at home, adding a little bit of fat ensures a good finished dish. You can add potatoes and make it a little bit watery if you prefer.
This dish literally comes together in an hour.  The quick no rise pizza dough is one that I have been using for years.  You can read the post here Quick 30 minute pizza.  You can top it with some paneer, mozzarella and bake it in a high oven until the cheese melts.
Definitely give this a try, it's one of my go to to entertain meat-pizza lovers when there's less time and many to feed.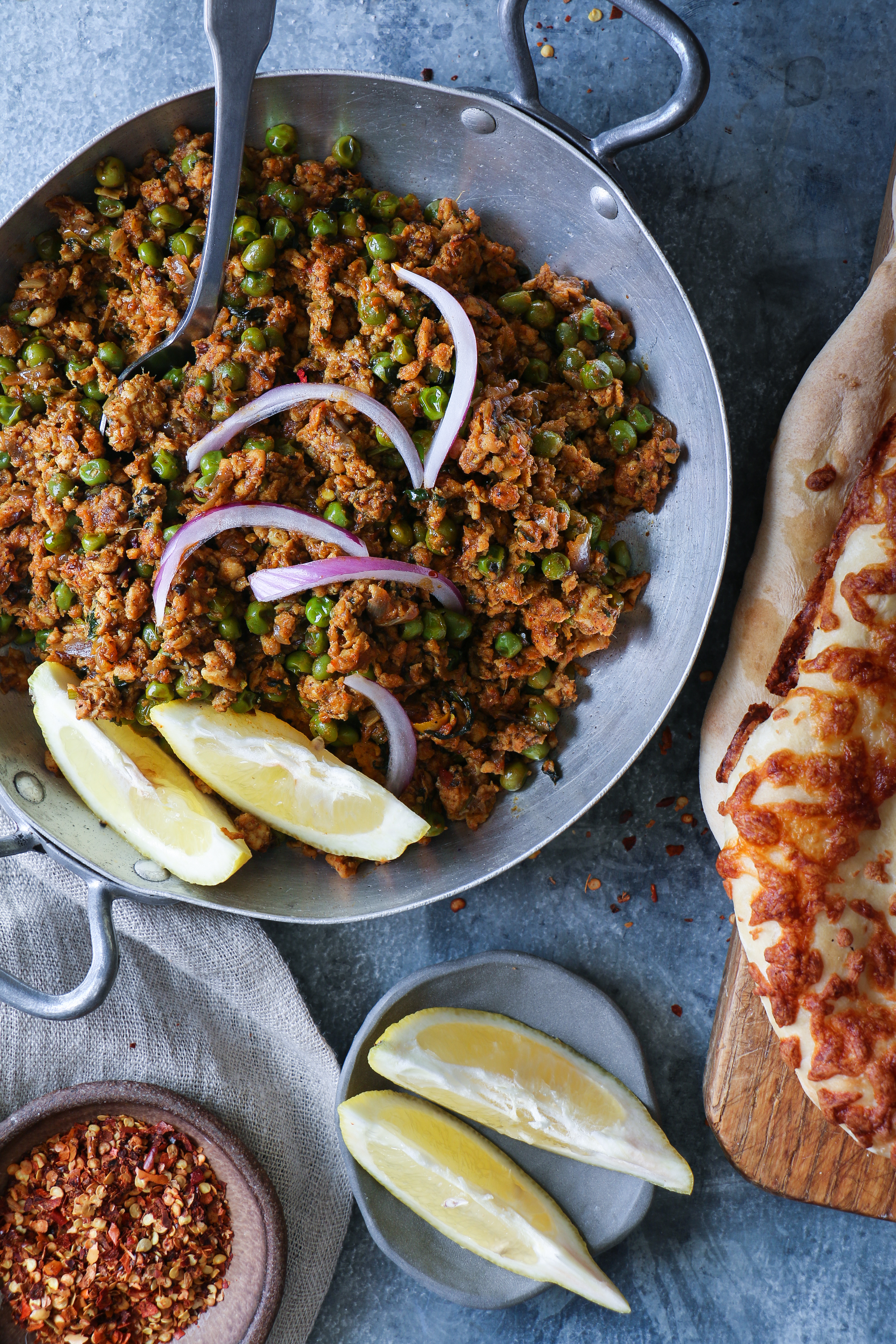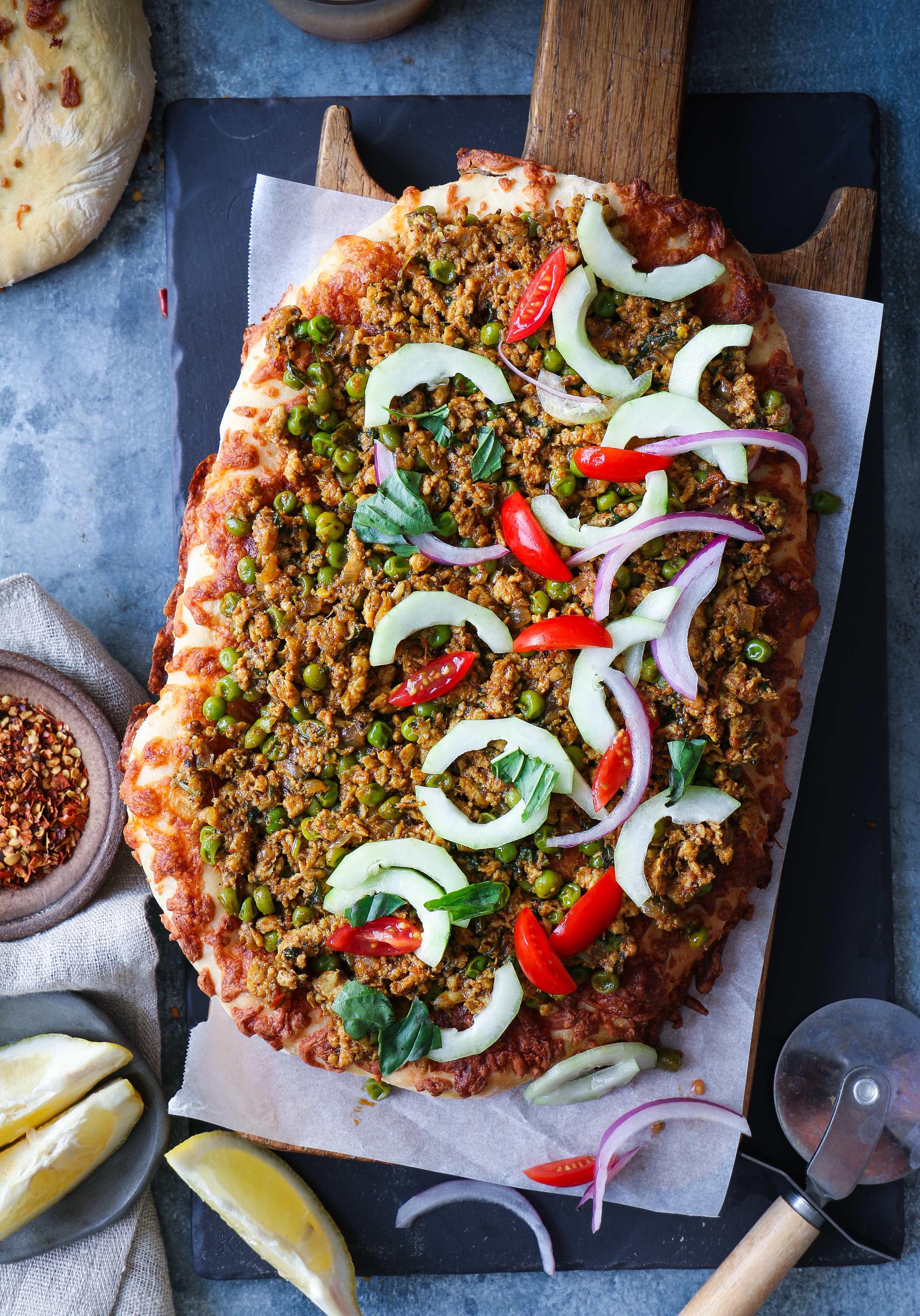 Thanks for reading. Have a great day!!
Stay in touch for  on Instagram , Pinterest and Snapchat (ashfoodfashion) for daily doses of food.
Have a fabulous week.

Kheema Matar- Spicy Chicken Mince Pizza
Kheema matar or chicken mince is a popular Indian dish.  Top it on pizza and it becomes a delicious treat. Mix it with rice and it's a delicious biryani, have it with roti for a comforting meal.  Spicy chicken mince pizza for the win!
Ingredients
2 tbsp canola oil
1 tsp cumin seeds
1 red onion or 3 shallots finely chopped
3 green chilies thinly sliced horizontally
2 tsp fresh ginger-garlic paste
1 small tomato finely diced
2 tsp pure red chili powder,more or less depending on your spice level
1 tsp garam masala powder
⅓ tsp turmeric powder
1 tsp salt
1 tbsp thick yogurt
1 cup peas(you can par boil it or if frozen sweet peas, add in the end)
1 pounds Ground chicken or ground lamb
1 tbsp black pepper
4 cloves garlic, peeled
½ bunch coriander leaves,finely chopped to garnish
Cucumber and tomato salad to top on the pizza for some freshness.
No knead pizza dough
11/2 cup of water at 110 degrees
1 packet of active dry yeast-1 tbsp
1 tbsp sugar
4-5 cups +1/3 cups of Bread flour(works best) PLUS some flour for dusting and making the pizza
1 tsp salt
Instructions
In a large kadahi or non stick pan, add the oil and let it get hot. Add the cumin, let it pop and add the finely chopped onion and saute for a minute. Then add the ginger garlic paste, green chilies and saute for another minute. Add the tomatoes, red chili powder, garam masala, turmeric powder and saute and cook for another 2 minutes until you see the tomatoes disintegrated a little.
Add the yogurt, uncooked fresh peas at this point and ground chicken or lamb and make sure to break it up and toss, saute well for 2 minutes. Cover and cook for 15 minutes on medium flame.
While the meat is cooking, crush the black pepper and the garlic with a mortar and pestle and set aside.
After about 15 minutes, open the lid and check if it is fully cooked. Uncover and dry the masala for 5 minutes. If you use frozen or par cooked peas, add it at this point. Add the crushed pepper and garlic, cilantro and saute well. Turn off the heat after a minute of adding the crushed garlic and pepper.
For the Pizza Dough
In a large mixing bowl add the warm water with the yeast. Add sugar and let it bubble up for 10 minutes.
After it has bubbled, add the salt and 1 cup of bread flour, mix with a wooden spatula. Once it's all incorporated, add ½ cup of bread flour and mix again with a wooden spatula. Keep adding ½ cup of bread flour in intervals until the dough is formed into a ball, not too sticky or very dry. When you take it out on a floured surface, it will be slightly sticky, elastic, but not too sticky. Knead for a minute and form a ball and let sit for 5 minutes. Do not make it too dry. My dough used 3½ cup total bread flour. If the dough is too wet, add a tablespoon of flour at a time to bring it together. Rest the dough for 5-10 minutes.
You can make 2 medium pizzas or 1 large pizza.
Roll the pizza dough, sprinkle some mozzarella cheese on the edges and bake at 450 degrees for about 15 minutes and take it out and top with anything.
ASSEMBLY:
Top the pizza base with the minced chicken, some fresh cucumber and tomato salad and serve immediately.
Notes
If you want a little watery curry, add one more tomato and 3 tbsp of thick yogurt and ½ cup of water and let it remain watery and don't dry it up.
You can cook basmati rice, layer it with this mince and top it well with some fried onions, lots of chopped cilantro and mint and keep in the dum or indirect flame for 15 minutes for mince chicken biryani.