A perfect tea time treat: chivda, savory granola.  It's a sweet and spicy treat made with puffed wheat, flattened rice, cornflakes, nuts, and all sorts of goodness.
It's no secret that I love celebrations. Celebrations of all kinds.
August arrives, bringing along a long festive season for Indians.  We have something every month until January.  This one might be the biggest of all, and a religious one.  It's Ganesha Festival/Ganesha Chathurthi.  A festival to celebrate the Elephant God.
I've always wondered why we celebrate festivals.  Festivals are celebrated for many reasons by people.  Of course, a huge reason for most is religious beliefs.  For me, they provide a break from the routine, a festive atmosphere, camaraderie, a time when family gets together, reflections, relaxation.  Sometimes, it breaks vicious cycles of negative emotions, stress, and helps bring the positive emotions back.  Whatever the reason might be, how big or small the celebration might be, the fact that we take a step back from the routine to celebrate a special day is so important. It also reminds us of our heritage and culture.  It's almost like you press a reset button for whatever you want it to be.
This festival brings out the colors of the streets in India.  Music, singing, colorful clothes, and most of all, lots and lots of food.  People start preparing for this festival weeks before the big day.  The festivities run anywhere from one to thirteen days.  Idols of all sizes are all sold on streets to be taken into homes with pomp and love, to celebrate their prosperity.
Oh, how I miss walking down the streets holding my daddy's hand, shopping.  It was my second favorite thing during this festival.  The first was always the food, made by my super fast mom with a magical touch.  I try to recreate the memories that my mom created for me.  It brings a sense of calm, peace, and love. To see my boys enjoy this festival as much as I do, especially being so far away from my country, makes me swoon with happiness.
For all who celebrate, Happy Ganesha!!!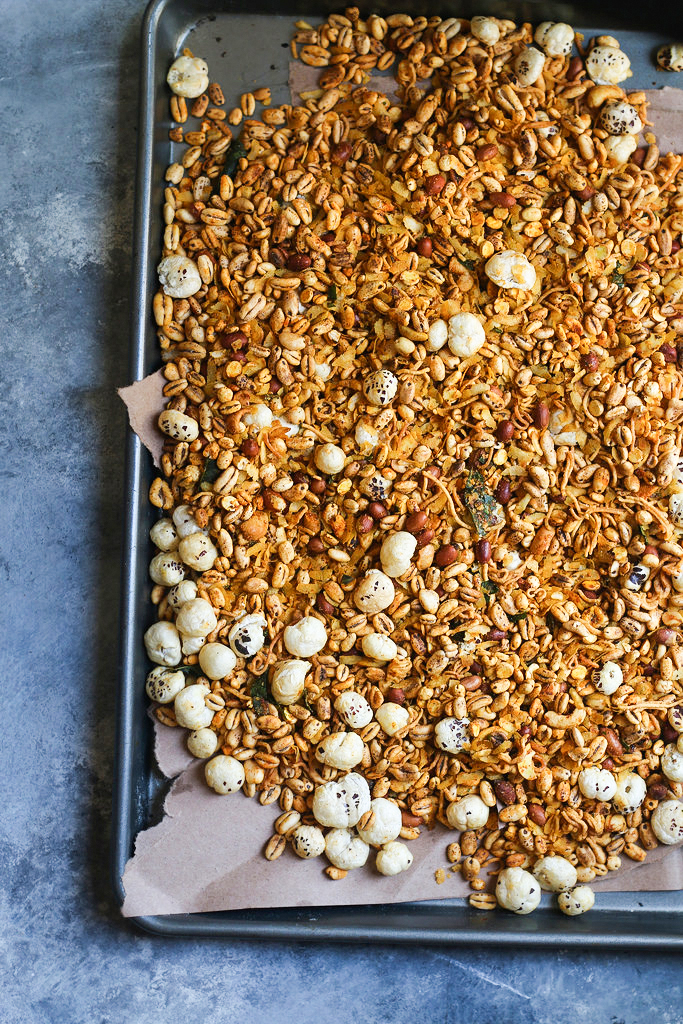 Modak (steamed rice dumplings with coconut, sesame and jaggery) is a very traditional sweet that we make every year.  This festival is all about food.  I like to make a few snacks to accompany the traditional sweets and treats.
This is one I make regularly, a perfect tea time treat and something good when guests come home.  You can use the one or all the grains that I have used.
You can find all the ingredients in an Indian store.  I have attached links if you want to order it online.
Puffed wheat –https://www.amazon.com/Arrowhead-Puffed-Wheat-Cereal-Pack/dp/B00KOBBGDK/ref=sr_1_5_a_it?ie=UTF8&qid=1477429953&sr=8-5&keywords=puffed+wheat
Lotus seeds – https://www.amazon.com/Rani-Phool-Makhana-Popped-Lotus/dp/B012T35AE6/ref=pd_sbs_325_5?_encoding=UTF8&psc=1&refRID=TABESPT97GE26YYR966B
poha/aval – https://www.amazon.com/Poha-THICK-Flattened-Rice-2lb/dp/B004XTDSB2/ref=sr_1_3_a_it?ie=UTF8&qid=1503523204&sr=8-3&keywords=poha
MIXTURE /CHIVDA- Savoury Spicy Indian Granola
A perfect tea time treat: chivda, savory granola. It's a sweet and spicy treat made with puffed wheat, flattened rice, cornflakes, nuts, and all sorts of goodness.
Ingredients
2 cups puffed wheat
2 cups flattened rice/poha/avval, the thin variety(since we don't deep fry it)
1 cup lotus seeds
1 cup unsweetened corn flakes
3 tbsp oil
1 tsp mustard seeds
1 tsp cumin seeds
pinch of asafoetida
10 curry leaves
2 green chillies, thinly sliced
⅓ cup roasted channa
½ cup raw peanuts
⅓ cup raw cashews
1 tbsp chili powder
⅓ tsp turmeric powder
1 tsp salt, powder it
1 tbsp confectioners sugar/powdered sugar
½ cup thick sev/chickpea noodles
½ cup raisins or cranberries
Instructions
On medium heat, keep a large bottomed flat pan. Add the puffed wheat and keep tossing and toasting. It will take about 10 minutes. Don't let it brown, toast it on medium and low to get it crispy, take it out on a large plate, set aside to cool.
Fry and toast the flattened rice on medium heat and toast until crispy and white. Set aside.
Toast the lotus seeds well until crispy for about 10 minute on low heat and set aside.
In a large pan that can fit everything, add oil and let it get hot. Add the mustard seeds, cumin seeds, curry leaves and asafoetida. Add the green chilies, roasted channa, raw peanuts, cashew and toast it well on medium to low heat. Add the chili powder, turmeric powder and toast 30 seconds on low heat. Once the peanuts are toasted, add the toasted puffed wheat, flattened poha/rice, lotus seeds, corn flakes, salt and sugar. Mix everything very well, incorporate well. Keep tossing for 5 minutes on low heat. Turn off the heat and take it on a baking sheet. Add the sev/chickpea noodles and raisins or cranberries.
Let cool completely and keep it in a airtight container.
Notes
You can microwave the flattened rice for 30- 1 minute too for a shortcut method.
Alternatively, you can toast the puffed wheat, flattened rice and lotus seeds in a 300 degree oven for 20 minutes.
Increase the spice or reduce according to your taste.
Once completely cooled, store in an airtight container. Stays good for 10 days.
You can make this with only flattened rice and nuts.
Thanks for reading. Have a great day!!
Stay in touch for  on Instagram , Pinterest. Follow on Snapchat (ashfoodfashion) for daily doses of food and to see how we celebrate our festival.
Have a fabulous week.
Ash.