These mini brown butter banana semolina cakes are perfect for entertaining and for festivals. They taste like a popular Indian dessert called Sheera, but in cake form!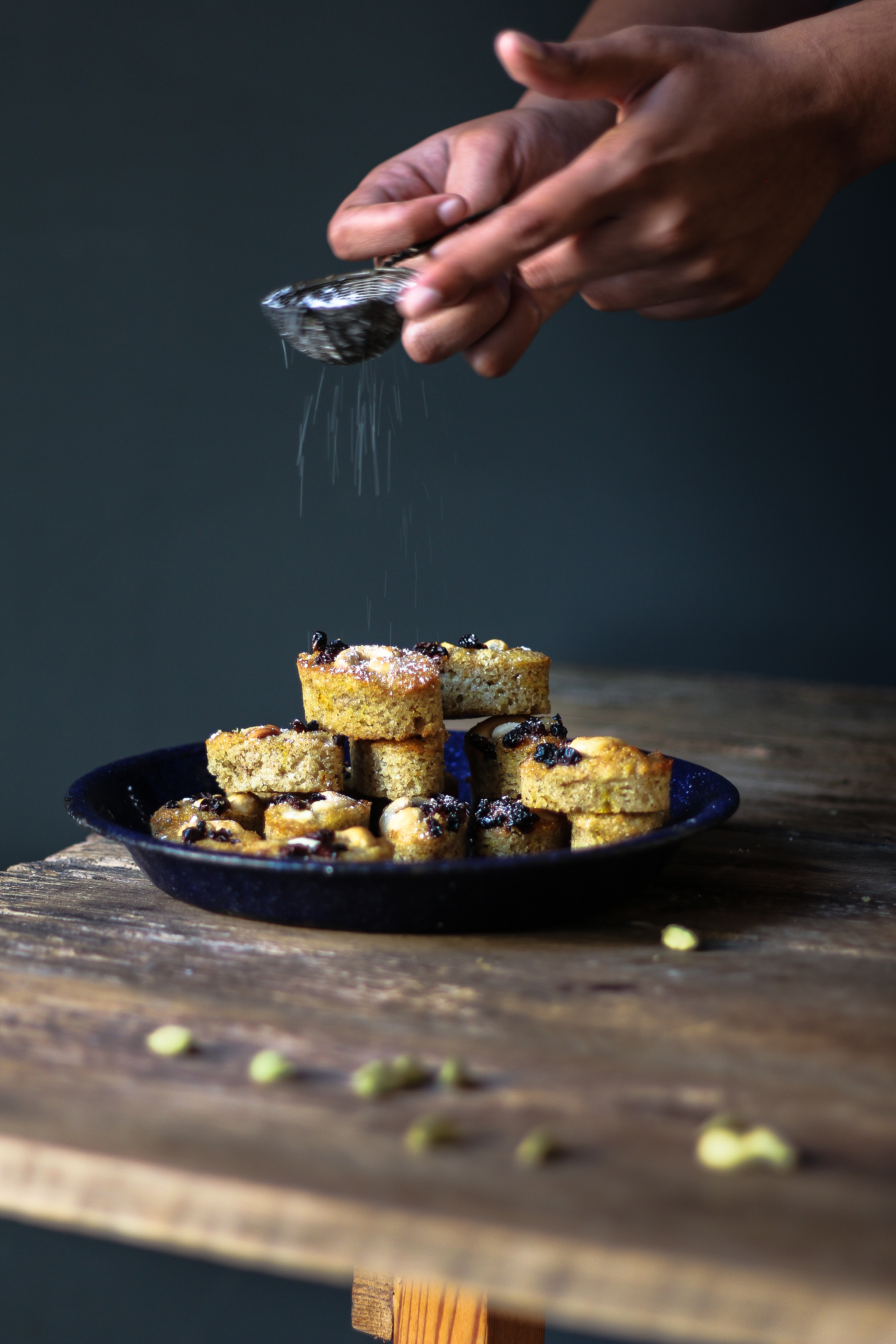 India can easily be called the "Land of Festivals."
This whole month has been very religious for many. I always love sharing the festival food on social media. For me, it's always such a wonderful time to spread love and food.
This festival, Ayudha/Saraswathi Pooja, is one which is particularly celebrated in Southern India.  Ayudh means instruments, so this festival is all about giving due respect to the things that we use everyday.  Cars, homes, etc. are cleaned in detail. Respecting the ordinary things which we would take for granted otherwise.
In short, I enjoy the feeling, the atmosphere, and the meaning behind festivals.  It may not necessarily be religious in any way for many.  It's a time when we get to meet friends, clean homes, think positive, and just have lots of fun and food.  A time when we look forward to something different from the monotony of our regular routine.  As for me, being so far away from home, I love showing my boys what I grew up celebrating, and they seem to love it.  It's almost nostalgic to give my children the same experience that my parents gave me.
I had a love-hate relationship with this festival.  I come from a big family of men who are perfectionists, border line OCD (seriously).  My dad started cleaning the entire house a week early, which was already pretty clean for any standard.  Detailed work took days.  Mom and I felt like we were walking on egg shells when dad cleaned.  We were so careful not to mess up, and not to come in his way.  He had it all planned out in his head.  And the funny thing was, he wanted to do it all by himself.
On the festival day, I would be asked to bring all my books, pencils, and other important things, and he would keep the remaining household things and would do a pooja.  I was in my happy place.  The cleaning was done, and I did not have to study or touch my books for the next three days.  A silver lining to the festival I called "the cleaning festival".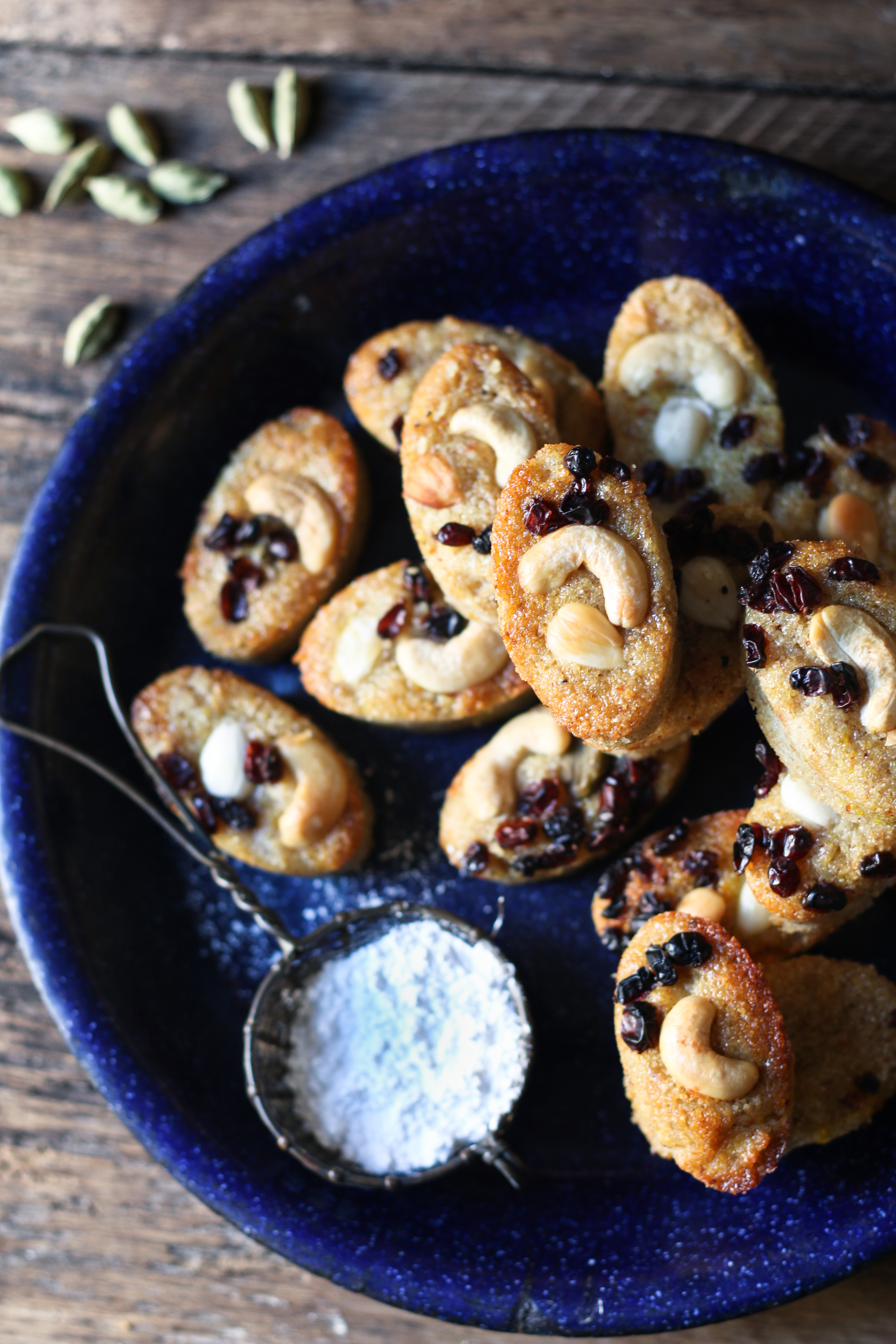 And, of course, there's always food.
We make Sheera or Banana Kesari, which is a dish made out of semolina, ghee, and bananas.  A simple offering.  This is a mini dessert with sheera.  I love these bites to entertain with, or to put in boxes for festival gifts.  It's simple and good.  Make sure to use fine semolina so you get the texture right.
You can add cashews and raisins in the batter too.  You can make this in mini muffins tins, a big cake pan, or a tart pan, and these will always look great everyway.  The time to bake will differ accordingly.
Happy Baking and Happy Celebration!!!
Have a beautiful day!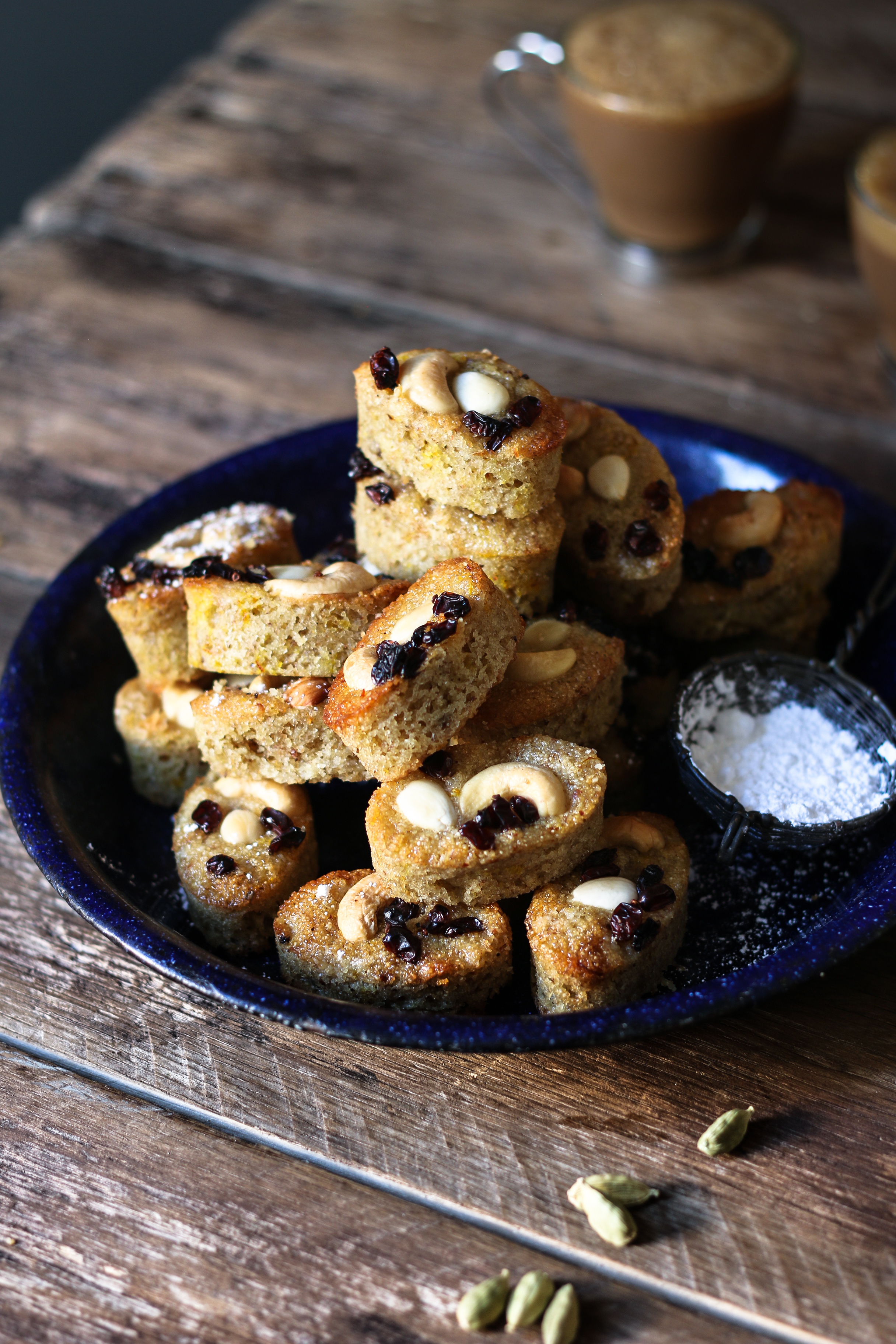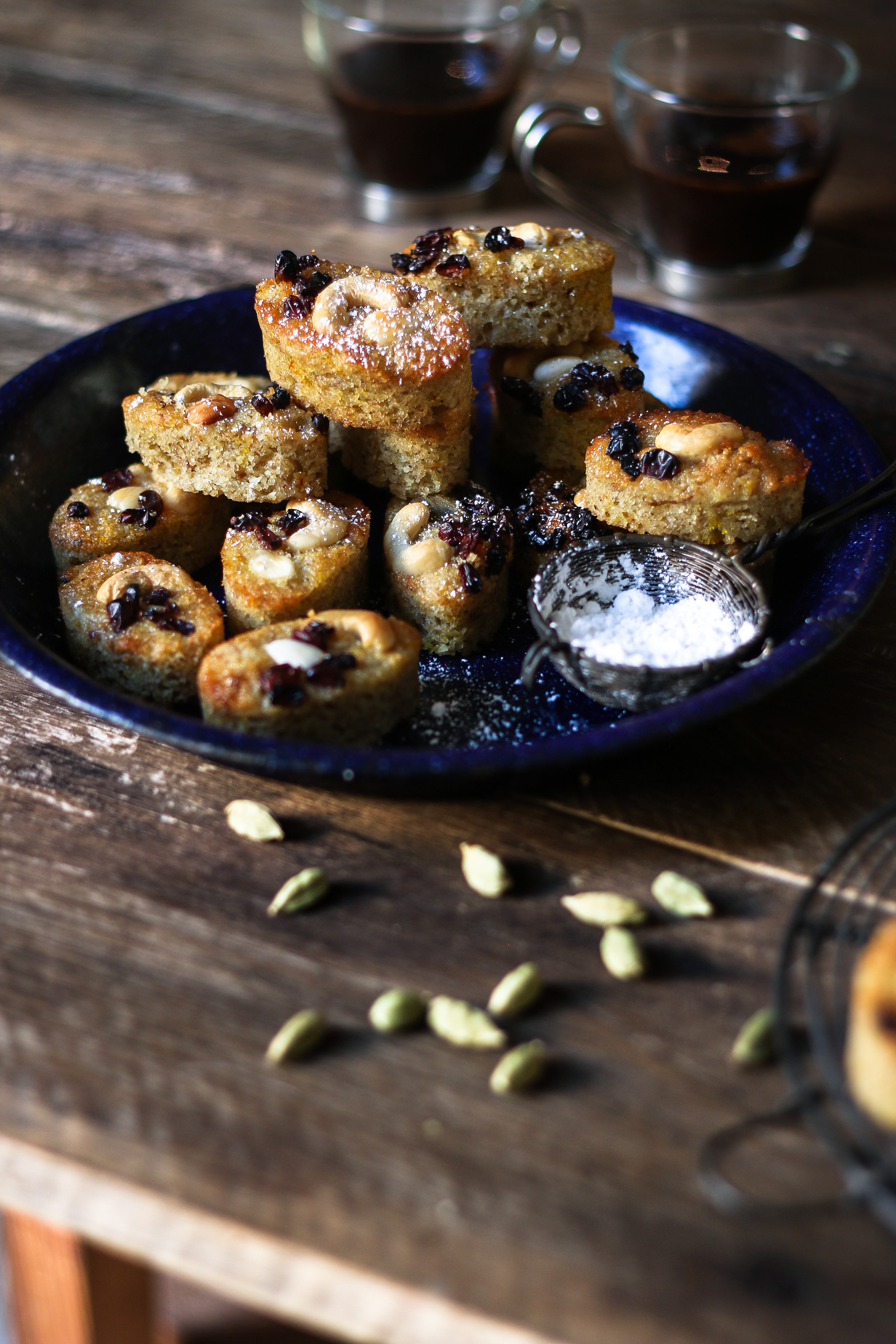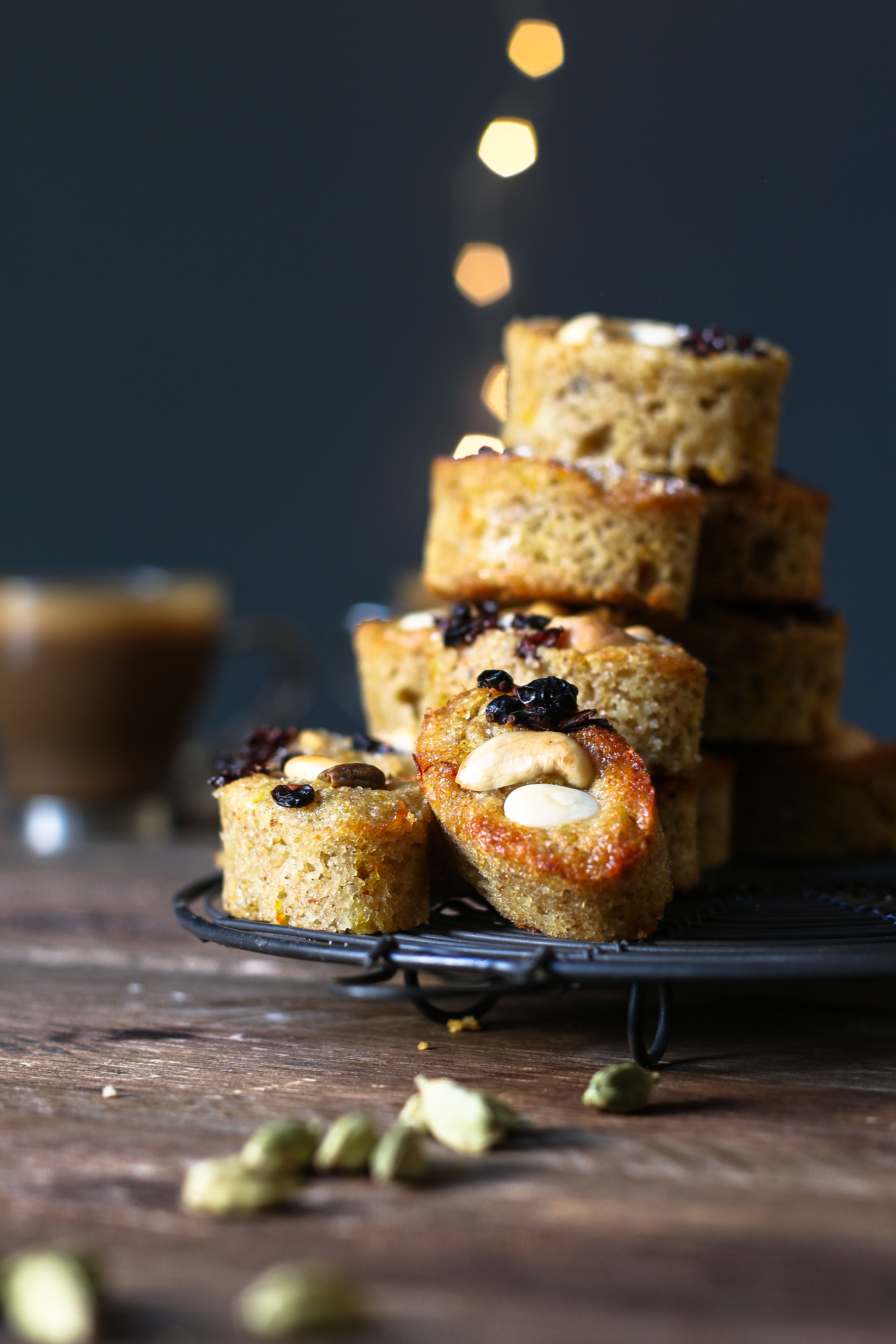 Banana-Almond-Semolina Cake with Apples aka Sheera Cake
These mini brown butter banana semolina cakes are perfect for entertaining and for festivals. They taste like a popular Indian dessert called Sheera, but in cake form!
Ingredients
2 ripe bananas, mashed
2 tbsp olive oil
1 tbsp ghee/brown butter
1½ cup very fine semolina/sooji/cream of wheat
⅓ cup almond meal/flour
⅓ cup all purpose flour
1 cup white sugar
⅓ tsp green cardamom powder
pinch salt
1 tsp baking powder
pinch of saffron
1 cup whole milk
2 large eggs, at room temperature
⅓ cup ghee or brown butter, melted
Nuts for garnishing
Instructions
In a large pan, add olive and oil and keep on medium heat. Add the mashed bananas and keep sauteeing and caramalizing it for about 10 minutes. Turn off the heat and take out the bananas in a mixing bowl.
In the same pan which has some oil, add the semolina and on medium low heat, saute and toast it for about 3 minutes or until lightly toasted. Turn off the heat and add this to the banana mixture.
Add the almond meal, all purpose flour, white sugar, cardamom powder, salt, baking powder and mix it well.
In a separate bowl, add the whole milk, eggs, ghee and mix is well and add it the semolina mixture and mix it well until everything is incorporated.
Spray some non stick spray or brush some butter in the mini muffin pans or financier molds.
Now pour in mini muffin pans, financier molds, madeliene pans, garnish with anything you want and bake at 350 degrees for 15 minutes.
Once cooled, unmold it and dust some powdered sugar.
Stay in touch for  on
Instagram
 ,
Pinteres
t. Follow on Snapchat (ashfoodfashion) for daily doses of food.
Have a fabulous week.!!