This is a healthy and flavorful chutney from the region of Mangalore, Karnataka.  This cucumber/southekkai chutney is tasty mixed with rice, with chapathi or dosa.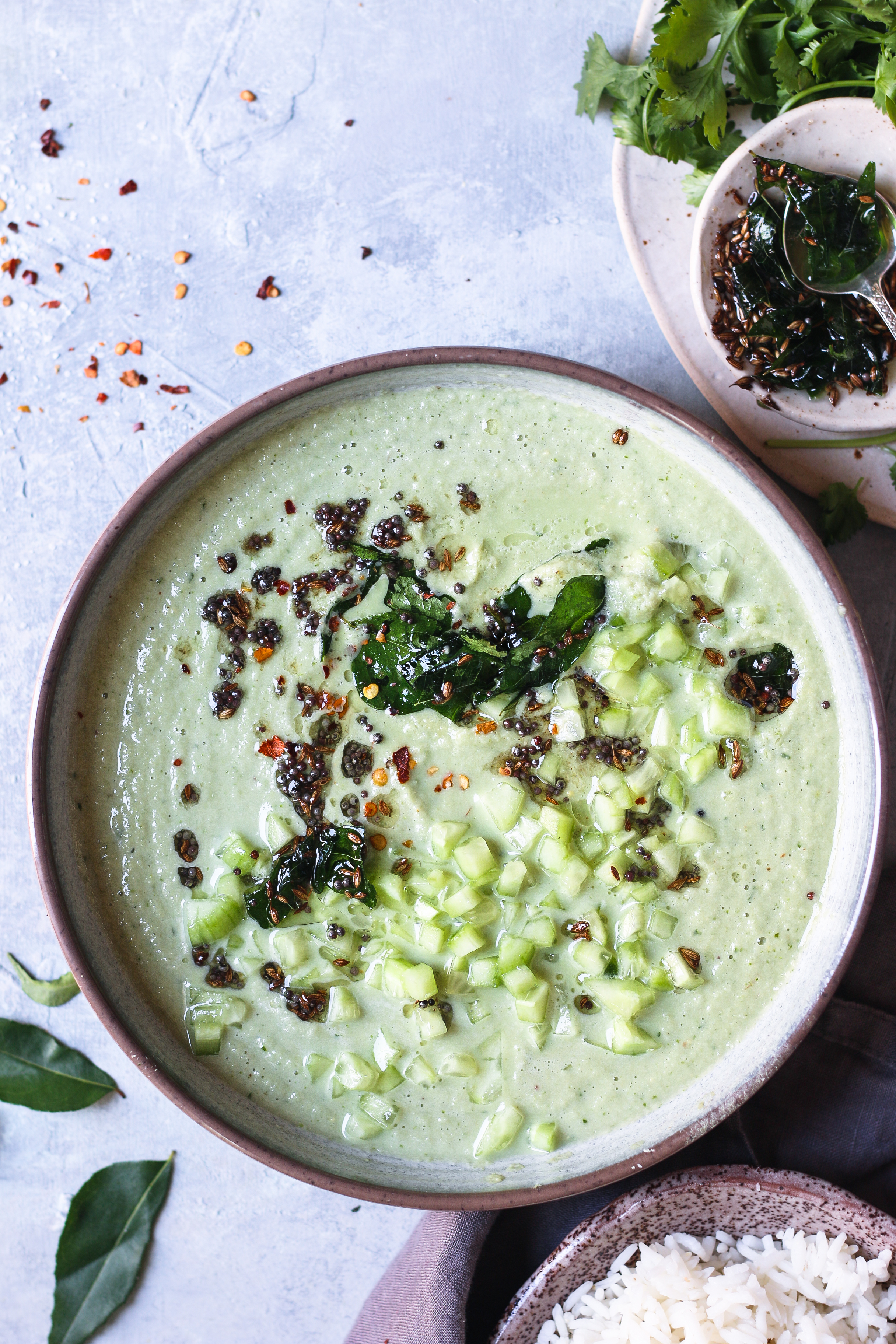 That night, after a long work day, Mom comes home tired and sits down for a cup of coffee.  After a quick little chat, she goes to make dinner, which is ready in less than thirty minutes.  She made this chutney and chapathis.  We all sit down on our mats to eat our dinner while Doordarshan (the TV program) is running in the background.  Mom and I look at each other, and she gives me a sneaky look.  "It's just coconut chutney with lots of coriander," she says even without me asking anything.
I take a bite and look back at her, and I am very sure it's not "just" coconut chutney.  One, she wouldn't just make coconut chutney for dinner with chapathi.  Two, she would not have that look on her face.  That expression when she's trying to cheat us into eating something we don't like.  That day, dad ate in silence.  I spoke up.  She insisted it was just coconut and I let it go, and surprisingly enjoyed it too.
Another day, another morning.  Mom was peeling the cucumbers, and I quickly stormed by to taste something.  Before long, I was gone to get ready for school.  Breakfast was served.  Today it was dosas, and she served it with this chutney.  Without a doubt, I exclaimed, "I got you mom; this is cucumber!"  She laughed and accepted.  "But, you loved it right?" she asked, and I nodded happily telling her I couldn't believe how good it was.  The recipe then went in my burgundy diary.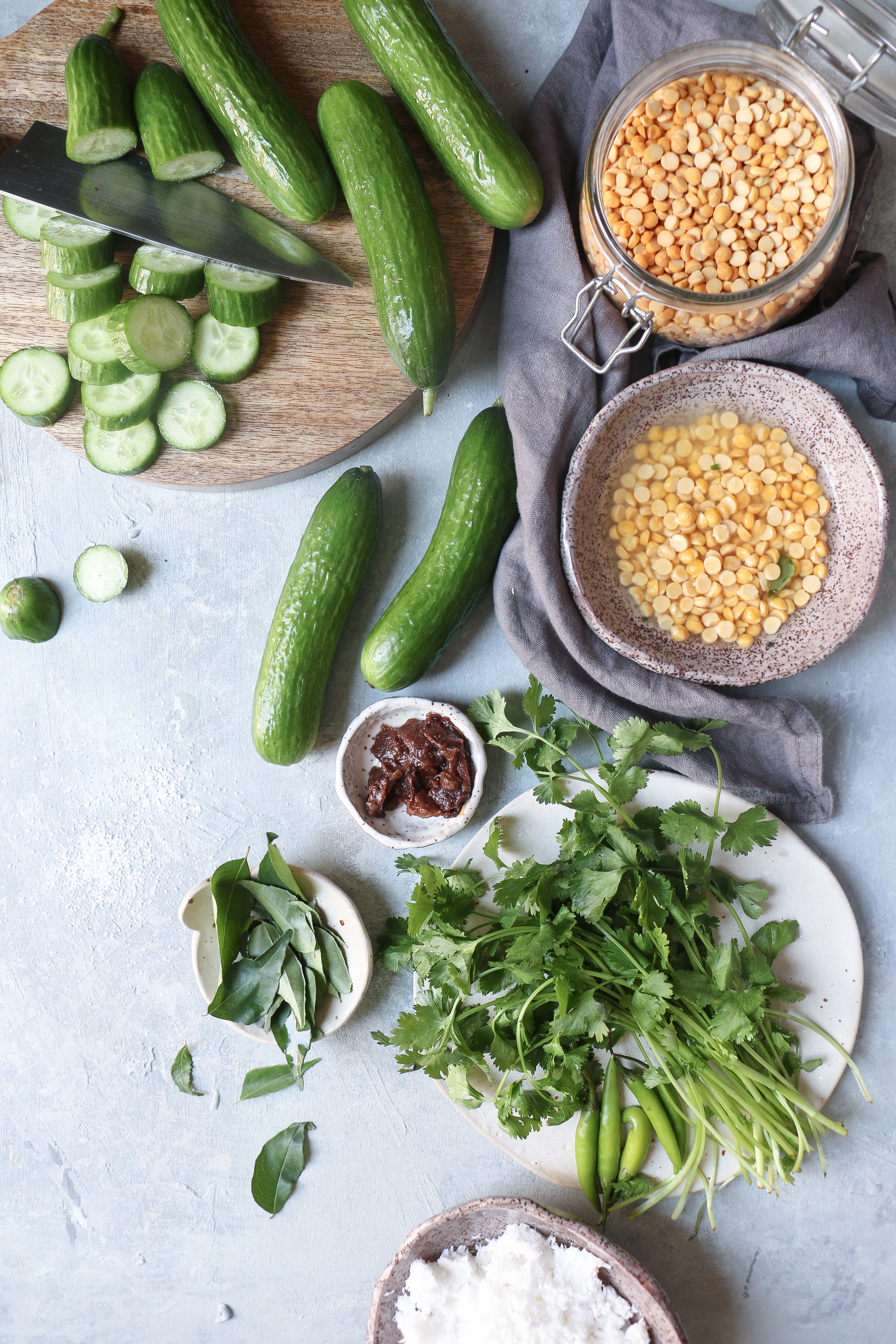 The cuisine of Mangalore consists of many diverse communities.  While their coastal region boasts of their popular seafood, their Tulu vegetarian food is very popular.  The use of coconut can be found everywhere there.  I am a big fan of Mangalore cuisine and have a few iconic Mangalore dishes in my upcoming book!
This chutney can be made with gherkins, english cucumbers, or the normal ones.  I like to peel and grind them.  Coconut adds a good body to this chutney, and the channa daal, although used raw, adds a wonderful touch.  Have it with rotis, chapathis, rice, or like my little one, with pasta.  So healthy and so good.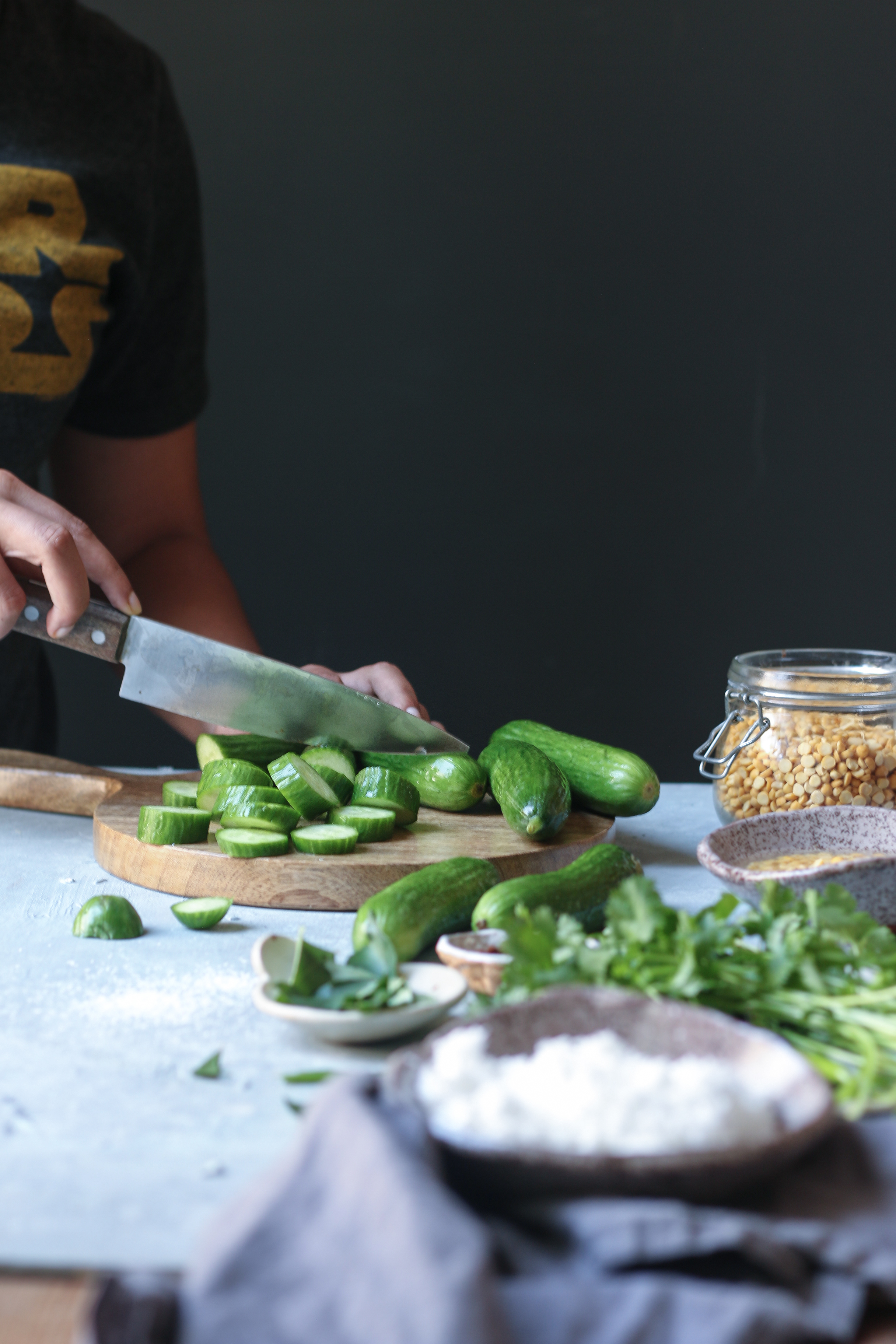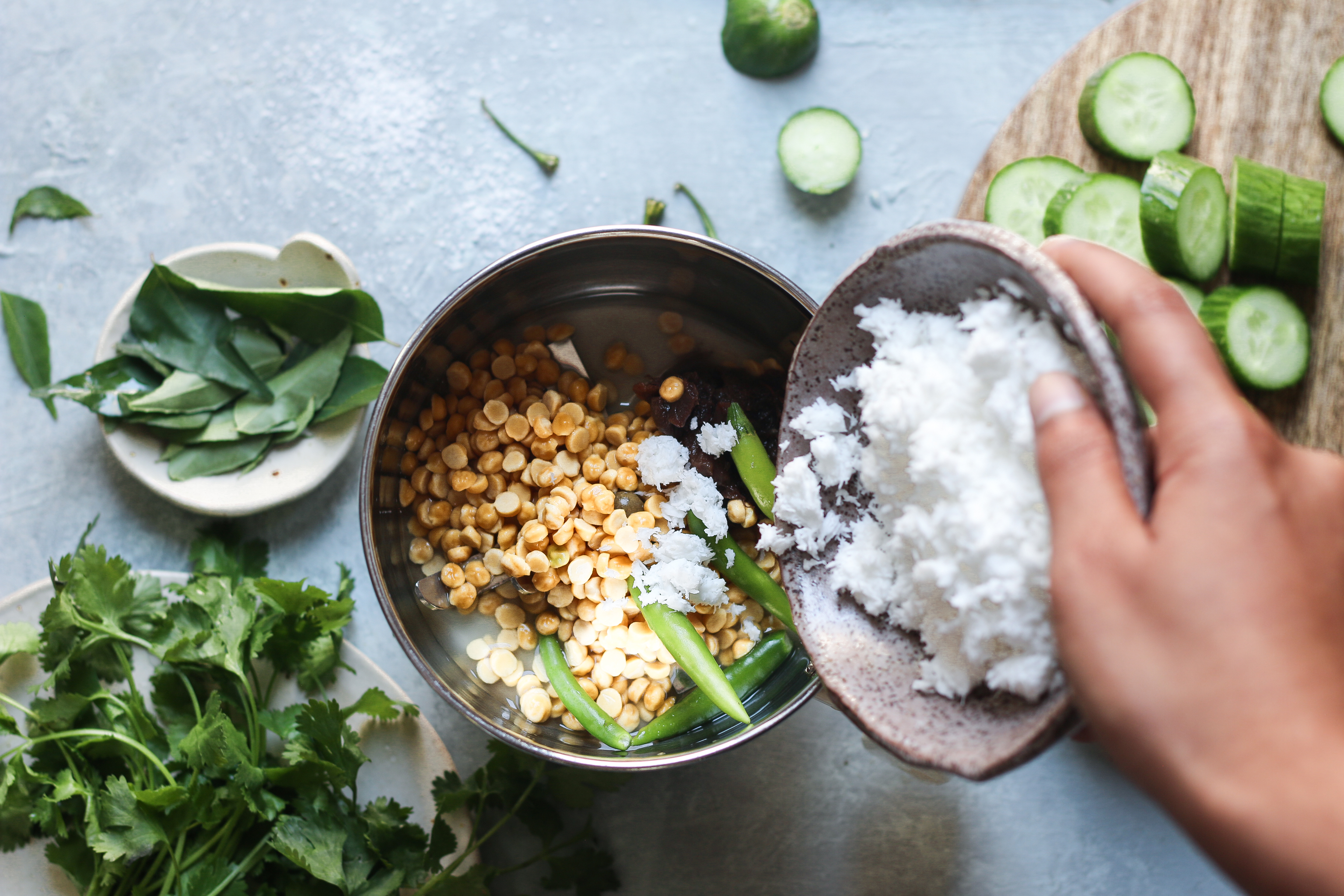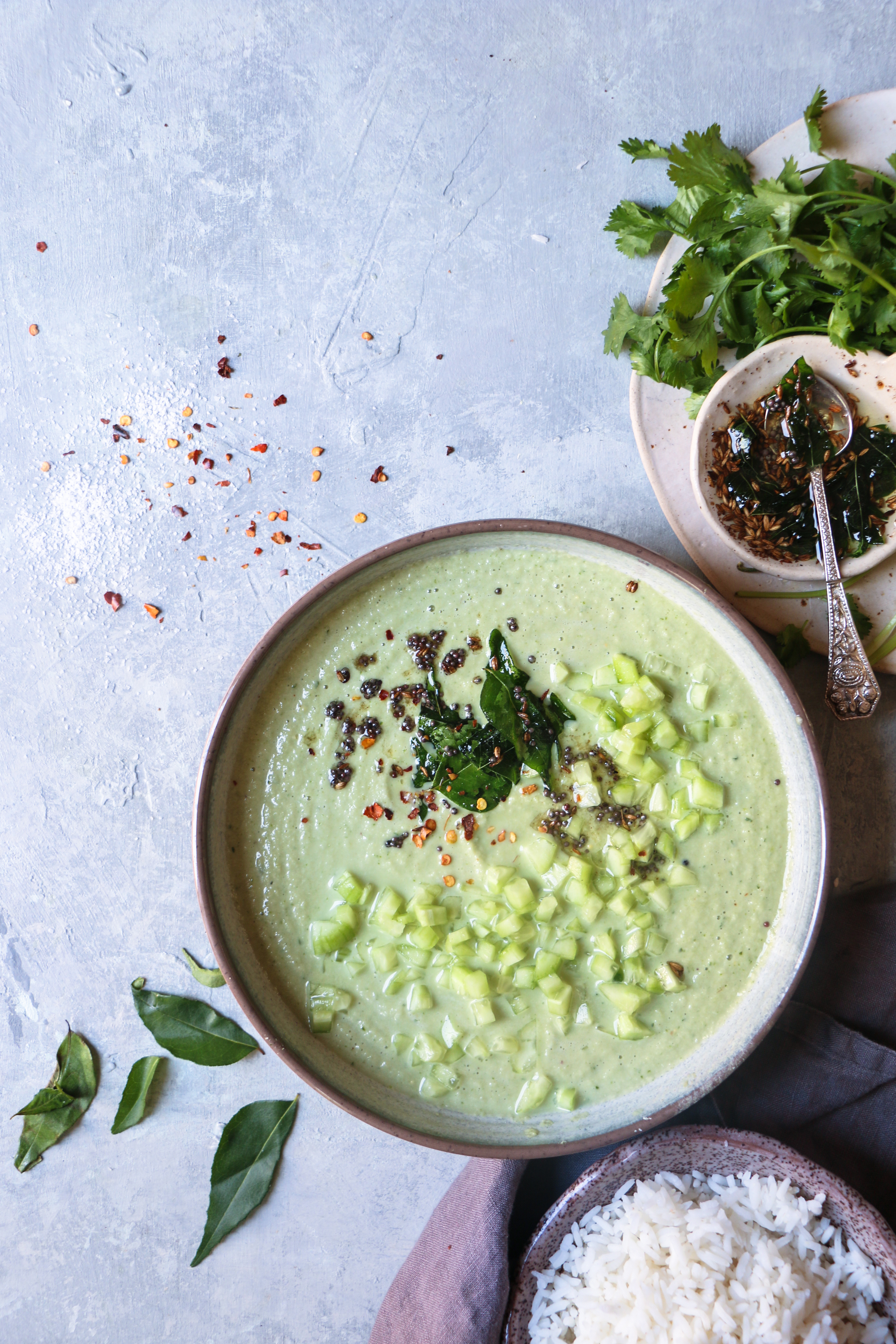 Stay in touch for  on Instagram , Pinterest. Follow on Snapchat (ashfoodfashion) for daily doses of food.
Have a fabulous week.!!

Cucumber Chutney/ Southekkai Chutney Mangalore style
This is a healthy and flavorful chutney from the region of Mangalore, Karnataka. This cucumber/southekkai chutney is tasty mixed with rice, with chapathi or dosa.
Ingredients
2 tbsp channa daal/split bengal gram lentils, soaked for 1 hour
5 green Thai chilies, more or less depending on your spice level
1 packed tablespoon fresh tamarind
⅓ cup fresh coconut, grated or use frozen coconut(unsweetened)
2 large cucumbers or 1 Englishh cucumber or 4 small gherkin cucumbers, peeled and diced
1 tsp jaggery/palm sugar
1 tsp sea salt
1 tbsp cilantro
For tempering
1 tsp canola/vegetable oil
½ tsp mustard seeds
½ tsp cumin seeds
pinch of hind/asafoetida
10 curry leaves
Instructions
Add everything except the ingredients for tempering in a blender. Add few tablespoons of water at a time and grind it to a coarse paste. You want it coarse and not too watery.
In a small pan, add oil, let it get hot. Add the mustard, cumin seeds, asafoetida and curry leaves and let it pop. Add it to the chutney and serve with rice, rotis or mix it in with pasta.