So happy to be partnering with Blue Moose of Boulder to bring this beautiful fall tart.  This Fall Tart Grilled hummus chicken beet pear salad is a great light lunch or to entertain too. Crispy layered buttery puff pasty base, topped with chicken tossed in with hummus, feta cheese, beets and a light fresh salad.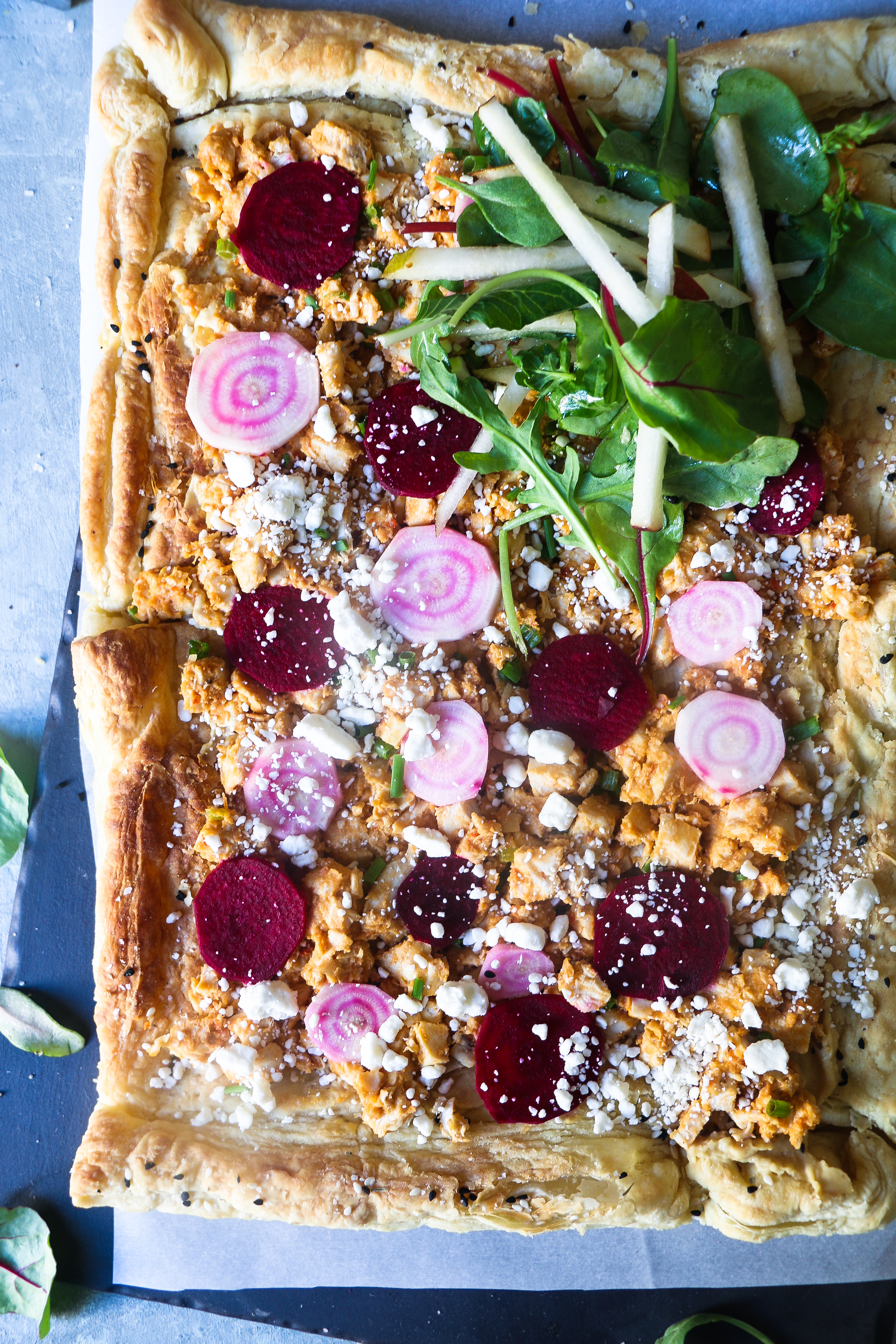 Hi my friends!!!
Scrolling through Instagram, we slowly see warm hugs, apples, soups and fall colors.  Autumnal chilly breeze is hitting us in the late hours and I am not complaining.  It's been quite a warm one in the Bay.
Quick entertaining ideas are something I'm always looking for and sharing on this blog. I am all for rustic easy dishes. This might be one of my top favorites using the trusty store bought puff pastry.
I've been using this hummus for months now and it is so good. So, when I was approached to create a recipe for them, I was super excited. After a bit of a research, I found that it's hand crafted in small batches and the reason that it tastes fresh and like home made, it has no preservatives too.  It's  cold pressed and that way maintains vitamins and minerals. I use it as dips, spread it on tortillas for the boys and top it with an egg, mix it in with pasta, so many options.
This is a favorite recipe of ours using this hummus. This recipe is as simple as it gets. It's great to use Autumn fall vegetables, a light salad and you are set. You can grill the chicken or boil and mix it with the hummus.  A pear and green light salad words great with this.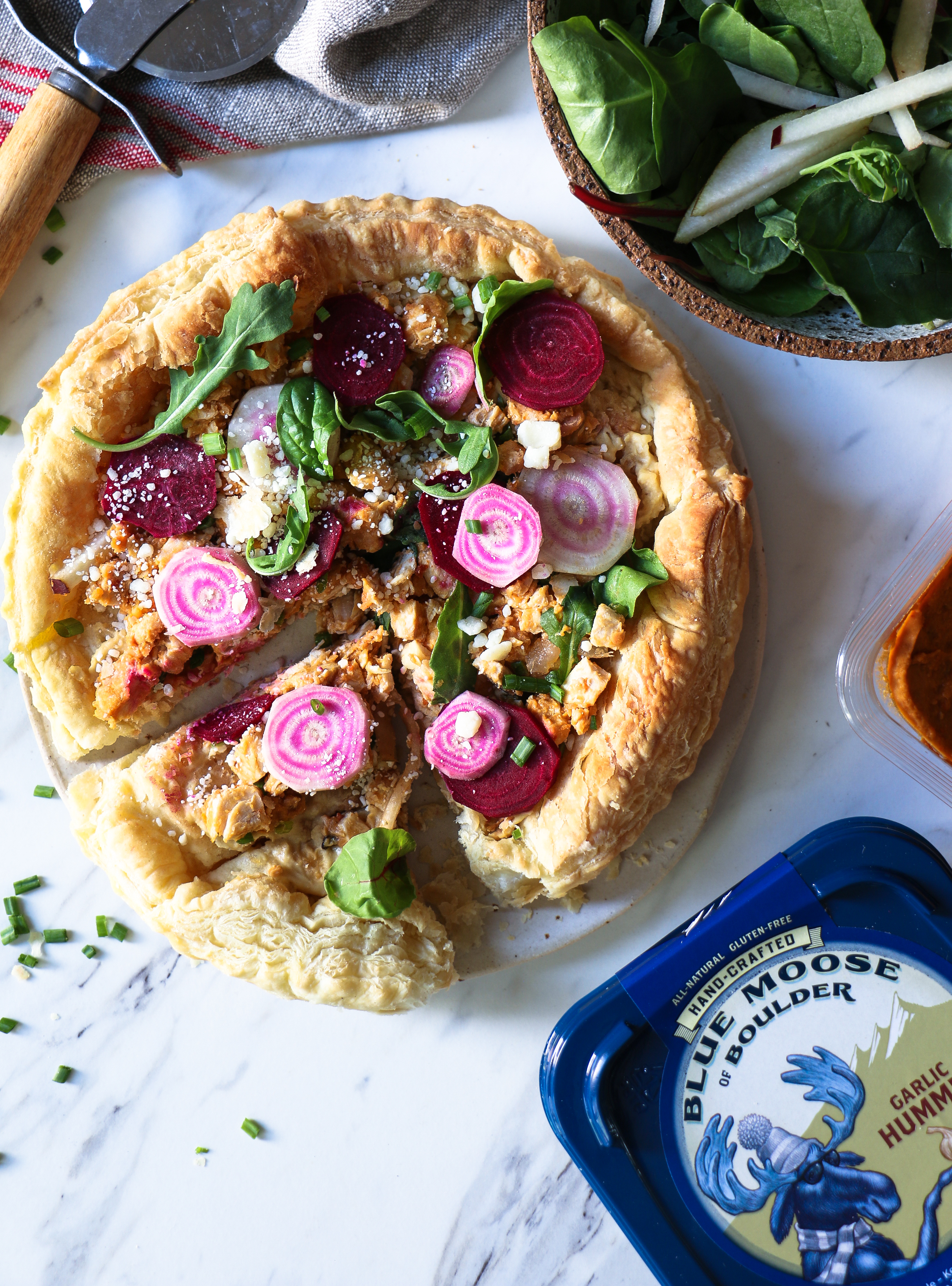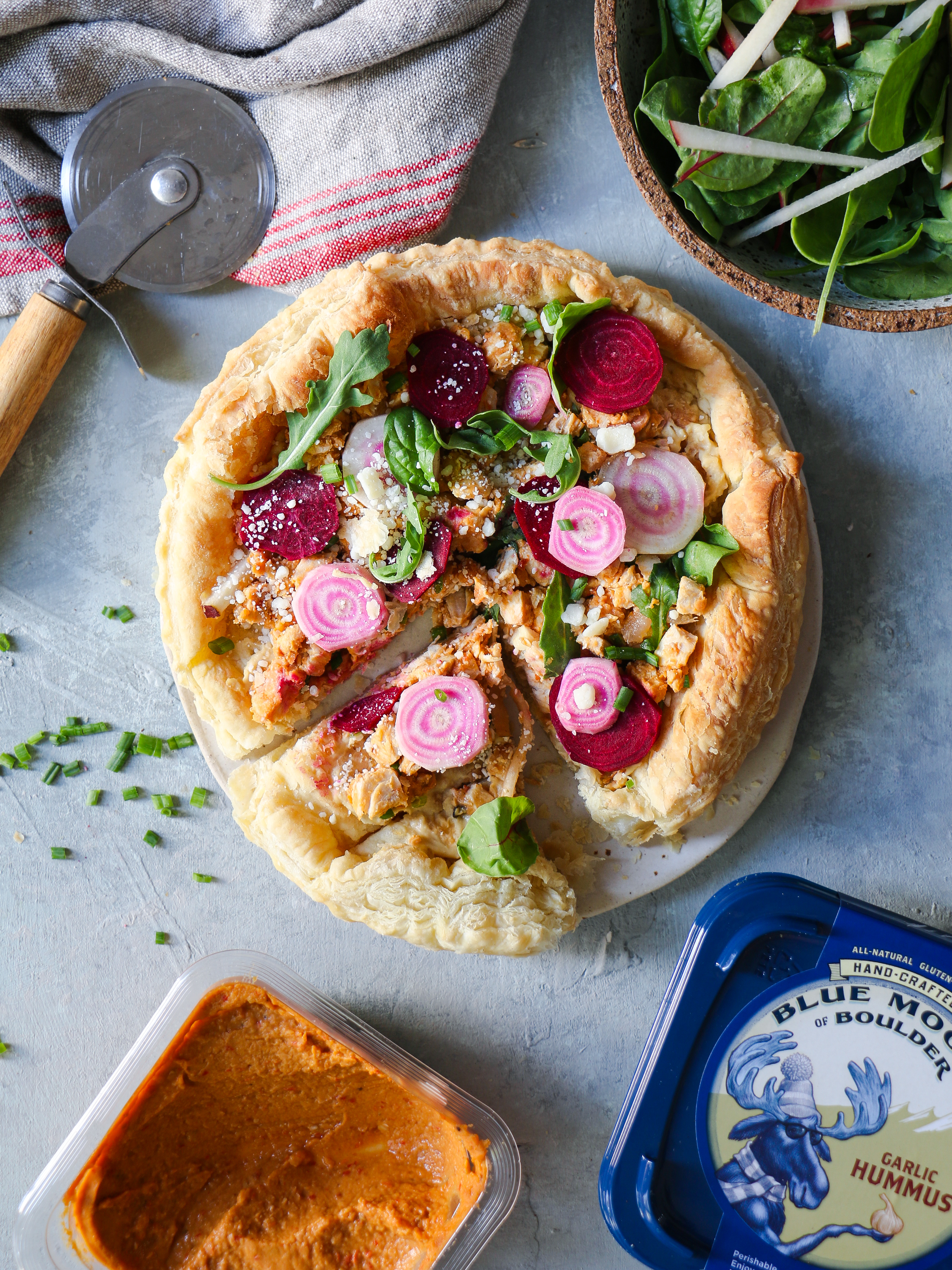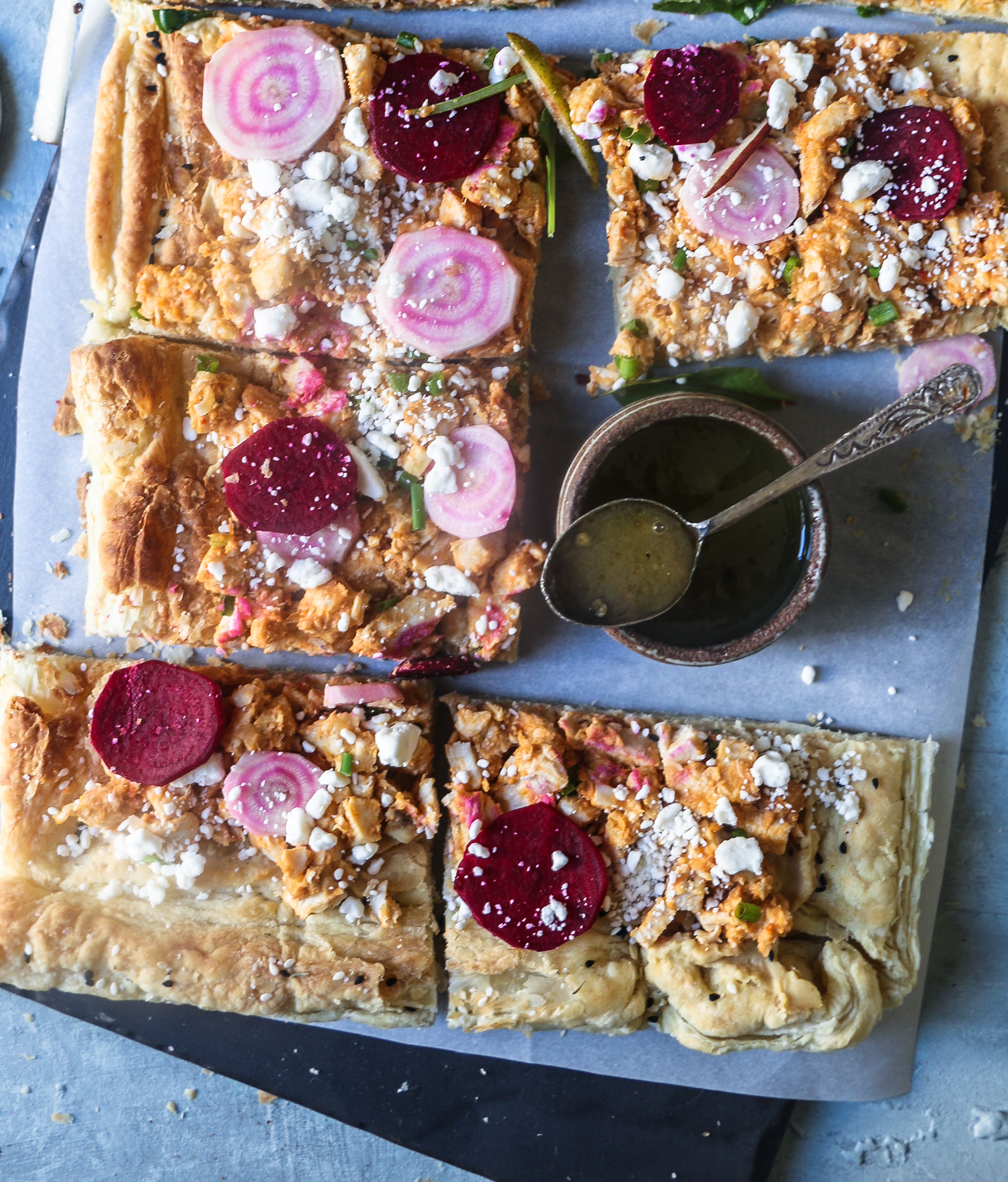 Stay in touch for  on Instagram , Pinterest. Follow on Snapchat (ashfoodfashion) for daily doses of food.
Have a fabulous week.!!

Greek Chicken- Hummus Fall Tart with Beet and Pears
This is a colorful tart is a simple yet satisfying
Recipe type:
Lunch, Brunch
Ingredients
Puff pastry sheets- 2 sheets
Chicken strips -6
⅓ cup chipotle humms (http://bluemooseofboulder.com/project/smoked-chipotle-hummus/) or you could use any flavored hummus.
⅓ tsp crushed pepper
3 tbsp of garlic hummus (http://bluemooseofboulder.com/project/garlic-hummus/)
mini beets, thinly sliced
⅓ feta cheese
For the salad
mixed greens
Pears- green and red, thinly sliced
⅓ cup fresh orange juice
3 tbsp extra virgin olive oil
1 tbsp sweet rice wine vinegar
pinch salt
few twists of freshly ground black pepper
Instructions
Defrost the puff pastry sheets for about 30 minutes if it was kept in the freezer. Take a sheet pan, roll the dough out and attach the two and create a border with some extra bits or just put it flat on the pan. Pierce the middle of the puff pastry sheet with a fork, leaving a 1 inch on all the four sides. Bake at 400 degrees for 15-20 minutes or until golden brown and puffed up.
While that is baking, add the chicken strips in 2 cups of water and boil for 7-8 or until it is fully cooked. Take it out and cut them into pea sized cubes. Add it in a mixing bowl.
While the chicken is still warm, add the chipotle hummus and mix and toss well. Add some pepper. Set aside.
In a small bottle, add the orange juice, olive oil, vinegar, salt and pepper. Shake it well and set aside.
Take the greens and pears, add a tablespoon of the dressing and toss. Do this in the last moment, when you are ready to serve.
Assembly.
Take the baked puff pastry sheet, spread few tablespoons of the garlic hummus. Top it off with the chicken liberally. Add the sliced beets, top it with some feta and serve it with some green salad.