Fruit based curries/chutney are very popular in the Southern part of India.  In particular, this pineapple black chickpea spinach yogurt curry/morkozhumbu is a very authentic dish of Kerala.  It's so good with some rice.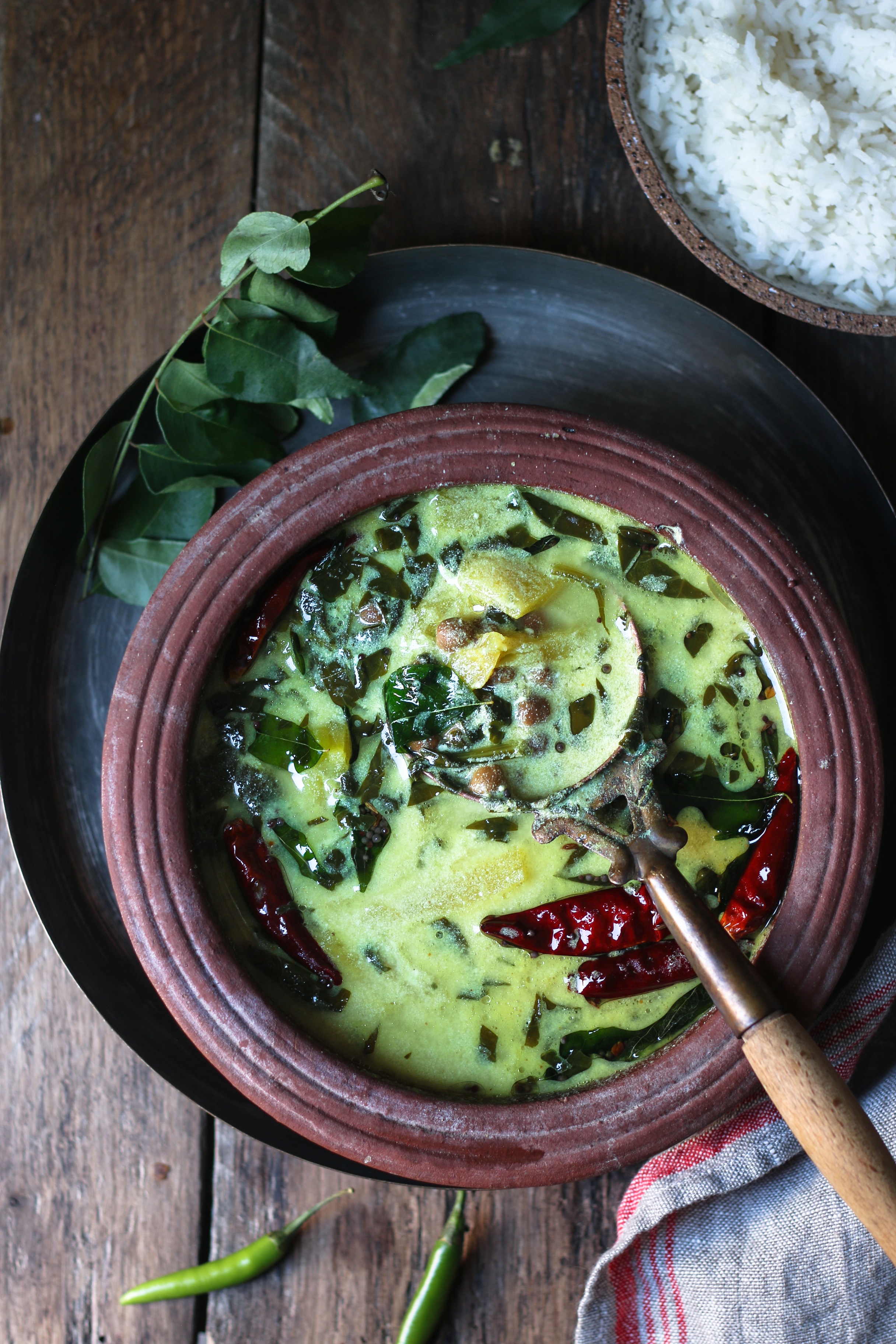 It's no secret that I am in love with the cuisine of Kerala.  It does rank high on my loves for various cuisines.
Kerala is a beautiful coastal place surrounded natural beauty.  It's a lush green emerald land, with the tall coconut trees, the flowing backwaters, the food, the tea estates, spices… everything deserves praise.  It's called "God's own country" for a reason.  What otherwise might seem like a smug statement is not at all inaccurate for the humble place and people; in fact, it is sincere and as precise as can be.
The food of Kerala is dominated by coconut, fresh coconut, which is quite abundantly found around there.  Their love of non-vegetarian food is well known.  Their seafood dishes are very popular. Although they have a variety of non vegetarian dishes, their vegetarian dishes are simply spectacular.  I am a huge fan of their vegetarian dishes, especially the ones that are made during Onam Sadya.  It is the most celebrated festival, where they make twelve different types of vegetarian dishes, and they are served in a banana leaf.
This is one variation of a dish that is made in Kerala.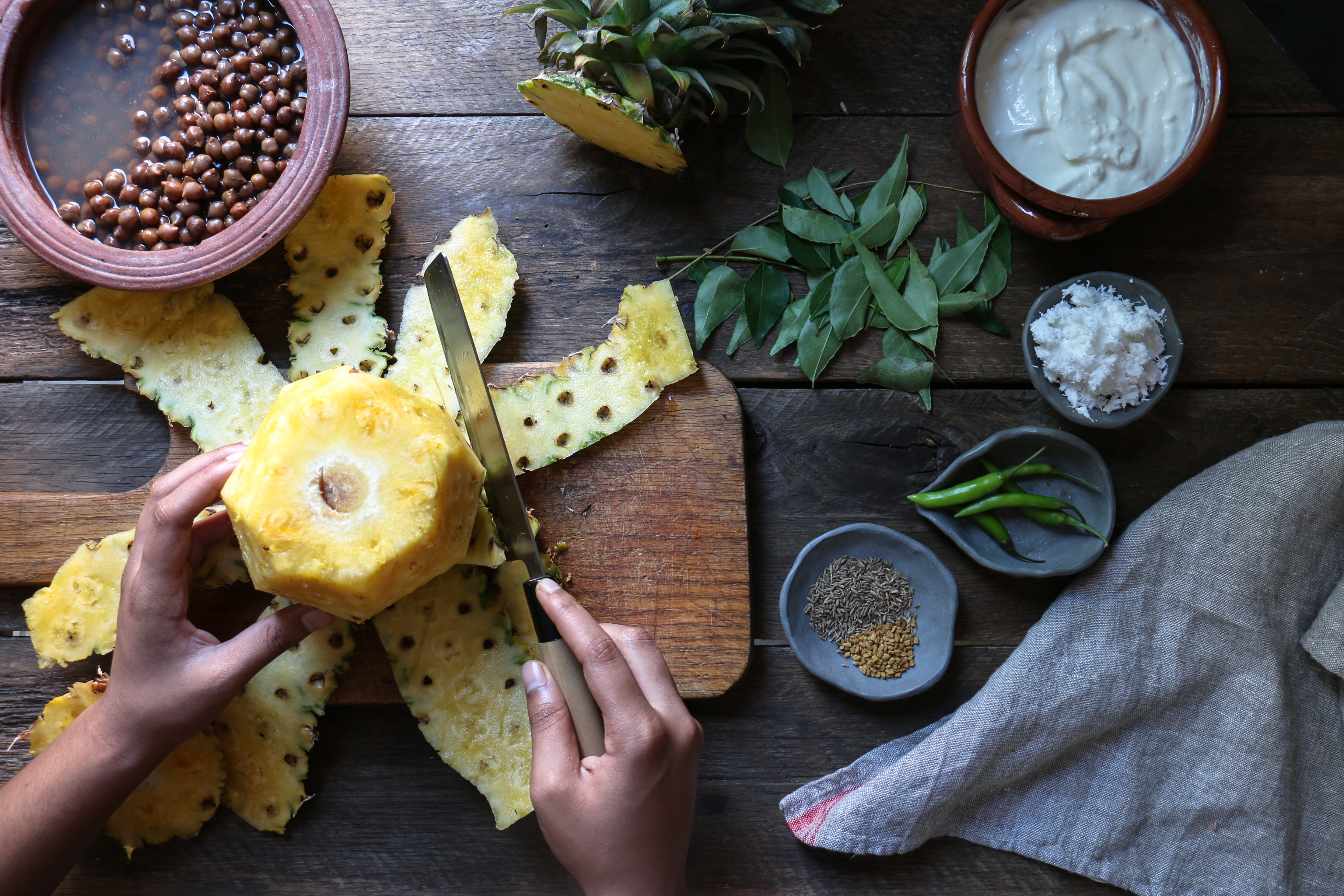 I was introduced to this dish by my friend Lakshmi in college.  I had never heard of or tasted this before that.  Her mom had us over one day for lunch and made the most yummy Mango morkozhmbu.  I had it written and have made it many many times since.  On a casual call with her, I asked her to give me an idea or a different spin on that.  She told me to add black chickpeas, and I decided to go with curry.
The pineapple adds a slight fruity sweetness.  In no way is this curry sweet; it is spicy with a hint of sweetness.  The spinach adds a great touch with the black chickpeas.  It's quite a complete dish.
Add yam and raw banana to this, and it's delicious.  Increase the coconut if you want it richer.  Increase the water if you want it a bit watery.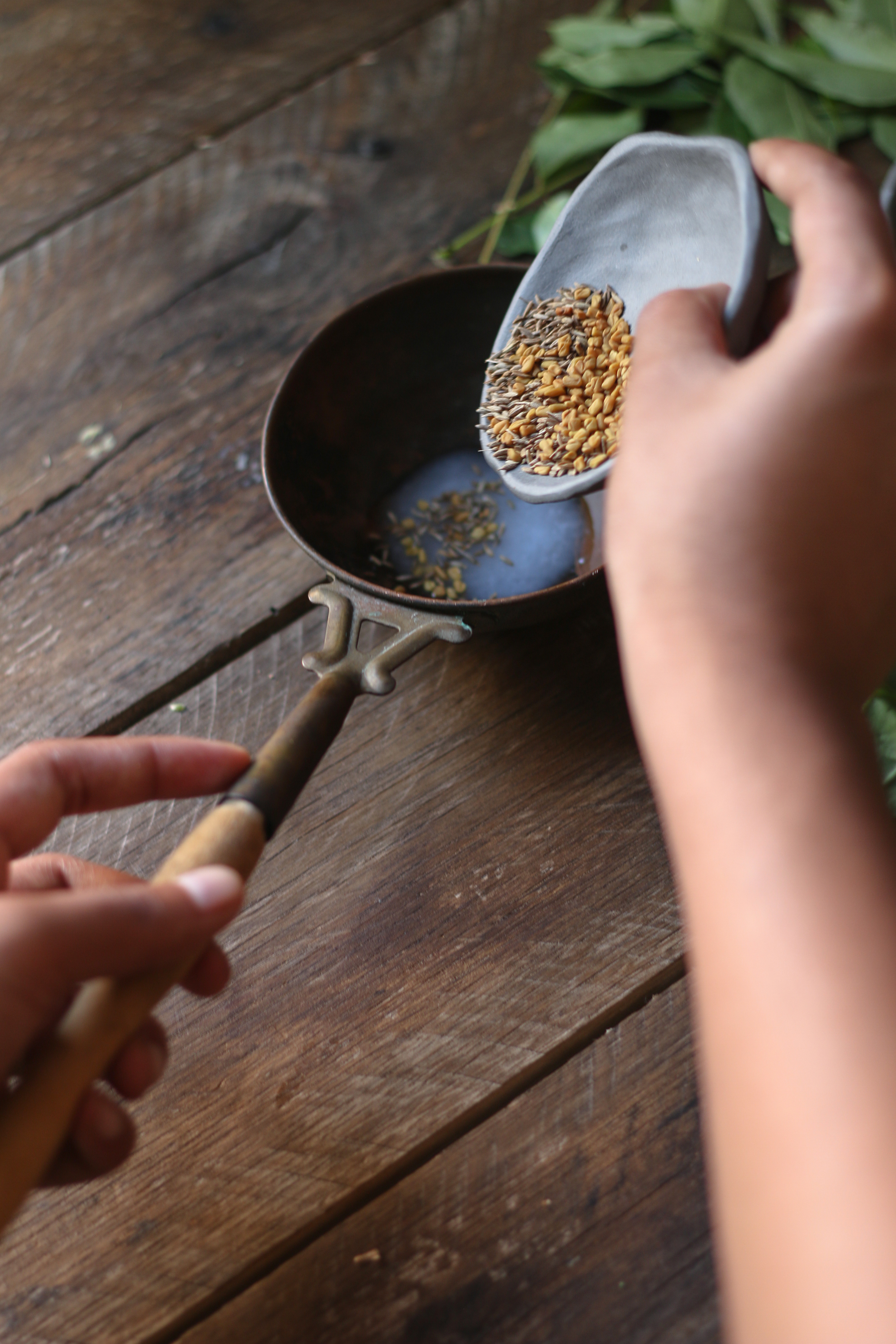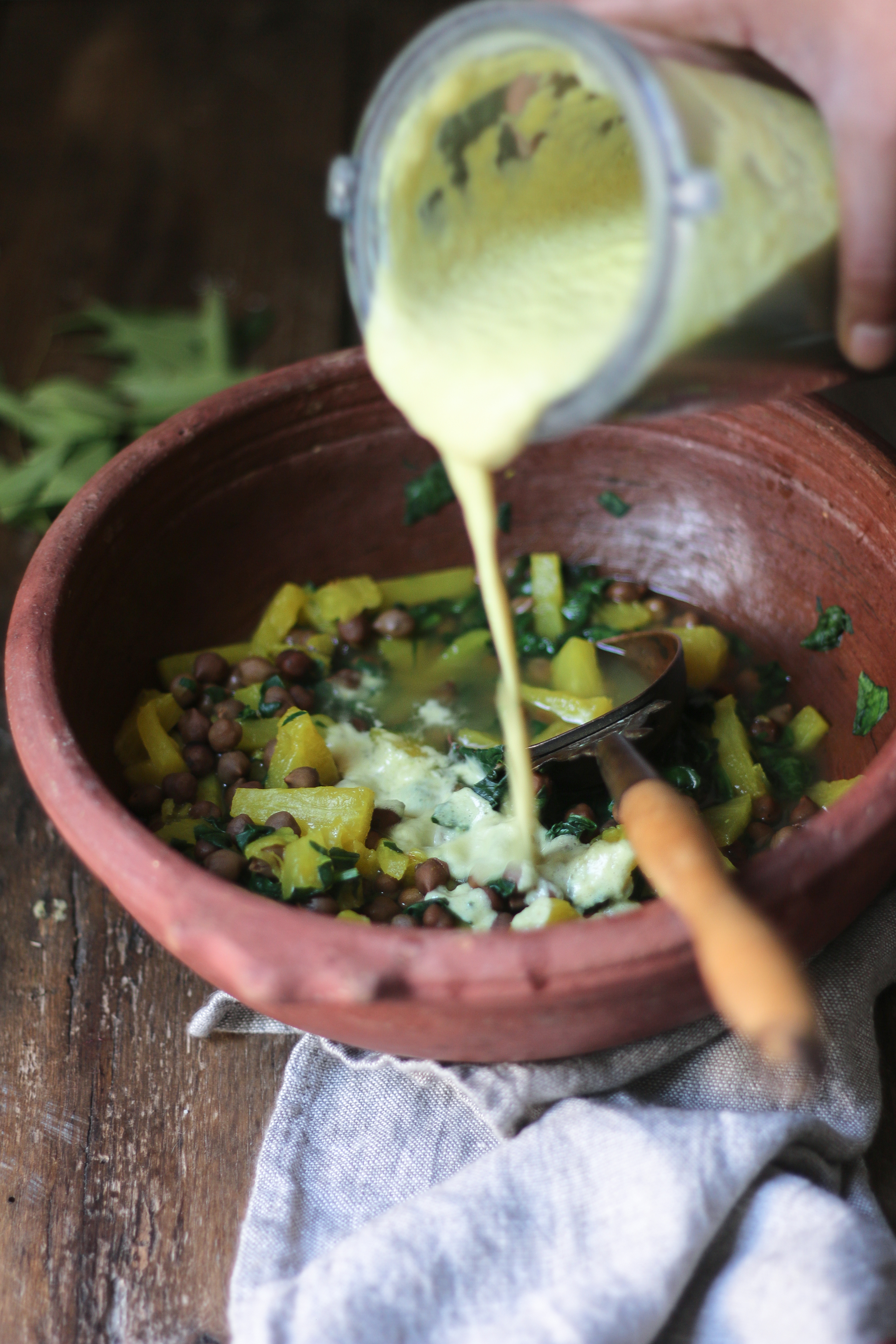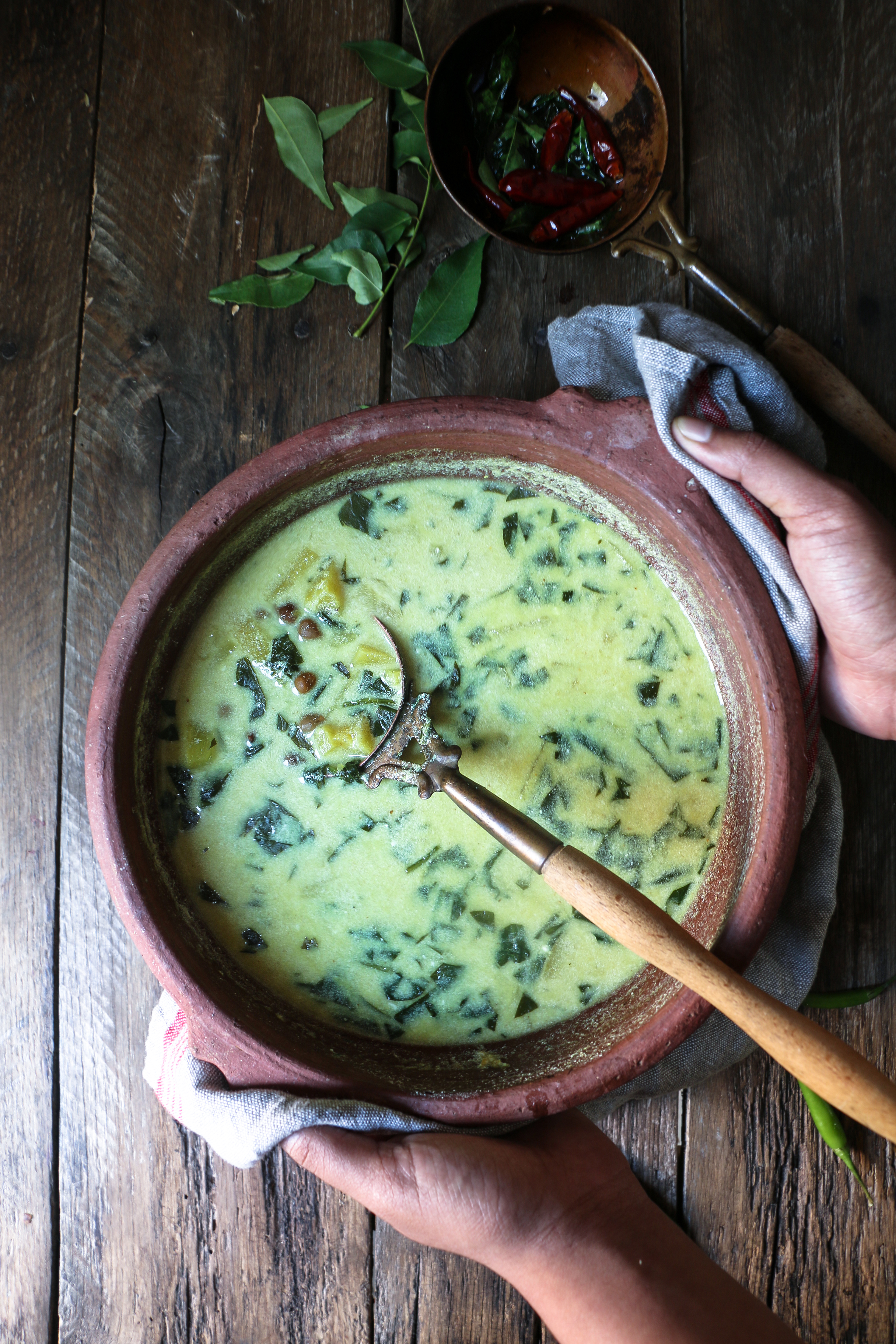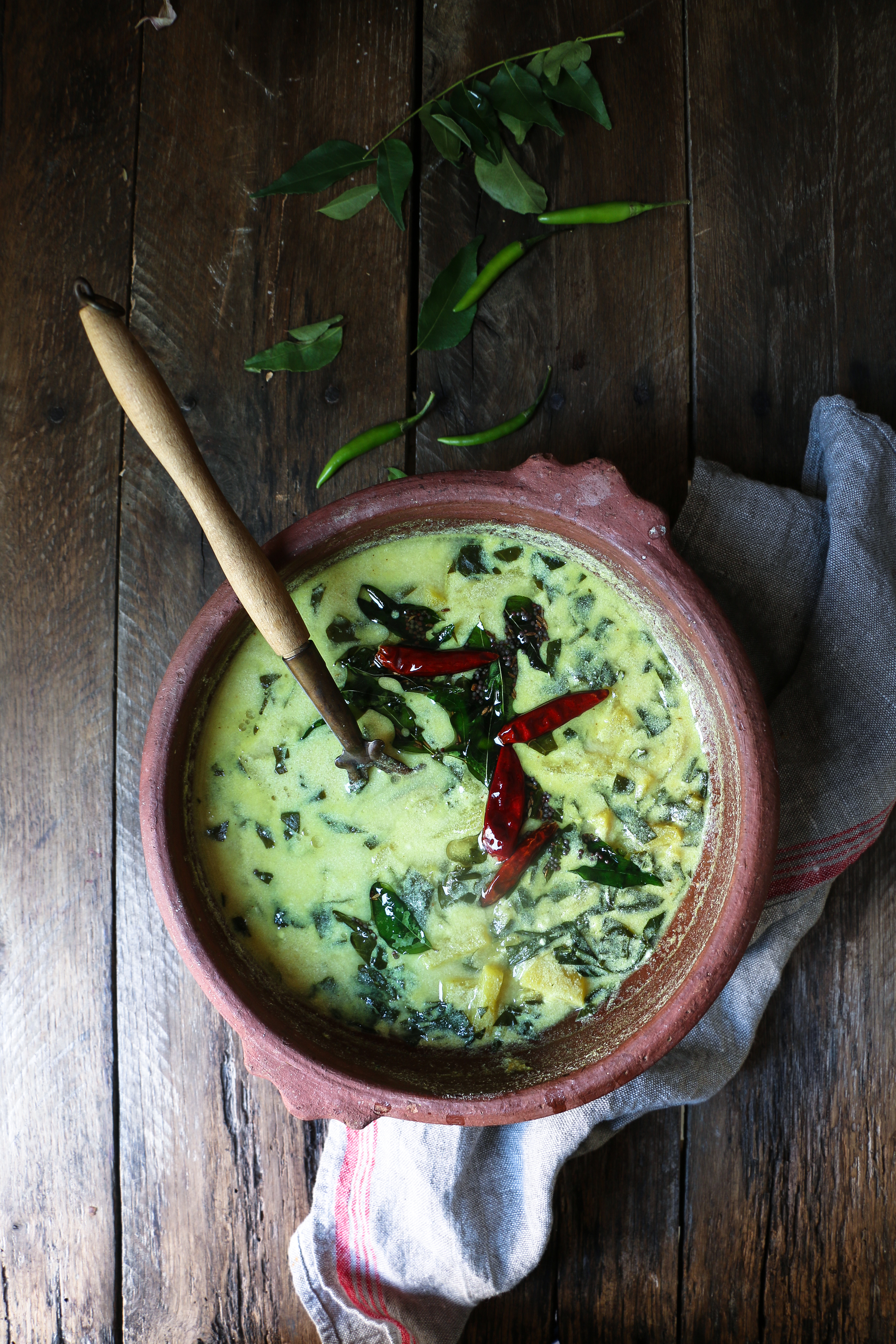 Pineapple-Black chickpea Yoghurt Curry aka Pineapple-kadala pulicherry
Fruit based curries/chutney are very popular in the Southern part of India. In particular, this pineapple black chickpea spinach yogurt curry/morkozhumbu is a very authentic dish of Kerala. It's so good with some rice.
Ingredients
1 cup dry black chickpea, soaked overnight
2 cups fresh pineapple, finely chopped
½ tsp salt
⅓ tsp turmeric powder
2 cups water
2 cups loosely packed spinach, chopped
2 cups thick yogurt(sour kind)
For masala
1 tsp coconut oil
1 tsp cumin seeds
½ tsp fenugreek seeds or meethi seeds
4-5 green chillies
3-4 tbsp fresh coconut or frozen
For tempering
1 tbsp coconut oil
1 tsp mustard seeds
1 tsp cumin seeds
pinch of asafoetida/hing
15 curry leaves
5-8 red chilies
Instructions
Rinse the dry black chickpea which has been soaking overnight and add in a sauce pan and cover it with water 2 inches above the chickpeas and bring it to a boil. Once it comes to a boil, reduce the heat and cook for 10 minutes. Then add a tsp salt and cook for another 10 minutes until it's full cooked, not mushy. Drain all the water and set aside.
In a large pan/kadahi/clay pot add the pineapple and 2 cups of water, salt and turmeric. Bring it to a boil and cook for 10 minutes. Make sure the water is not completely dried out. You should have about ½ cup of water along with the pineapple.
In a small pan, add 1 tsp coconut oil, cumin seeds, fenugreek or meethi seeds and let it pop and lightly brown for 10-20 seconds. Turn off the heat add the green chilies, coconut and half the cooked pineapple and grind it to a fine paste with ½ cup of water.
Add the paste to the remaining pineapple mixture, add spinach, add the cooked black chickpeas. Check for salt and boil this for 10 minutes.
Add the whipped yogurt to the mixture and turn off the heat. Mix very well. Add ½ cup of water if you want the consistency a little liquidy.
In a small pan, add coconut oil, mustard seeds, cumin seeds, asafoetida, curry leaves and red chillies. Let it pop and immediately add it to the pineapple-yogurt curry mixture.
Serve hot with some rice.
Notes
You can use semi ripe mango instead of pineapple.
You can add a little bit more coconut if you want it richer.
Traditional tamil style morkozhumbu has soaked channa daal(2 tbsp) which is a thickner too.
You can adjust the water according to how thin or thick you want the curry.
Do not boil after adding yogurt, it will break and will not look good or taste good.