This creamy chicken chickpea cashew curry is a warm, easy dish that goes great with a bowl of hot piping steamed rice or with some flat bread.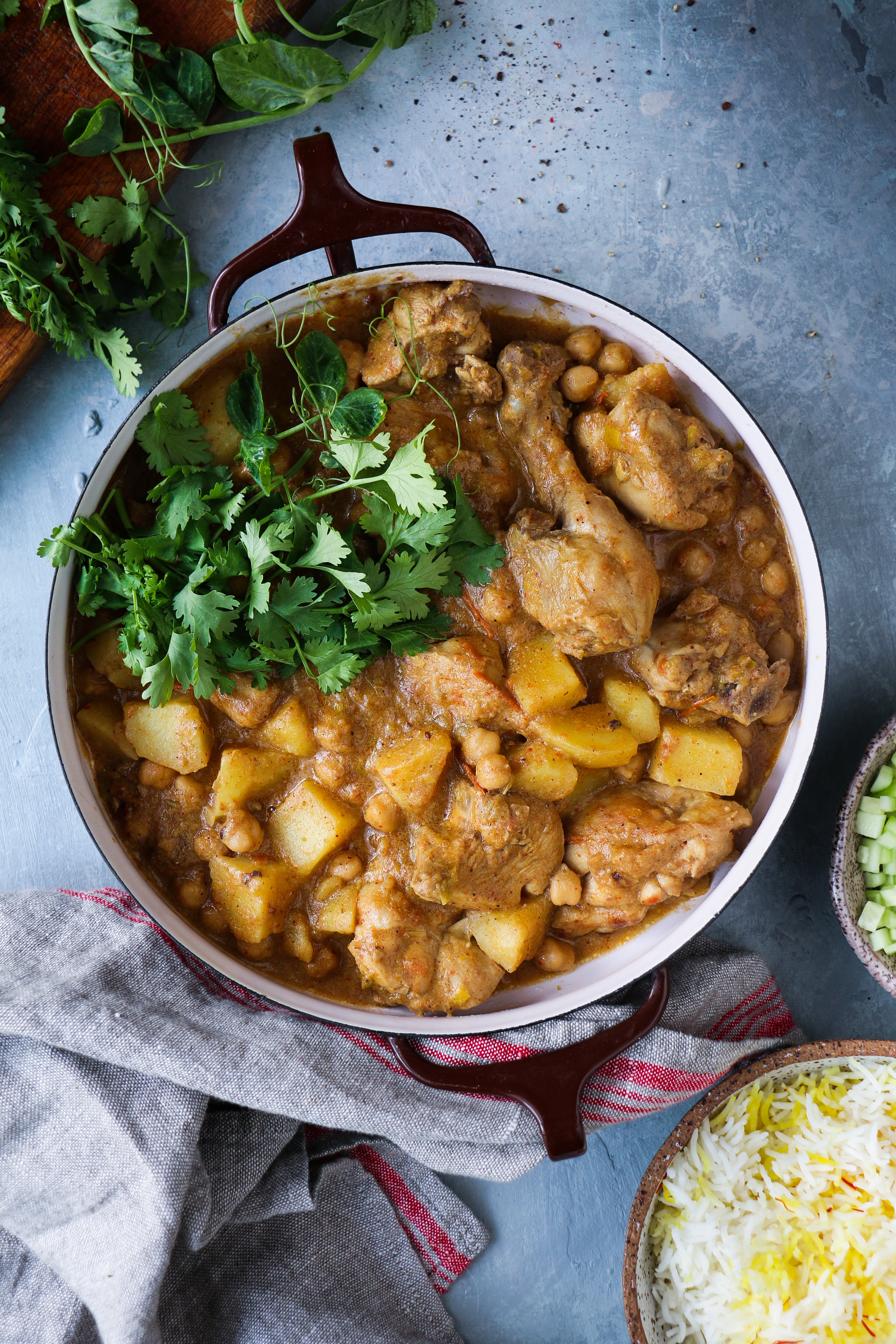 The feeling of moving to a new country and adapting to it's culture, the food, their uniqueness is strange and an interesting thing. It can be quite a lonely feeling in a room filled with people, it's quite bittersweet at times too. You try to adapt, but you speak their language,  it sounds different.  You still inherit all the sounds, rhythm and feeling of the your own language, the pain and beauty of the language, too. Then you stop trying. Years later, find that you naturally have adapted. You search for your identity in the midst of all this diversity. You try to hold on to your roots like a baby that holds on her mom.
Food is a beautiful thing.  It makes you adapt, while being comfortable.  It makes you belong while you enjoy your familiarity. It brings you to a peaceful state of mind.  You find ways to incorporate things that you never would've thought of.
As usual, in the midst of a beautiful farmer's market, early hours of Sunday morning, the smile turns up seeing dozens of vegetables that look incredibly enticing.  It's a beautiful thing.  You know that moment when you see synchronized swimming, and you can't help but smile? It's like that, only more profound.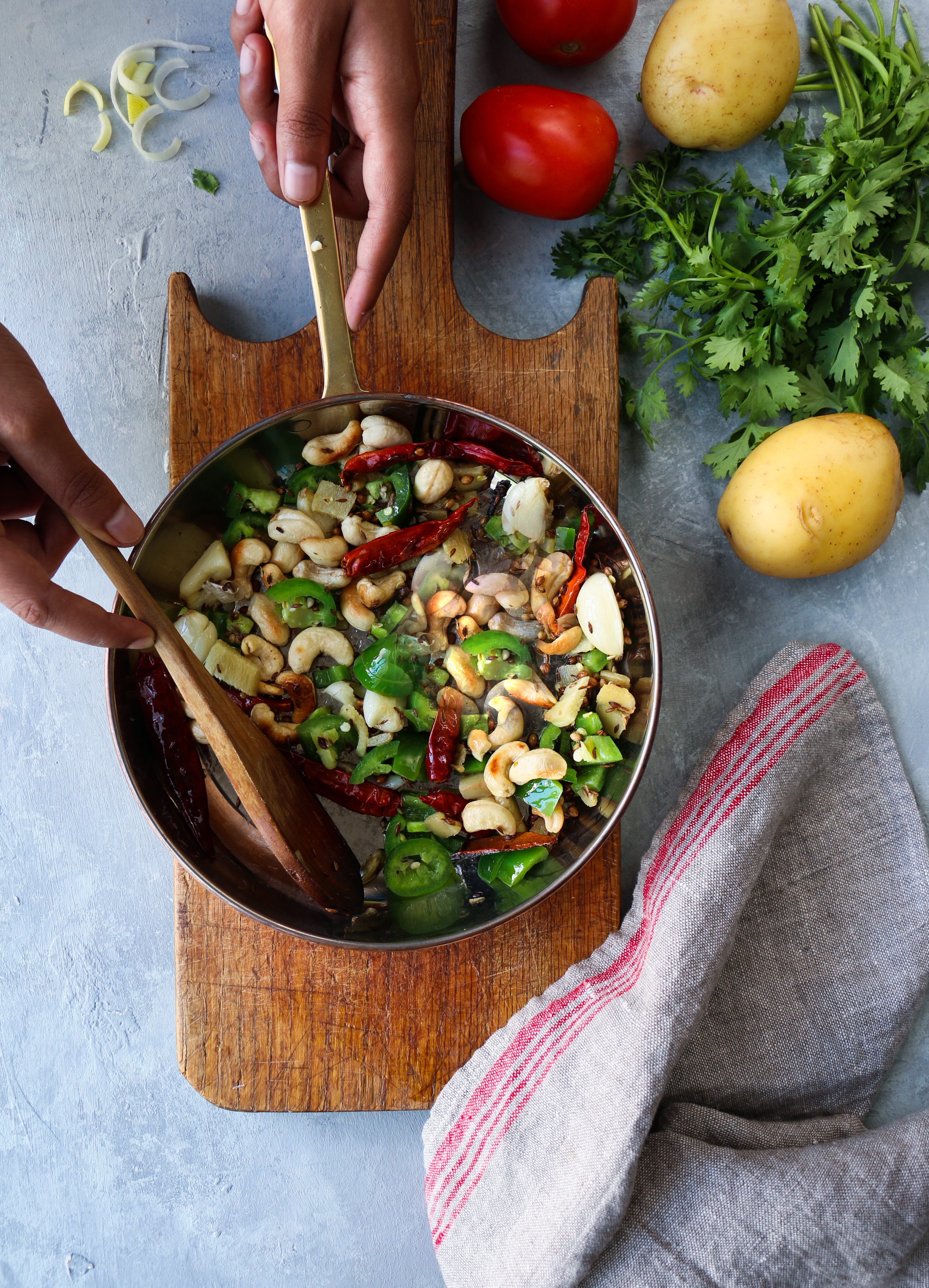 There are that many chicken curries as there are streets in a town. Chicken chickpea cashew curry was not one of the curries I grew up with. We enjoy a good chicken curry. I absolutely enjoy leeks in many dishes.  They are sweeter and milder than onions.  They don't break down and soften as much as onions do.  The masala or the base of this curry lends a very authentic taste to this dish, while leeks lend a slight mild hint of sweetness.  The mix is absolutely fabulous.
I used a mix of jalapenos and thai gree chillies, you can use either or both.  Make some steamed basmati rice, ladle this over, add some finely chopped cucumbers and this is a dish that is like synchronized swimming.  PERFECT!!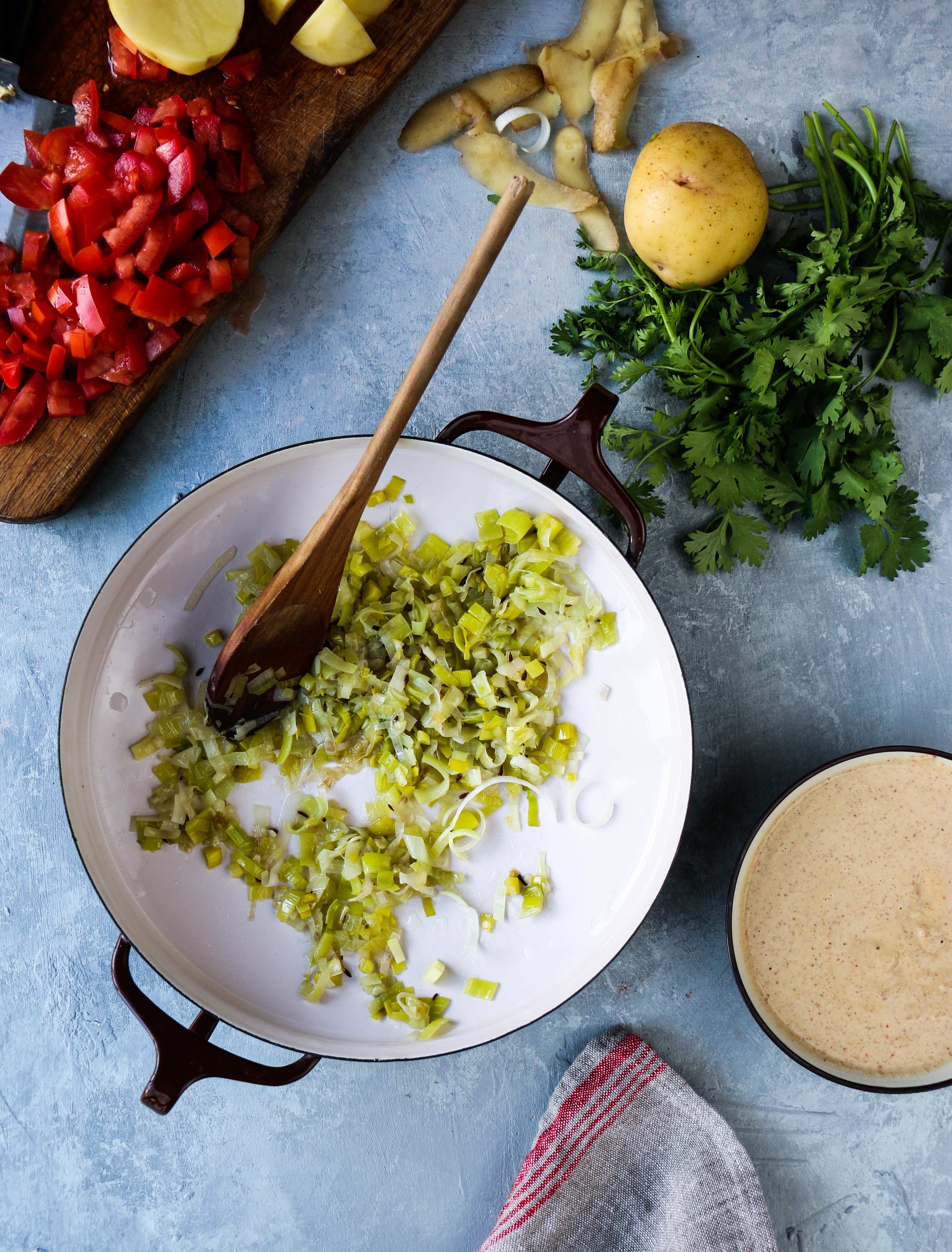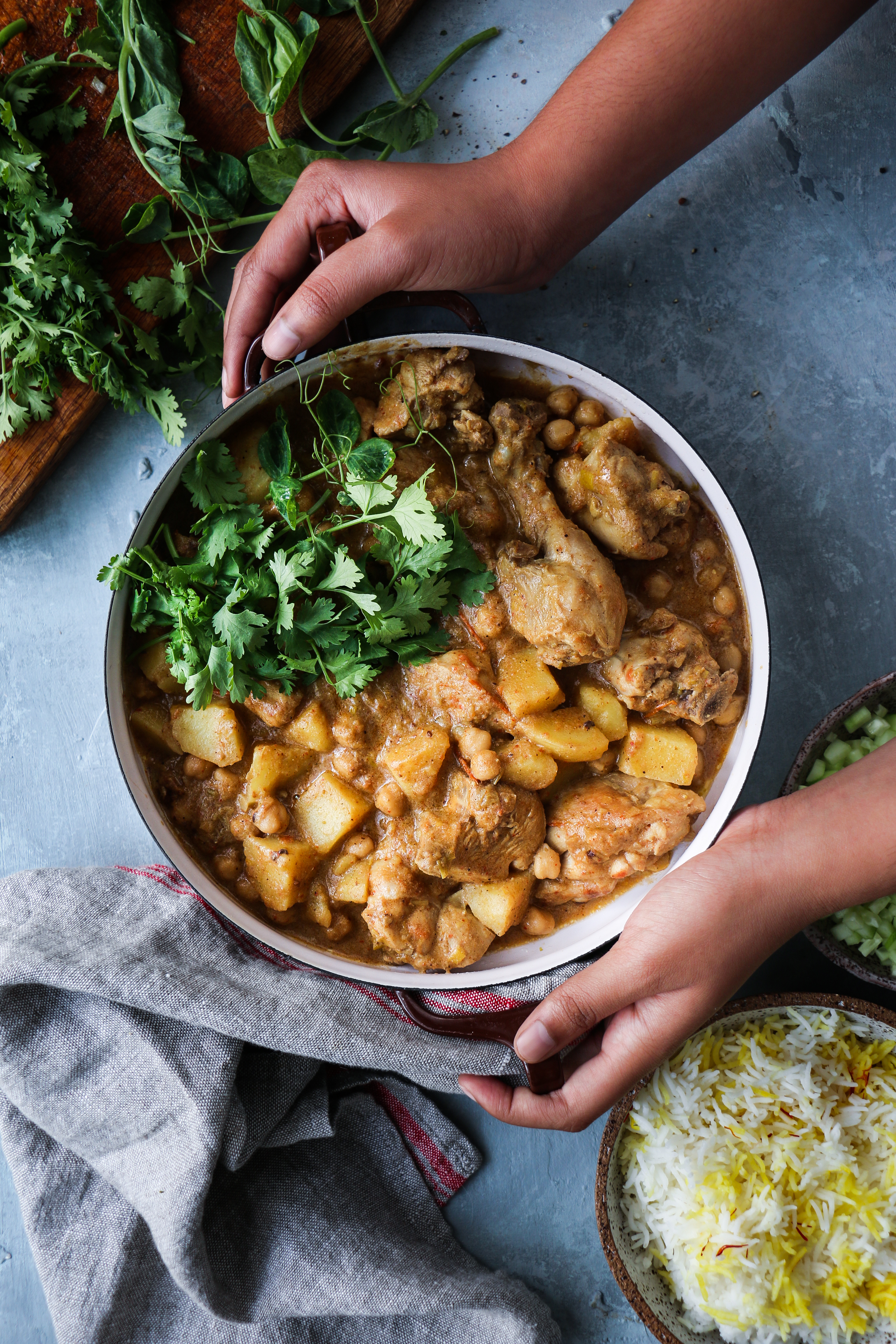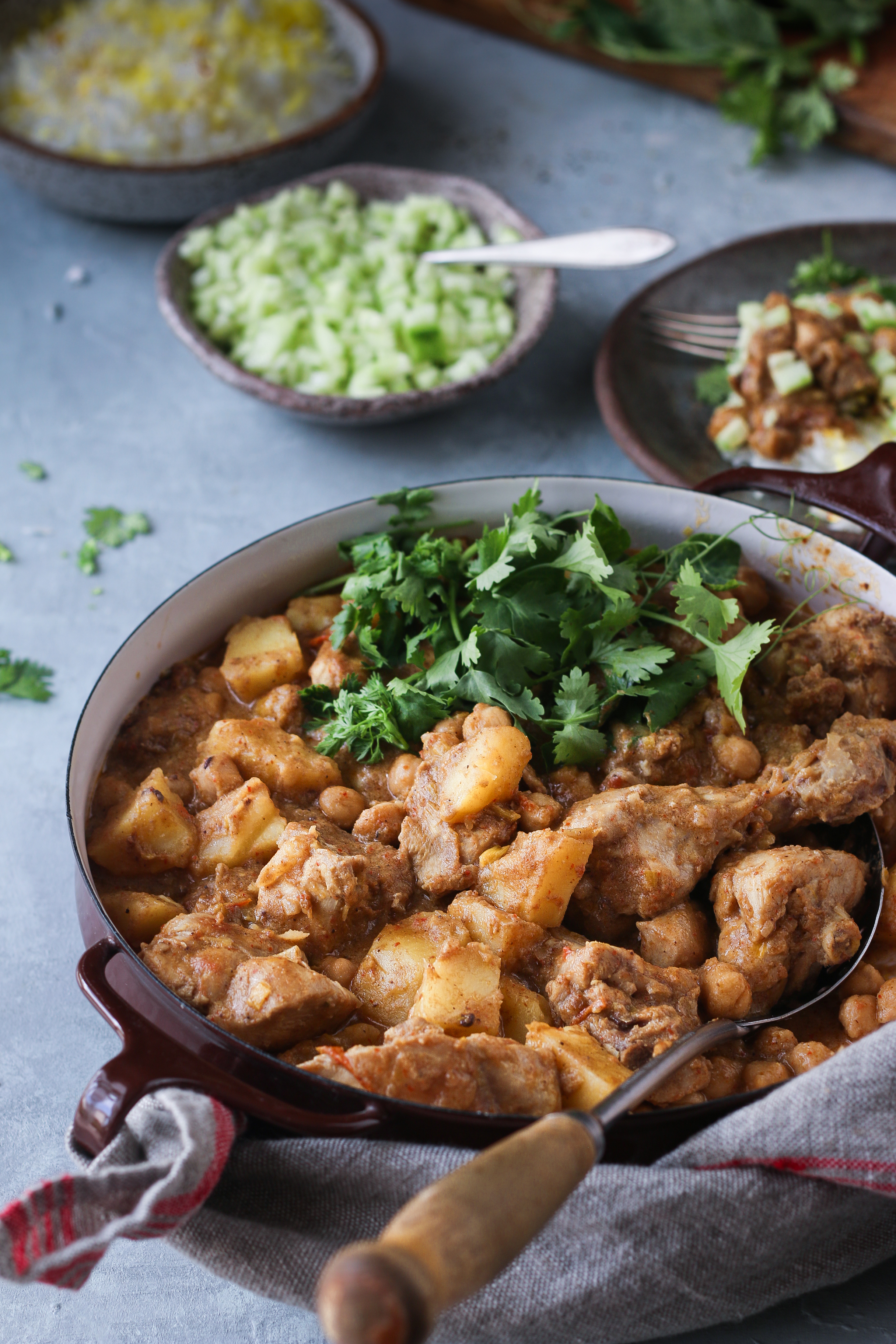 Happy Sunday!!! Happy New Week!! Thanks for reading.
Stay in touch for more delicious food on Instagram and Pinterest. Follow on Snapchat (@ashfoodfashion) for daily doses of food.

Chickpea and Chicken Cashew Curry
This creamy chicken chickpea cashew curry is a warm, easy dish that goes great with a bowl of hot piping steamed rice or with some flat bread.
Ingredients
For the paste:
1 tsp vegetable oil
½ inch cinammon stick
3 green cardamom
4 cloves
½ tsp cumin seeds
1 tsp coriander seeds
⅓ cup whole cashew
5 cloves garlic, roughly chopped
1 inch ginger, peeled and chopped
6 whole spicy red chilies
2-4 green chilies or 1 jalapeno(if you want less spice)
⅓ cup water +2 cups of water
For the curry
2 tsp vegetable oil
1 large stalk of leek, cut and washed and drained well
2 tomatoes, finely chopped
½ tsp salt +1 tsp salt for later
⅓ tsp turmeric powder
1 whole chicken, cut into small pieces or 2 pounds
2 potatoes
1 cup cooked/boiled chickpeas(you can use canned too, just drain well with hot water)
⅓ cup cilantro finely chopped, for garnishing.
Instructions
In a saute pan on medium heat, add the spices, cashew, garlic, ginger, red chilies and green chilies and saute for 2 minutes or until the spices are lightly brown and the cashews are toasted well. Take it off the stove, cool it and grind it with ⅓ cup of water and set aside. Add 2 cups of water in the blender, wash it and keep that water separately.
In a large dutch oven, or a large pan add oil and let it get hot. Add the drained leeks and fry for 2-3 minutes until translucent and lightly brown. Add the chopped tomatoes and the washed and dried chicken and keep tossing. Add ½ tsp salt, turmeric and saute for about 3 minutes or until the tomatoes are completely disintegrated. Then add the cashew paste and saute it with the chicken for about 2 minutes to take away the raw flavor.
Then add the extra 2 cups of water. Mix well. Check for salt and add more if you want. Bring the chicken to a boil, cover and simmer and cook for 15 minutes. After 15 minutes, remove the lid, add the chopped potatoes and cover, cook until the potatoes and chicken are completely cooked, another 10 minutes. Open the cover, add the chickpeas, cilantro and simmer for another 2 minutes.
Turn off the heat and serve it with some saffron flavored basmati rice or naan.