Garlic chicken stuffed inside dosa with a layer of egg and cheese. So good, a crowd pleaser and an easy lunch box treat.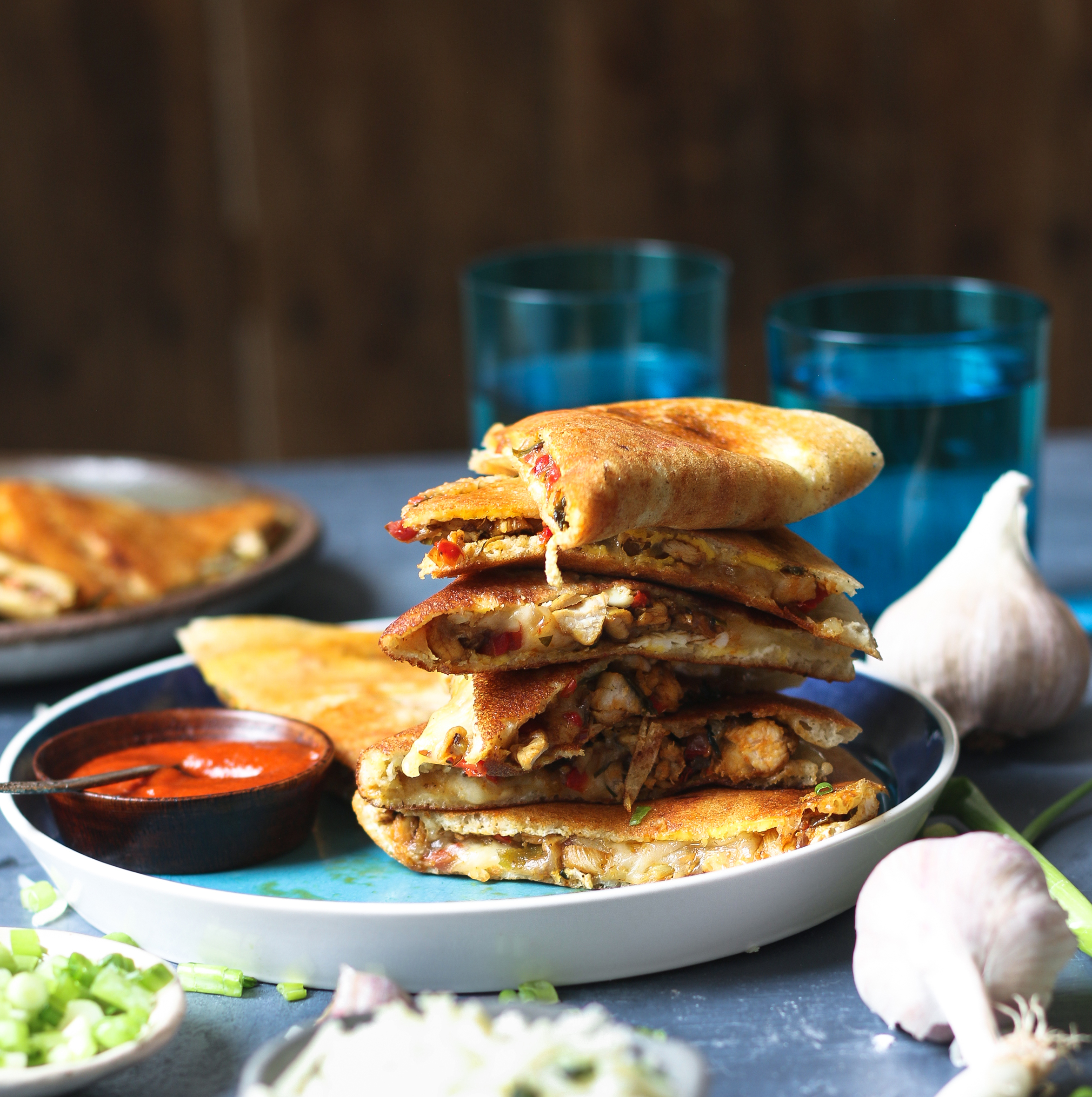 Dosa is probably one of the top South Indian foods that's loved by many.  If you are garlic lover, you will love this chicken, if you like dosa and garlic, then this is the recipe for you. This Garlic Chicken Egg Cheese Dosa is a favorite of our home.
There's probably as many dosa varieties as there are burger varieties.  There's the popular paper dosa, which practically is like a golden thin crispy paper roasted in ghee, masala dosa, uthappam, vegetable dosa, rava dosa-a favorite of mine, ragi dosa, neer dosa, wheat dosa and many more.
Garlic chicken is a dish that we love at home. We love garlic and there is a whole head of garlic in this. If you are a garlic lover, this is your dish.   It's more a method than a recipe, you can stuff it with anything.  I use this garlic chicken in rotis, burgers, have it with rice.  But, adding it to a dosa, with an egg and cheese elevates the dosa to another level.  I used this recipe of DOSA .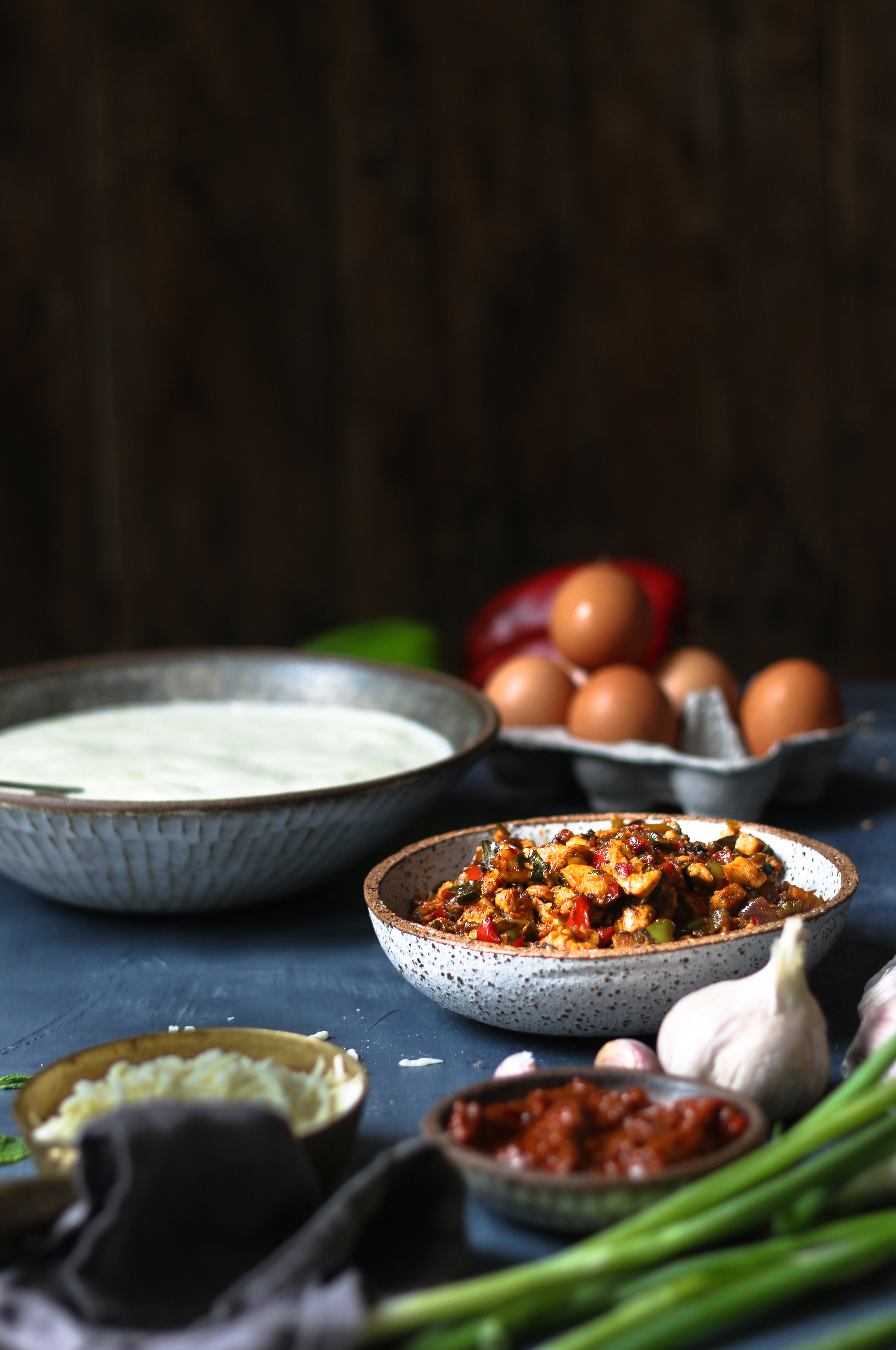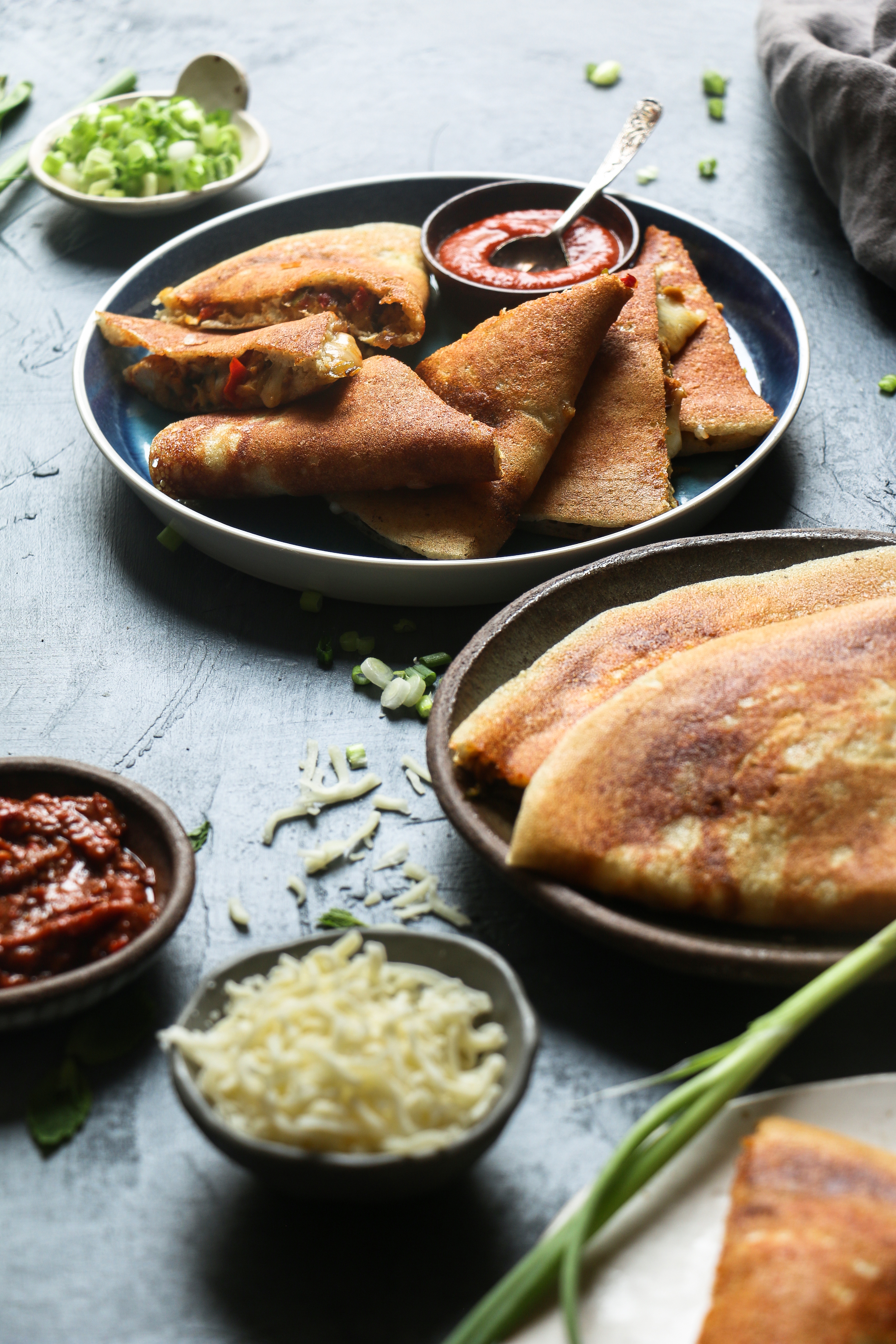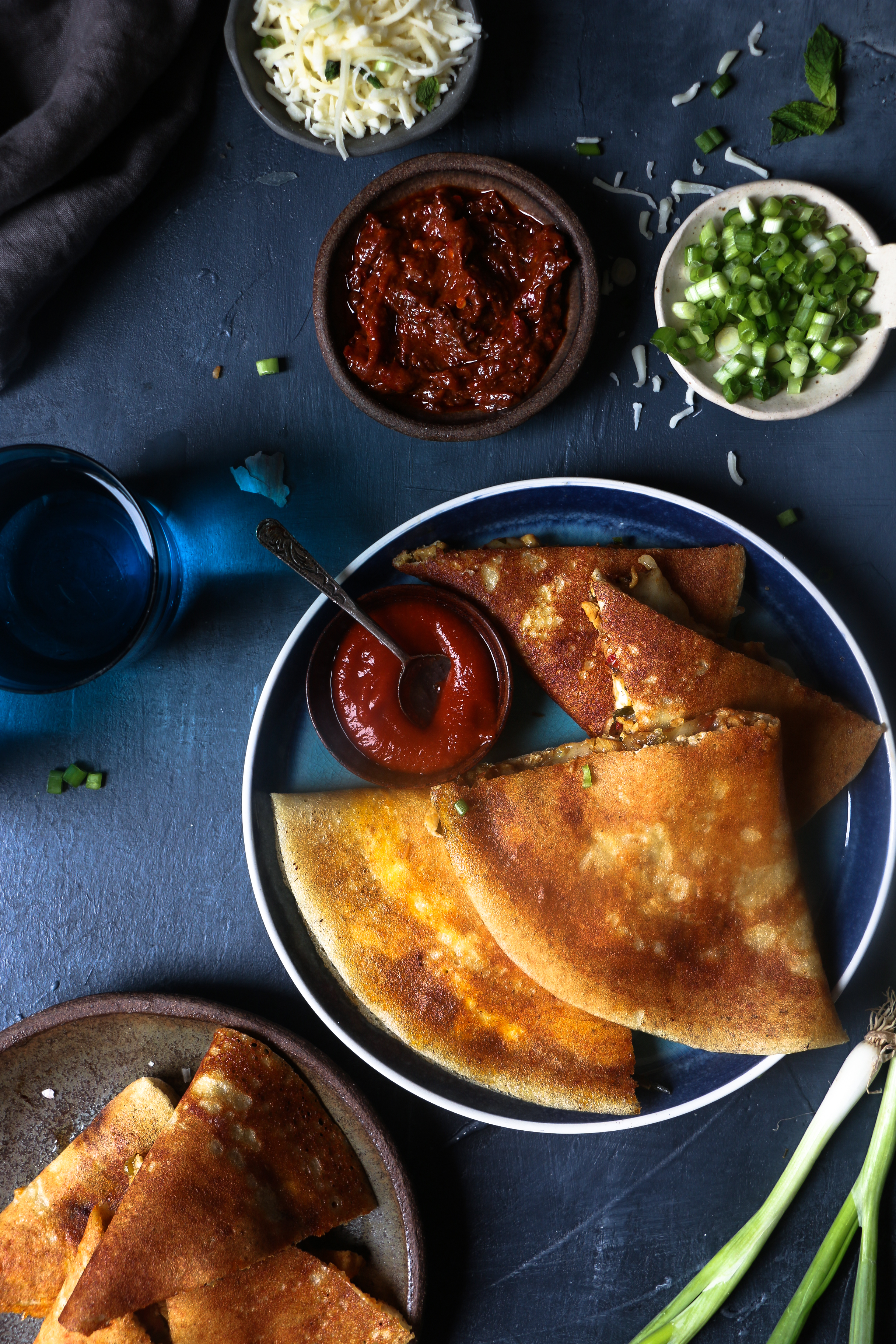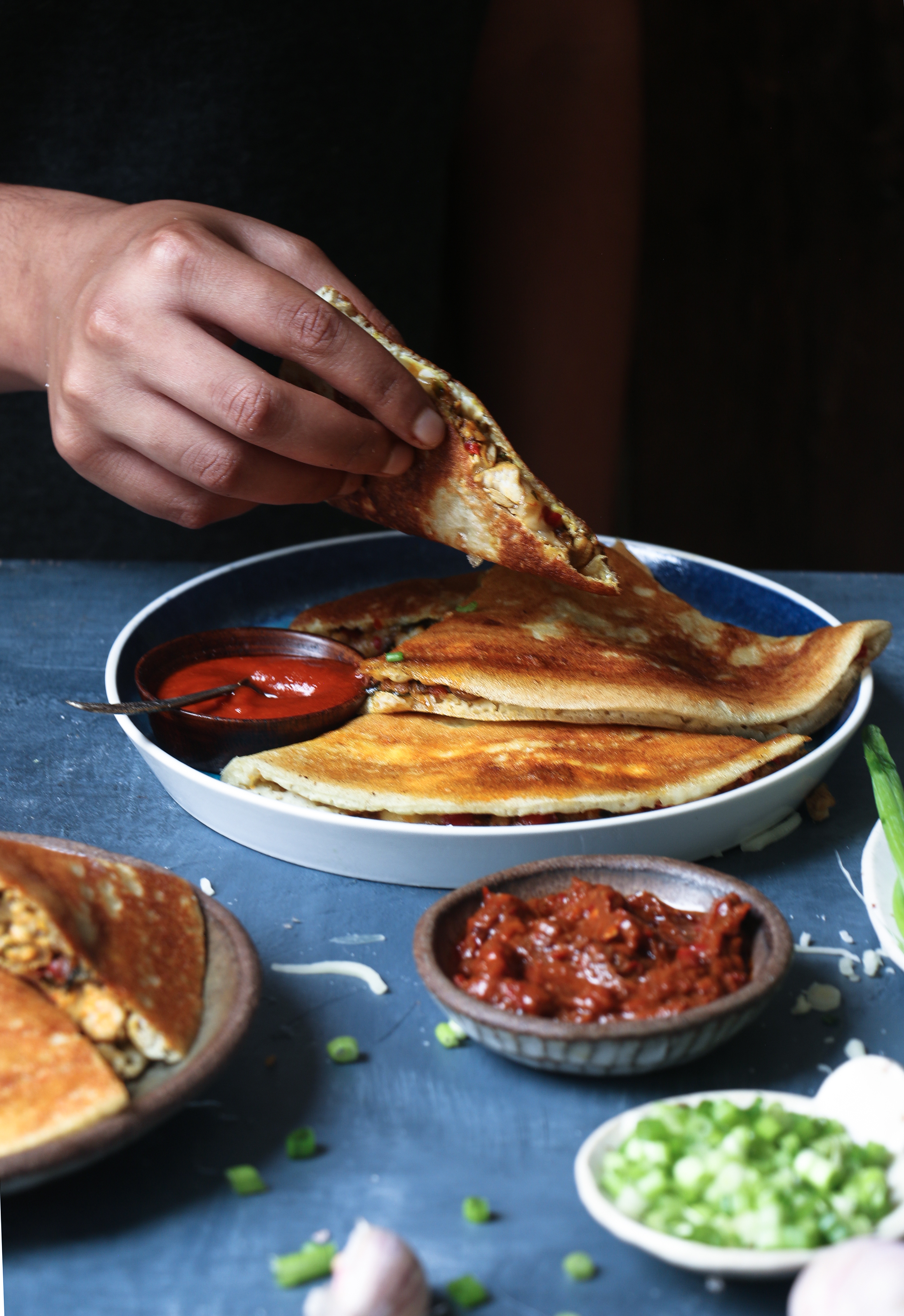 Stay in touch for  on Instagram , Pinterest. Follow on Snapchat (ashfoodfashion) for daily doses of food.
Have a fabulous week.!!  Happy Weekend!!

Garlic Chicken - Garlic Chicken Egg Cheese Dosa-
Recipe type:
Lunch, Breakfast, Snack
Ingredients
2 chicken breasts or 10 chicken strips
3 tbsp canola oil or vegetable oil
1 tsp cumin seeds
1 small onion
15 cloves garlic, crushed and chopped
15 curry leaves, chopped
3 green chilies finely chopped
½ tsp turmeric powder
1 tbsp chili powder
½ red bell pepper, finely chopped, optional
1 green bell pepper, finely chopped, optional
1 tsp garam masala
1 tsp low sodium soy sauce
1 tbsp chili sauce
1 tsp sugar, a must
⅓ tsp fresh pepper
To make the dosa
Check recipe -https://www.foodfashionparty.com/2014/02/dosa-a-south-indian-speciality.html
eggs
Shredded mozzerella cheese
Instructions
Wash the chicken very well, pat dry and freeze it for 1 hour. That way it is very easy to chop it to small pieces, a pea size or a cooked chickpea size. It should be small, but not minced. Chop the chicken and set aside.
In a non stick pan or a cast iron pan, add oil. Let it get hot for 30 seconds and add the cumin, curry leaves, green chilies and let it pop and brown. Add the onion and garlic and reduce the heat to medium and saute well. After 1 minute add the chopped chicken pieces, chili powder, turmeric and salt and saute. Let the chicken cook from the outside and brown for 2 minutes.
Then add the bell peppers, garam masala, soy sauce, chili sauce and sugar. Turn the heat to high and keep tossing and drying up the extra liquid and cook well. It will take about 10-15 minutes to cook, brown and dry up. Turn off the heat, add the pepper and some chopped fresh
cilantro.
To make the Chicken dosa.
First make the dosa, add an egg inside, spread it. Sprinkle a pinch of salt for the egg. Cover and cook the egg for 15 seconds. Then open the lid, add a layer of chicken, cheese and cover the lid and cook on medium heat until the cheese has melted. Remove lid, fold the dosa in half and cut and serve.