Thandai-Rose Kulfi with Coconut Milk : A twist to the traditional kulfi with spices, layered and made with coconut milk.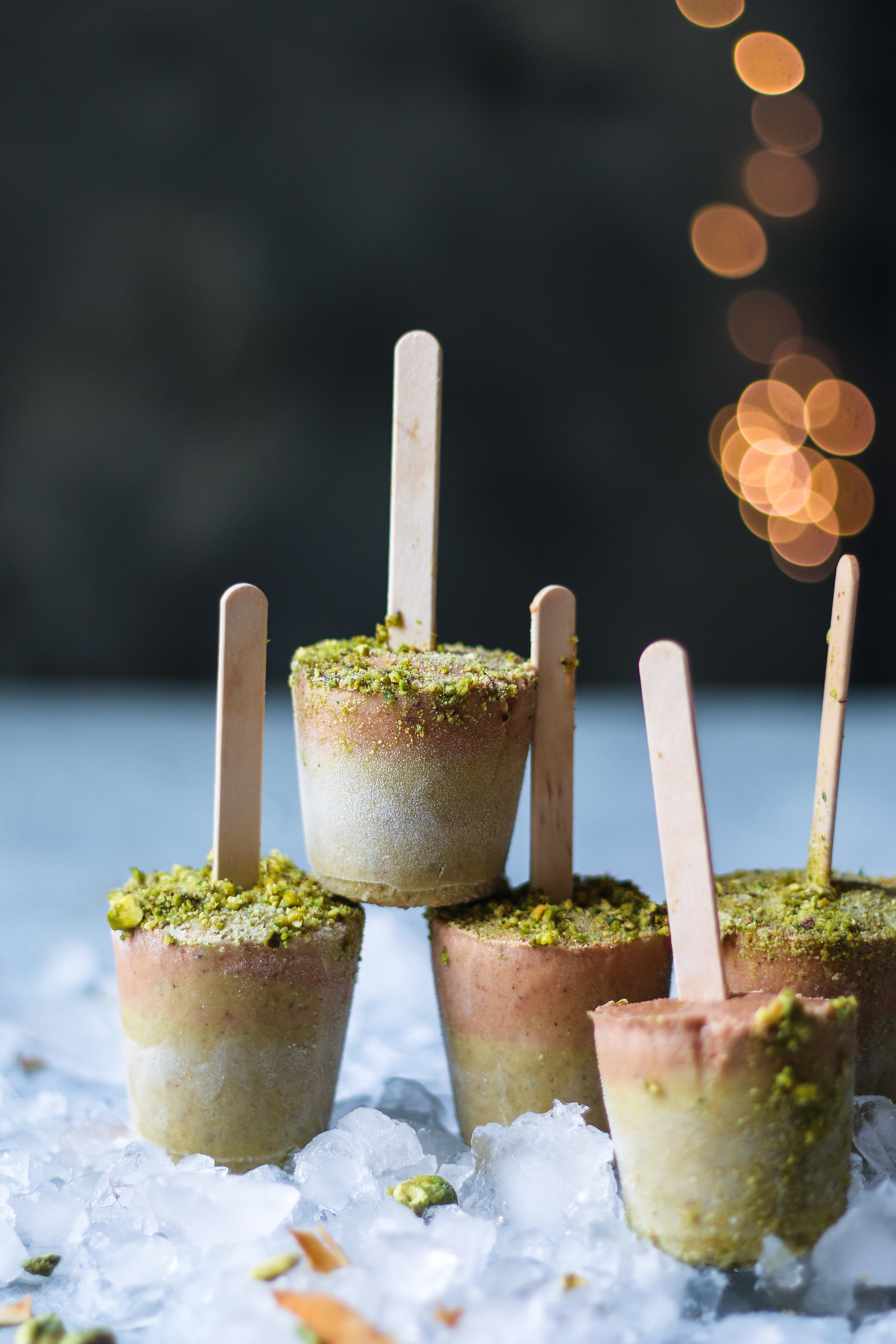 I read somewhere that discovery is a process, not a goal.
October crept in quite quickly, bringing in a swarm of festivities.  It's one of our biggest festivals, the festival of lights, DIWALI.
This gentle breeze and the changing colors have me smiling.  My favorite season has finally officially arrived this week!  The fireplace is on, the candles are lit, and there are tiny lights all around the nooks at home.  It's been a glorious week of cooking, shopping, cleaning, to get our home and hearts ready for the weekend's celebration.
The days that lead to the festivities are my favorite.  I love the planning, list writing, sweet making, gift wrapping, and lighting the home.  The process: now that is the heart of the festivity. The day comes and is only ephemeral.  Life is indeed about the little things, the small joys one can spread generously throughout the process.
You can read one of my first Diwali blog posts HERE .  One of my other favorite sweet treats to make for Diwali is here.
To all who celebrate Diwali, a very happy celebration!!!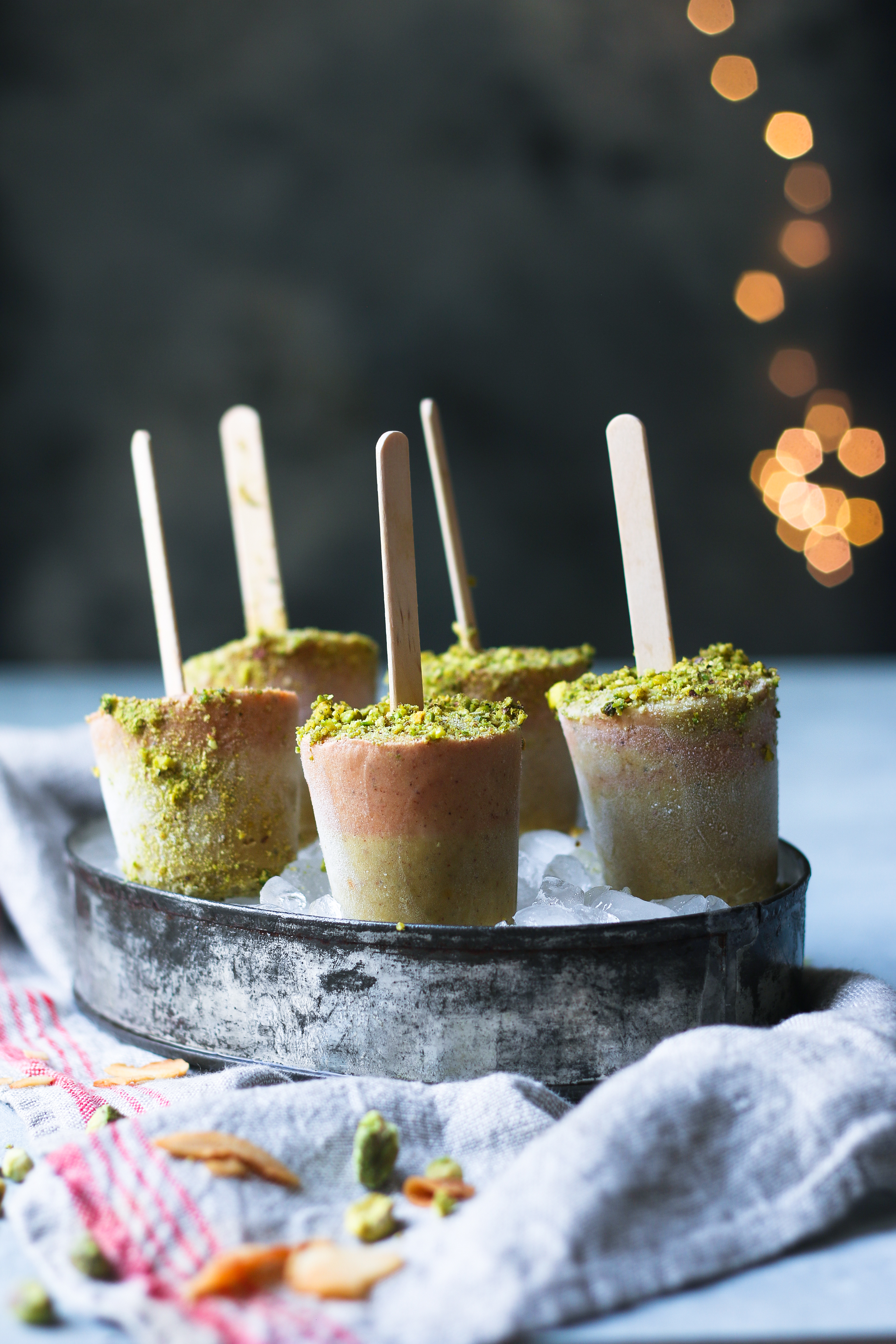 This is a simple treat that I created for an Indian Magazine, "Child".  While adults have their fun time with the sweet desserts, this is a fun little treat for the kids and childlike adults.
I tried to keep it completely refined sugar free, and made it with coconut milk.  Make the spice mix ahead and mix it in the milk, and that's a treat in itself.  If you want, you can definitely use milk, or even add some sugar.  Who can say no to kulfi and frozen treats?
Enjoy!! A very happy new week.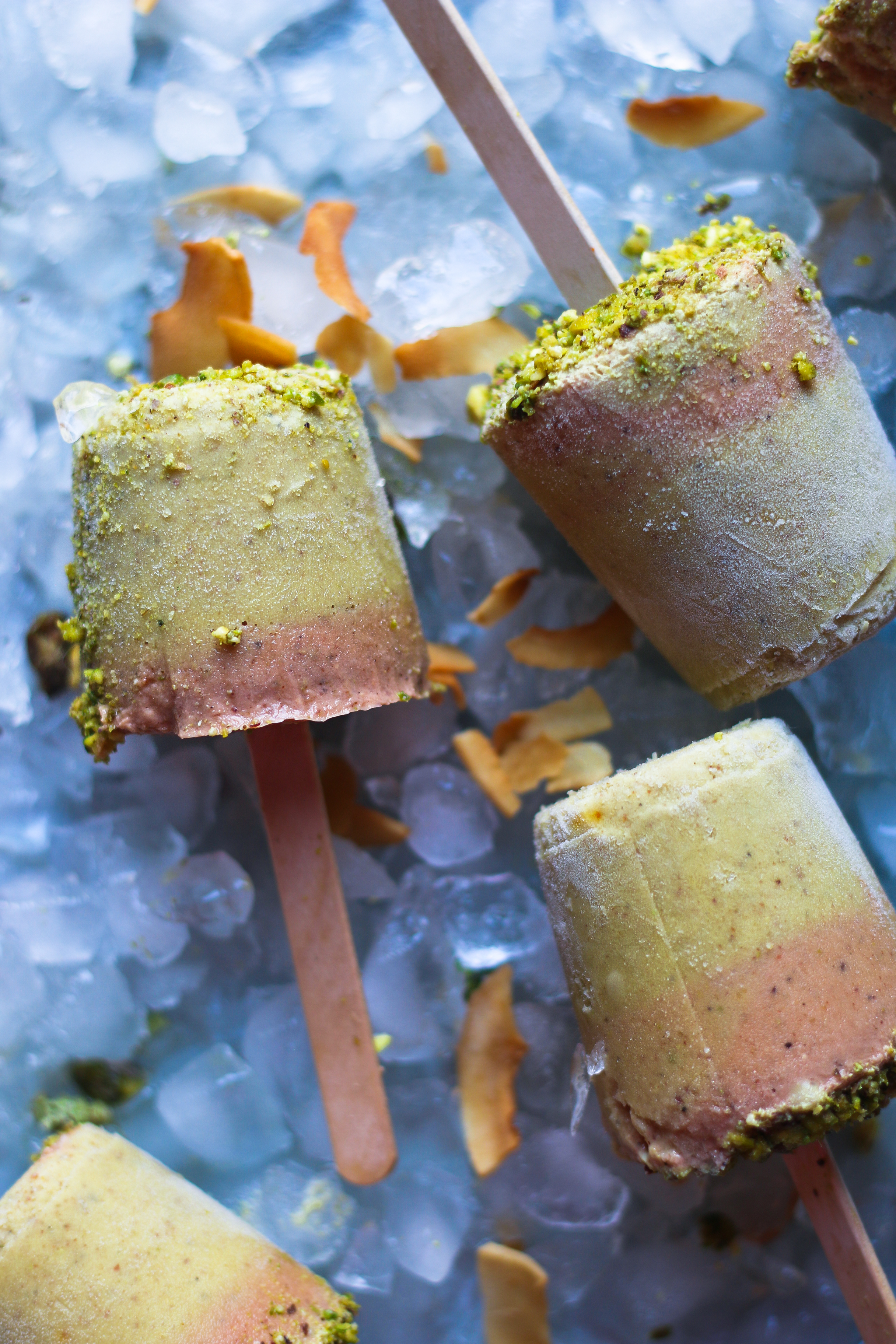 Stay in touch for more delicious food on Instagram and Pinterest. Follow on Snapchat (@ashfoodfashion) for daily doses of food.
Have a fabulous week!!  Happy Weekend!!

Thandai-rosemilk Creamsicles with coconut milk
Ingredients
Thandai mix:
15 Almonds, with skin
10 pistachios, shelled
10 black Peppercorns
1 tbsp Poppy seeds (White) / Poshto / Khus khus
1 tsp Fennel seeds
½ tsp Cardamom Powder
Creamsicles
1 cup full fat coconut milk or 15 oz
1½ cup almond milk or Whole milk(if yo prefer dairy option)
⅓ cup agave nectar
1 tsp cornstarch
⅓ cup of thandai mix
1 tbsp rose water or gulkand
1 tbsp rose sherbet or grenadine(for the color)
Chopped pistachios for garnish
Instructions
In a blender, add almonds, pistachios, black pepper, poppy seeds, fennel seeds, cardamom powder and grind it to smooth powder. Don't take it too far or else it would turn into a paste. Set aside.
In a sauce pan on medium heat, mix together the coconut milk, almond milk, cornstarch and 3 tbsp of the agave, until smooth and creamy. Add the thandai powder. Bring it to a simmer for 5 minutes on low flame and turn of the heat. When you dip a spoon or a wooden ladle in the liquid, it should coat the back of the spoon. Set aside and let cool completely for about an hour, stirring every now and then so it doesn't form a skin on top.
Take ½ cup of the almond and coconut milk mixture and blend with the remaining agave nectar,rose water, sherbet/grenadine. Set it separately.
For a layered pop: Divide the coconut/almond milk equally between the popsicle molds. Place in the freezer for 1 hour, or so, then top with the rose sherbet mix. Use a skewer to swirl it. Freeze again for 30 minutes, then insert the popsicle sticks and continue freezing for 4 hours, or until firm.
For a single creamy popsicle, mix both mixtures. Pour in small freezer safe popsicle mold or paper cups. Freeze for 30 minutes, then insert the popsicle sticks, and continue freezing for 4 hours, or until firm.