A luscious, tangy, Cajun style pasta.  The almonds in the sauce make it rich, and amazingly flavorful.  The Cajun spice and pumpkin make this so festive and delicious for the season.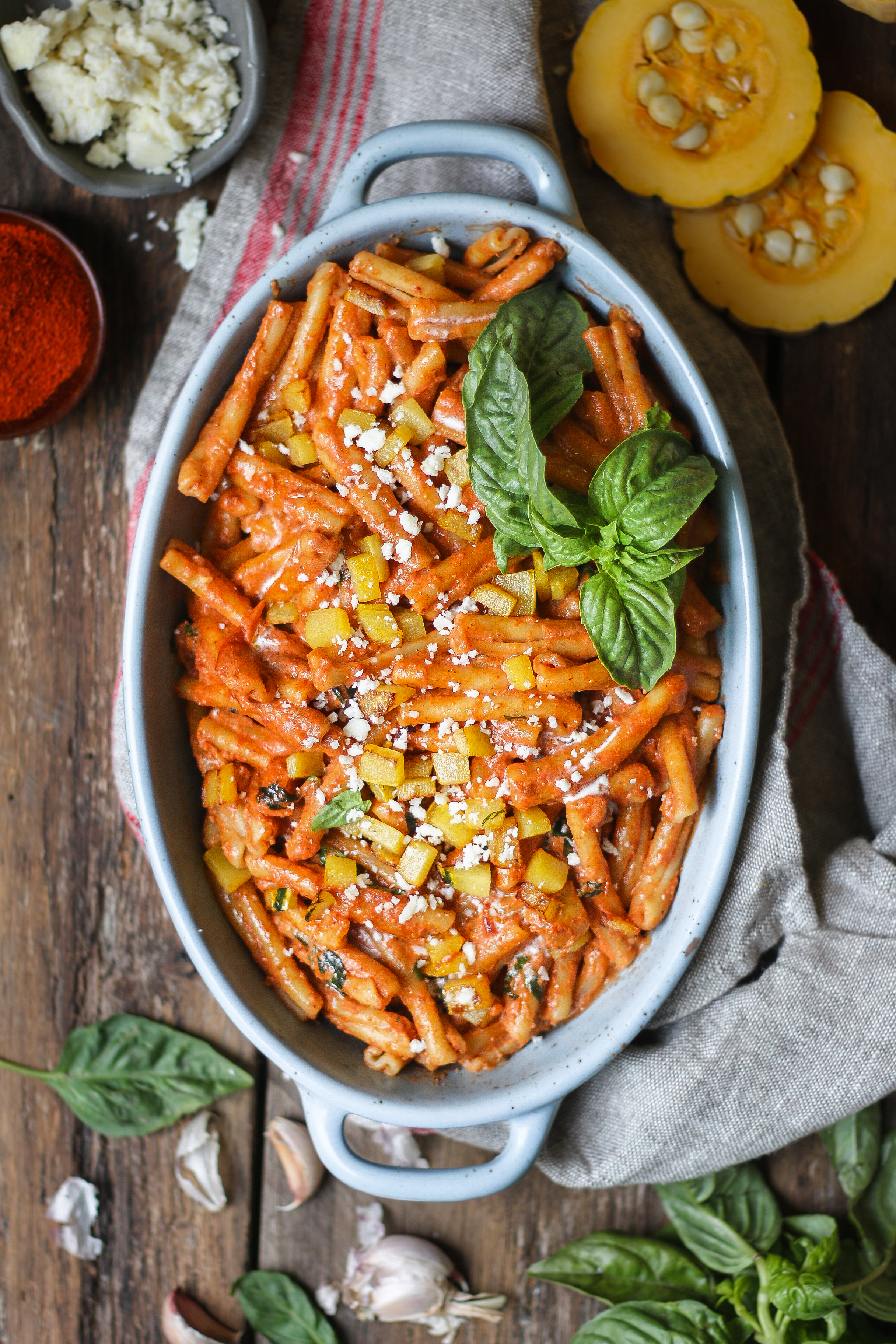 First of all, I'd like to thank you all for the overwhelming support and love you showed on the announcement of the title of the book, the cover, and the post.  I'm so touched and humbled. <3
For a person who didn't grow up with pasta, trying to find the perfect style of pasta dish that I enjoyed was a challenge.  This was then, years ago.  Now, I have a list in my back pocket, and enjoy them all.
A few years ago, I visited this New Orleans style restaurant in San Francisco and was bowled over by the most flavorful, creamy pasta dish I had every eaten.  That was the first pasta dish that I'd had which I enjoyed thoroughly.  It had that "oomph" factor to it.  For a girl with a spicy palette, it hit me, and I was hooked.
Cajun food is famous for being well seasoned, which is sometimes misunderstood as spicy.  They have a unique flare for spices. I wanted to recreate what I had eaten in that restaurant since they stopped creating that dish (God knows why).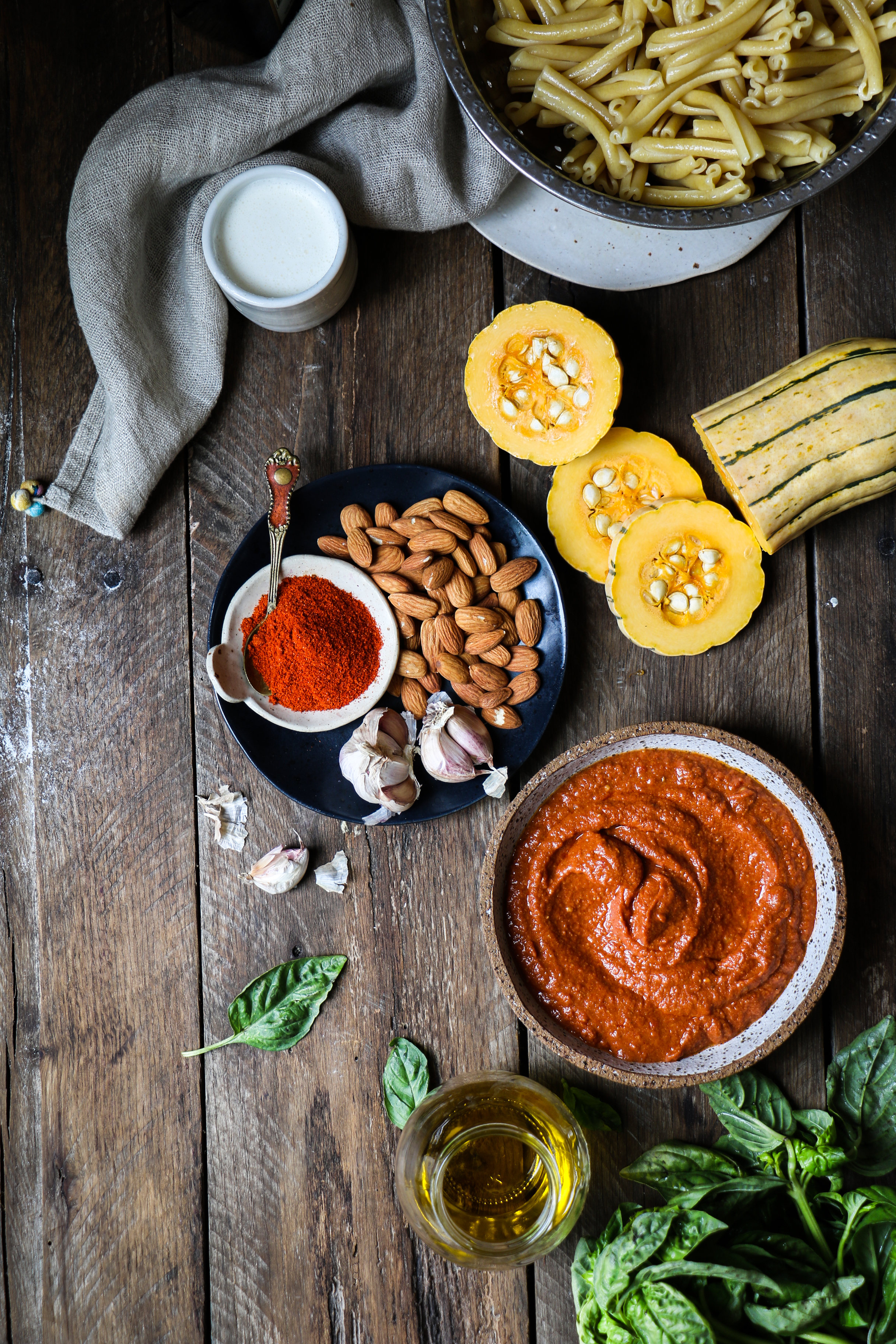 This Cajun style pumpkin pasta is the closest I have gotten to what we had in that restaurant.  I make this often, and enjoy it quite a bit.  I like to make my own Cajun spice blend.  It's easy, and what's better is that you can add modify the spices to your taste.
The sauce is slow cooked to intensify the flavors and the addition of almonds and olive oil creates a umami of flavors. This dish can be made with seasonal vegetables; add any vegetable of the moment and it adapts well.  The pumpkin adds a hint of sweetness to it, complimenting the acidity of  the tomatoes and creaminess that the almonds and cream provide.
The sauce keeps well for couple of weeks since it is cooked well with olive oil.  You can put this meal together in minutes if you have the sauce already.  Remember to use good quality olive oil, and preferably marcona almonds due to the amazing taste.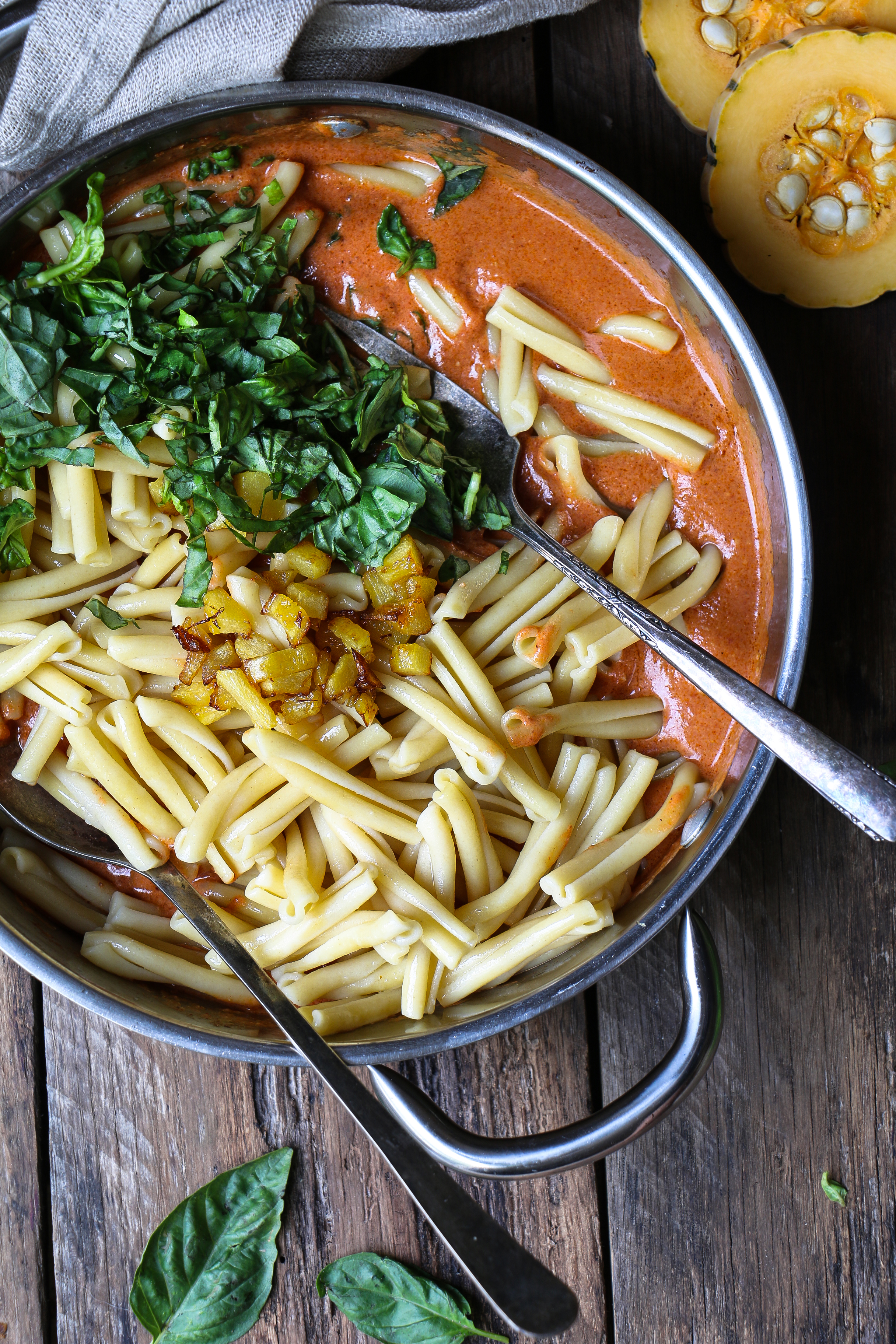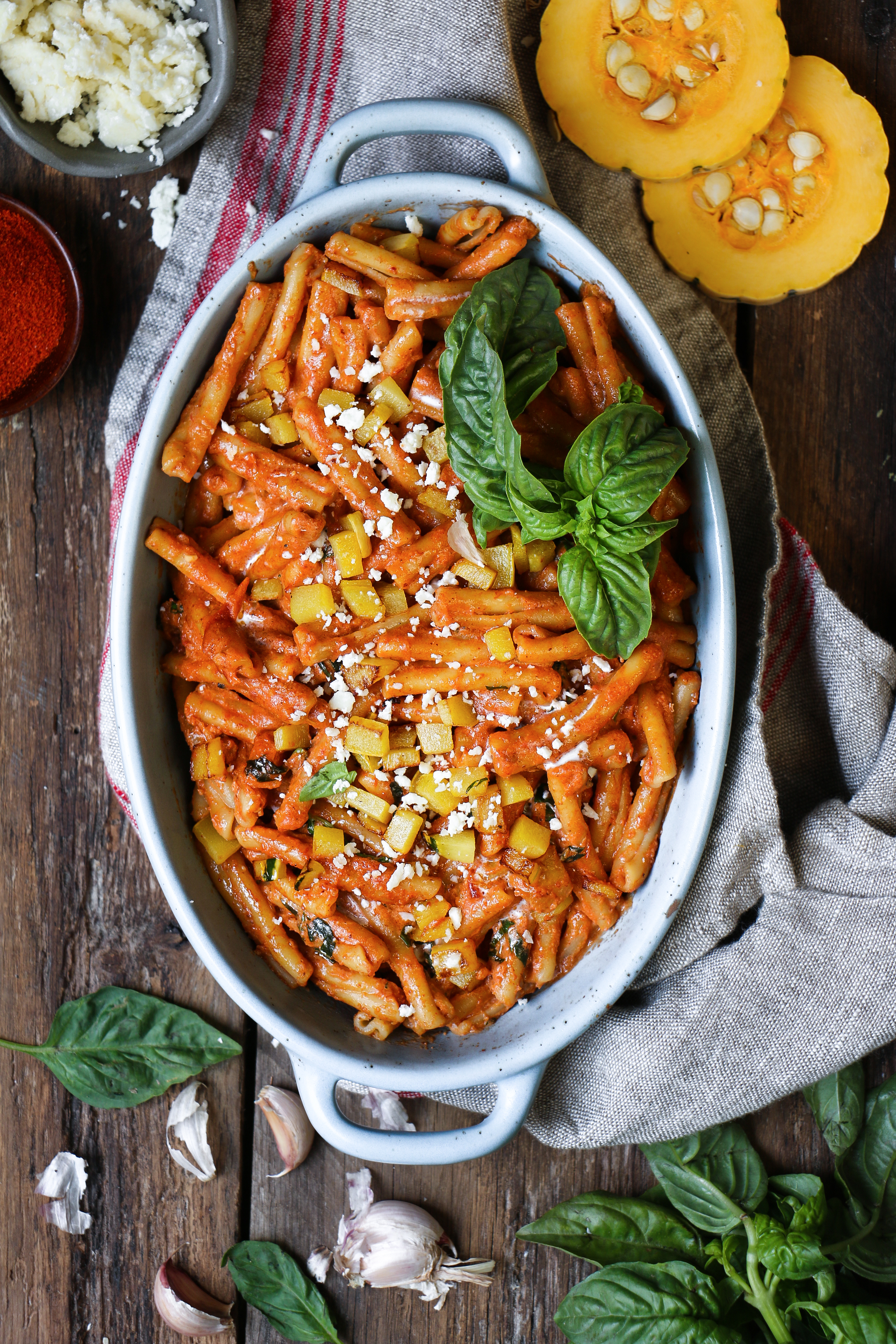 Happy Cooking!!!  Please do tag me on instagram @foodfashionparty if you make this.
Thanks for reading.
Stay in touch for more delicious food on Instagram and Pinterest. Follow on Snapchat (@ashfoodfashion) for daily doses of food.

Cajun Tomato Sauce Pumpkin Pasta
A luscious tangy pasta with almond in the sauce makes it rich and amazingly flavorful.  Cajun spice and pumpkin makes this so festive and delicious for the season.
Recipe type:
Entree, Pasta
Ingredients
For the tomato sauce
2 15 oz tomato puree( canned) or fresh tomatoes puree, fresh is best.
1 tbsp cayenne pepper powder
½ tsp paprika,
1 tbsp onion powder
⅓ tsp dried oregeno powder
⅓ tsp dried thyme powder
2 tsp flaky salt
⅓ olive oil
½ cup marcona almonds or regular almonds
⅓ cup olive oil
4 cloves garlic
½ cup cream
⅓ tsp black pepper powder
1 Delicata Squash
Peel and slice it into ¼ inch slices and dice it
12 oz Casarecce
1 bunch basil, about 30 leaves
few tablespoons of provolone crumbles
Instructions
In a large pot, add the tomato puree, cayenne pepper, paprika, onion powder, oregano powder, thyme and salt. Bring it to a boil and simmer for 20 minutes. Be careful, it does spit. Once it dries up 80%, which will take 20-25 minutes, add the ⅓ cp of live oil and cook it on simmer for another 10 minutes. Turn off the heat and add black pepper. Once it is completely cooled down, transfer it to a blender, add another ⅓ cup of olive oil, garlic, almond and blend it till smooth. Set aside.
In a saute pan, add 1 tsp of olive oil and add the diced delicata squash. Cook them until it's caramelized for about two minutes and take it out and set aside.
Cook the pasta according to the instructions on the box, drain, keep 1 cup of pasta water and and set the pasta aside.
In a large pan, add 1 cup of tomato sauce, cream, the pasta and the caramelized squash, the basil leaves and mix everything up, simmer it for 2-3 minutes. Top it with some provolone, cheese and serve hot.
Notes
This sauce stays good in a tight bottle in the refrigerator for about 2-3 weeks. You can use this sauce for spreads too, so good.