This rich and nutty brown butter, pumpkin, and chocolate cake is spiced with saffron and cardamom.  It's fluffy, delicately flavored, and a perfect Autumn celebration cake.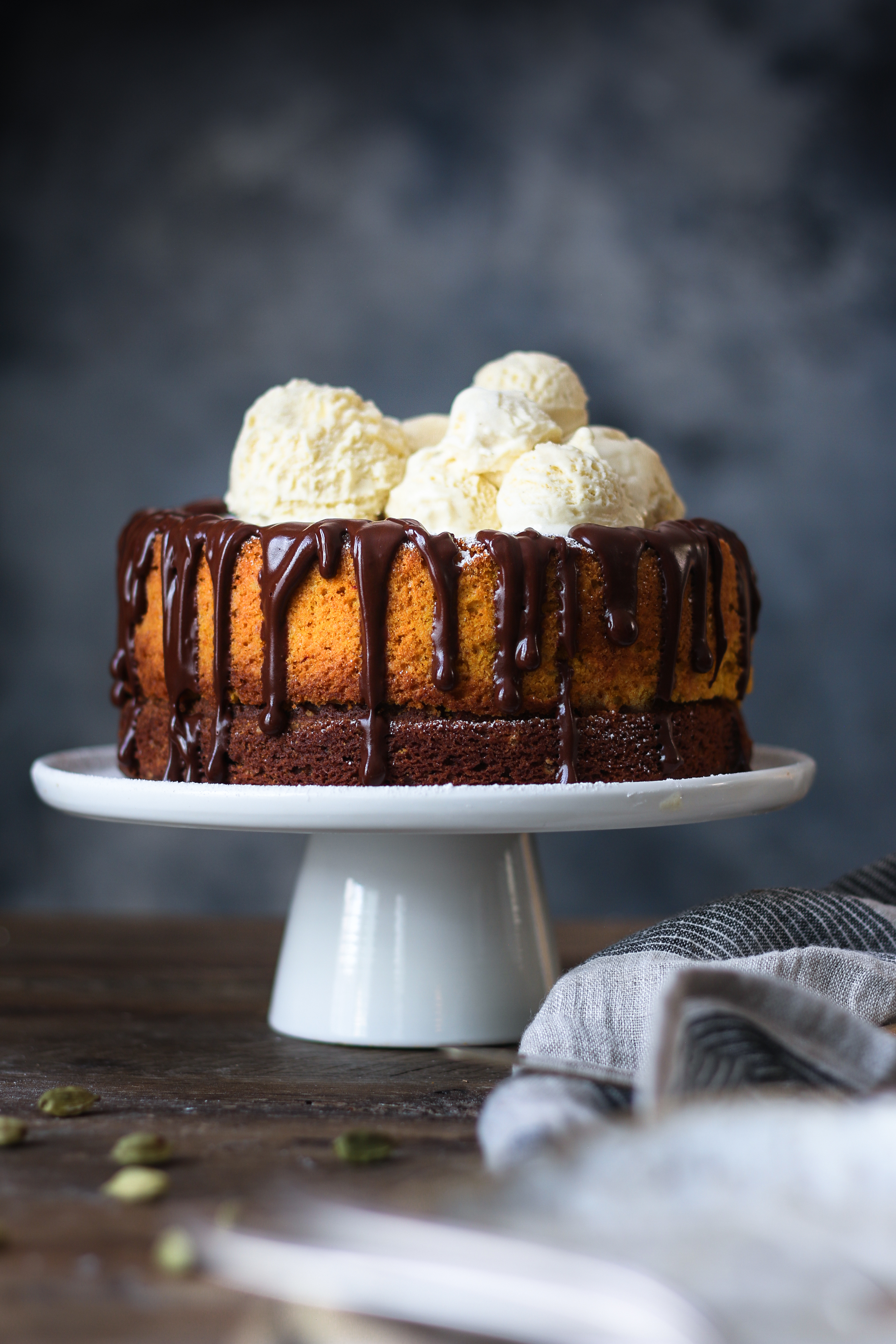 Before this week is over, many of us would have had a couple get-togethers with family or friends. And this pumpkin cake will be made at least twice at my home.
I have to admit: Thanksgiving is my favorite celebration among the many American traditions.  I find the meaning behind it intriguing, and I enjoy the holiday.  It's about family, and being grateful and thankful for everything.
I was given this amazing opportunity to create a dessert for an Indian restaurant who were having a Friendsgiving dinner gala.  All the proceeds and tickets from the dinner were given to charity.  It was a noble cause, and something so important, especially this time of the year.
So, here is the cake I created,  a loaded PUMPKIN CAKE.  It was adapted from my Brown Butter Pumpkin Cake, from my blog.  That cake had almond meal in it, while here, I only used all purpose flour.  I mixed in melted semi-sweet chocolate to half the cake batter and layered them. This cake is a long bake, dense yet moist, rich yet earthy tasting. The pumpkin is the star along with the gentle spices.  It's an easy mix and bake, and doesn't need a frosting.  It's delicious just with some ice cream.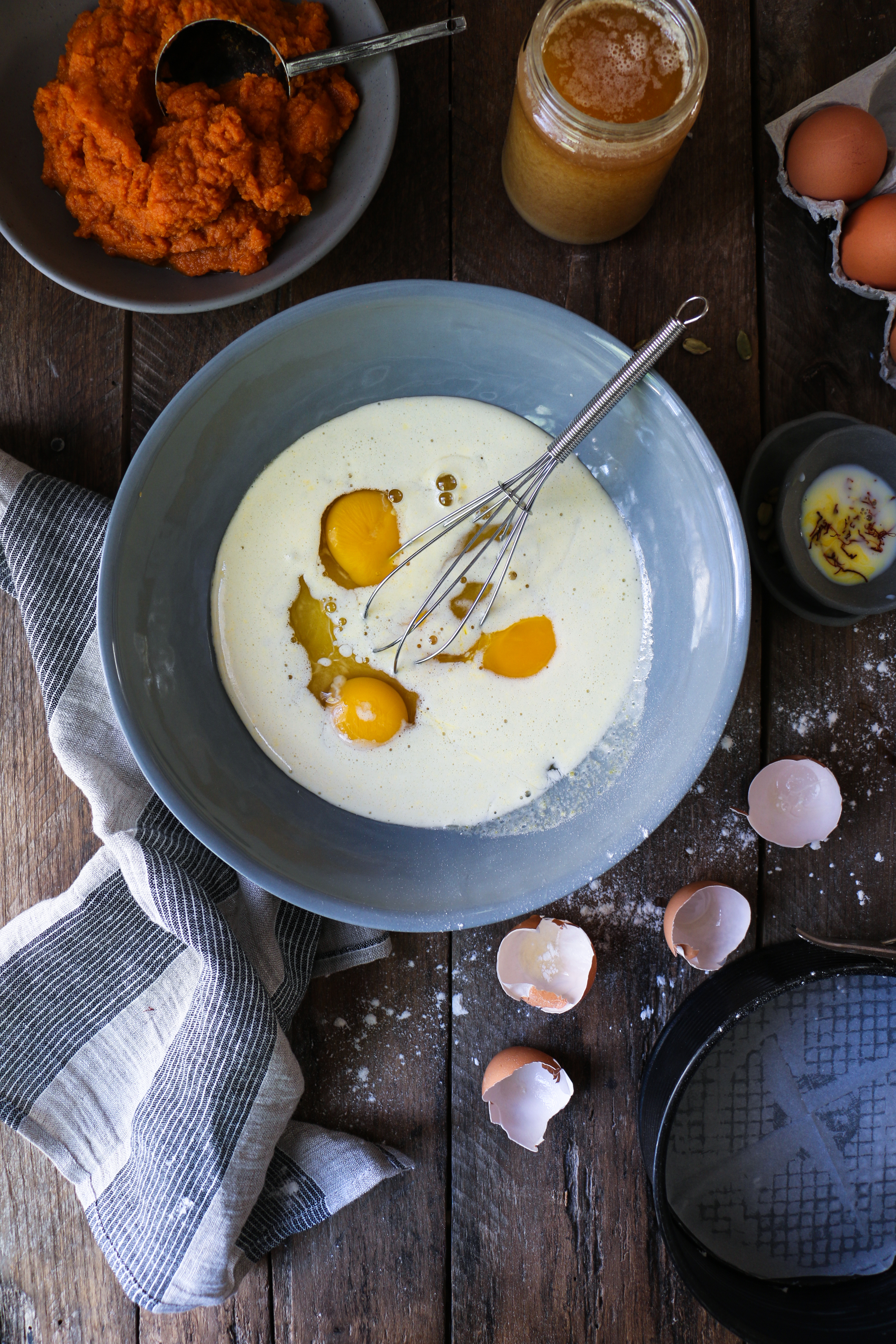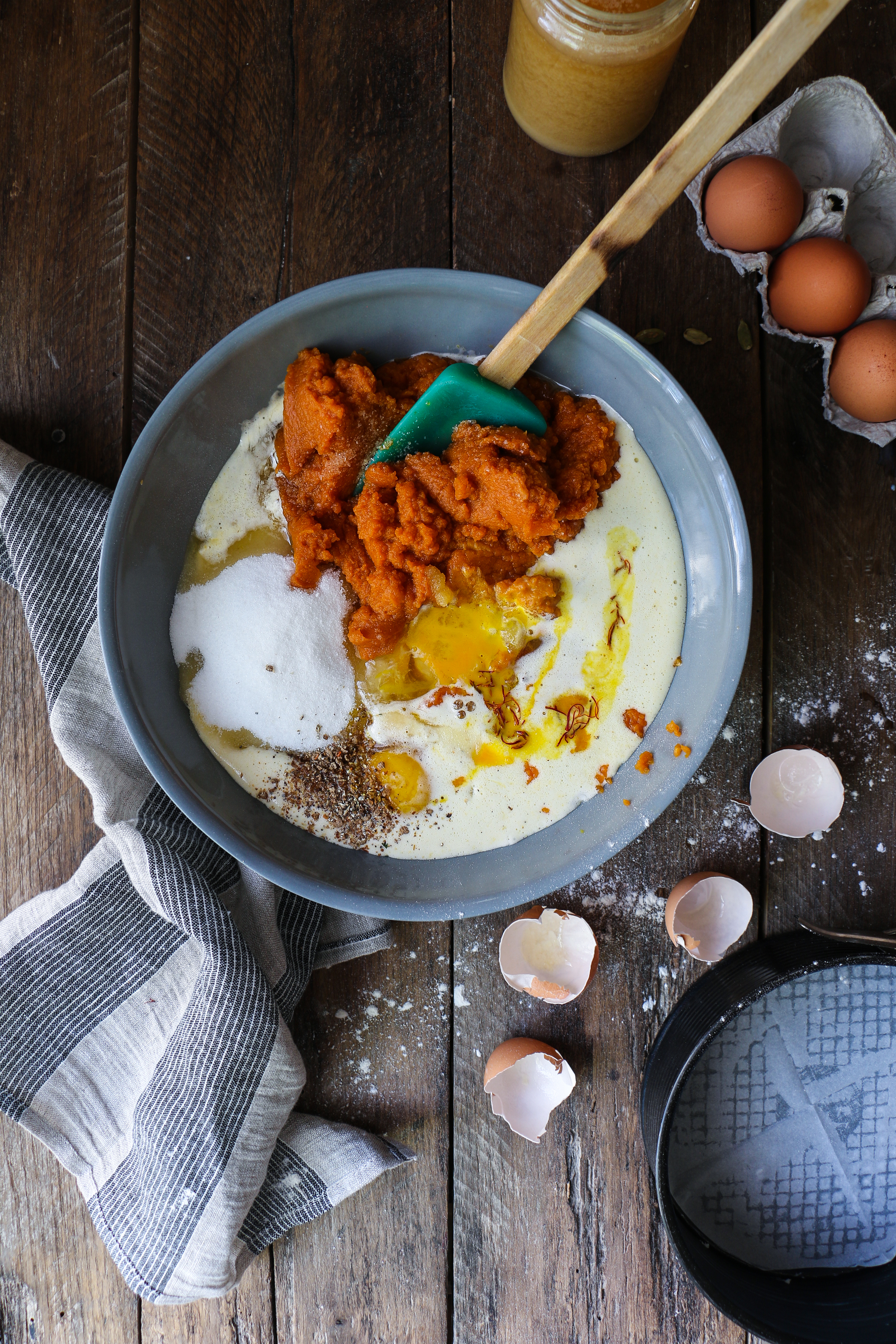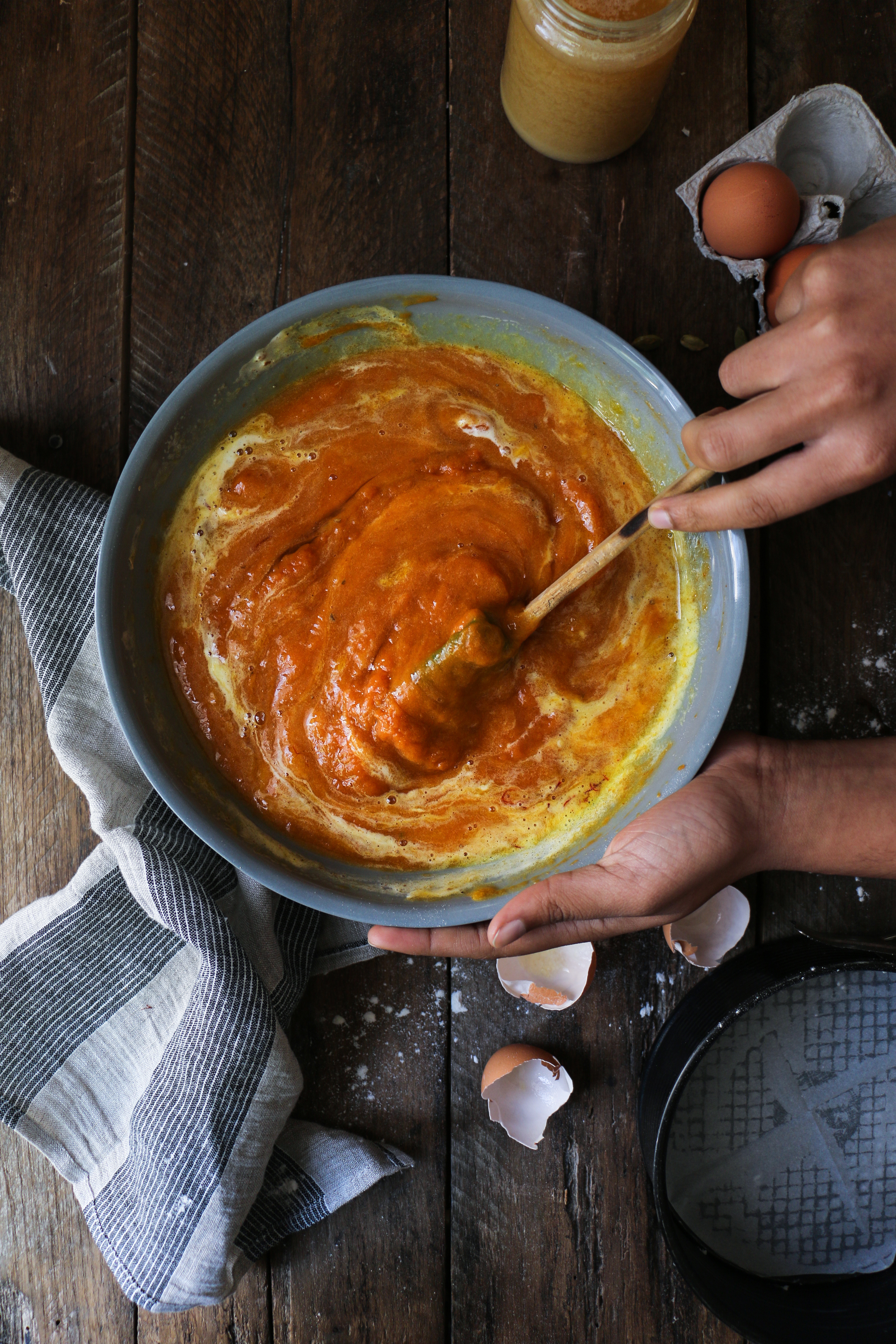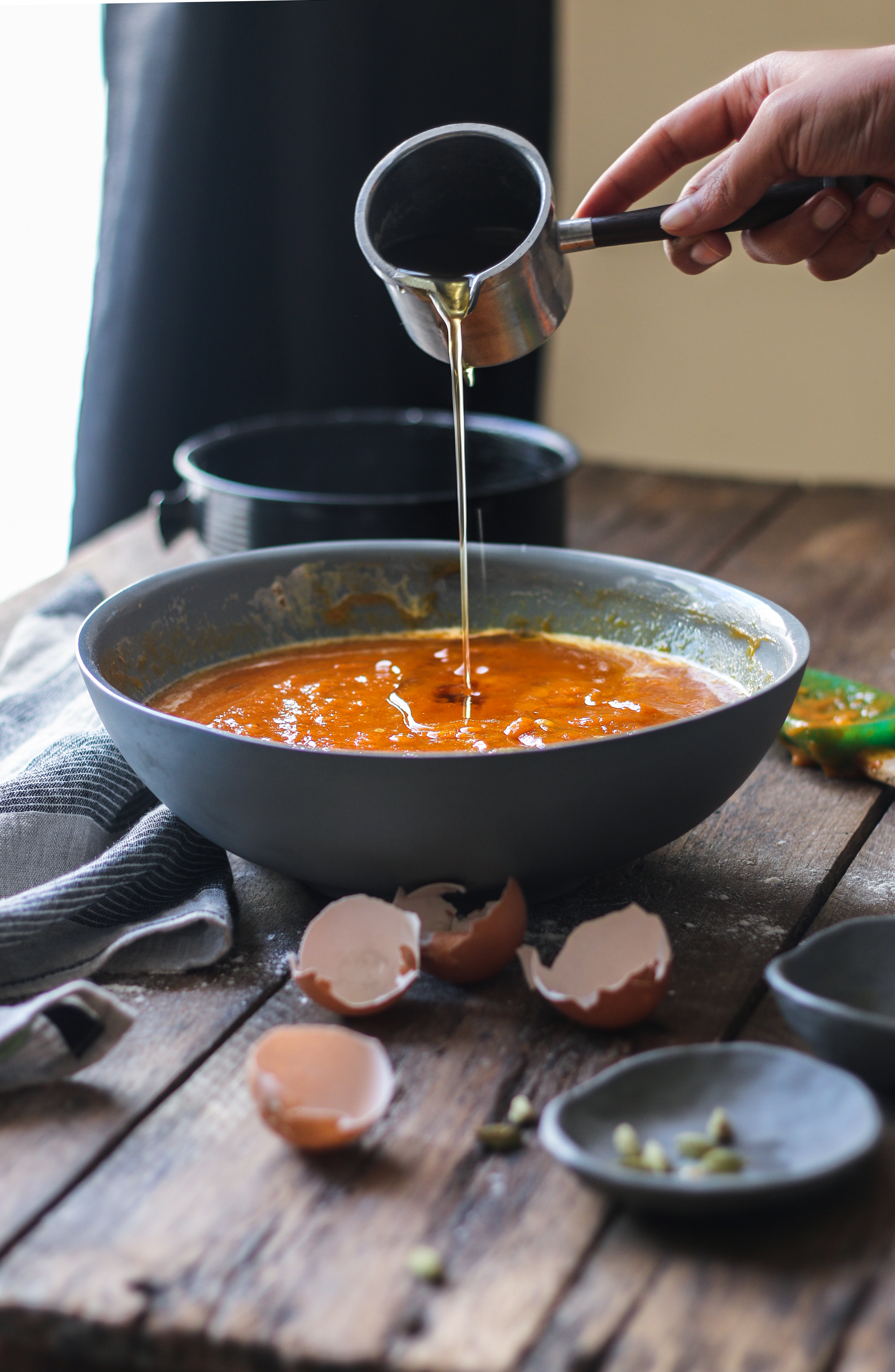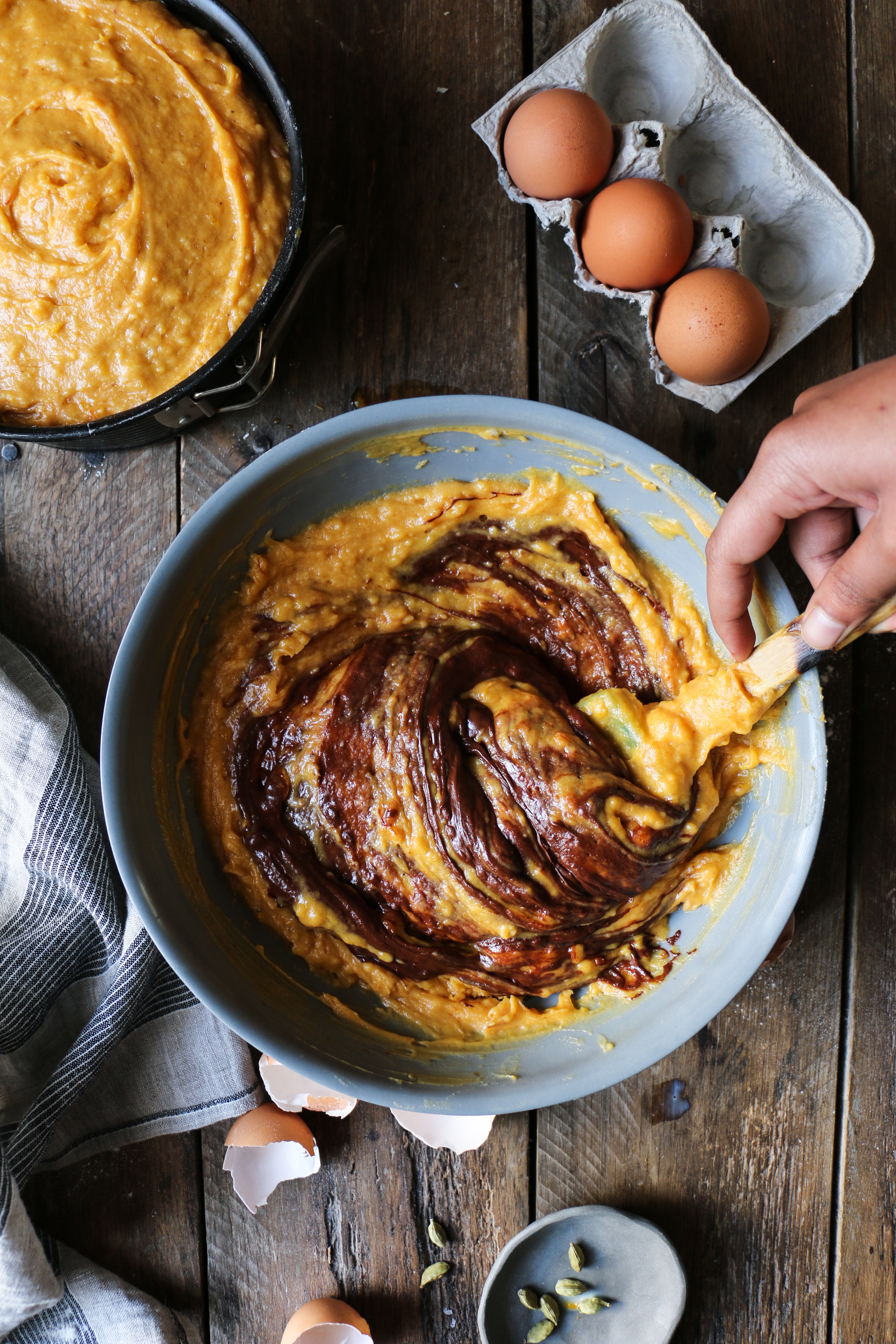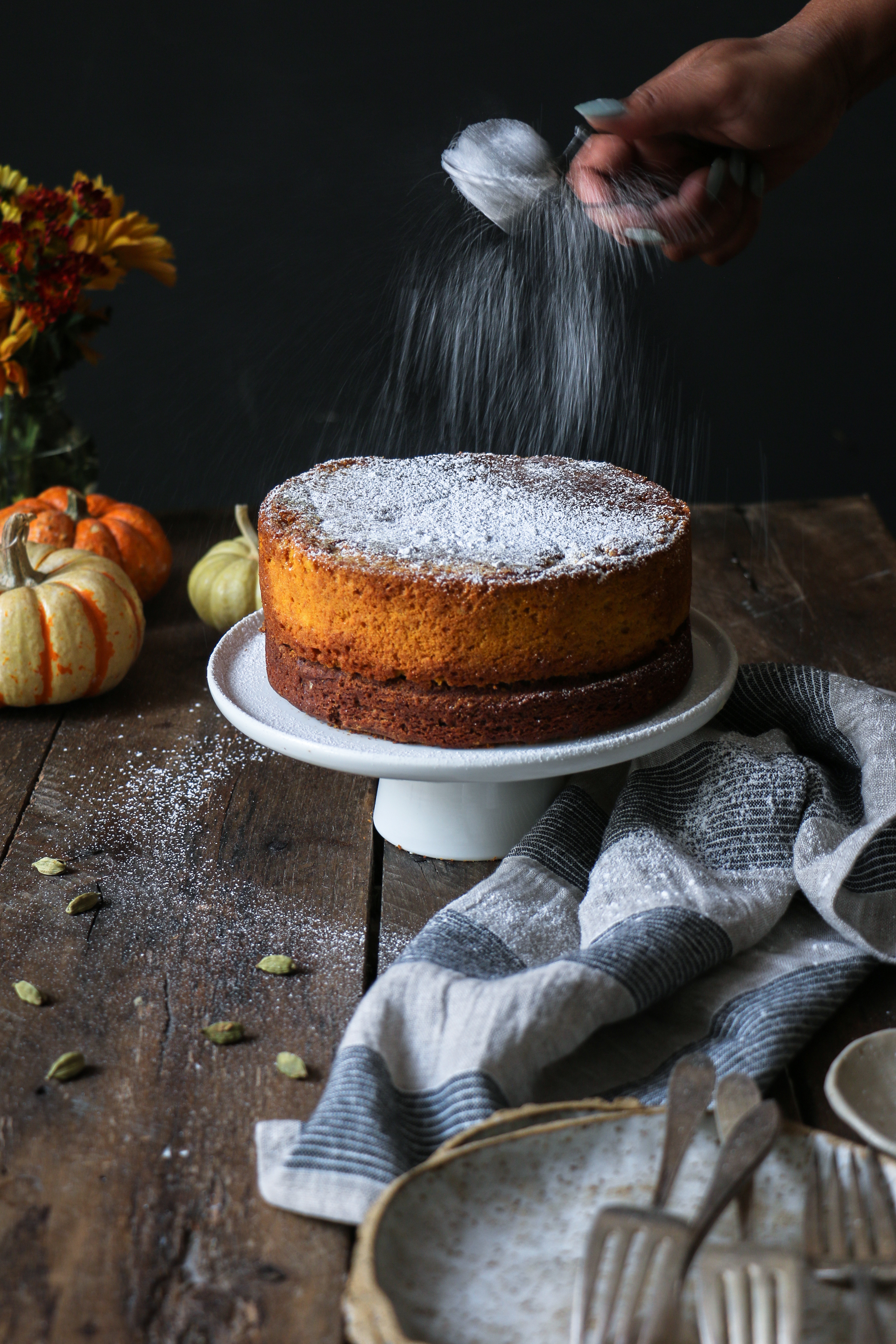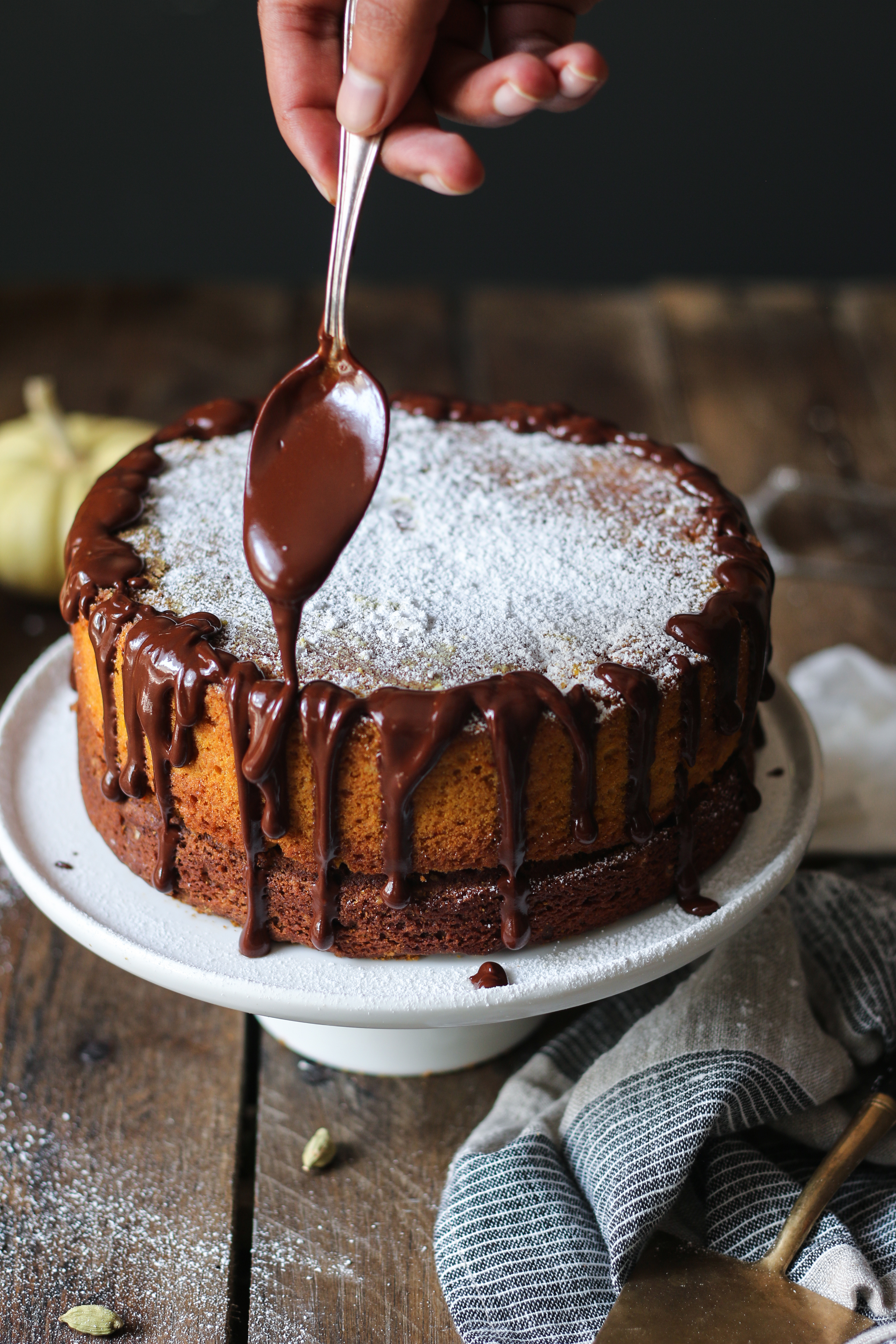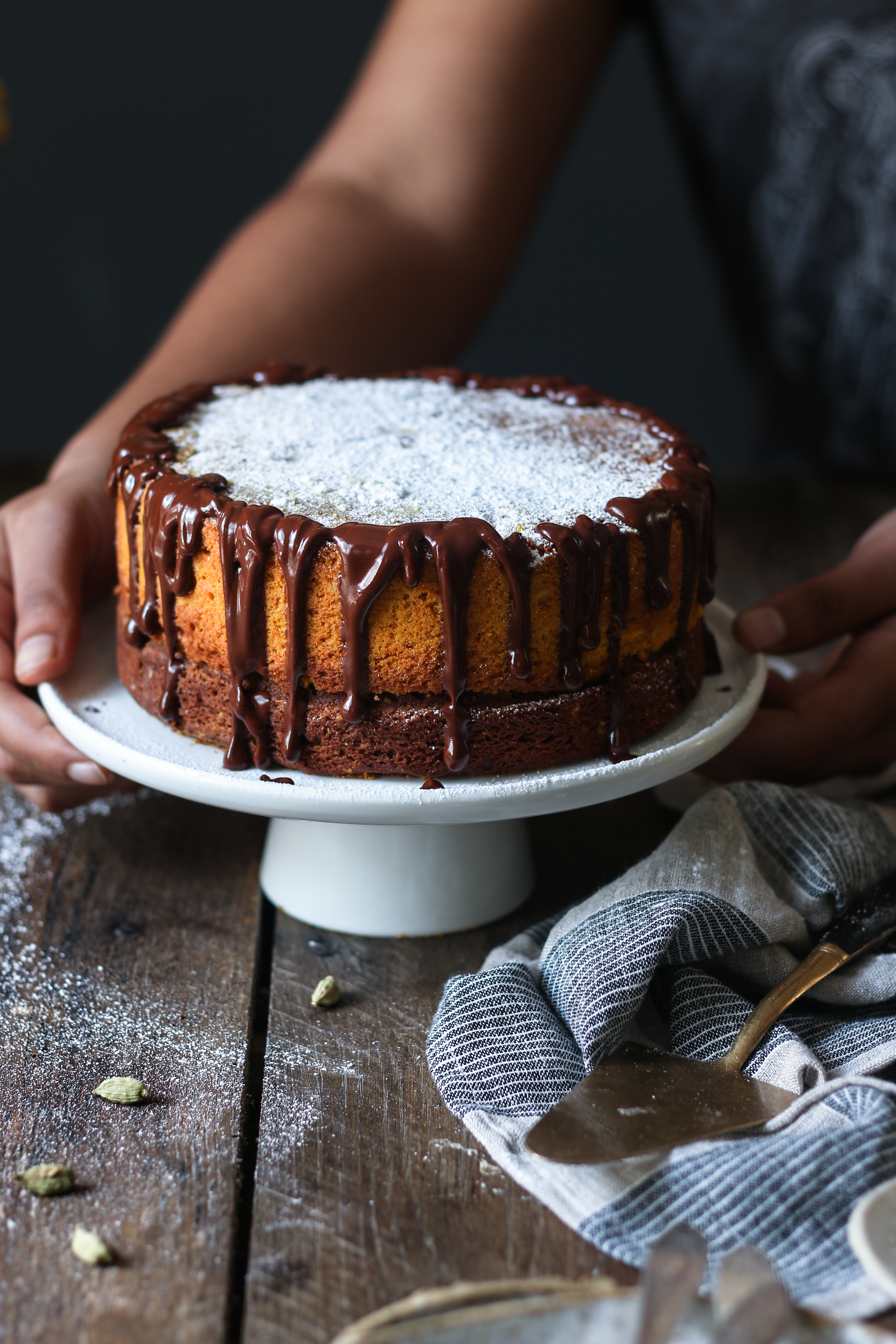 BROWN BUTTER PUMPKIN CHOCOLATE CAKE WITH SAFFRON AND CARDAMOM
BROWN BUTTER PUMPKIN CAKE with CARDAMOM AND SAFFRON CAKE A smooth, nutty, moist cake filled with spices and warmth. It tastes better warm and even better the next day. Travels well .
Recipe type:
Cake, Dessert
Ingredients
3⅓ cup all-purpose flour
1½ tbsp baking powder
½ tsp salt
⅓ tsp saffron threads
1 tbsp warm milk
½ tsp freshly ground cardamom
2 cups brown butter(4 sticks unsalted butter, browned on low heat)
2 cups pumpkin purée(I used canned, the plain one)
2⅔ cup sugar
6 large eggs
½ tsp lemon zest
For the chocolate cake
½ cup semi sweet chocolate, melted
For the shiny chocolate drizzle
⅓ cup semi sweet chocolate
2 tbsp unsalted butter
1 tbsp corn syrup
⅓ tsp vanilla extract
Instructions
Preheat oven to 325 degrees.
Sift the all-purpose flour, baking powder, salt and set aside.
In a small bowl, add the saffron with 1 tbsp of hot milk and let it sit.
In a large mixing bowl, add the brown butter, and the soaked saffron. Break the eggs carefully in another bowl so you can easily fish out the shells if it does fall in. Add it to the mixture and mix well. Add the lemon zest. You can use a standing mixer or just a whip to blend everything together at this point.
Add the pumpkin purée, and mix well.
Add the sugar, mix. Now, add the dry ingredients. Fold lightly and gently to combine everything and do not over mix.
Separate the batter into two. With one half of the batter, mix in the melted chocolate. Mix well.
Prepare two 7 inch round cake pans. Brush the sides very well with butter and line the bottom with a parchment paper. Pour both the batters separately in a greased pans and bake at 320 degrees in the middle of the oven for about 45 minutes to an hour. Check after 40 minutes, if the top is browning faster, cover it with an aluminum wrap and move it to the lowest rack in your oven.
Check with a skewer to see if it is fully baked in the middle. My cakes took 53 minutes.
Take the cakes out of the oven and let it sit on a cooling rack. Do not try to remove from the pan when it's hot. Let it sit for 10 minutes. Then unmold carefully, remove the parchment paper.
For the Chocolate drizzle:
Add the chocolate, butter and cornstarch in a bowl and keep it in a double boiler and let it melt. Add the vanilla extract. You could even melt it in a microwave very carefully for 30 seconds.
Drizzle it immediately on the edges of the cake with a help of the spoon.
ASSEMBLY
With a serrated knife carefully level the top of the cakes.
First keep the chocolate cake on a platter or cake stand. Add this point you can brush the cake with some melted ghee or you can add a whipped cream layer. Invert the plain pumpkin cake, the rough side over the chocolate layer. So now the top is smooth. Generously sprinkle with some powdered sugar.
Drizzle the chocolate syrup over the edges with a spoon.
This cake is perfect warm or as it sits. Serve with some vanilla ice cream.
Happy Baking!!! I will be back with a HUGE giveaway on Wednesday, just before Thanksgiving, to say a big THANK YOU to all of you.  Make sure to come back and comment to enter the giveaway.
Please do tag me on instagram @foodfashionparty if you make this, using the hashtag #foodfashionparty
Thanks for reading.
Stay in touch for more delicious food on Instagram and Pinterest. Follow on Snapchat (@ashfoodfashion) for daily doses of food.