A perfect snack, side or a light lunch. These twice baked potatoes are stuffed with a spicy cauliflower peas stir fry that's mixed in with pepper jack and wild rice.  It makes for an amazing Thanksgiving side, as well as a light, delicious lunch.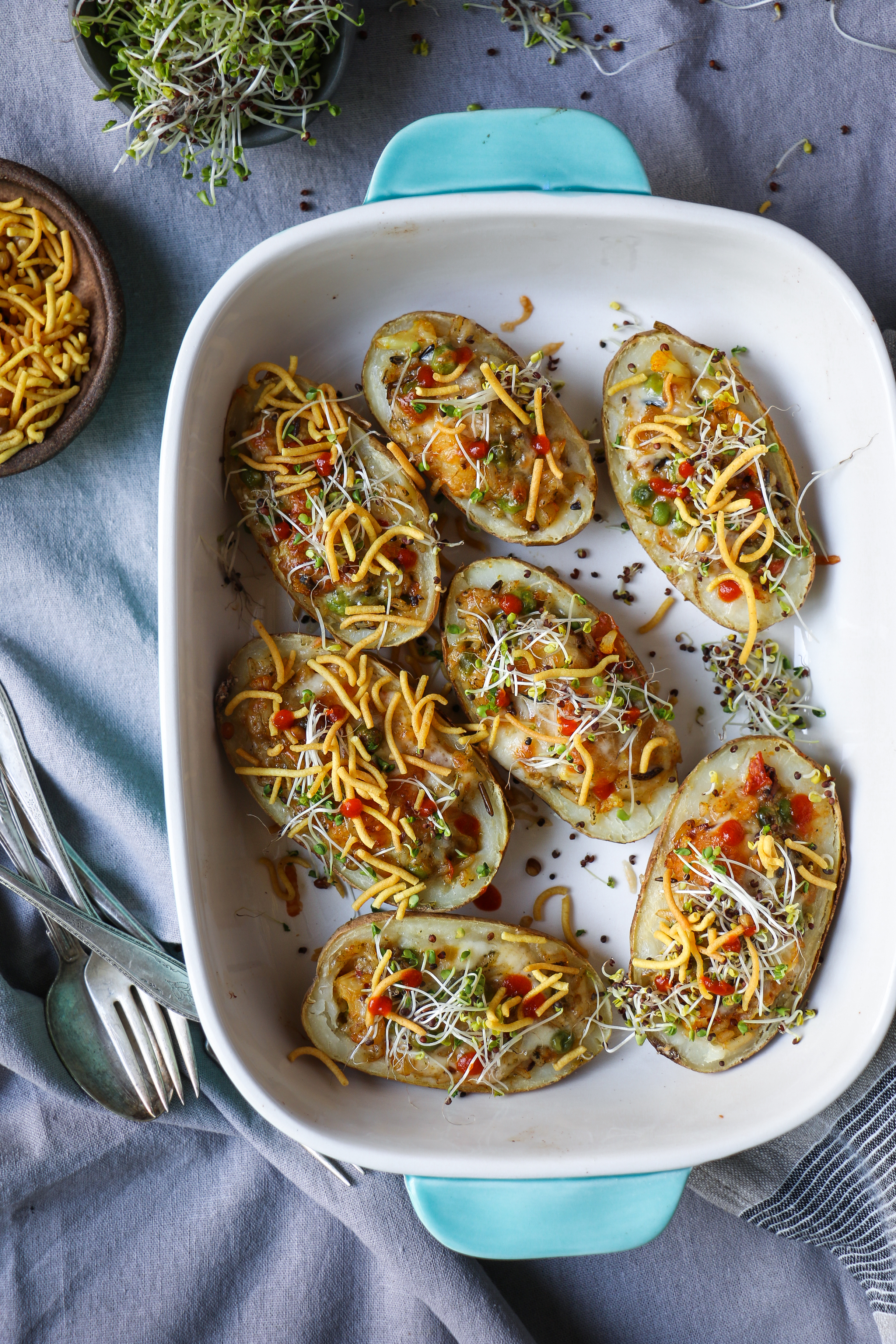 It's okay to be an Idealist, I guess!!
Maybe you've been called a dreamer your whole life—by others and by yourself.  Are you the person spending half your time envisioning what you'd love and want to do or be?
I see some of you nod in agreement. I also see my parents shake their head side to side and saying, "That's not reality, step down my dear…"
Trying to bridge the two worlds, the practical and the reality, is a dreamer's challenge.
Dreams, for one, may not be practical.  But should everything be practical? Dreams are but what could be, and what it isn't yet.  Imagining things gives some sort of pleasure, as a kind of building block to something to look forward to.  Some prefer to live strictly in the world of practical reality; they choose not to wander into the "unrealistic" and impractical realm of dreams.
I am always torn in between: living in reality and being a "doer," rather than dreaming of something that might or might not be.  They say what you dream transforms to thoughts, thoughts turn into actions, and those actions might lead to your dreams turning to reality.  So if you're the type who loves to dream, who can't help but run away from day-to-day living and routine, I applaud you. That is our way of being. Let's not apologize for it.
Life is short.  We only have one life to live.  So go ahead and dream!!!  What is there to lose?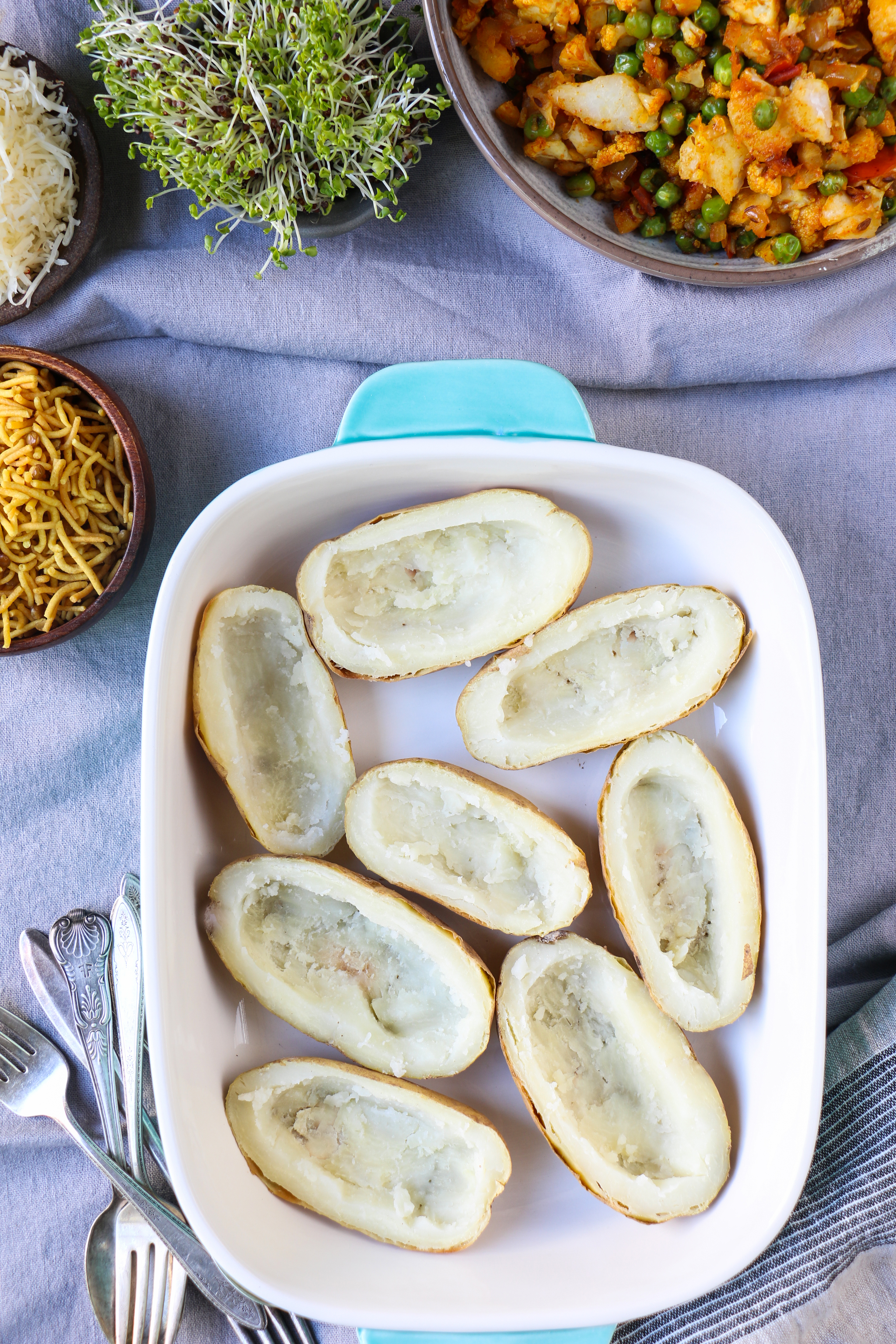 Imagine taking a bite of these potatoes.  Crispy on the outside, tender and slightly spiced crunch from the cauliflower, bite from the wild rice, and tang from the salty cheese.  It all goes so well together.  My Indian inspired twice baked potatoes with pepper jack and cauliflower peas stir fry is a perfect side for Thanksgiving, a healthy simple snack or a light lunch.  I make this quite often with an Indian style stir fry, whether it's for company or just for us.  It's even better when you add a good amount of cheese ;).
I tried to to add more cauliflower and peas with just a touch of potatoes to it.  You could also add all of the potatoes which you've scooped out, making a creamier stuffing.
Besides it tasting so so good, it is festive and would be such a great addition to the holiday table. I absolutely love holiday entertaining, and this is going to be on the menu along with Persimmon Chutney on Bruschetta and Paneer and Eggplant bhurji Bruschetta.
Tell me your plans for Friendsgiving and Thanksgiving!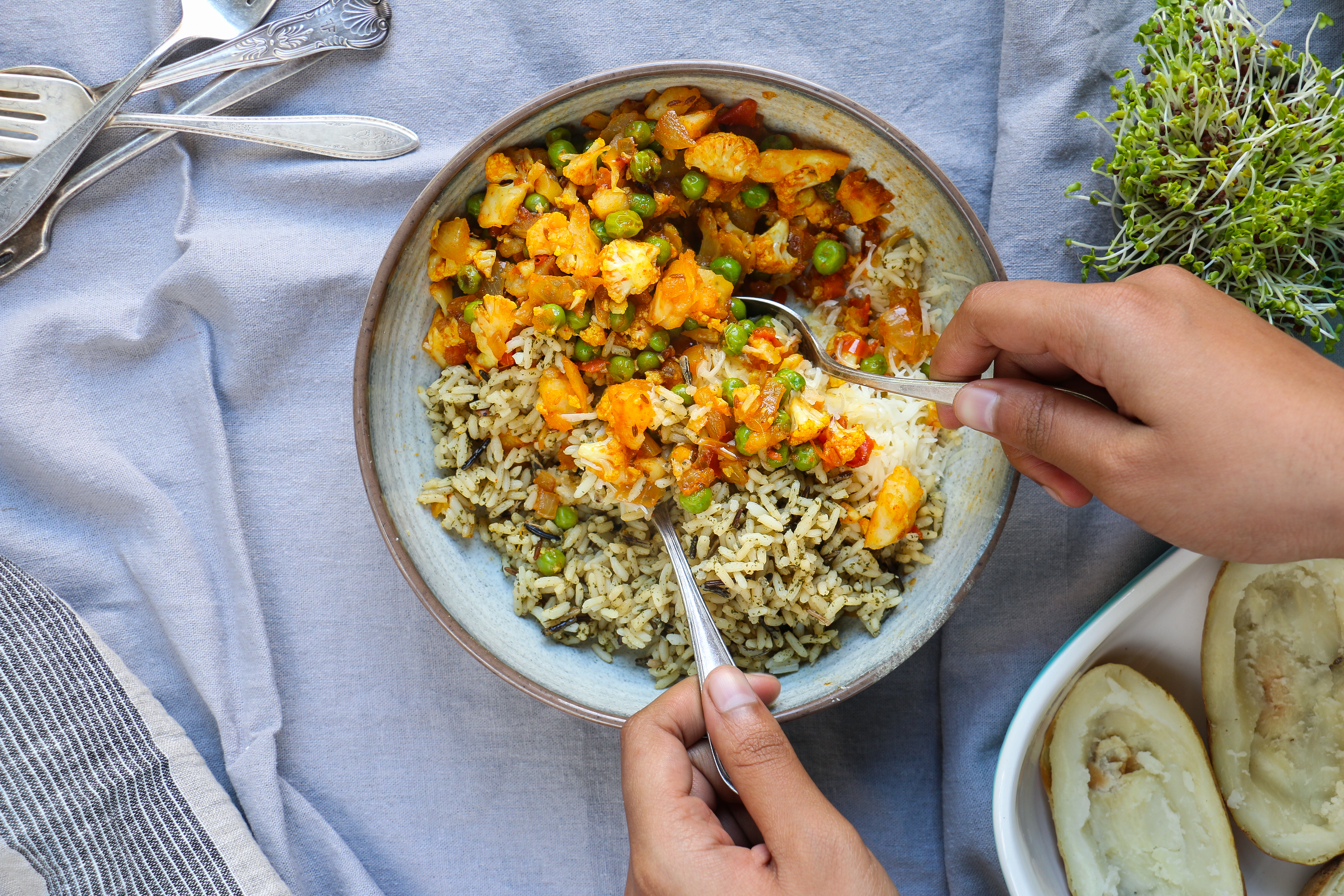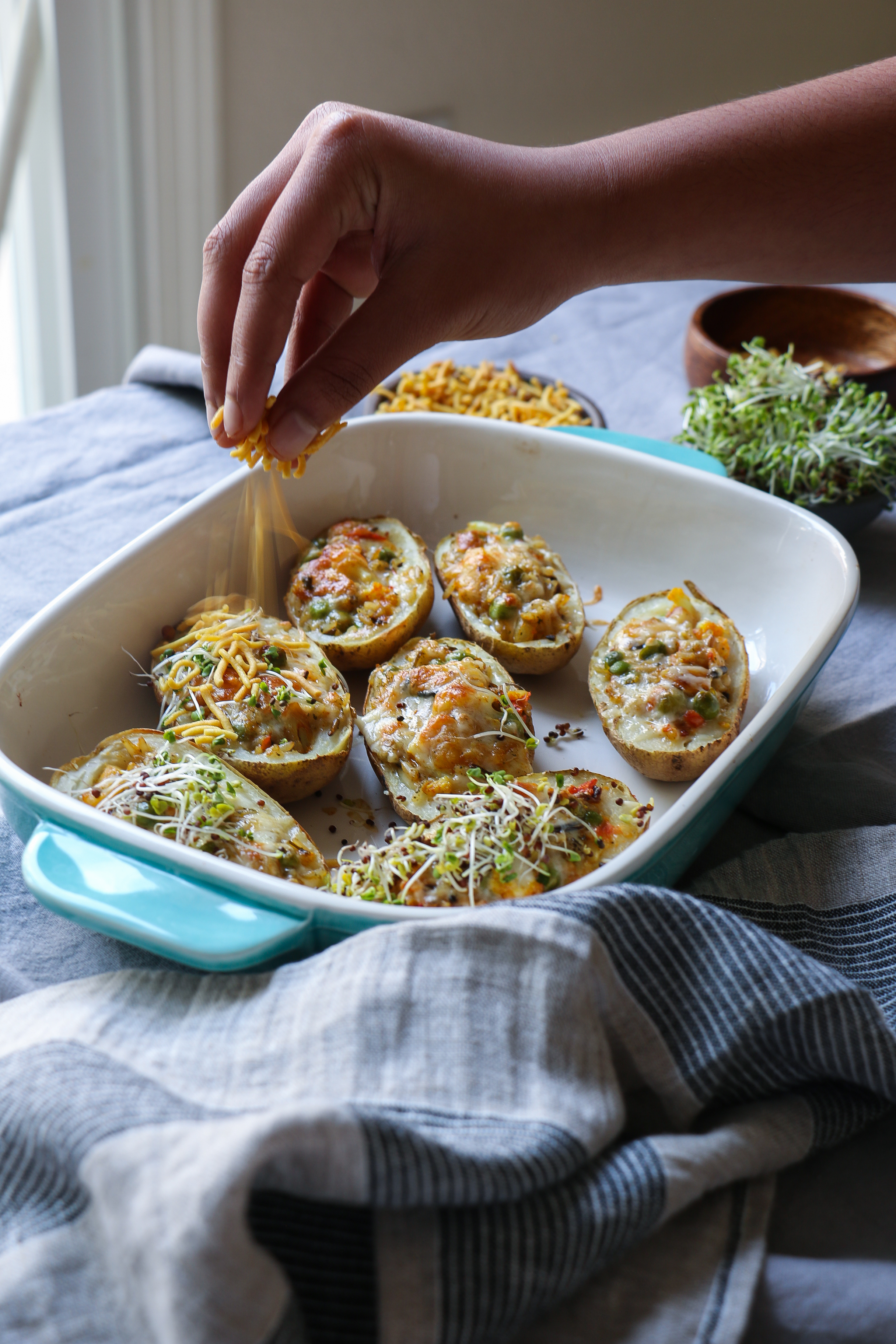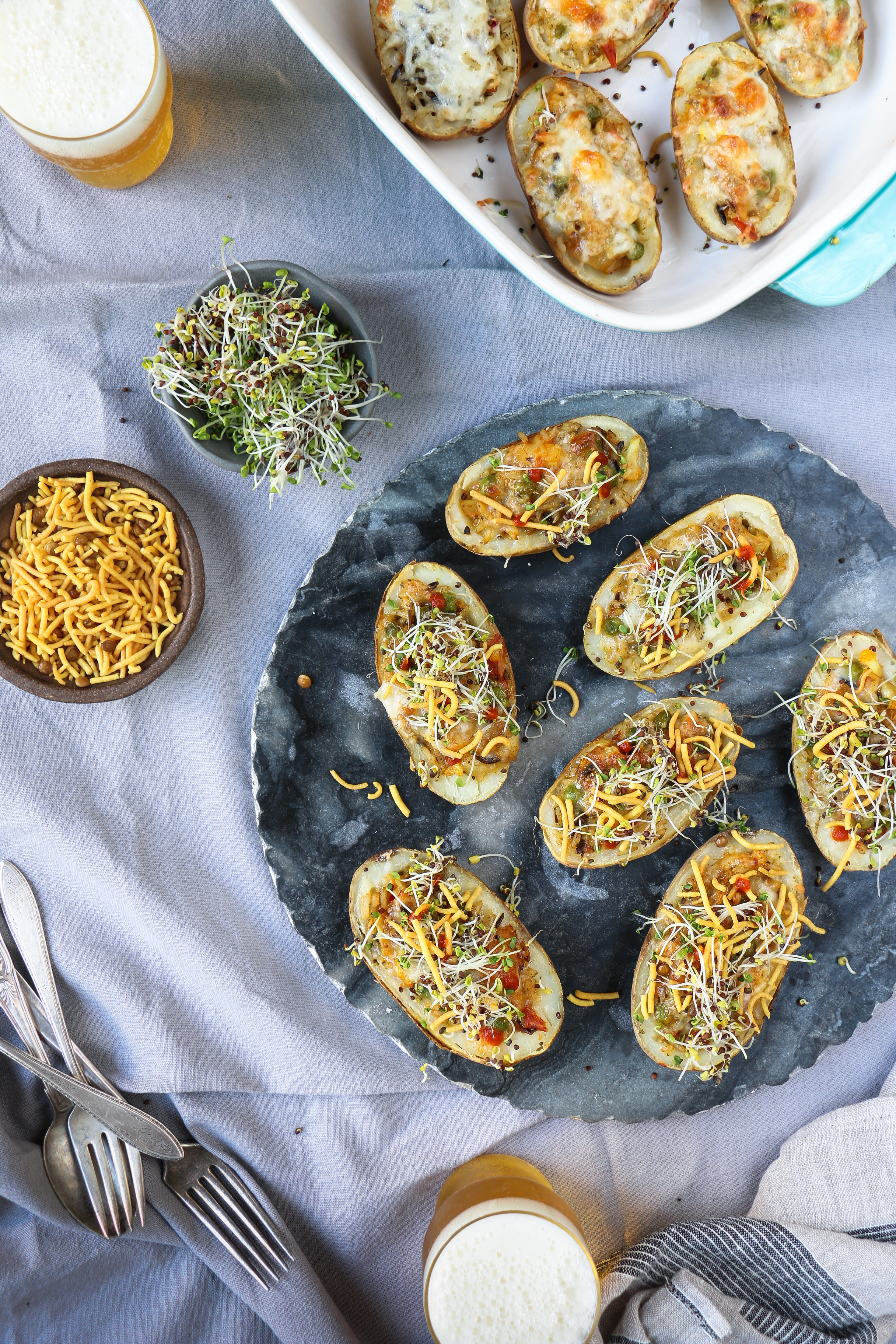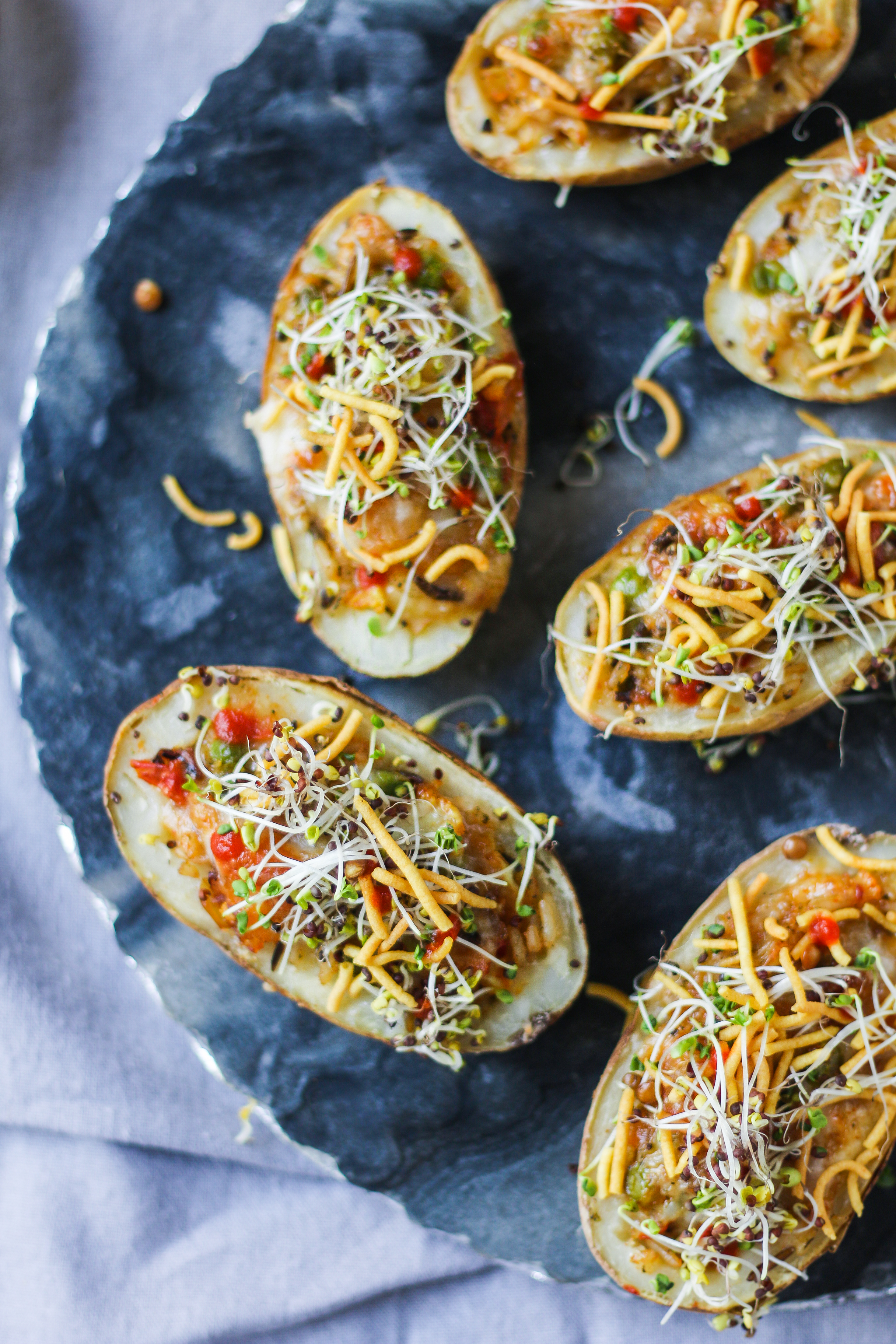 Twice Baked Potato with Cauliflower Peas Stir Fry (Indian style)
A perfect snack, side or a light lunch. It's an Indian style baked potato that's cheesy and delicious.
Recipe type:
Lunch, Sides
Ingredients
Cauliflower and Peas stir fry
1 tbsp oil
⅓ tsp cumin seeds
½ red onion, finely chopped
1 tsp ginger-garlic paste
1 tomato, finely chopped
1 tsp chili powder
⅓ tsp turmeric powder
1 tsp flaky salt
½ tsp garam masala
1 cup of cauliflower, cut to very small pieces
½ cup peas
1 tbsp sweet chili sauce
For the wild rice:
½ cup wild rice
2 cups vegetable stock, or water
2 garlic finely chopped
1 tbsp butter
½ tsp dried herbs, of your choice
⅓ tsp salt
1 cup grated pepper jack cheese
For garnish:
mustard sprouts, any sprouts
chickpea snack(you can find it in Indian store)
Instructions
Wash the potatoes and dry it. Pierce the potato few times with a fork and place it on a baking tray. Bake at 425 degree for 40 minutes. Take it out and let it cool for 20 minutes before handling it. Cut the potatoes in halves and carefully leaving a fourth of an inch on the sides, scoop the potato from the middle and set the potato skins in a baking pan or tray. Keep the scooped potato in a bowl.
Vegetable:
In a pan, add oil, let it get hot and add cumin seeds and let it pop. Add the onion, saute it for 30 seconds before adding the ginger-garlic paste. Saute for a minute, add the tomatoes and cook for a minute. Add the red chili powder, turmeric, salt, cauliflower, peas and keep tossing it for 5 minutes until it is 80 percent cooked. Then add a little bit of the potatoes that you have scooped out( you could leave it out too). Add some garam masala and chili sauce and toss for another 2 minutes. Switch of the flame. Set aside.
Rice:
In a pan, add the wild rice, garlic, butter, dried herbs, salt and vegetable stock or water. Let it come to a boil, then simmer, cover and cook for 15 minutes. Turn off the stove. Let cool and fluff it.
Assembly:
Preheat oven to 425 degrees.
In a mixing bowl, add the cauliflower mix, the rice, cheese and mix well.
Scoop some rice in the potato bowls and press it well. Fill all the potatoes and top it with a tsp of cheese on all. Bake it for 10-15 minutes or until it is lightly golden brown and the cheese is melted.
Take it out and top with sprouts and chickpea snack and add a dash or sriracha or hot sauce.