These tender butter classic spritz cookies are so easy, and melt in your mouth delicious.  The dough is easy to work with, so it's fun to make these into a variety of festive shapes.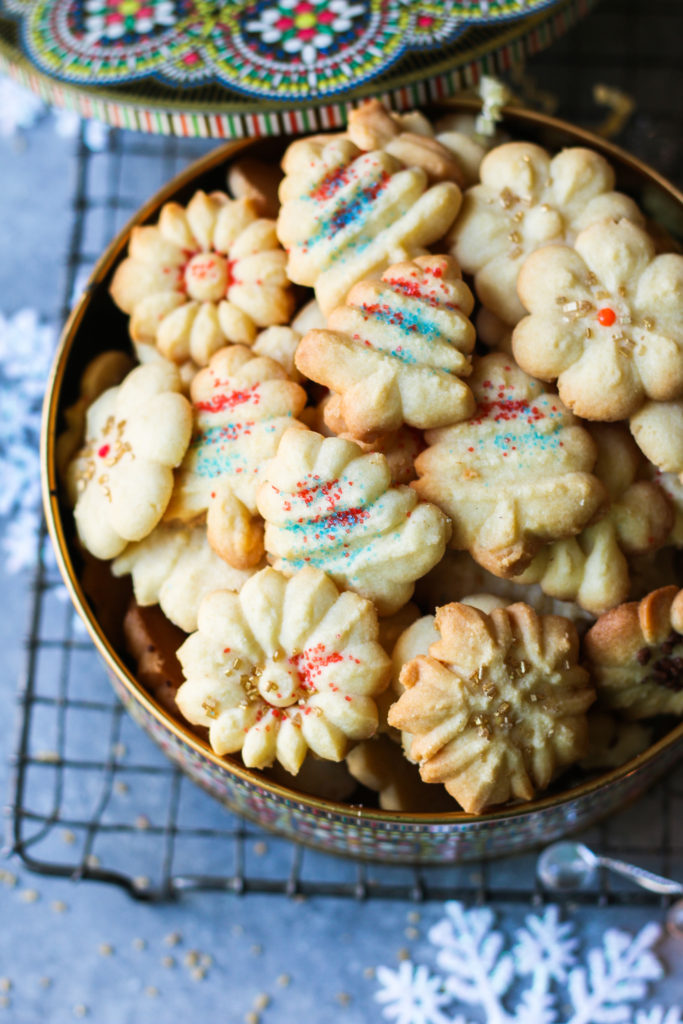 These classic spritz cookies are so buttery and addictive. The dough is easy and comfortable enough that you don't need a cookie press, but they do make for pretty designs.
Is it Christmas already?
Merry Christmas you guys!!!  And the famous question, "How did this year go by so quickly?"
Isn't it easy to get caught up in the flurry of things this time of the year? I always try to remind myself to slow down and stay calm.  I try to reflect back on the year and go into hiding, for a bit, from all the chaos.  I love lighting up birch wood candles, putting out lights all over the room, baking these spritz cookies, and playing some soft blues to set the mood for the holidays.  What makes holidays special are these moments, which might not be traditional but are quite peaceful.
Christmas reminds me of two things.  Going to Nilgiris Cake show with dad, and visiting my mum's friend for Christmas.  Anna Aunty would invite a bunch of people at her home.  A lovely lady with a huge heart.  She is mum's sweetest and best friend.  She made some traditional sweets, like galgal, rose hooks, and the most popular fruit cake, which I'm addicted to.   Her home always looked so festive with the Christmas tree and lights.  She hung Christmas cards with lovely portraits all around the family room. Those were probably my only memories, pretty vague memories.
Now, I love surprising the boys with small gifts, and to see them open them every Christmas morning is a joy. For the longest time, my little one thought that Santa left him those gifts and was mesmerized.  He told us a few years ago after he had a chat with his friends, "Mom, Santa wouldn't leave me a Grammar puzzle" ;).   Well, we pulled it off for some time, and it was fun.  Now, they just love to come down to a mug of hot chocolate and cozy up to some holiday movies.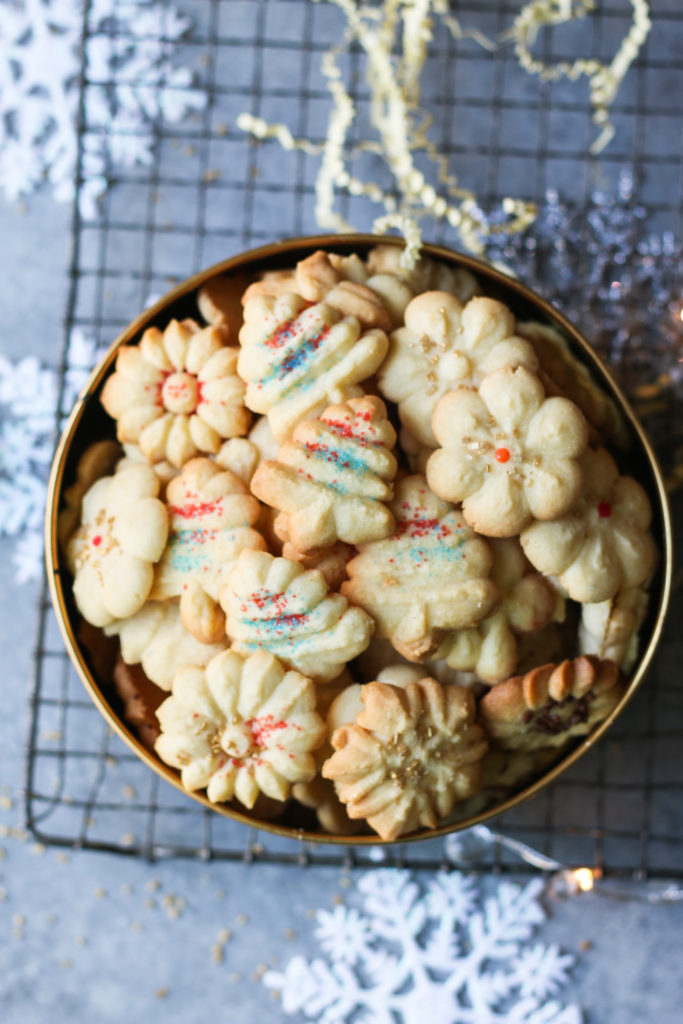 Baking cookies and simple fruit cakes, gifting it to teacher and friends is something I enjoy now.  Having a cookie jar filled with these butter spritz cookies might be quite dangerous, but it a lovely thing.  Feels festive.
These cookies are probably  the easiest to make and are so so good and buttery.  You can flavor them any way you want but I don't play around with them a lot, love the classic one.
Packed in festive tins, or gathered in little holiday bags… these Classic spritz cookies are an easy, happy, heartwarming way that I share tradition.
I hope you're happy and well this holiday season.  Doing all of those small, happy, quirky moments that make your holiday feel keepsake special!
xo!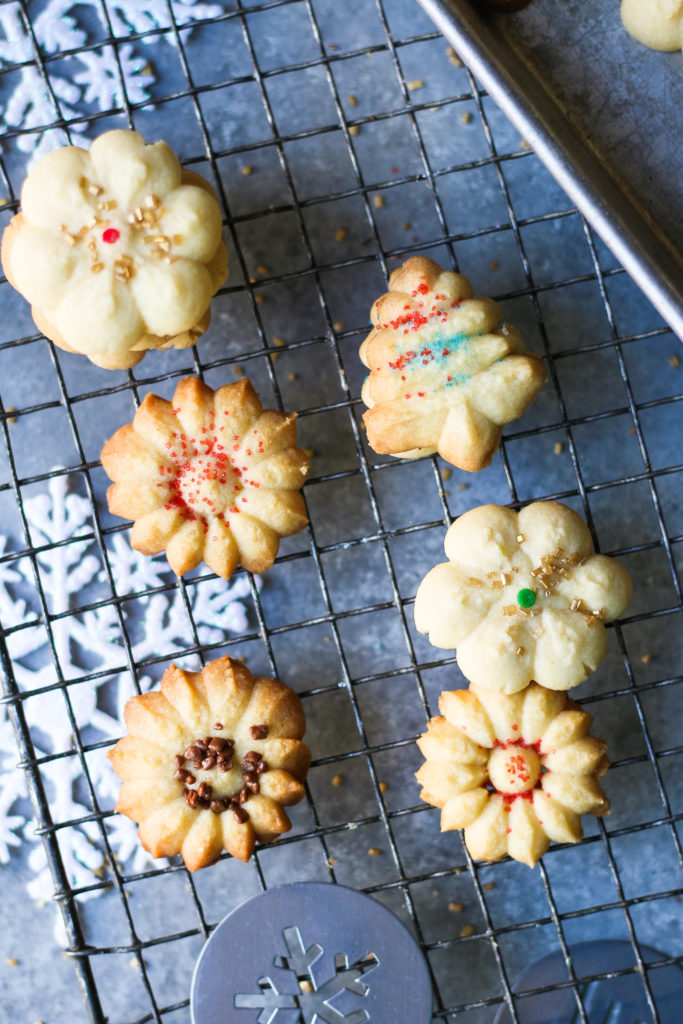 The spritz cookie press I used is a vintage one.  But I'll attach some good spritz cookie press that my friends use, which I like it a lot.
I try to share these buttery classic spritz cookies tin in vintage tins, great for a keepsake. Click for similar VINTAGE ones.
*Please do tag me on Instagram @foodfashionparty if you make this, using the hashtag #foodfashionparty.  Check out my book MASALA AND MEATBALLS.
Stay in touch for more delicious food on Instagram and Pinterest. Follow on Snapchat (@ashfoodfashion) for daily doses of food.*

Spritz Cookies
These tender butter spritz cookies are very easy and melt in your mouth delicious and addictive. The dough is easy to work with, so it's fun to make these into a variety of festive shapes.
Ingredients
1 cup or 2 sticks of unsalted butter, at room temperature
½ cup white granulated sugar
¼ tsp salt
1 tsp vanilla extract
2 cups All purpose flour
1 egg yolk
Different Variations
For Lemon Spritz cookies
⅓ tsp lemon extract
little fresh lemon zest
For Orange Spritz cookies
Orange zest
1 tbsp poppy seeds
Dip it in White or Dark chocolate
Sprinkles to dust on top
Instructions
Preheat you oven to 350 degrees. If you bake them in Convection/counter top oven, bake at 325 degrees. Take two baking trays and keep them in the freezer until you are ready to pipe.
In a mixing bowl, add the softened butter. With a paddle attachment whip the butter until it is smooth and fluffy, about 2-3 minutes. Add the sugar and beat it for another 2 minutes or until it fully incorporated. Stop the mixer and scrape all the side well.
Add the salt, vanilla extract and almond extract along with egg to the butter mixture and beat it well until it's full incorporated. Add the flour and beat on low until it is all mixed in and looks like a dough.
Use a cookie press and fit it with any attachment you like. Fill it with some dough and close it tightly.
Take out the cold sheet pan from the freezer and carefully press the cookies onto the cookie sheet and bake it for 10 minutes or until it is slightly golden brown on the sides. Mine always take 10-11 minutes.
Take it out of the oven and let it sit on the counter top for 2-3 minutes. Carefully using an offset spatula, transfer to a cooling rack.
These are perfect for 2 months stored in an airtight container.
Notes
You can make any flavor you want. You can add the lemon extract instead of the almond. You'll still need to add a little vanilla extract.
You can make cookies without a press too. Take a mini icecream scoop and scoop it out on the baking tray. Take a fork and press it for some indentation. You can use a spoon and press it in the middle and add a cherry, a dried fruit and bake.
I generally press these cookies on my cold marble counter tops and carefully transfer it to the baking sheet, that way you can skip the refrigeration part.
Bake one tray at a time in the middle of the oven.