Eating these coffee cashew shortbread/cookies with coffee chocolate cream, is like having a cup of nutty, delicious coffee.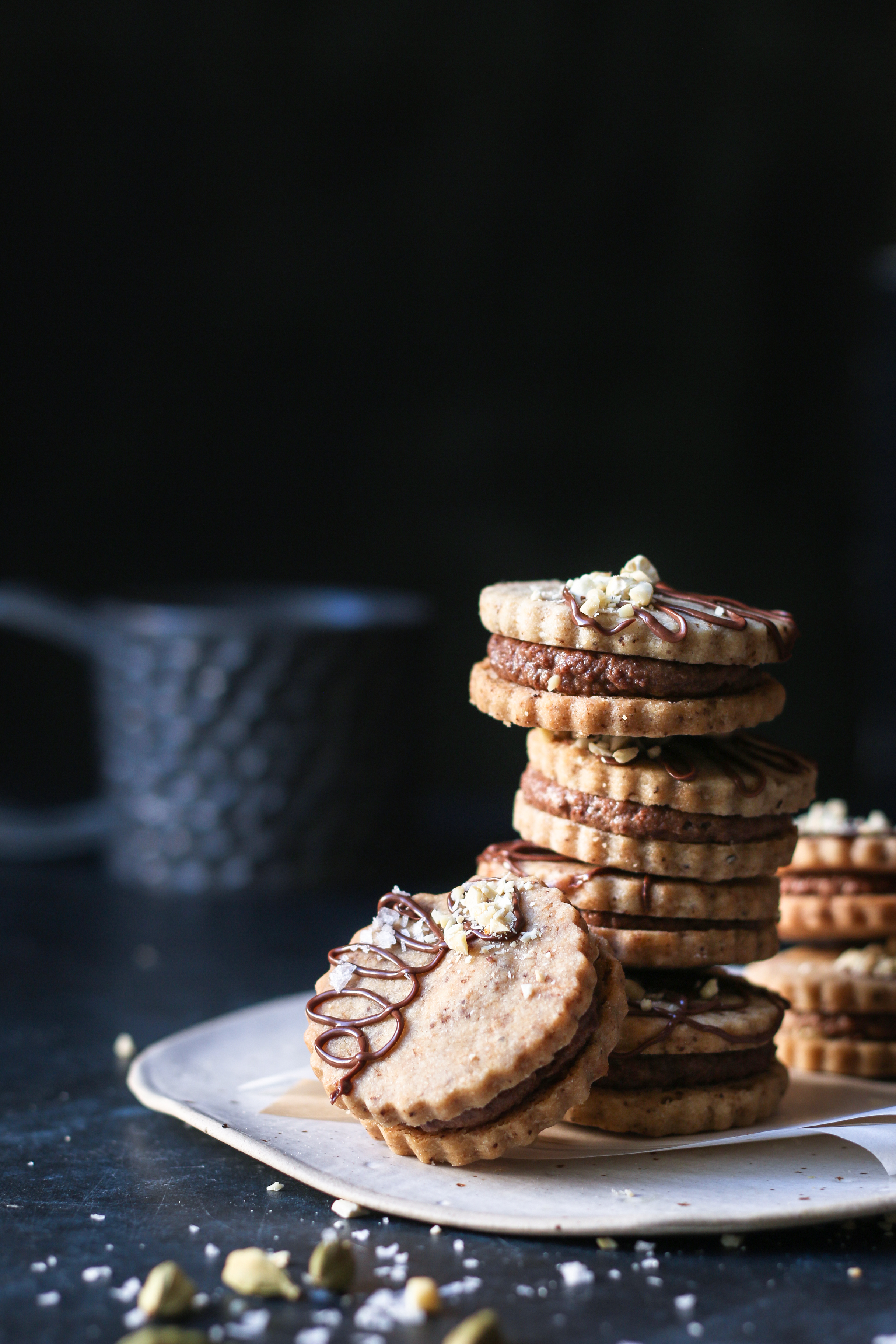 This is definitely one of those addictive cookies that you will love to add to your Christmas baking repertoire, and on your party table! Rich and buttery, with a caramel undertone with the brown sugar, and the cashews in the cookies… it all lends to this completely and utterly delicious cookie.  These coffee cashew shortbread/cookies with coffee chocolate cream is a must make.
I was inspired by the lovely Traci from VANILLA AND BEAN and her beautiful hazelnut shortbread that I saw last year.  It's been on my mind forever. Definitely check it out; it's a flavor bomb.  I tried creating this Coffee Cashew Shortbread Coffee Chocolate Cream for my blog.  After various trials, I finally got it where I wanted with coffee, and we love it.  It's such a treat.
I come from a family of coffee drinkers, each one quite particular about the color, the consistency, the flavor of the bean, and even the amount that they drank.  When I got married, I was surprised that it was indeed a ritual at my in-laws' home.  They had a technique.  Everything was measured, every movement was deliberate.  I was destined to fall in love with coffee.
I did.
If a drink could be a religion, coffee would be mine.  You either love coffee or NOT.  I am a morning person, but I really don't need caffeine to wake me up.  For many years of my life, I did not have coffee.  Everything changed when my teen was born.  It became a fun experience.  The art of just sitting down, soaking in the sun, a silent moment with hubby before the baby woke up. Now, waking up and rushing down on a strongly knitted carpet to pour hot water in the filter is a ritual I enjoy. Some days it's freshly ground coffee, and other days the powder is waiting for me. The strong but pleasant smell of freshly grounded coffee occupies the home. The art of making a cup of perfect filter coffee (South Indian style) is no joke.
The sheer joy of enjoying a cup with friends has its own meaning. I wonder at times how I went the first three decades without coffee. The art of slow living begins for me with a cup of coffee. Now coffee is a must.  Almost to the point of addiction(don't judge me)… but I love it.  Now, I leave a cup of beans with a candle on days, and it's so precious during this time of the year.
So for the love of coffee and everything that surrounds it, here's a coffee inspired shortbread with a coffee-infused cream, which is like drinking coffee in a cookie form.
Happy Baking!!!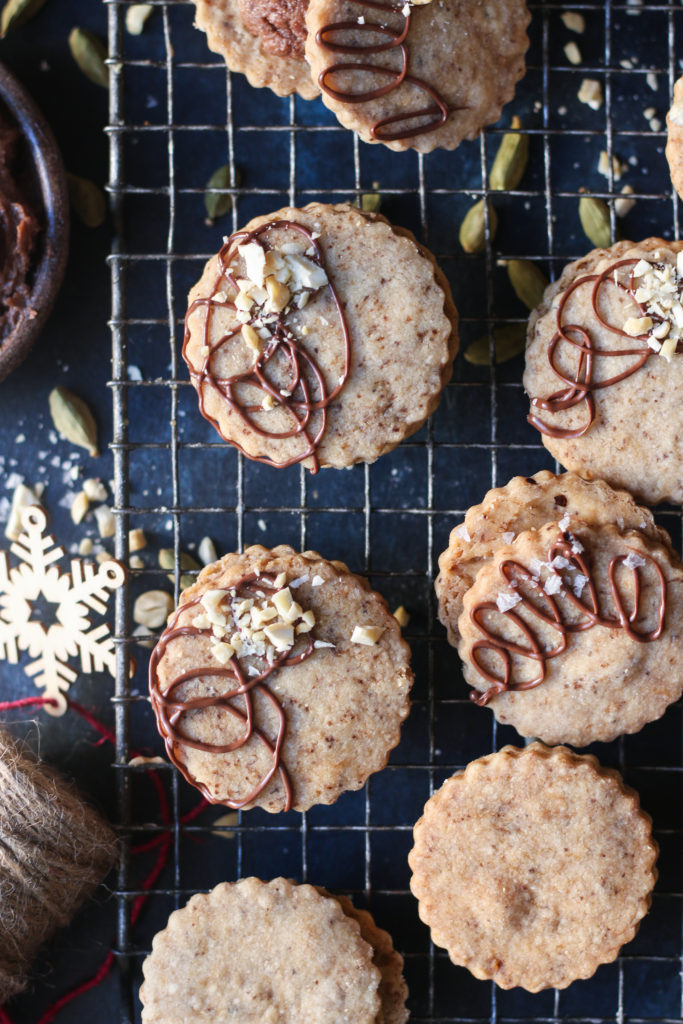 Shortbread cookies are a favorite for many.  It is eggless, which is always nice, buttery and so adaptable to many flavors.  I've used coffee and cashews in the mix with cardamom.  It's quite buttery, and the dough freezes beautifully.  You can make the dough, flatten it, wrap it tightly with saran wrap, and freeze it.  When you are ready to bake and serve, take it out and leave it at room temperature for 20-30 minutes before rolling and baking.
I've recently been loving this espresso powder. You can buy it HERE or at any grocery store. You can use any good quality espresso, which is the key to a good cookie.
This shortbreak cookie goes well with my Coconut milk White Chocolate drink and Parisian Hot Chocolate.  Just be ready to stay up and active for hours 🙂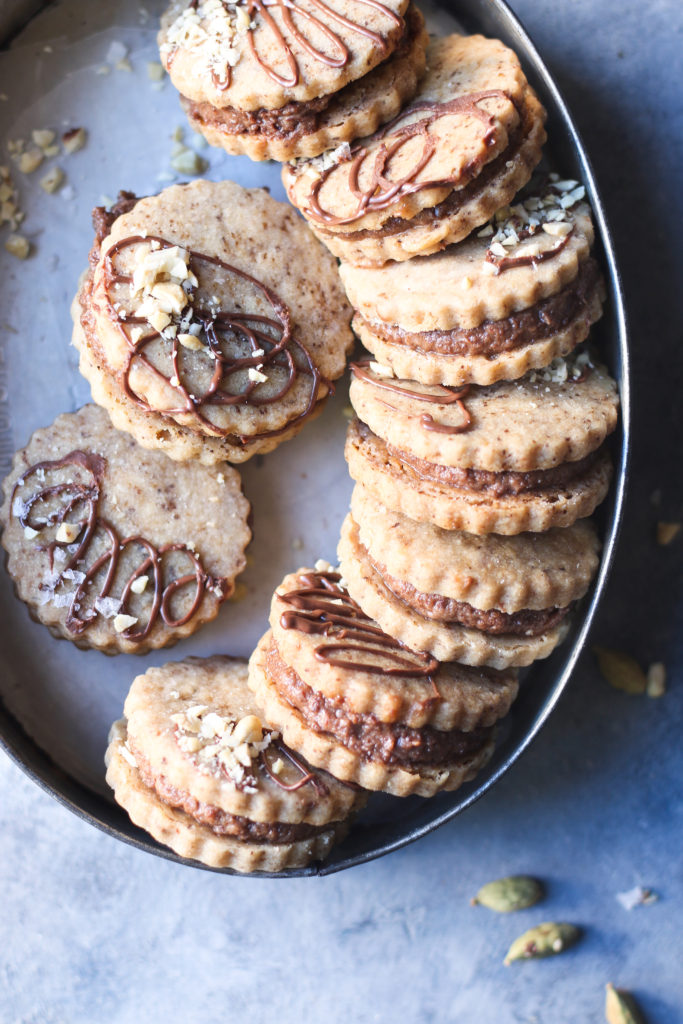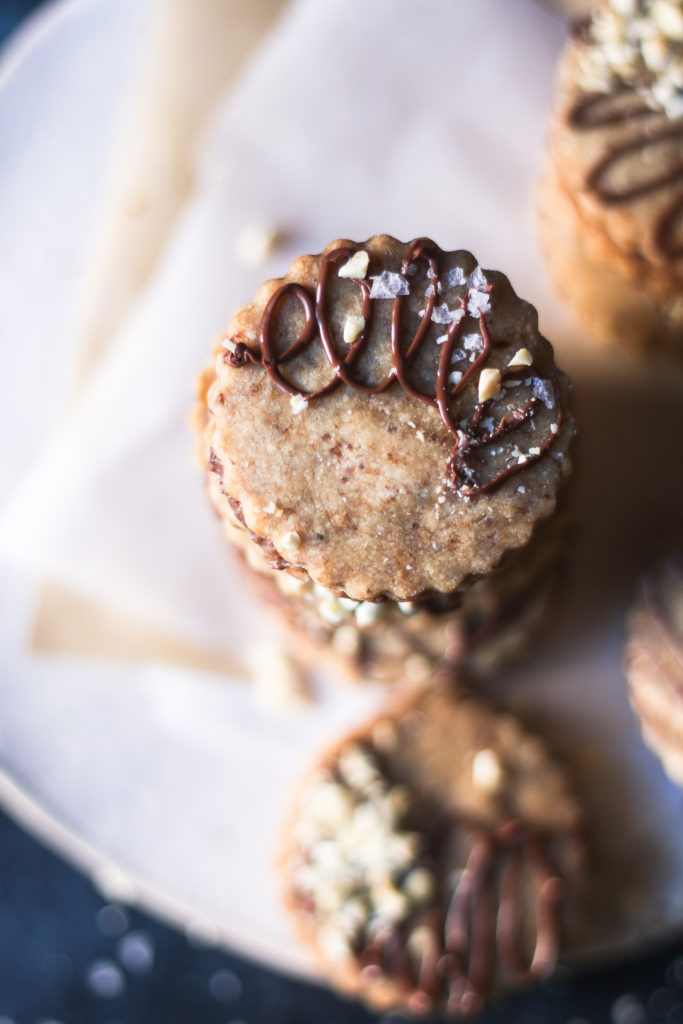 These coffee cashew shortbread coffee chocolate cream are very slightly adapted from HERE.
*Please do tag me on Instagram @foodfashionparty if you make this, using the hashtag #foodfashionparty.  Check out my book MASALA AND MEATBALLS.
Stay in touch for more delicious food on Instagram and Pinterest. Follow on Snapchat (@ashfoodfashion) for daily doses of food.*

Coffee Cashew Shortbread with Coffee Chocolate Cream
Coffee Cashew Shortbread with Coffee Chocolate Cream is like having a cup of delicious coffee with a nutty taste. Coffee Cashew Shortbread Coffee Chocolate Cream
Ingredients
1 cup unsalted butter or 2 sticks, at room temperature
⅔ cup brown sugar
¼ tsp salt
2 cups all purpose flour
¼ cup cashew powder
2 Tbsp finely ground coffee (espresso or french roast) Use less for a more subtle effect.
5-6 cardamom, ground, use less for a more accordingly
For the Coffee chocolate filling
4 oz mascarpone cheese
⅓ cup powdered sugar/confectioners sugar
8 oz heavy whipping cream
½ tsp vanilla extract
2 tsp espresso powder
4 oz bittersweet chocolate
For the drizzle
Instructions
Preheat oven to 350 F.
Add the sugar in a mixing bowl, add the butter and salt and whip it. Let it whip until it is well combined, doesn't have to be completely smooth for about 3 minutes.
Add the flour, cashew powder, cardamom, and ground coffee until the dough just comes together, mix on low speed until everything comes together.
Using your hands, pull the dough together and wrap in a plastic wrap and let it refrigerate for 30 minutes.
Take it out and on a floured surface, roll the dough to ¼ of an inch. Using a cookie cutter, cut the cookies and place them on a parchment lined cookie sheet.
Turn the oven to 325 and bake it for 15- 20 minutes. Do not let it get too brown. Once the edges are little brown, it's done.
The cookies will still look soft. Let cool slightly before transferring to a cooling rack.
For the filling
Add the mascarpone cheese, powdered sugar and vanilla extract and whip it until everything is incorporated for about 30 seconds to a minute. Add the cold whipping cream and mix it until stiff peaks are formed.
Add the espresso powder and melted bittersweet chocolate and mix very well. Transfer it to a piping bag or a large ziploc.
Once the cookies are completely cooled, pipe the stuffing and sandwich two cookies.
NOTE: Stuff the cookies only when you are ready to serve.
Chocolate drizzle
Melt the chocolate and drizzle it over the cookies and let it harden and then serve.
Notes
If you don't have cashew powder, you can substitute with almond meal too.
I powder the cashews in a cuisinart with couple of tbsp of flour so it doesn't turn into cashew butter.
If you want to make it nut free, omit the cashew powder and substitute that amount with all purpose flour.