The easiest and healthiest homemade dog treats ever.  The banana and peanut butter add so much flavor to these cookies.  Mix, roll, and cut. So easy, and so much better for your canine companions than store-bought!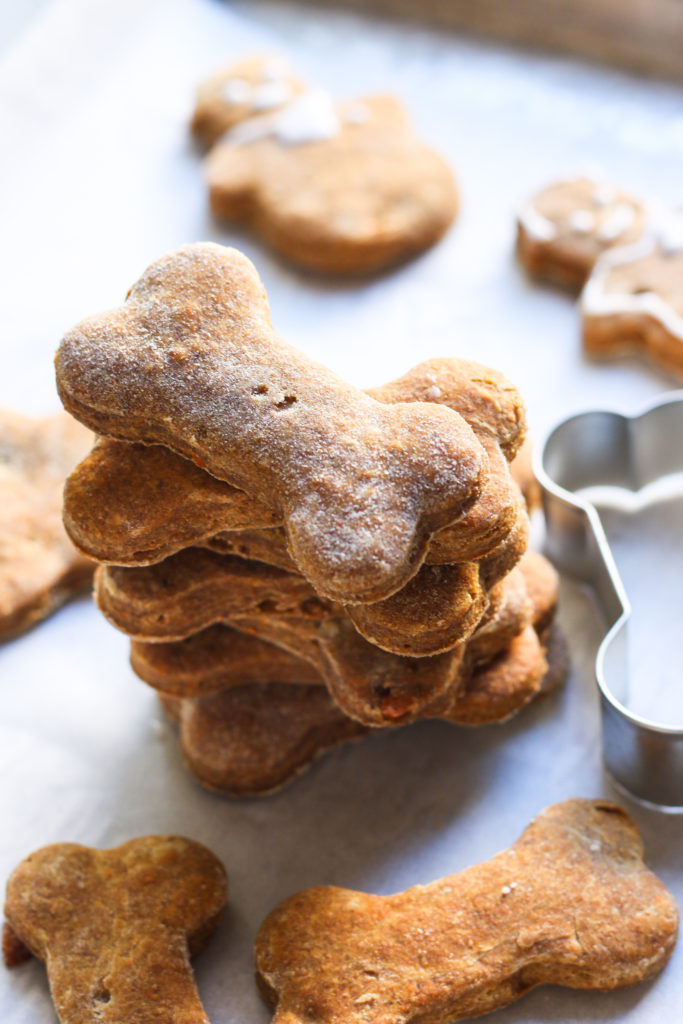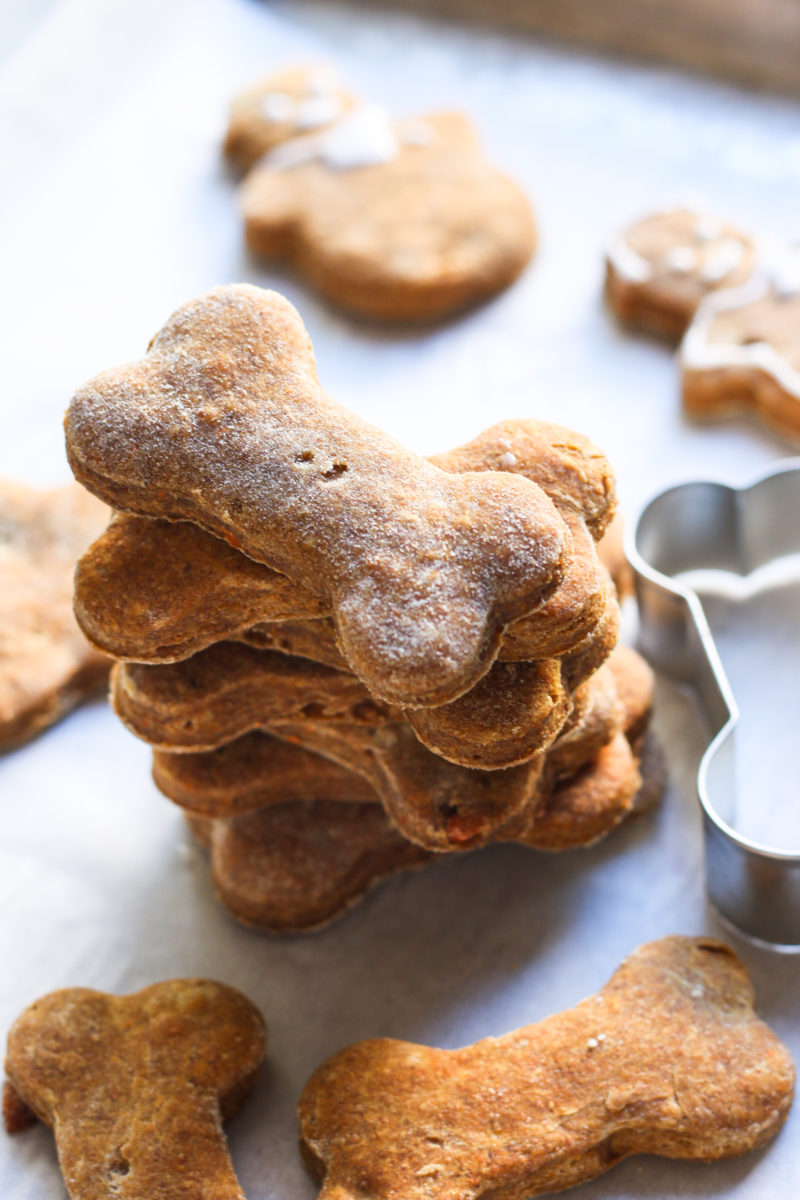 Christmas baking just felt incomplete without baking treats for the four-legged fur baby.  These homemade dog treats are so delicious that my human kids like it too. If you have dogs, you know how important dog treats are.  It's even better if they are homemade.  I was inspired by a post I saw on dog treats.  Waffles is not the biggest fan of treats or food in general (I know, he is a weird one). To our surprise, he was salivating for this dog treat.  If you make these for your friends who have dogs, they will love you.
Our silly nugget has been with us for more than a year now.  It's his second Christmas with us.  Like someone said: we can adopt them, but it's the best feeling when they adopt you.  We rescued Waffles thinking he would be the most affectionate, clingy dog, never being a foot away from us… Boy, were we wrong.
Our Journey with Waffles:
We got him home when he was three and half months from SFSPCA. He is a part Alaskan Malamute and part American Staffordshire and you can see Here the resemblance. He was, and still is, the sweetest little puppy.  However, he has a mind of his own, which is not good all the time. He treasures his space and only lets us hug him when he wanted.  When we got him, he was already trained in so many ways.  That didn't mean he wasn't naughty ;-).
When we got him, he was young and had many infamous puppy habits. I've lost a couple of my shoes and my teen has a few of his night pants which has windows to this thighs.  Waffles is a fussy eater, and did not respond too well to treats, making the training all that much more difficult for us. He had a nipping problem, which took quite a lot of training to rectify. He was also infamous for running away and dodging us to return back.  It worried the heck out of us, and still does.   He would only come back after coaxing and using our emergency recall "meatball" :). After months of training, he surprised us one day by not leaving our side while going off leash.  Our darling Waffles is growing up too fast.
We also knew we had to socialize him as a puppy, so hubby used to take him to puppy socials, which he enjoyed. My sons then started taking him to the park, and now, he turned from a very submissive dog to one of the most rambunctious and social dogs in the park and with his friends, making the environment so much more energetic and happy. Nonetheless, he's the complete opposite one when he's at home.  He hardly barks, and he hardly ever complains.  He listens, and he's not fussy.  It took him almost six months of being with us to think of us as his family. He always was super protective over our little boy, but to really accept everyone took him a while.
It's a love like none other.
It's not easy though.  Being a husky mix, he does shed a lot.  Since he is a big dog, he needs more walks.  Some dogs need more training than others, and the husky in him is quite adamant.  Vacations are not easy, and leaving him for long hours alone just puts me through a guilt trip.  Having parties at home can be a challenge when you have friends who are not that used to dogs, and especially a big one like him.
But if you ask me, "Would you do it all over again"?  To that, I would think of his puppy face, his frequent and affectionate kisses, and all the happiness he's given us since we've gotten him. I would say an emphatic yes. Adoption is very special. Taking a dog from a shelter and giving them a home is such a unique experience. Raising a dog is like raising a child, and with all the great struggles come even greater rewards. If I had a final piece to say about dogs… adopt, don't shop. It's frankly unfair to overlook so many dogs without homes for the sake of "pedigree." Every rescue is a singular experience, and one that you won't regret.
The cookie cutter are from 
HERE
.
This festive Christmas season, we've joined with SFSPCA to raise awareness to a campaign close to my heart, #dontshopadopt.  We have a dog cookie sale, all proceeds go to helping find dogs a better home and give them a better life. A little that one can do, is BIG enough.
These home made dog treats were inspired by
Damn Delicious
. If you make these home made dog treats, please let me know how your furbaby likes it or if you like making your own homemade dog treats, please leave a comment below.
*Please do tag me on Instagram @foodfashionparty if you make this, using the hashtag #foodfashionparty.  Check out my book MASALA AND MEATBALLS.
Stay in touch for more delicious food on Instagram and Pinterest. Follow on Snapchat (@ashfoodfashion) for daily doses of food.*
Home made dog treats
The easiest and healthiest homemade dog treats ever. Banana and peanut butter adds so much flavor to these cookies. Mix and roll and cut. So easy and much healthier than store-bought!
Ingredients
½ carrot puree
½ cup banana puree
½ cup peanut butter
2 eggs
¼ cup coconut oil*, melted
1 cup oat flour
1½ cup whole wheat flour
1 tsp grated turmeric or ½ tsp turmeric powder
1 teaspoon baking soda
Instructions
Preheat oven to 350 degrees.
Combine carrot puree, banana, peanut butter, eggs, and oil in a bowl. Add in baking soda and whole wheat flour. Stir until a stiff dough forms. Knead dough or mix just until flour is incorporated.
Roll out dough on a floured surface with a rolling pin and use a cookie cutter to cut out dog bone shapes, or just bake into little circles like cookies. Bake for 15 minutes for soft treats and for 30 minutes for little crunchier treats.
Notes
These are softer cookies. If you want them crispier, leave the banana out and bake it for another 20 minutes so it gets crispier.