Rich and decadent, with just four ingredients, hot chocolate in a stick just takes minutes to make.  However, it is devoured slowly and cozily. Perfect for the holidays.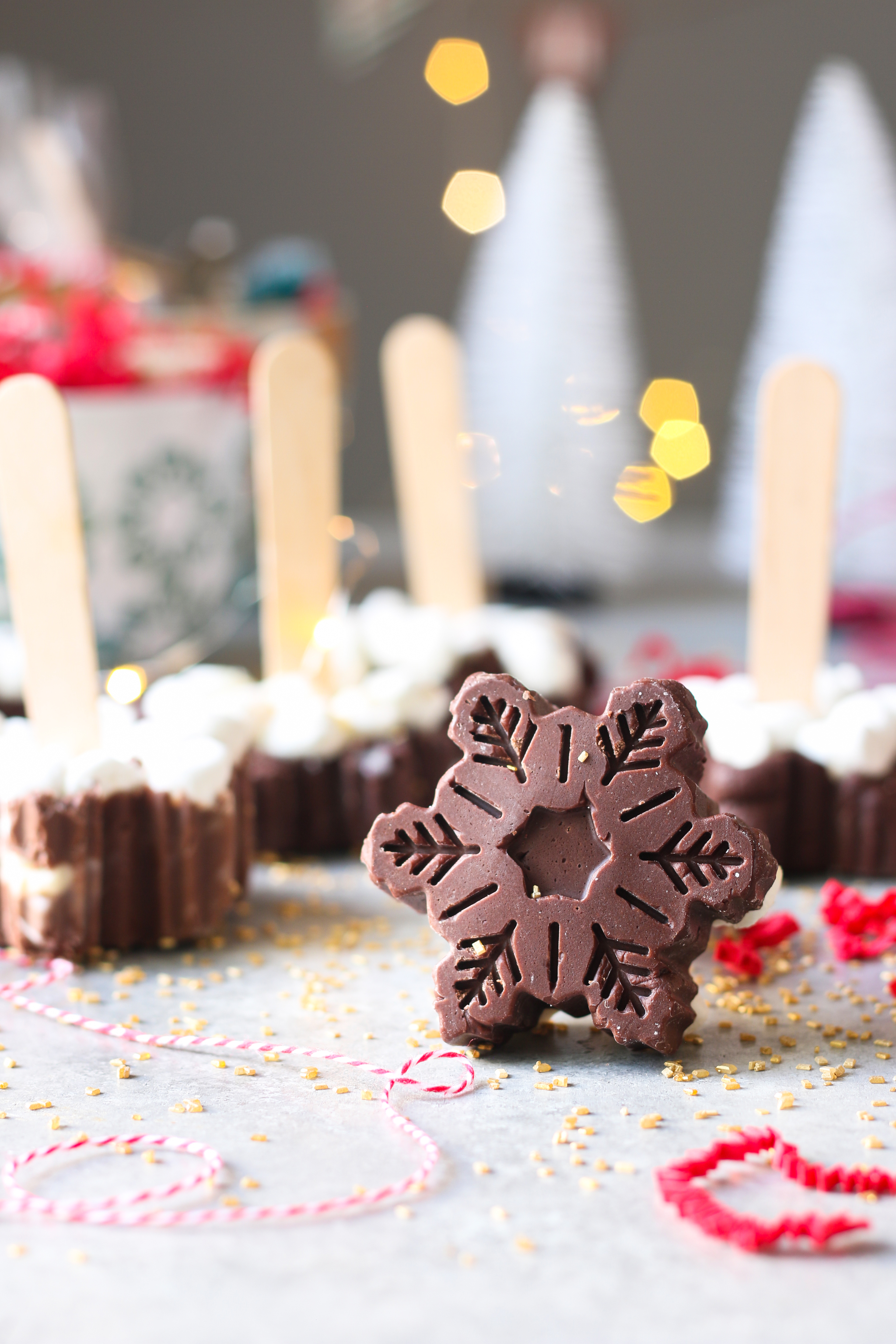 It's a delicious combo of different kinds of chocolate, condensed milk, with a touch of coffee too.
I saw this on Pinterest a couple of years ago and had pinned it, and I finally decided to make it this year.  Here is the original idea  Inakatrinakitchen. What a delicious idea, and it's so great for edible gifts.
'Tis the season of giving, of togetherness and support.  A sensitive subject I'd like to touch upon during this season of giving is giving credit.
Blogs have been out there for years, and Pinterest and Instagram have become so popular in recent times. Social media is an incredible space where ideas can be shared and explored.  It is filled with content creators, who work very hard to test and put out their ideas, links, and thoughts.  In all that time, so many ideas have been thrown around, with ample adaptations and variations.  We all get inspired.  That's how we learn, and that's why we share.  I've been inspired by many on Pinterest and find immense talent out there.  However, the content creators can sometimes be overprotective too, which is totally normal.  When some people take these ideas and pass them off as their own, it's just not cool.  It is simply not nice to take credit for the hard work of creators, and it can really take a toll on their resolve.  When relatively new bloggers put out things that have been done for years and have already been showcased on other forms of social media, and there's no credit… it makes me wonder about their authenticity.
That said, it's an absolute pleasure to learn from talented people, and giving a little credit takes little effort and harms no one. Making someone's day by dedicating a small sentence for all their hard work does wonders for the both of you.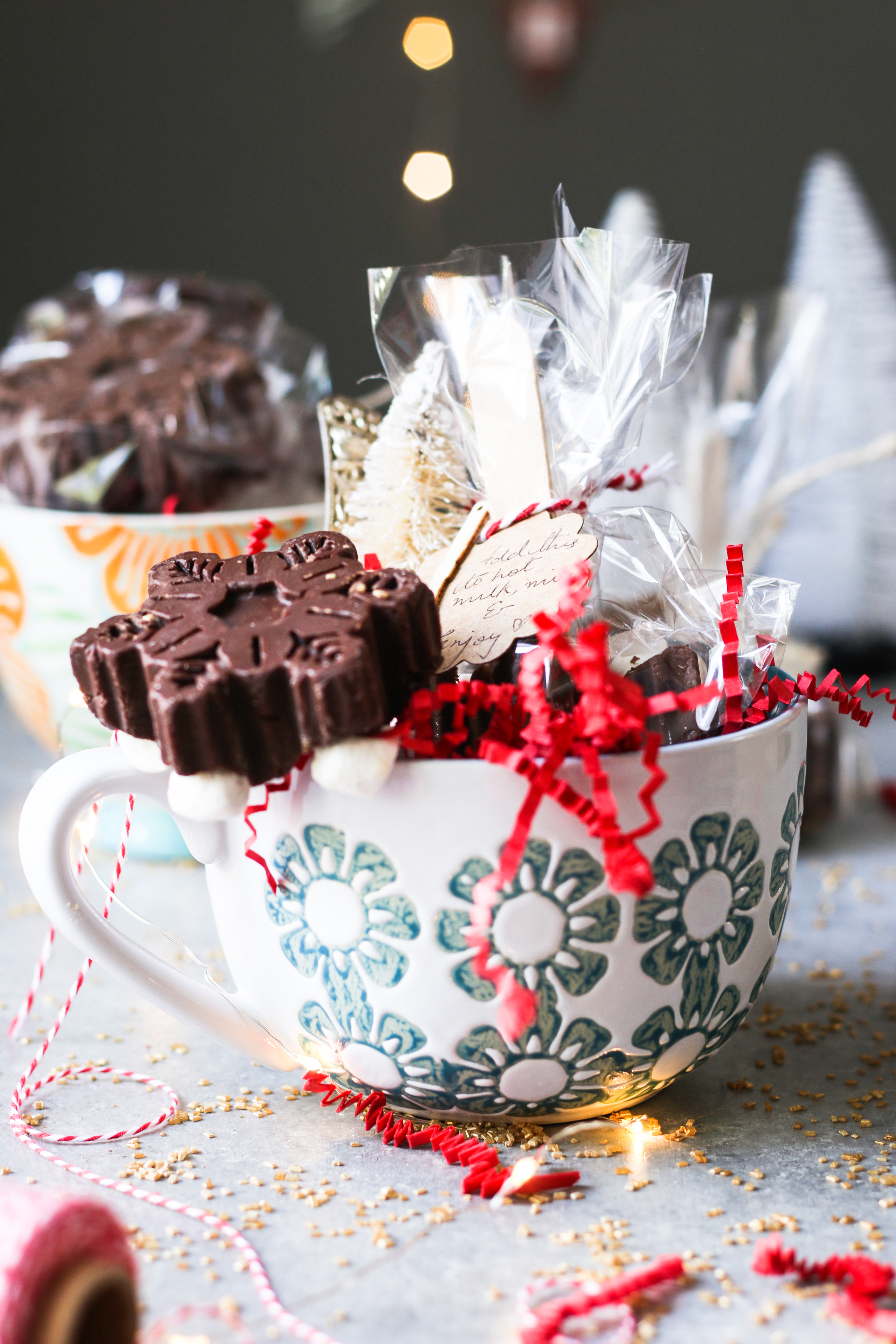 Every year, hot chocolate gifts are a must, and this year this is one of the gifts I made using Eagle brand condensed milk and ghirardelli chocolates. I love how compact this is.  Wrap the individuals in some cellophane, tie a festive string and write the directions on how to use it.  You can wrap the whole thing with a cellophane to give it as a gift.
A few ideas in the past I've enjoyed giving:
Gifts don't have to be fancy or expensive, just thoughtful from the heart.
Happy gift giving with lots of love!!!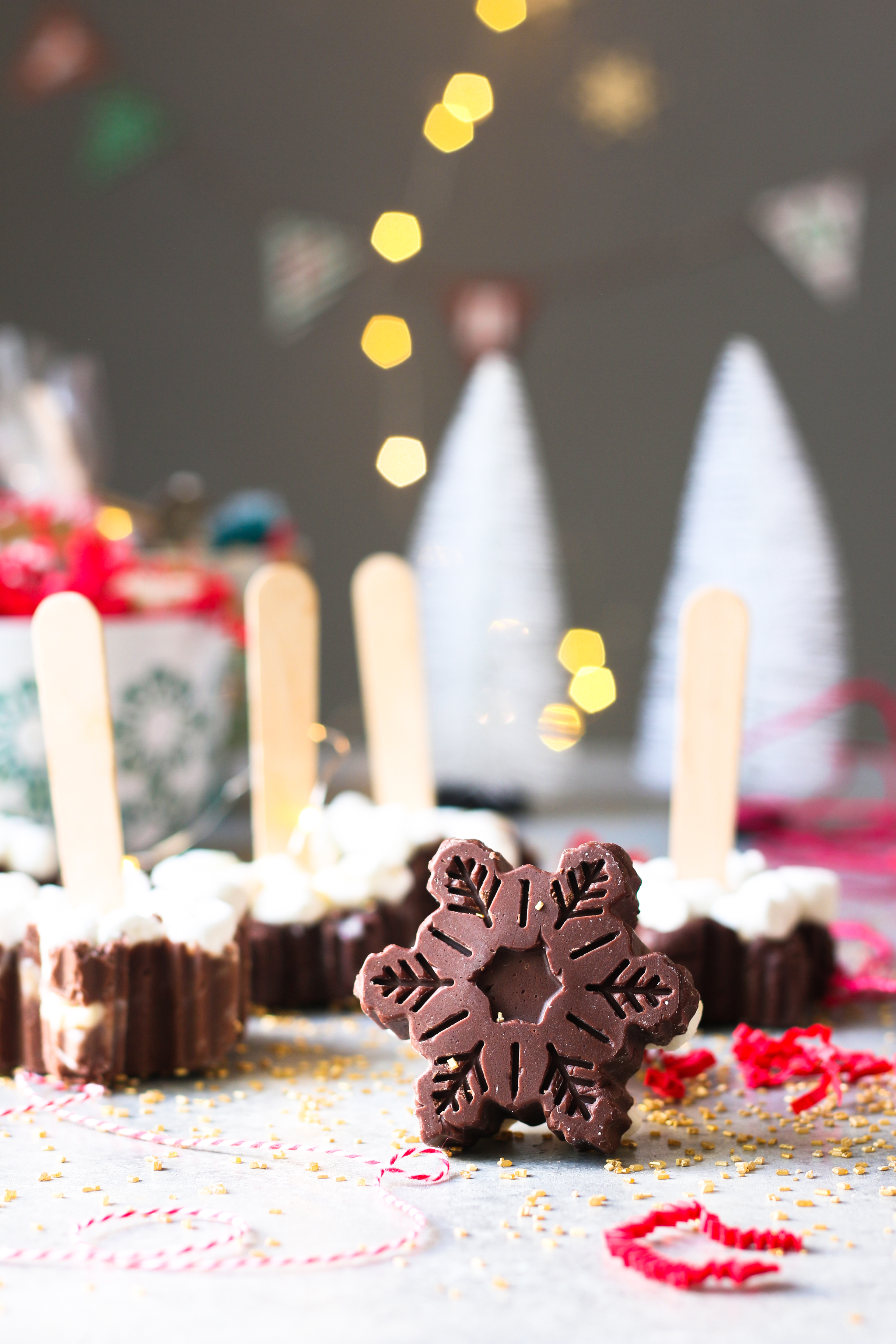 Where you can buy:
Snowflake silicon mold – CLICK HERE
Mugs are from Anthropologie – Similar ones
Vintage spoons – EBAY
The tags are from Micheals .
*Please do tag me on Instagram @foodfashionparty if you make this, using the hashtag #foodfashionparty.  Check out my book MASALA AND MEATBALLS.
Stay in touch for more delicious food on Instagram and Pinterest. Follow on Snapchat (@ashfoodfashion) for daily doses of food.*

Hot Chocolate in a Stick
Ingredients
8 oz Bittersweet Chocolate
4 oz Milk Chocolate
4 oz of White Chocolate
1 tsp espresso powder
¼ cup condensed milk
Few mini marshmallow
To make Hot Chocolate Drink
8 oz or 1 cup of almond milk or regular milk
⅓ tsp vanilla extract
1 cube or 1 block chocolate on a stick
Instructions
Add the chocolate, milk chocolate, white chocolate in a heat safe bowl. Microwave it for 30 seconds and take it out and mix. Microwave for another 30 seconds and take it out and mix it well. If it is all melted, you don't have to microwave it again.
Add the espresso powder and mix well.
Take a silicon mold and or grease an ice cube tray with a little coconut oil, then fill it with the chocolate mixture (make sure it is 2- 3 tbsp of filling each).
Freeze it for 5 minutes and take it out and make a small hole in the middle and add a tablespoon of condensed milik in the middle and top it with a tablespoon of chocolate mixture, mini marshmallows and press it well.
Freeze it for 30 minutes.
Take it out and wrap it or pop it out and keep in ziplocs and keep it in the refrigerator.
To prep
When ready to serve, heat up your milk until simmer and swirl until melted.