A party feels complete with a perfect cheese board.  Make this roasted red bell pepper and tomato chutney, which is spicy and goes perfectly with an array of cheeses.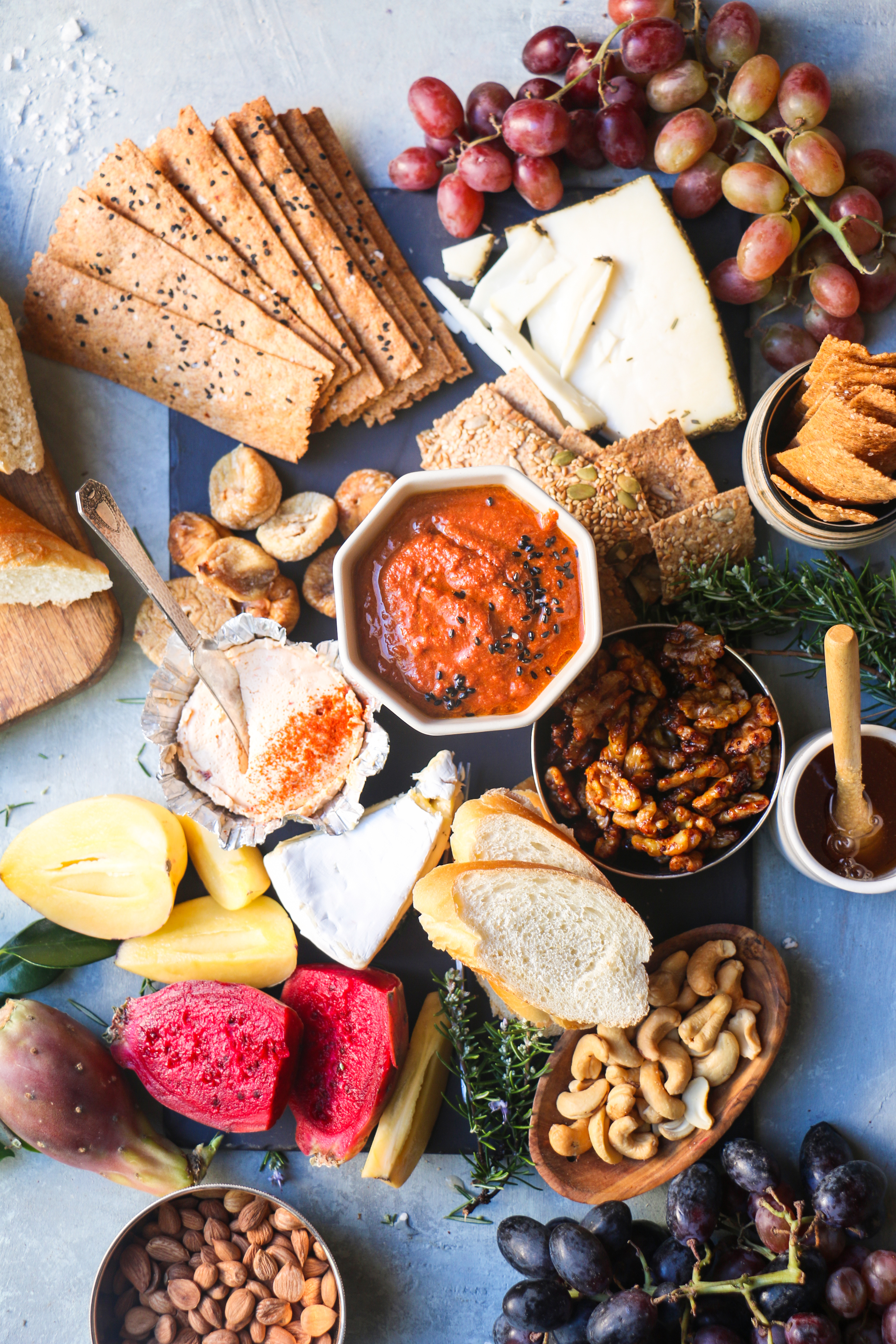 Hope you all had a wonderful Christmas and are enjoying your Holidays.  We had a relaxed and joyful one. I wanted to wrap 2018 on a fun note and was out of words to do it.  I asked my teen to write a guest post and here goes… Hope you have a good laugh, I sure did.
In the words of my teen:
Most of you know my mom, the amazing person, who puts out wonderful recipes week after week. I'm her teen that she talks about sometimes. I help proofread her posts, and with website design, and you've probably seen my hands in a couple of posts. Would you call me a professional hand model? I'd call myself a professional hand model.
As we come to the end of the year, I find myself in an introspective mood. Last year was a year filled with so many different events and emotions. Whether it was politics, school, world news, or entertainment, there was so much happening. Home, however, has always been the most important to me. This year, I saw a side of my mom that most of you didn't see. I also hand modeled quite a lot for her.
My mother is humble, to a fault sometimes. This year, she wrote and photographed an entire fantastic book, while still maintaining her blog and Instagram. Many people talk about the blood, sweat, and tears they put into a project, but it was literal in my mom's case. It was a massive undertaking, and she did it all while taking a care of an entire family. In all this, she never missed a beat. And she did it all on her own (except for the hand modeling).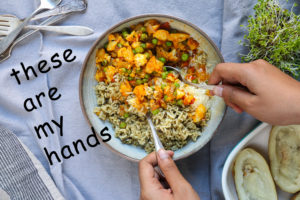 Today, however, she told me she had writer's block. I offered to write a guest post for her, and that was a week ago. She told me I had to finish the post by today, and I realized that I have writer's block too. Maybe it's the holiday season that's messing with our heads, or maybe our writers' sensibilities sync. Either way, there are no ideas in my head right now, so I just did what my mom does. I searched my head for what's important to me… for what I would want to be remembered forever.
And I want it to be on record that I'm a prolific hand model.
Just kidding.
My mom doesn't often talk about how much effort she puts into all her work. How she tests every single recipe multiple times, so it turns out well for every person who tries it. How she puts her heart into every single thing she cooks. I am so proud of her, and I cannot wait to see the new steps on her journey the next year. I'm sure none of you can wait either.
Back to Mom!

A party or not, a cheese board is always fun to put together and to eat. The Indian in me always craves that spicy chutney or dip in a perfect cheese board.  A few years ago, I would've turned my nose up to a cheese board, only because I did not grow up with it, and cheese was not my favorite category of food.  Well, that was then.  I can live without it, but you put some fancy cheese in front of me with some good quality honey and crackers, and my focus will be on the cheese.
While cheese is the main item for any perfect cheese board, I absolutely like one main dip or spread along with the cheese and crackers.  Here I have a tomato chutney, but you can also make onion relish, or one of my favorites, persimmon chutney.
Then comes the cheese:  I've used a soft brie, a semi-soft rosey goat, and a boursin for this cheese board.  I also had a selection of aged and goat cheese on the side for anyone who wanted a variety.
Selecting the Cheese for your Perfect Cheese Board

:

* Include a variety of texture and flavors:  Aged, soft, firm or blue.  Chose one from one group each or your top three favorites.

Aged cheese: I love a good aged cheese. Any Gruyere, Manchego, Gouda or aged cheddar will be amazing. The little crystals that develop within the cheese during the aging process give it a little bit of a crunch, which perfectly complements what we have next!

Semi Soft: Rosey goat – Extra creamy and Mild.  A favorite of mine.

Soft cheese: I like a goat cheese for this. Roll it in some herbs and it's so good.

Firm cheese: Machego, Parmigiano- reggiano would be great.

Blue cheese: Any blue will work. I like something mild and not too overpowering.  Gorgonzola Dolce, Valdeón, Stilton will be a nice touch.
THE SIDES:
Bread:  Include any sourdough or simple bread sticks will do.  Differ in shapes and sizes or a variety.
Crackers:  Here I've used a variety of sourdough crackers from Rustiq, my favorite kind.  Any crackers will do.  Keep it light and sturdy, not too flavored.
Vegetables and Fruits:  I like adding carrots and some different unique fruits which are conversation starters. Dried fruits are a great touch. It's a light fresh touch, and your guests will love it. You can use preserved vegetables, artichoke hearts, olives etc.
Sweet and Salty cured meats:  Try cured meats such as prosciutto and salami.
Nuts:  I absolutely love adding different nuts to the array.  One of my favorite one is the Mixed Balsamic Nuts.
Chutneys and Spreads:  Here I have a tomato chutney, which I think goes so well with everything.  You could keep a garlic dip or any chutney your like.
SERVING TIPS

:

 Label the cheese:  Labeling the cheese is nice and if you want to write a small note about the age and how it was made, it would be a fun one too.

Cheese at room temperature:  Always have the cheese at room temperature.  Get it out an hour before serving.  Also try to separate the non smelly cheese from the strong ones.

Knives for cheese:  Have few knives for all the cheese.

Have 2 stations:  I like to have two stations with the same spread so there's no crowd around just one table.

Have gluten free crackers:  I always have an option for gluten-free guests.

Bread and Knife: Have a breadboard and knife ready.

Small napkins and extra spoons for chutney:  Always have napkins placed strategically and spoons in a holder.

Now for the assembly of your perfect cheese board! Grab a big board; a granite, marble, slate, a wooden board or even a large platter will do. Then start arranging. I like mine loose and not too organized.  I like to lay the cheese first and start arranging around them. Use glasses to hold your crackers and carrots.  Have some honey for sure. Add fruits, nuts and enjoy a colorful spread. Perfect for entertaining!

And never-ending Wine choices:-).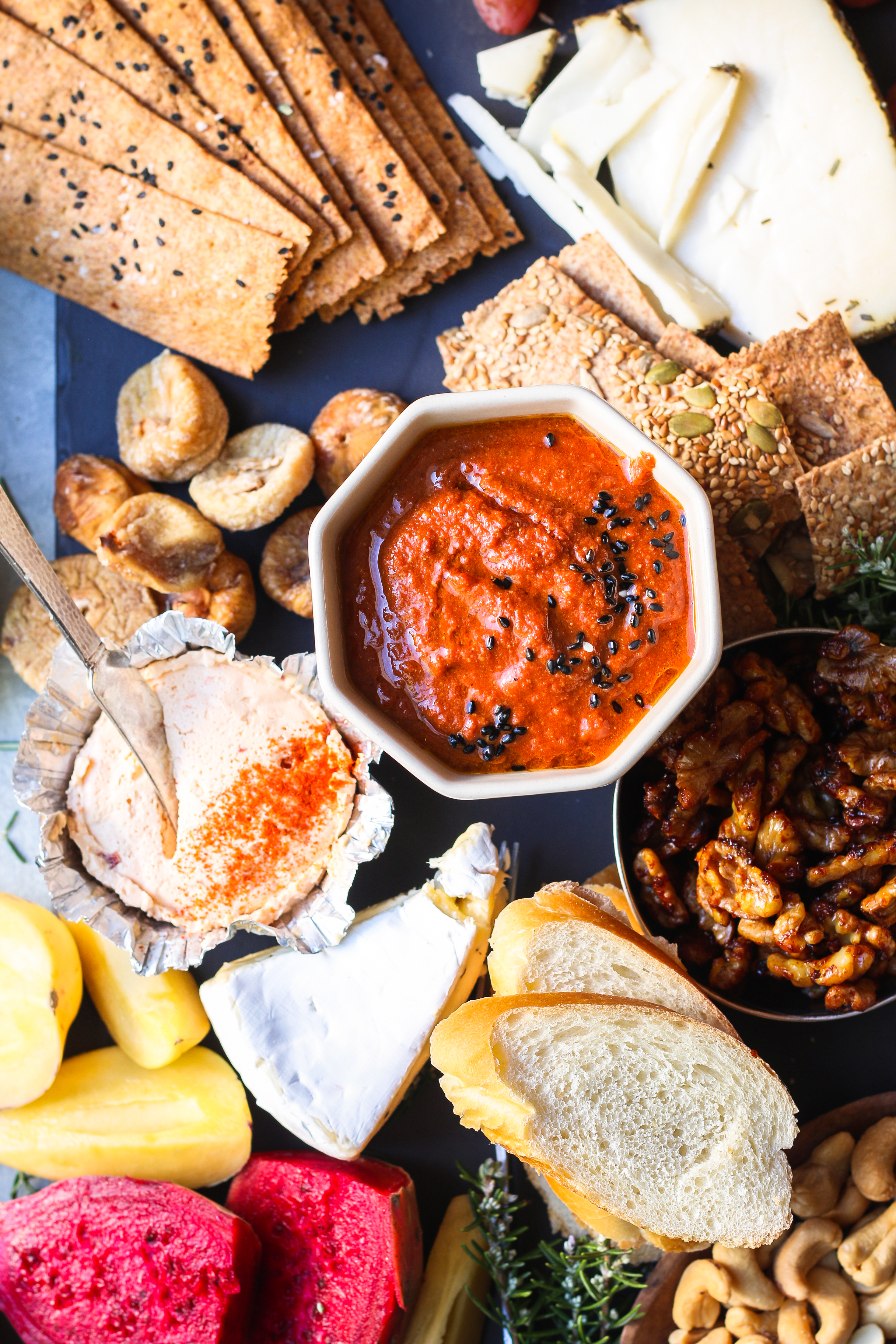 The slate cheese board: Crate and Barrel $30.
The cheese knife is vintage: Similar ones here.
Some of my favorite wines to serves are from Annadel Winery.
Have a beautiful New Year, Happy Holidays!! See you with a healthy post in 2018!!
*Please do tag me on Instagram @foodfashionparty if you make this, using the hashtag #foodfashionparty.  Check out my book MASALA AND MEATBALLS.
Stay in touch for more delicious food on Instagram and Pinterest. Follow on Snapchat (@ashfoodfashion) for daily doses of food.*

Perfect CHEESE BOARD - Roasted red bell pepper and Tomato Chutney
Any Party feels complete with a perfect cheese board. Make this roasted red bell pepper and tomato chutney which is spicy and goes perfect with an array of cheeses.
Ingredients
For Chutney
1 red bell pepper
5 roma tomatoes
4-5 garlic cloves, unpeeled
3 red chilies
2 tblsp olive oil
salt and pepper
⅓ cup almonds
3 tbsp olive oil
Assembly of the CHEESE BOARD
Aged- goat cheese , room temperature
slab of brie, room temperature and baked if preferred
garlic boursin, room temperature
Crackers of different kinds
Sourdough bread, sliced
Fruits, different kinds
Veggies
Balsamic Nuts, or any spiced nuts
Instructions
Preheat the oven to 400 degrees.
In a baking sheet, add sliced red bell pepper and quartered tomatoes. Add the red chilies, garlic and drizzle everything generously with olive oil and salt and pepper. Mix well. Roast everything for 30 minutes or until everything is shrunken up and the tomatoes have shrivelled and charred slightly.
Take it out and let cool.
In a food processor add the roasted tomatoes and red bell pepper, peel the garlic and add it along with the tomatoes. Add the remaining olive oil, almonds and grind to a smooth paste. Check for seasoning and add salt and pepper if you want. Set aside.
Arrange the cheese board when you are ready for the party.