This quick golden-hued chickpea spinach curry is simply the perfect cozy meal on a cold evening.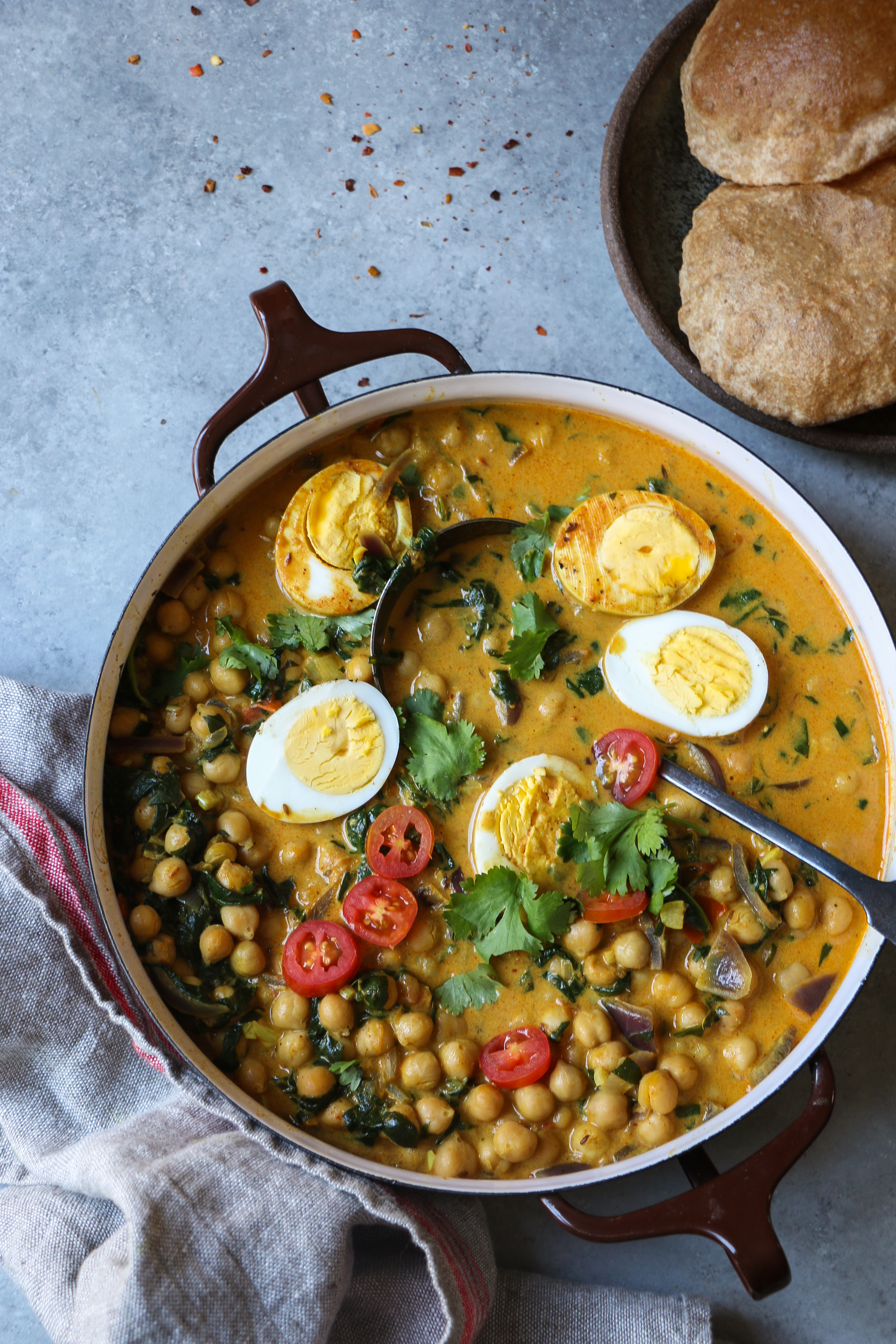 Happy Friday!! Happy December!!!
The cookie and cake season is here, and I bring to you a healthy and delicious meal for those "I don't want to cook" days, when you are too busy baking up sweet treats.
A few years ago, I met this girl while I was waiting for an appointment. She was only seventeen or eighteen, but looked older than her age.   She was very kind-hearted, gentle, and, as a plus, seemed very interested in talking to me. I later realized her penchant for food and cultural learning.  She seemed very hardworking, and definitely well-read.  We spoke for twenty minutes and exchanged numbers.
That was six years ago.  We subsequently spoke every month.  She loved reading my blog, she asked questions, she asked for recipes, and she always had something to share.  She was so eager to learn.  Her requests were always for simple recipes that she could make in her rental home, where she went to college.  I'd write down a quick recipe and send it out to her, and she would make it and send pictures.
She called me the other day and proudly said that she wanted to start a food truck. She said she wants to help the needy, and that the food truck would provide healthy meals to people who have little money to eat well.  I was a proud aunt. When you dare to go chase your dream that you believe in, you are a success in my book.  It made me think of how well rounded some and their thoughts are.  A risky business, I knew for sure.  She even had sponsors and details sorted out.  To hear and know that I inspired her in some way to eat and to cook, to share and to enjoy food, just made me immensely proud.  What better time can it be than December, to give back.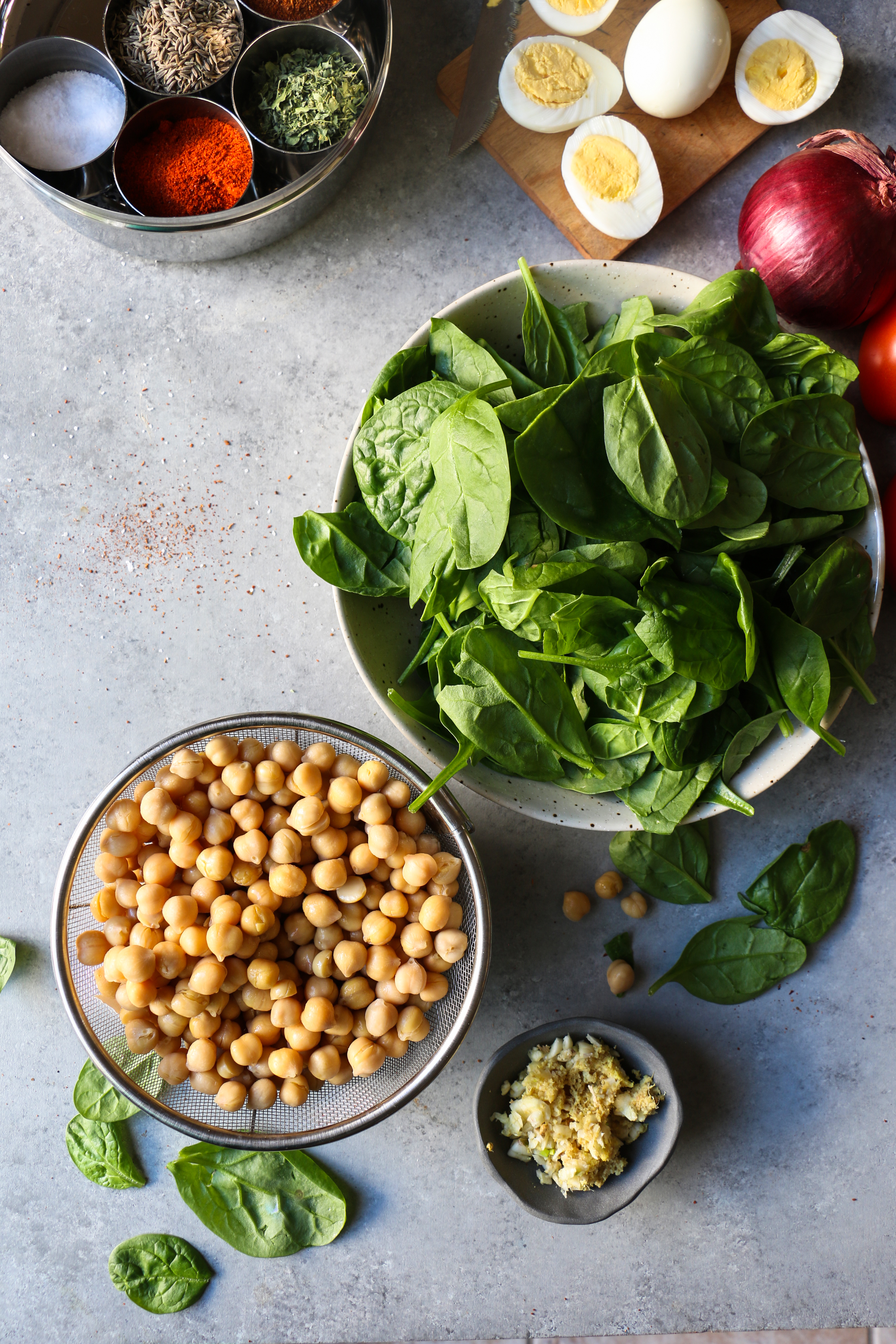 A dish that can be done in no time.  It's almost like a kitchen sink meal. Throw everything together, and prepare to be amazed.
You can add kale to this, or carrots for added color.  This curry is incredible, and the best part is that all of the ingredients can get sauteed in one pan, and you are done. DONE! You'll have an instant curry which tastes like you've taken all day, the house is going to smell awesome, and dinner will be ready in minutes. You can toss in some eggs and just ladle the curry into bowls …and eat.  Or make some flatbread like QUICK NAAN.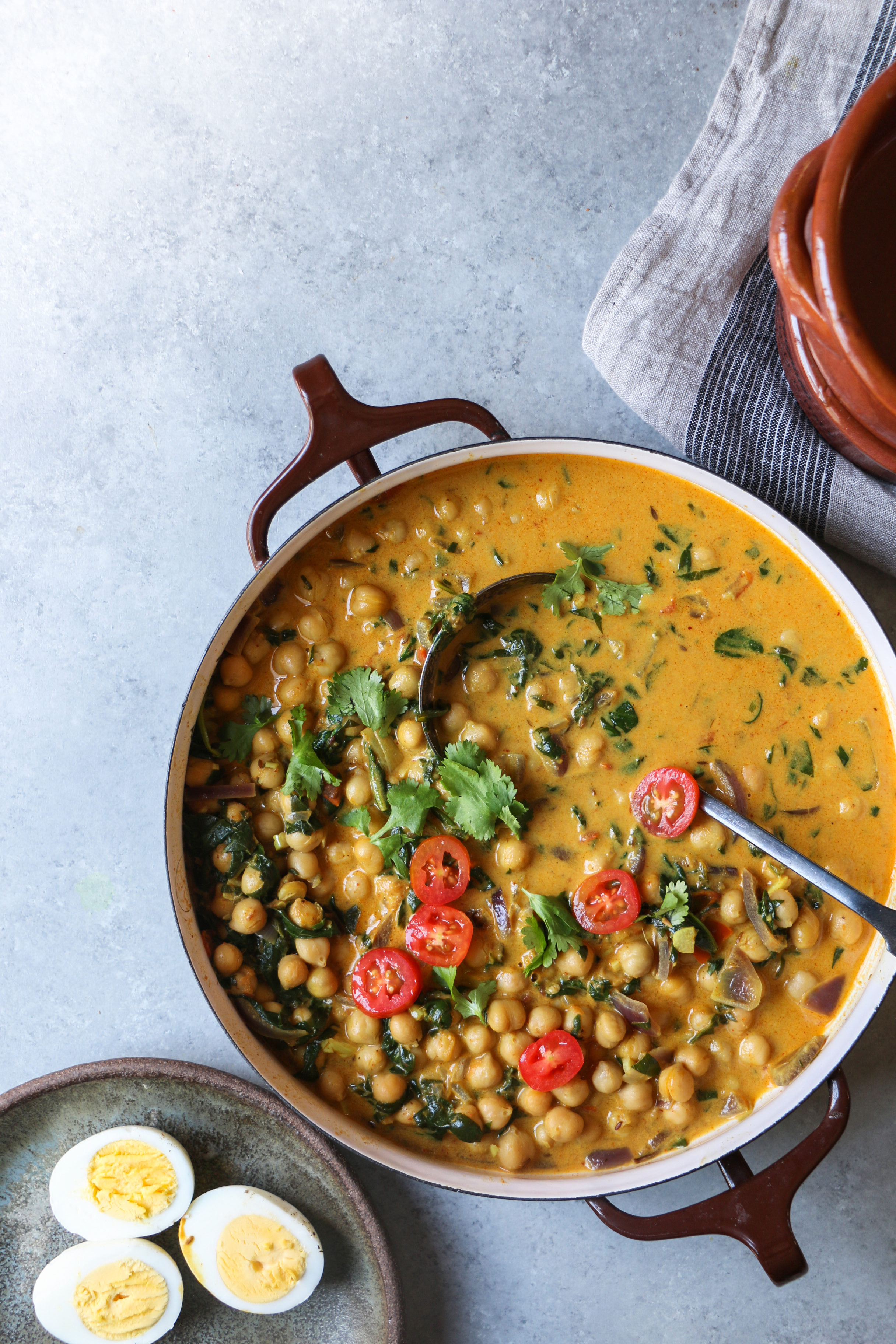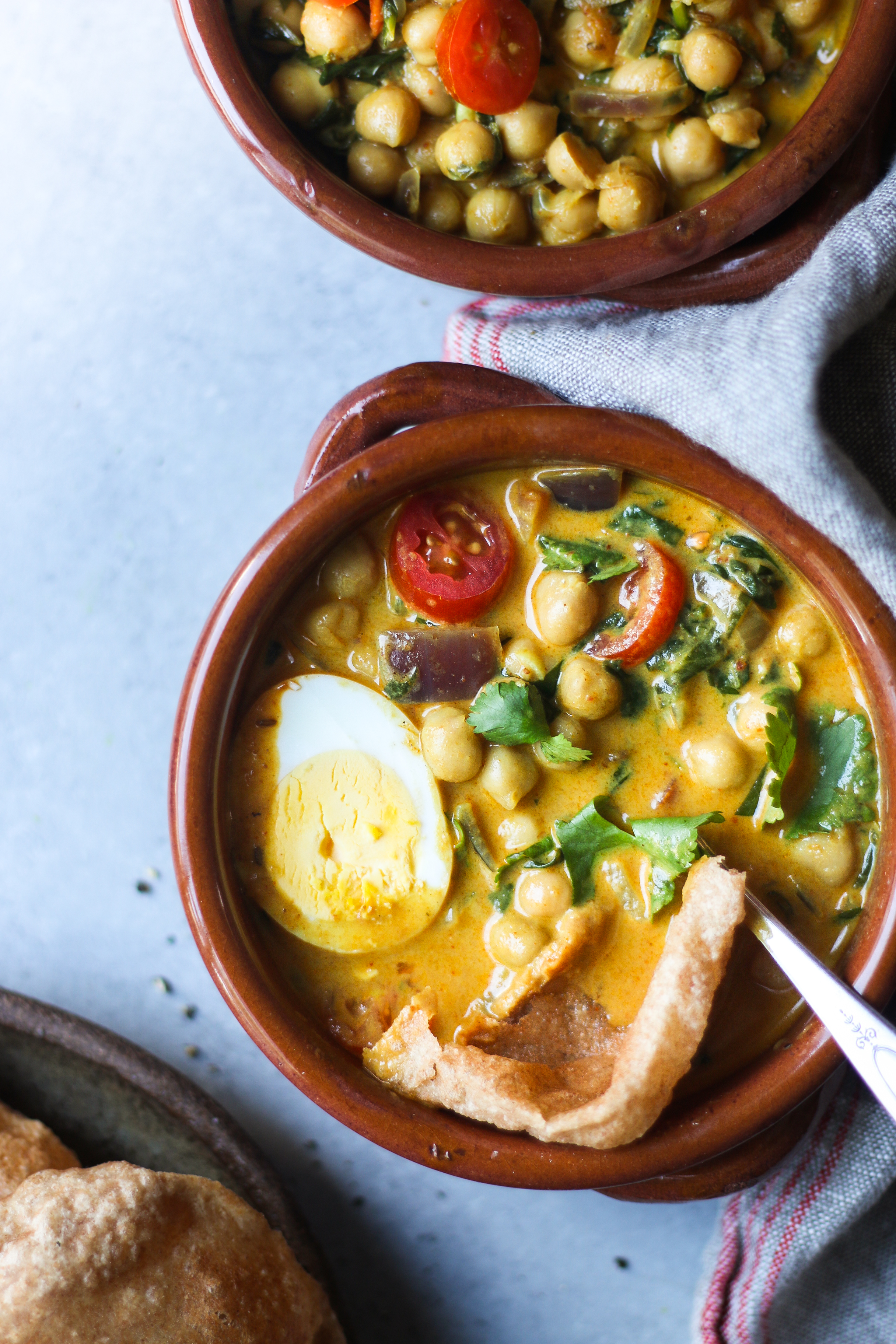 Quick Channa Masala with Spinach
This quick, easy and deliciously healthy curry comes together in under 30 minutes. Filled with flavors and textures.
Recipe type:
Lunch, Dinner
Ingredients
2 tbsp olive oil
1 tsp cumin seeds
3 garlic, minced
1 inch ginger, peeled and grated
1 red onion, diced
2 juicy tomatoes, chopped
1 tsp chili powder
⅓ tsp turmeric powder
1 tsp garam masala
1 tsp salt, or according to your taste
½ cup water
2 cups packed spinach, washed and chopped roughly
2 8 ounce can of chickpeas, rinsed well under hot water
1 cup light coconut milk
1 tsp kasoori meethi or dried meethi leaves, crushed (optional)
4 boiled eggs, optional
cilantro to garnish
fresh grape tomatoes to garnish
Instructions
Head 2 tbsp of oil In a pan on medium heat. Add the cumin and let it pop and brown. Add the chopped ginger garlic. Fry for 20 seconds and add the chopped onion. Add ¼ tsp of salt and keep sauteing. Add the tomatoes after 2 minutes or after the onions have browned and softened a bit. Add ¼ tsp of salt, chili powder, turmeric and saute until the tomatoes have broken down and disintegrated. This will take about 3-5 minutes. Once it is softened, add the garam masala and add the ½ cup of water and let it come to a boil.
Add the spinach leaves, simmer and cook for 2-3 minutes. Once the spinach is cooked a little bit, add the washed and drained chickpeas and check for salt. Add salt if needed, toss and bring it to a medium simmer for 5 minutes.
Then add the coconut milk and boil it for another 2 minutes and turn off the heat. Add the crushed kasoori meethi. Mix well.
Add the boiled eggs.
Let the curry sit for 10 minutes before serving.
Goes perfect with some rice, flatbread or as a soup.