Perfect Waffles French Toast for those holidays mornings.  These waffles are fluffy, crisp, golden, and decadent.  With the final touch of maple cream cheese, this easy and delicious breakfast will win everyone over.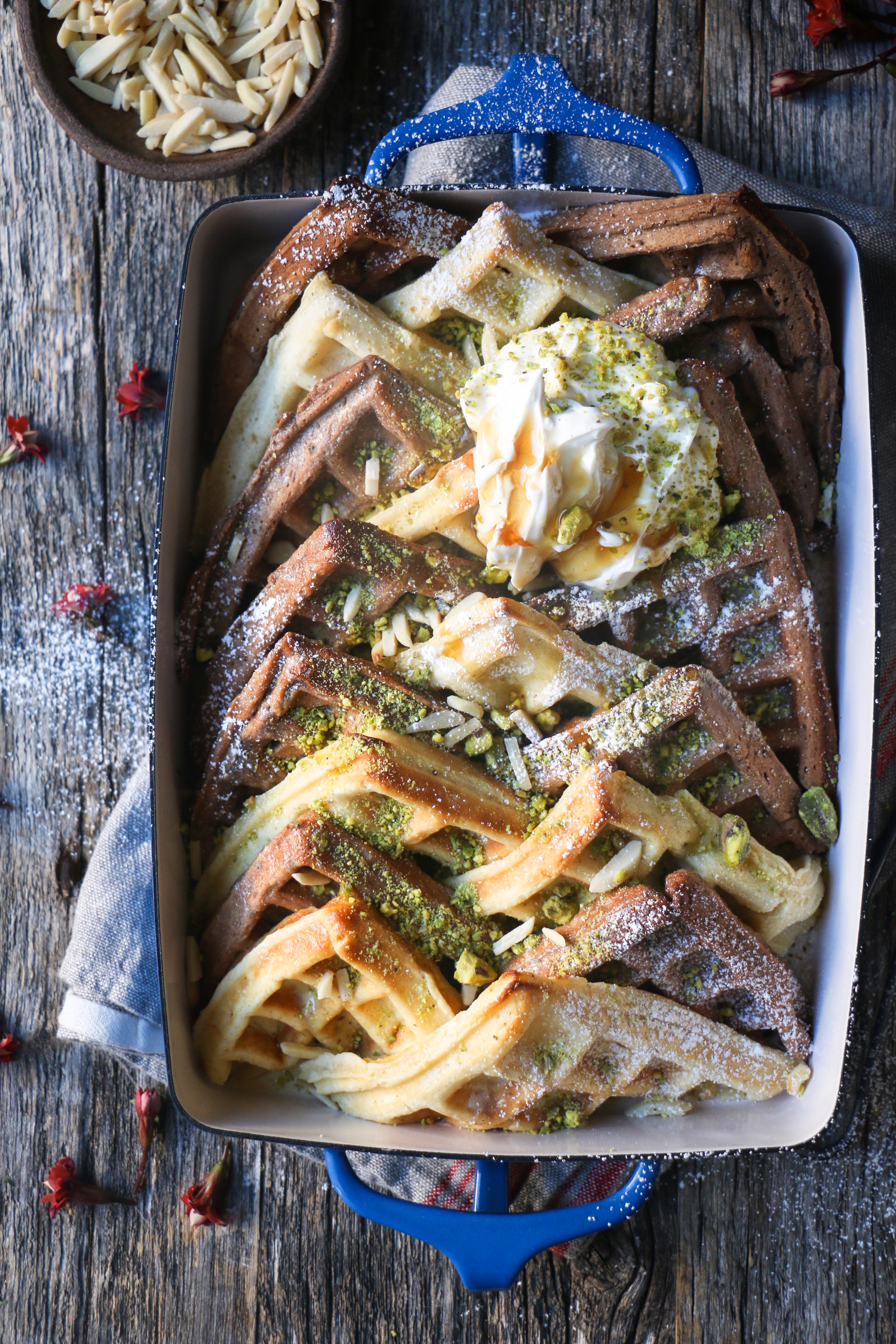 You know our love for Waffles.  It's become one of those staples at home that we enjoy, love, and keep on hand at all times.  This more-ish breakfast of Waffles French Toast is perfect for entertaining, holiday brunches, or just for the two of you.  I am so so excited about this one.
One of my early memories of cooking with dad started with French toast. The planning starts a day ahead at a specialty bakery with the perfect hunk of fresh-out-of-the-oven white bread.
Christmas day
The alarm is set to 5.00 a.m., on a cold foggy Christmas morning.  With a red muffler and a thick sweater, dad goes out for his walk and returns home all flushed and sweaty. The sun is still not shining high and bright, but for dad, the day has started.  As he sits on the sofa,  mum hands him his hot water, followed by a piping hot cup of filter coffee. He browses through the Deccan Herald (newspaper) and gets ready for the day.  It's a special day.
I wake up all groggy and know exactly what to expect for breakfast.  It was a tradition, and dad had made sure to get farm fresh eggs from our regular guy the evening before.  French toast was my dad's forte.  Mom was not allowed to be a part of that ritual.  Mum seemed quite relaxed that morning.  She got a break from her routine, and she seemed to be loving every minute of it. Dad calls to me to see if I was ready for breakfast, and I enthusiastically shout back a screechy YES.  I knew I was in for a treat. His french toast was special.
The systematic person that he is: lines up the bread, the egg mixture very methodically. Everything's prepped and ready to go.  He calls out "Neela, where is the fresh ghee," and mom comes to the kitchen rolling her eyes to show where the ghee was.  I don't think she was amused that dad needed two sous chefs :).  But, that's how it was (and still is) with daddy.  He carefully slices off the bread crusts, slices it in a triangle, set it aside and browses through the steps.  Turns on the stove, sets it to medium and tells me, "Fresh toast has to cook at medium, nothing less, nothing more."  And then he goes, dip-dip and drops it on the griddle, which has a tbsp of ghee. Accompanied by the sounds and sizzle, the smells start vaporizing in our tiny little kitchen.
That first slice:
That first slice, all caramelized, and darker than he wants is what I want to sink my teeth in. But, no he says…"wait for the good one".  My mom beats me to that dark heavenly bread, and looks like she is enjoying it.  Next comes my perfectly golden brown, with small bubbles filled with sugar and that smell which makes me all giddy.  I grab the plate, leave him to do the rest and sit and enjoy my bite, forgetting he's looking at me for approval.  I quickly say "It's the best you've made daddy". It sure was.
After a great breakfast, we head out on our yearly ritual trip to see the NILGIRI CAKE SHOW, which is so popular, and come back home with a few loaves of the BEST Plum Cake ever from Nilgiris(a popular shop in Bangalore).
That was Christmas back at home, mostly a date with dad and I. Simple and special.
Tis the season to be Jolly, falalalala lalalala….Deck the halls with boughs of holly!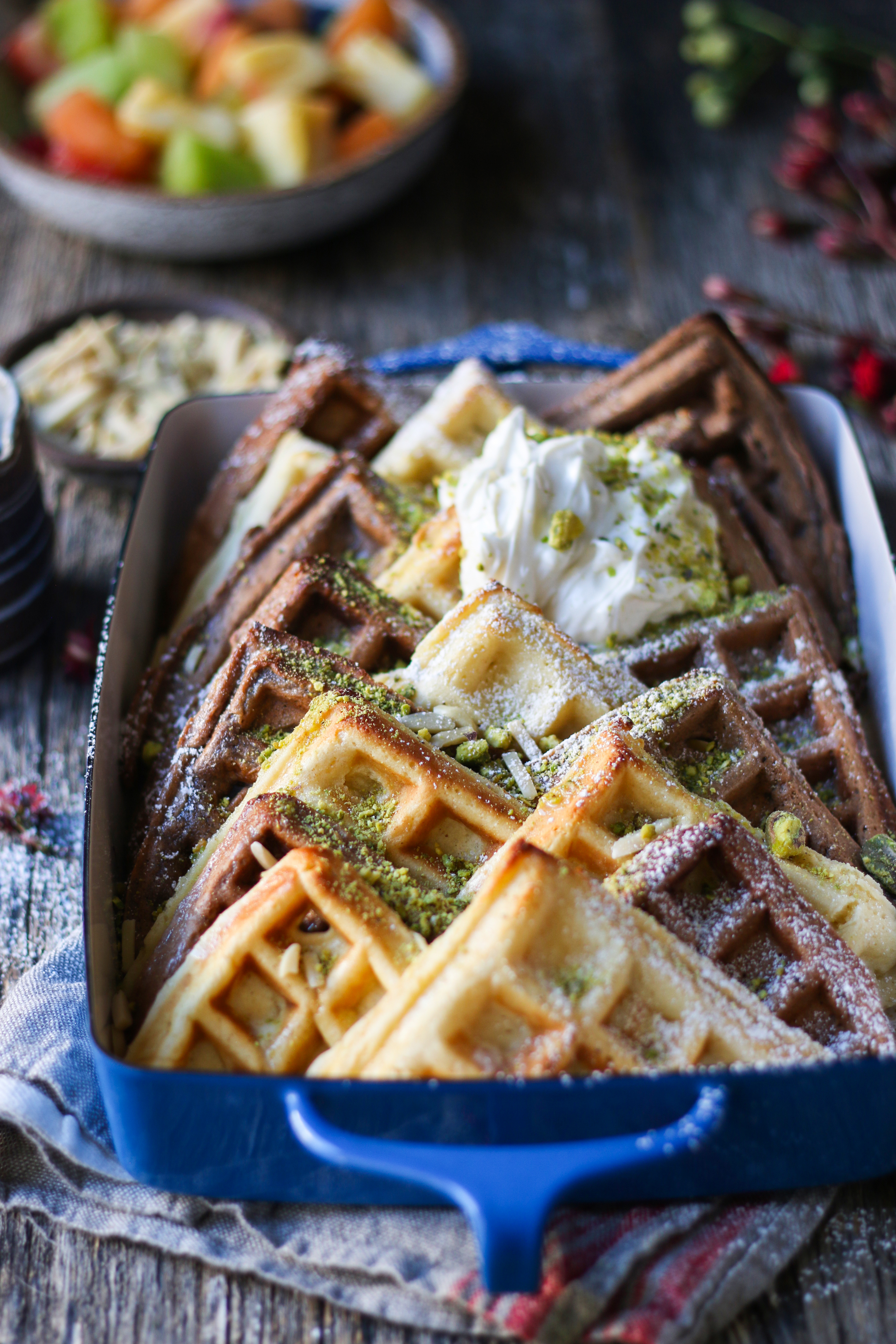 Waffles French Toast
This is definitely not the french toast that I grew up with, but these are what my boys love now, although they do love every kind.  Waffled french toast is something I started doing a few years ago and the recipe happened by accident. And it became a special breakfast tradition.  As a matter of fact, the little can eat waffles every single day, probably thrice a day if he was allowed to 🙂
Of course, you can make any kind of Waffles that you like and french toast them out.  I used a cooked custard to drizzle and bake just for 10 minutes.  You can definitely mix in the mixture and not cook it before and leave it in the oven longer for a softer, gooier texture.  We prefer our Waffles to have a bite to it, and still soaked in well.  You can soak it and leave it overnight in the refrigerator and bake it the next morning.  Absolutely divine!!!!
Happy COOKING and MERRY CHRISTMAS!!!!!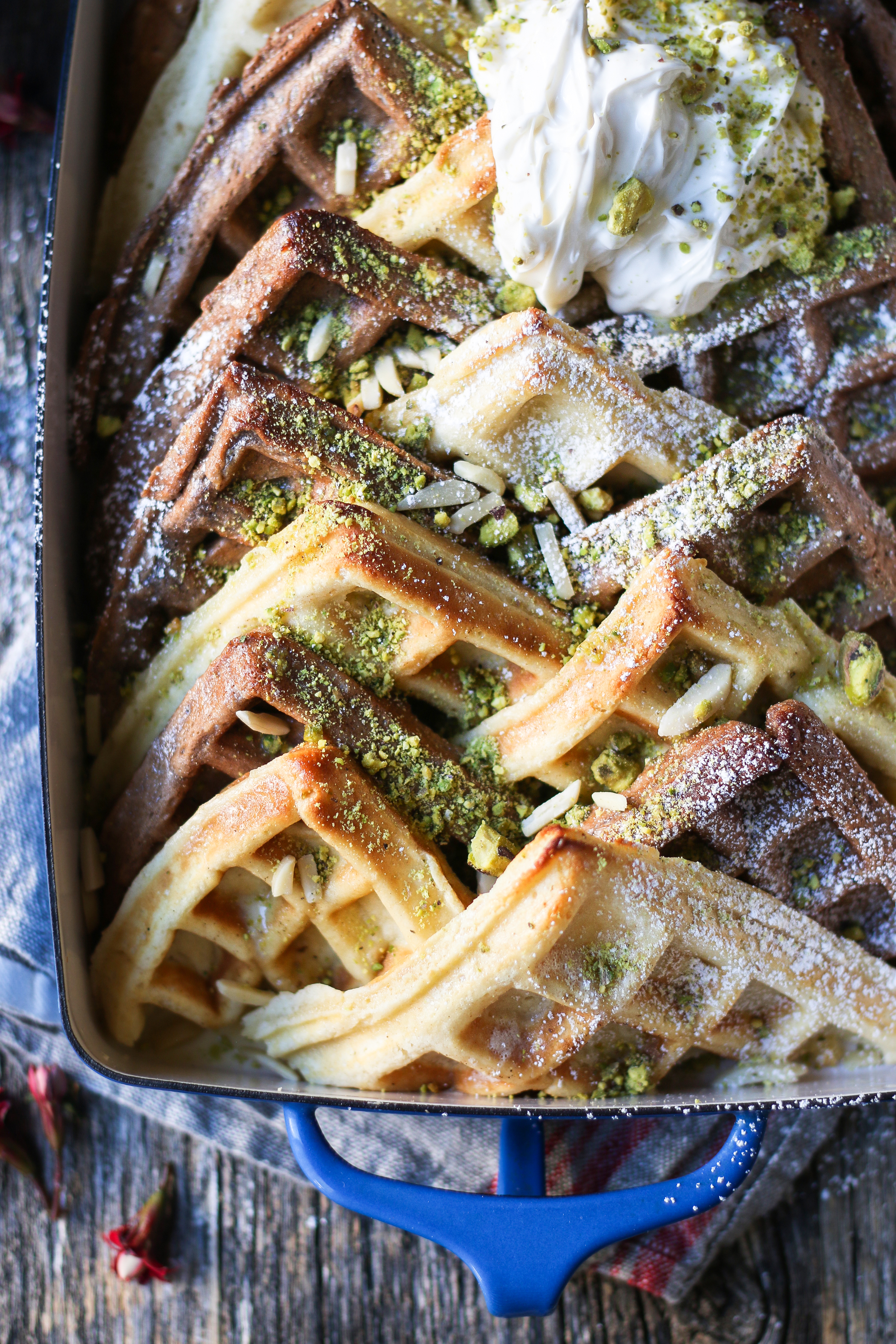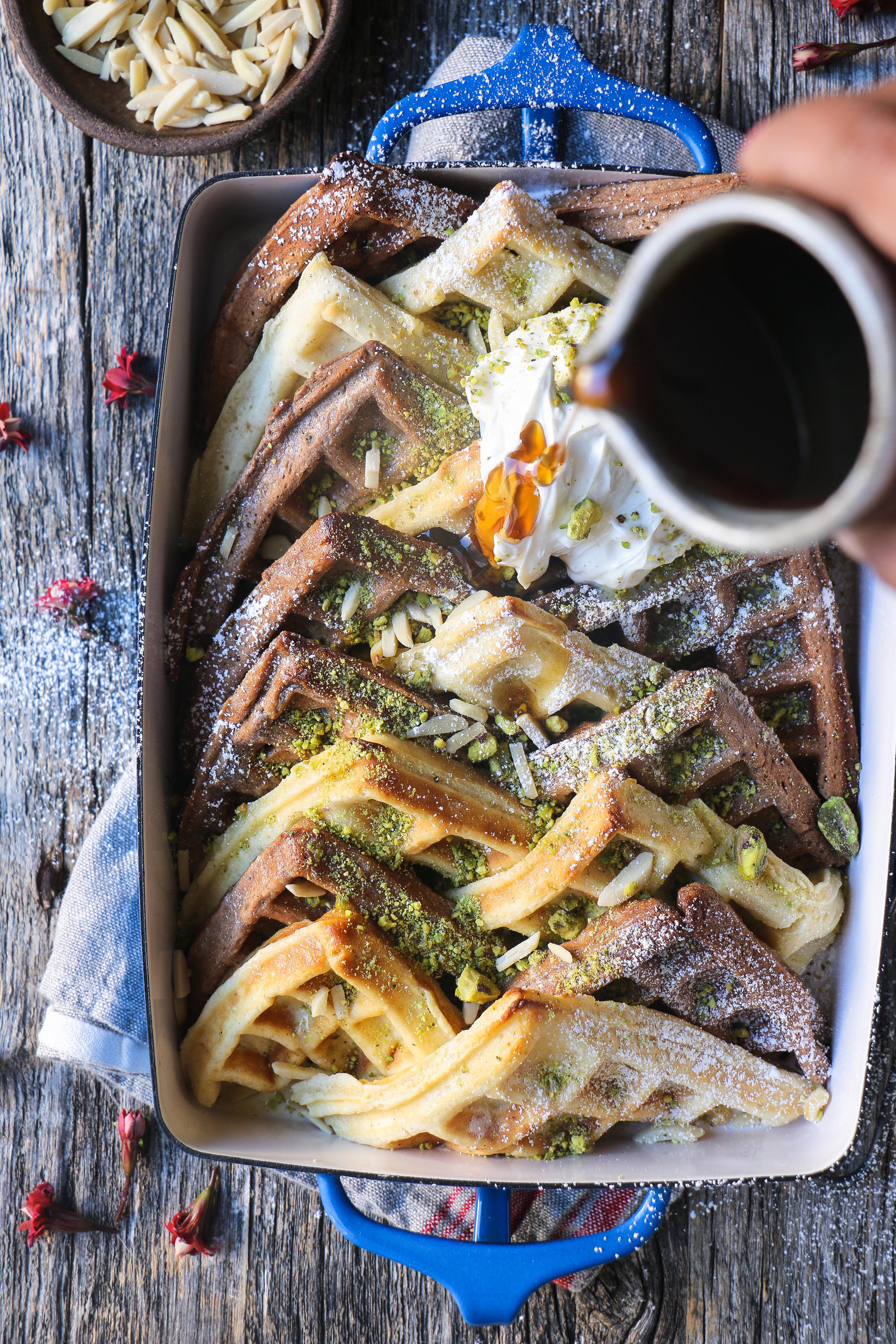 I made these Waffles French toast in my Oster waffle iron which is about 16 years old and is serving me well even now.  But, I have listed some Waffle irons that I like:
*Please do tag me on Instagram @foodfashionparty if you make this, using the hashtag #foodfashionparty.  Check out my book MASALA AND MEATBALLS.
Stay in touch for more delicious food on Instagram and Pinterest. Follow on Snapchat (@ashfoodfashion) for daily doses of food.*

Waffles French Toast with Maple Cream Cheese
Perfect Waffles French Toast for those holidays mornings. These Waffles are fluffy, crisp, golden and decadent with maple cream cheese will win everyone over and they are so easy and delicious.
Ingredients
4 eggs
3 cups full fat milk
4 tbsp sugar
1 tsp vanilla extract
½ cup melted unsalted butter( 1 stick)
1 tsp salt
2 tsp baking powder
4 cups all purpose flour
For the chocolate waffles
½ tsp almond extract to add to only Vanilla batter
FOR THE CUSTARD:
1 cup full fat milk
½ cup cream or you can substitute with milk
¼ cup of condensed milk
pinch of salt
2 egg yolks
Garnish
slivered almonds
crushed Pistachios
Maple syrup Cream Cheese
½ cup Cream Cheese
2 tbsp maple syrup
Instructions
In a mixing bowl add the eggs in it. Now add the sugar and mix it with a whip for 30 seconds. Add the milk, vanilla extract, melted butter, salt, baking powder and mix it well until incorporated. Mix in flour one cup at a time and mix. Don't over beat the batter. Add all the flour and mix.
Now, divide the batter into two equal portions. In one, add the cocoa and mix, set aside. In the other, add the almond extract and set aside.
Preheat the waffle iron. Brush the waffle iron with melted butter and pour a large ladle full of batter and cook for 3 minutes or until it's done. Don't let it brown too much or get it crisp. Take it out and put it on a cooling rack. Make all the waffles and set aside.
For the CUSTARD:
In a heavy bottomed sauce pan, add the milk and cream and bring it to a slow simmer while stirring. Add the salt, condensed milk and simmer for a minute. In a bowl, add the egg yolks, add ½ cup of hot milk and mix very well. Now add the egg yolk mixture back to the milk and bring it to simmer for 3-4 minutes making sure to keep stirring. When the mixture coats the back of the spoon, it is ready. Remove from fire and set aside.
Arrange the waffles in a baking dish nicely, and pour the custard over the toast. Add some almonds and bake it at 400 degrees for 10-15 minutes or until it is golden brown on top.
Take it out and add some crushed pistachios.
Stir together the cream cheese and maple syrup and serve with the french toast.
Notes
You could make the batters separately and add brown sugar for the chocolate batter.
You could also make pancakes out of this and lay them in the pan and pour the custard over it.