Black eyed peas curry with eggplant and spinach rotis, a healthy and tasty way to begin the New Year.  Healthy, nutritious and extremely tasty.  Happy 2018!!!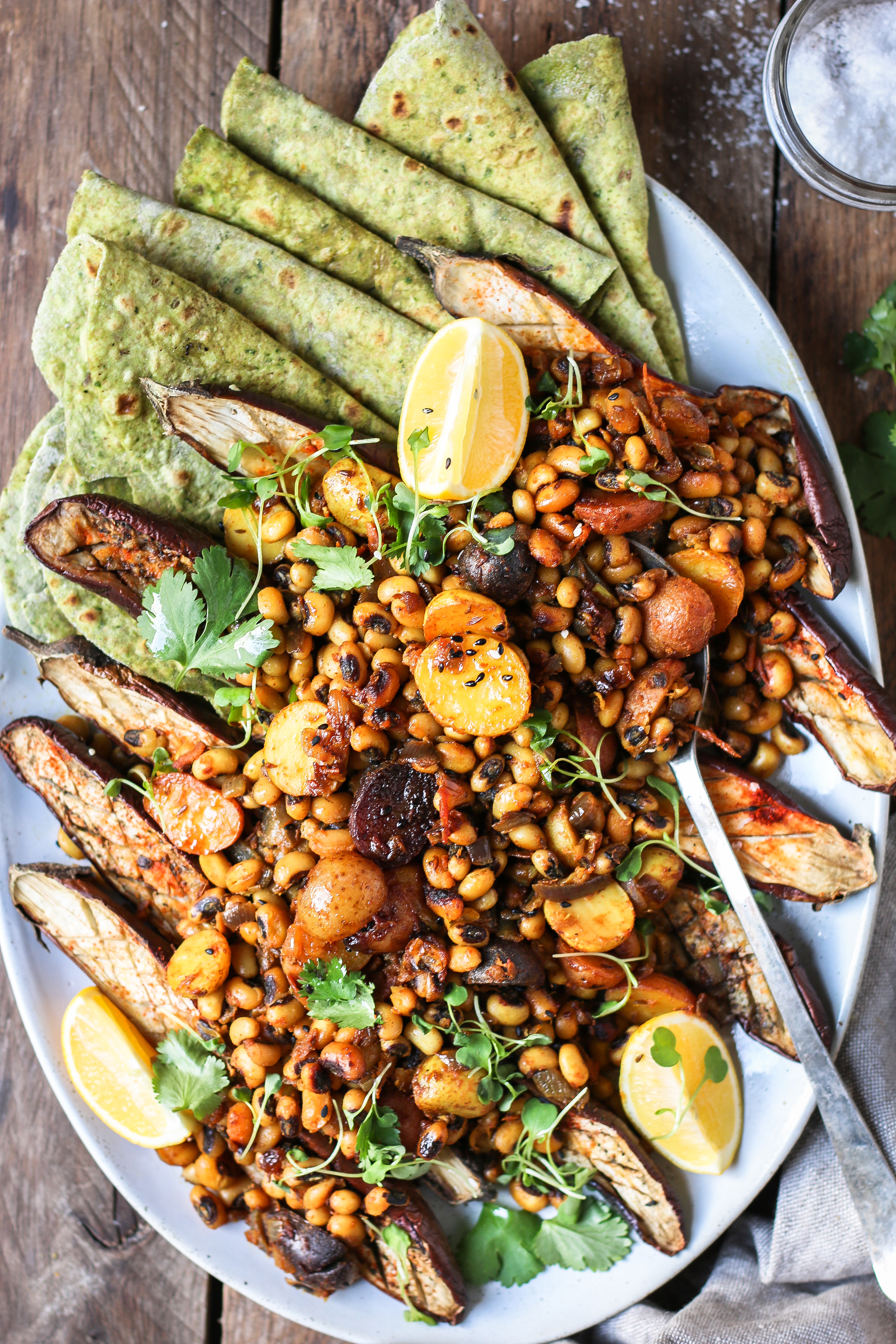 Happy New Year!  Wishing you a Very Happy 2018!  Hope you all have an enriched and fulfilling year ahead.
Black eyed peas is supposed to be a lucky dish to have on New Year's.  It's a Southern tradition, and you can read the reasons behind it HERE.  For us, we just love black eyed peas, and that's reason enough to share and enjoy this dish.
And here we are, in 2018.  A new year. Beginning of a New chapter.
Whatever it maybe,
Find What ignites worlds within you
Let your work, everything you create,
Be a direct extention of your heart space,
Now, more than ever,
The world needs more of our light
Go find what sparks it
And people that wholeheartedly believe in it,
And use to go out + change something.
Danielle Doby
Of Resolutions
I certainly am not openly for resolutions, but I do secretly have one or two to help me achieve more and better myself.  We all have our secret wishes/resolutions, and it's great to have one and (most importantly) really work towards it.  Let's all help each other by being supportive and encouraging.  I am ever so grateful for all the opportunities I've had in the last two years, but those opportunities also meant I had to time manage all the different activities I wanted to do efficiently.  I've certainly fallen short in some.  One of those has to be my running, which I loved, and secondly, being more social, giving my friends the time and love that they deserve.
So, the first thing I did was to enroll in a half marathon (wish me luck), and consciously making an effort to call my friends, even if it's just for a cup of coffee.
Thank you
Life passes by really quickly, and we all have our personal goals.  Being thankful for everything we've achieved so far and for the people who've brought us this far is so important.  Regardless of future goals, what I am really thankful for is my past, for my health.  Friends, my family, my virtual friends (YOU), and most importantly, my kids.  I'm ever grateful for all of you for being there for me, for reading, for cheering, and for being so supportive.  I seriously would not have this enthusiasm to continue if not for your kindness.
On that note, let's all love more, support more, and cheer more.
Cheers to a beautiful, healthy, and nourishing NEW YEAR!!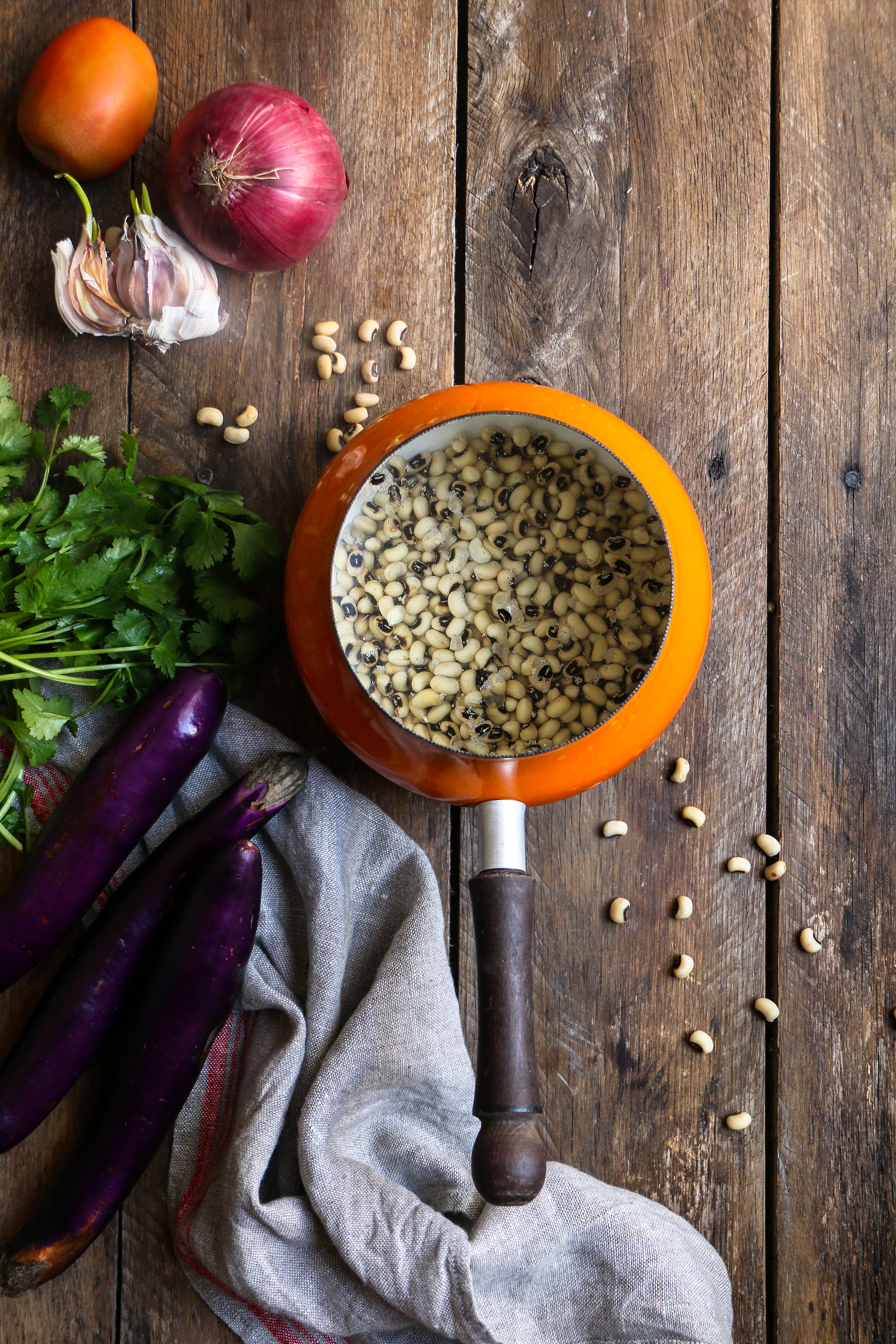 Our Love of Black Eyed Peas Curry
The love of black eyed peas comes from my mom.  She made it at least once every week.  Black eyed peas curry with coconut, black eyed peas in salads, black eyed peas with dill… I enjoyed it all.  Black eyed peas are so nutritious and are an underutilized legume.  They grow in pods like peas, and they're peeled and dried.  As a quick note, soaking the black eyed peas before cooking is a must.
This dish is a mix of eggplant which I've baked only because half the household is either allergic to eggplant or don't like it.  So this is a great way to add eggplant in for the ones who love it.  You can even grill the eggplant with some oil, chili powder, and salt, or bake them like I did.  If everyone likes eggplant, you can chop it, and add it in while you are cooking the potatoes.  It's so good, and works perfectly.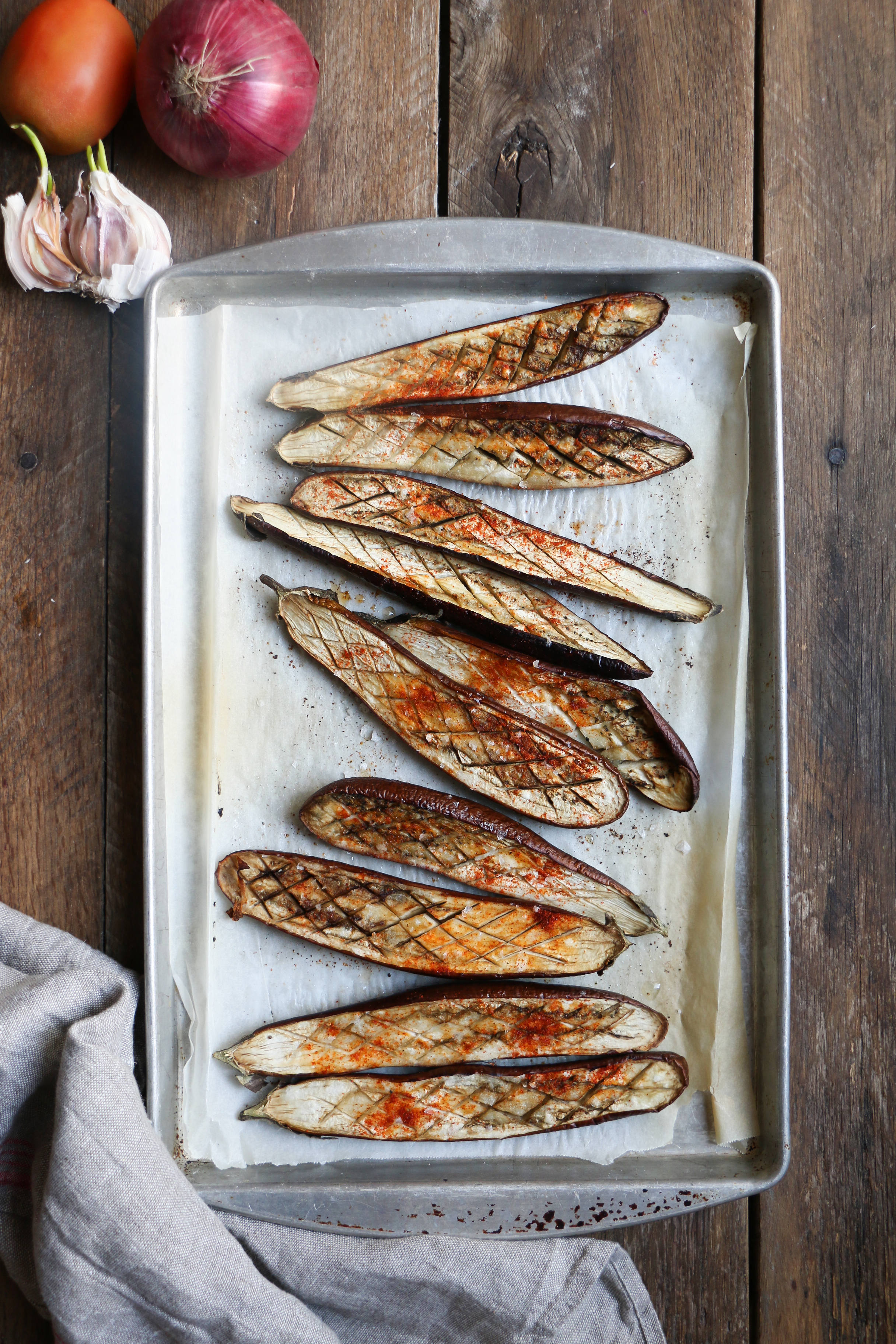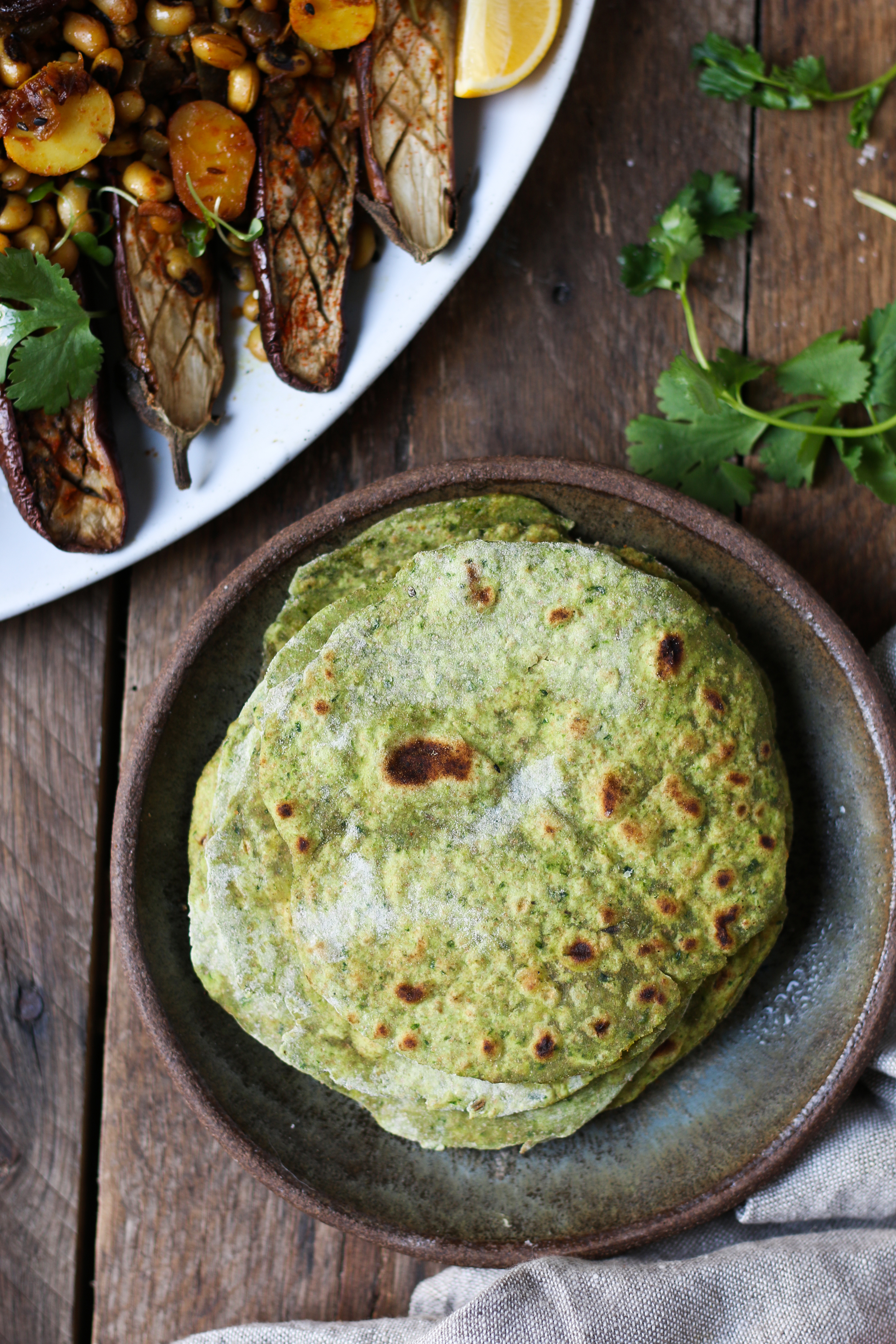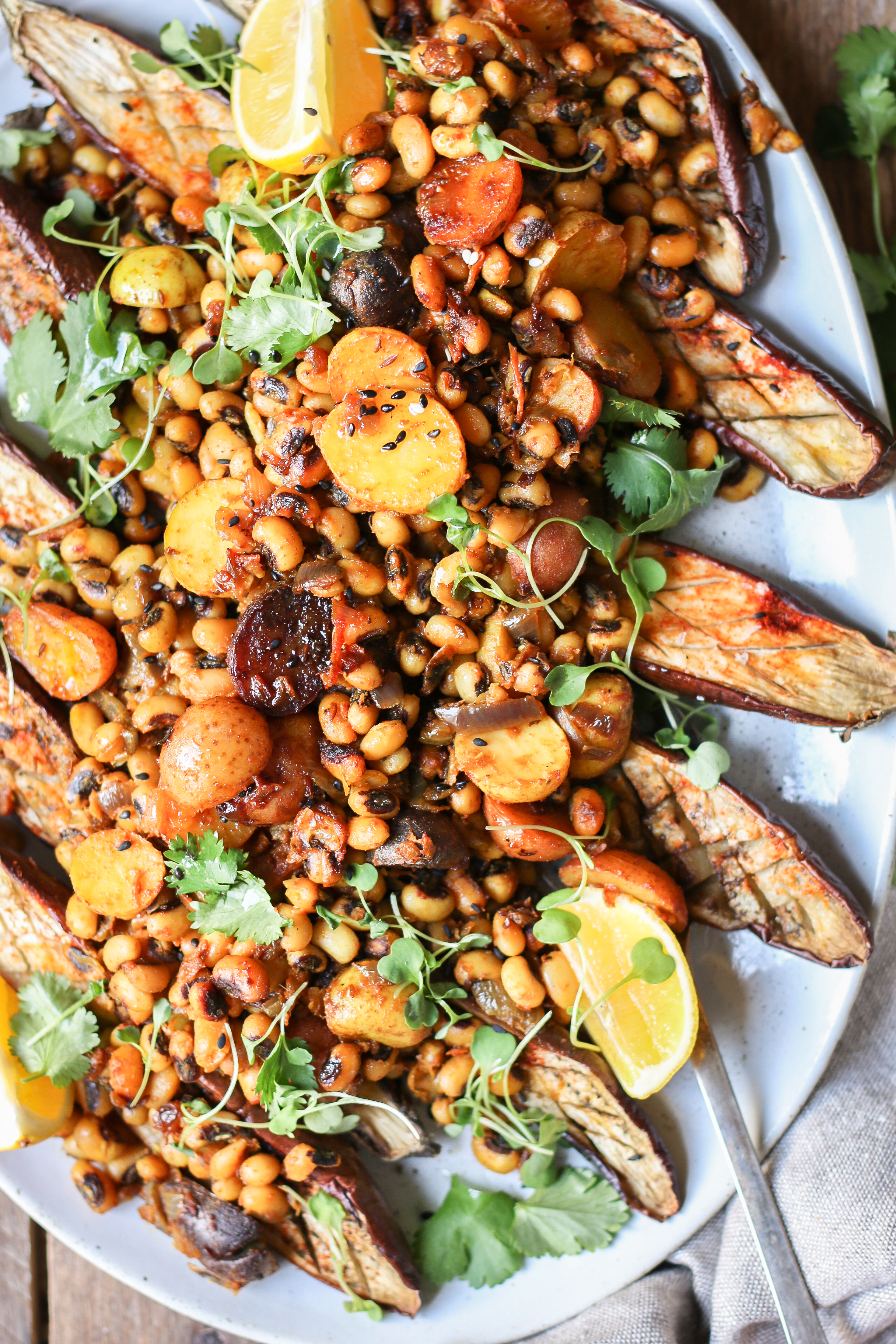 Black eyed peas can be bought frozen and then cooked, or dried in bags or bulk.  Remember to soak the black eyed peas for at least 8 hours before cooking it for the Black eyed peas curry or any dish.
Some black eyed pea dishes that I love from my fellow bloggers:
Ethiopian Black Eyed Pea Stew from Supper with Michelle
Collard Green with Black eyed peas by Savory Spin
Black Eyed Pea dip from Food Pleasure and Health
*Please do tag me on Instagram @foodfashionparty if you make this, using the hashtag #foodfashionparty.  Check out my book MASALA AND MEATBALLS.
Stay in touch for more delicious food on Instagram and Pinterest. Follow on Snapchat (@ashfoodfashion) for daily doses of food.*

Black Eyed Peas and Eggplant Curry
Black eyed peas curry with eggplant is healthy and a tasty. Have as a salad or a side with rotis.
Recipe type:
lunch, salad
Ingredients
4-5 long Japanese/Chinese eggplant or the tiny fairy tale eggplant
2 tsp olive oil
⅓ tsp salt
⅓ chili powder
1 cup dried black eyed peas, soaked overnight
½ tsp salt
1 tbsp olive oil
1 onion, finely diced
4-5 garlic, sliced
1 tomato, finely diced
10 mini potatoes, or 1 russet potatoes cut to ¼ inch pieces
1 tsp chili powder
¼ tsp salt
⅓ tsp turmeric
⅓ tsp toasted cumin powder(optional)
cilantro to garnish
lemon wedges to serve with
For Spinach Rotis
2 cups packed spinach
2 cup whole wheat flour
½ cup warm water
½ tbsp salt
1 tsp cumin seeds
Instructions
Preheat the oven to 400 degrees.
Cut the eggplant in half and scour it. Place it on a baking tray and drizzle 2 tablespoons of olive oil liberally over the eggplants. Sprinkle with salt and chili powder. Bake in a 400 degree oven for 40 minutes or until it is soft and cooked.
Cook the black eyed peas in a pot with thrice the amount of water for 10 minutes. Then add ½ tsp of salt and cook it for another 10 minutes and drain. You can use that water for the curry later on, or use in soups.
In a saute pan, add oil and let it get hot. Add the diced onion and garlic and saute on medium heat until it is soft and translucent. Then add the tomato, ¼ inch potatoes, chili powder, turmeric and little salt and cook on medium heat. Add 2-3 tablespoon of the water that the black eyed pea cooked in and cover and cook until the potatoes are cooked. Uncover and add the cooked black eyed peas. Saute and cook for another 5 minutes until it is dry. Then add the cumin powder and drizzle of lemon juice. Turn off the heat.
Take a serving platter, arrange the eggplant and top it with the black eyed peas and serve with the roti or it's perfect as a salad.
For the Spinach rotis
You can use a cuisinart or make the dough by hand.
In a cuisinart, add the spinach, salt and cumin seeds and run it for a minute or two until it is chopped up well. Then add the whole wheat flour and little water at a time to make the dough. Run the machine until the dough comes together. Take it out and let it rest for 15 minutes
Take a gold sized ball of the dough and smaller, and using a rolling pin roll it out to thin round shape like tortillas. Heat a griddle and cook the rotis one at a time until it is brown and cooked.
Serve warm.
Notes
Make sure to taste the black eyed peas as it's cooking. There is salt in every step, so be cautious with salt.
Serve the black eyed peas curry warm with rotis or as a salad.