Crispy Thai tofu tacos with avocado sauce, oh yum!! Once you make this tofu once, you'll not stop.  It's so addictive, and oh so good.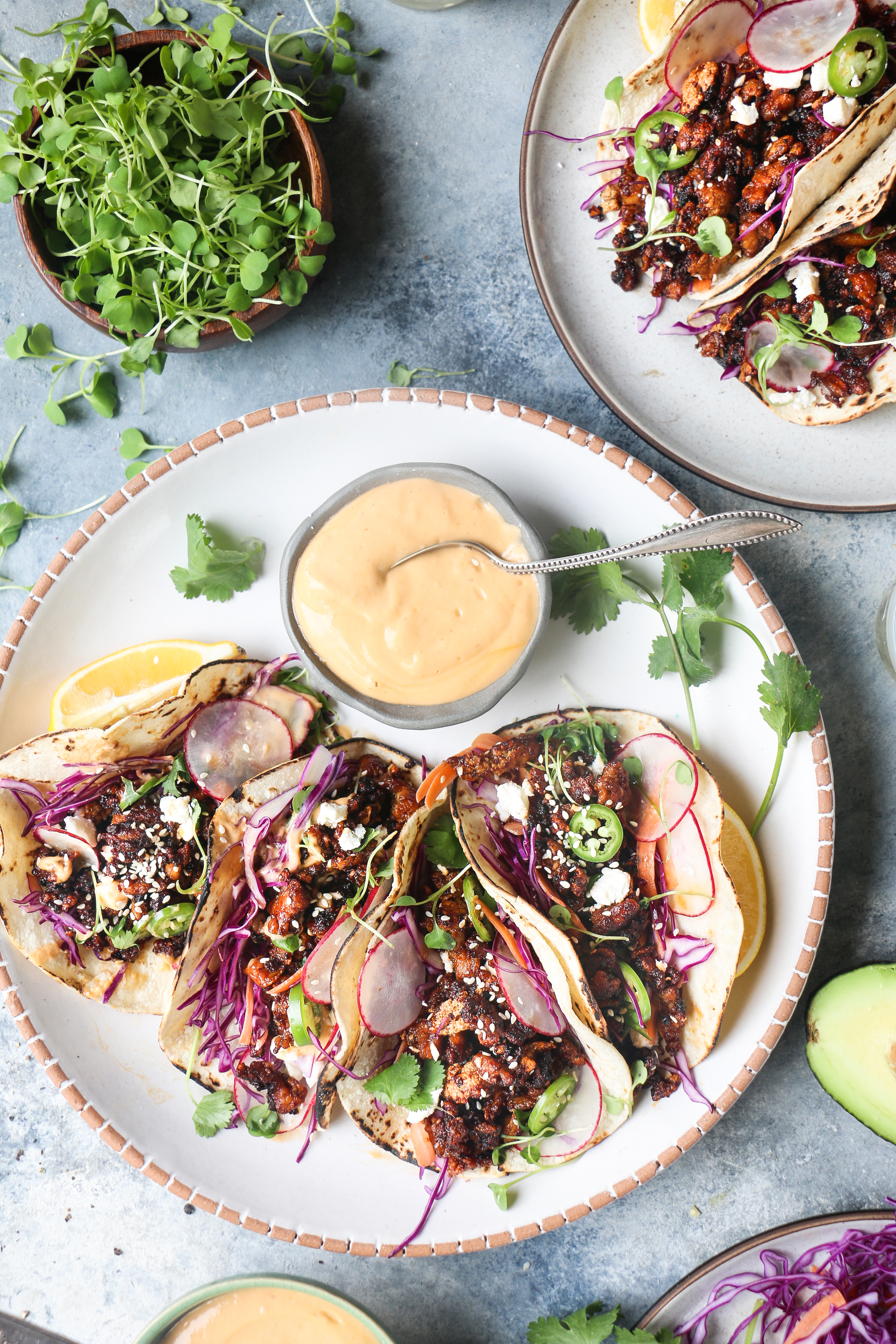 Let's play a game! Take a shot every time you see the word "crispy" in this post.
My love of tofu continues.  I absolutely enjoy some spicy crispy tofu tacos drenched in sauce.  Tell me, what's your favorite way to enjoy tofu?
As we get into the second week of 2018, I get even more excited.  My cookbook, MASALA AND MEATBALLS, will be out tomorrow.  And we all are so excited.  This is one of the recipes that was this close to getting in the book, but I had to edit it out, along with many other favorites.  However, when your meat-loving family says it tastes just like meat, I just knew I had to share it here.
As a family, we all enjoy spicy food, and we are open to trying different kinds of food.   The good thing is that none of us are fussy.  The not so great thing is I have a couple of meat lovers who will turn their nose up at "too healthy food."  Like I wrote in my last post, tofu was not our favorite.  We would just eat it because it was healthy, until I found the way to make it amazing by crisping it thoroughly and drenching it in some good sauce.  I find that we enjoy good crispy tofu topped on everything.  Tacos are just one favorite way to stuff this in.
We love buffet style add-ons on our table, and this is right up our alley.  This one is a favorite of ours. Also, this delicious crispy Thai tofu works so well in buddha bowls too.  Add it to bowls or in lettuce wraps, and it's just perfect.
I shared this stir fry taco (with video!) in my last post, so check it out if you want to see how I crisp up the tofu.
There are a few keys to making this irresistible and crispy Thai tofu tacos.  First of all, you want to choose the right kind of tofu.  Extra-firm tofu is the only way to go for good crispy tofu, and I've found that the Trader Joe's brand is the most firm of them all.  It's organic, too, which is important when you're buying tofu because soy is conventionally treated.  Look for tofu in the refrigerated section by the produce.
Once you have your extra-firm tofu, the next step is to squeeze out as much moisture as possible.  Water-logged tofu never gets super crispy.  To get our desired texture of tofu, there should be minimum water.  The key here is to slice the tofu into pieces before pressing it if you want cubed tofu.  Slice them into smaller pieces to maximize the surface area.  Press those, and you'll extract more moisture—faster, too.  If you want to shred it like I have done in this recipe, just press it for a couple of hours.
Another tip is to use a non-stick pan and a little oil to begin with.  A non-stick flat bottomed large pan makes it much easier to crisp the tofu.
Think paper-thin radishes, creamy avocados, hot jalapenos, and the crispy tofu, all drenched in a delicious sauce with sour cream and avocado.  Wrapped in the scrumptious corn tortillas, it is a delectable meal. It's a total flavor punch, and you will be addicted to making (and eating) it.
You are GONNA LOVE IT. Try this tofu taco and it's going to become a favorite of yours. Tasty and so easy.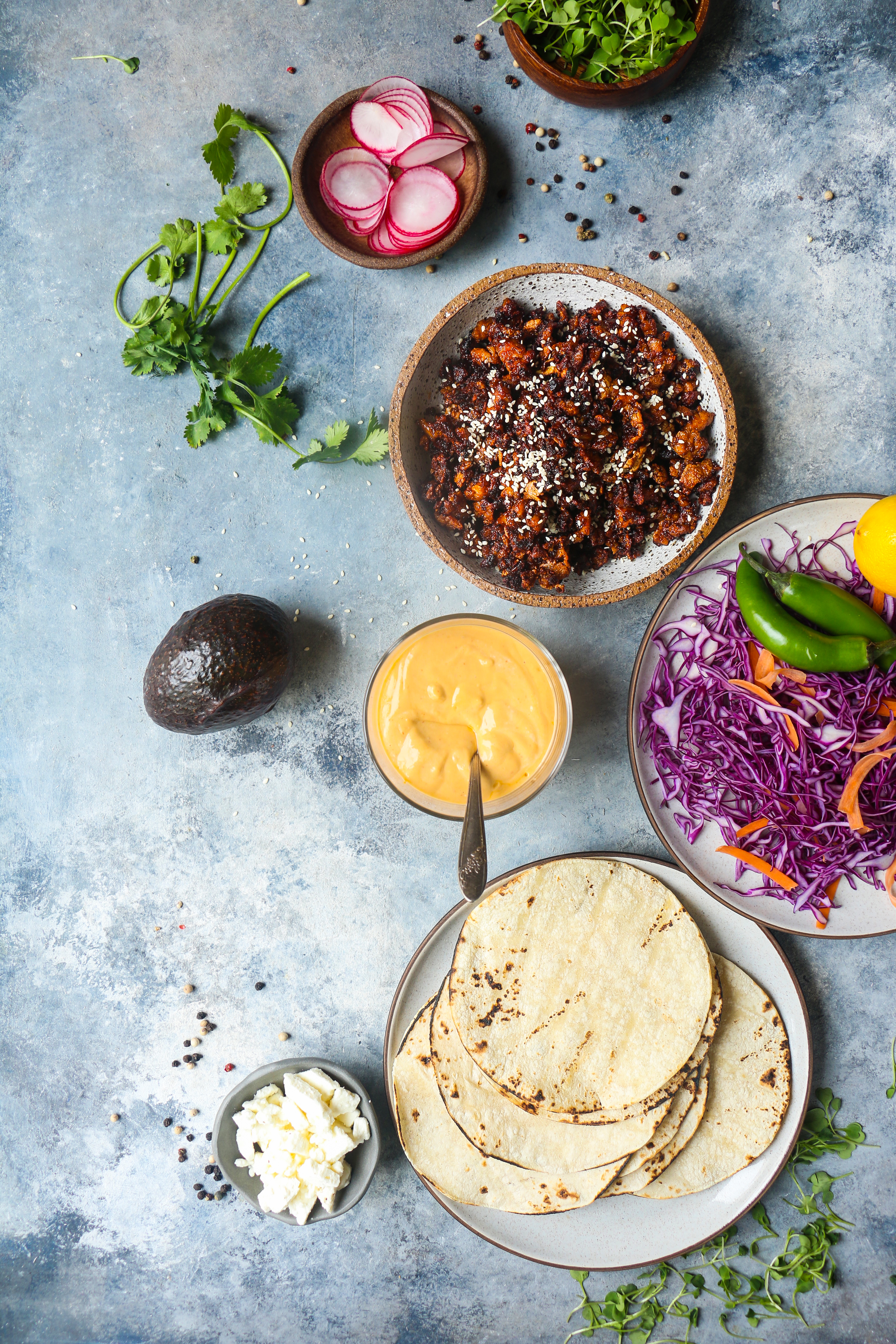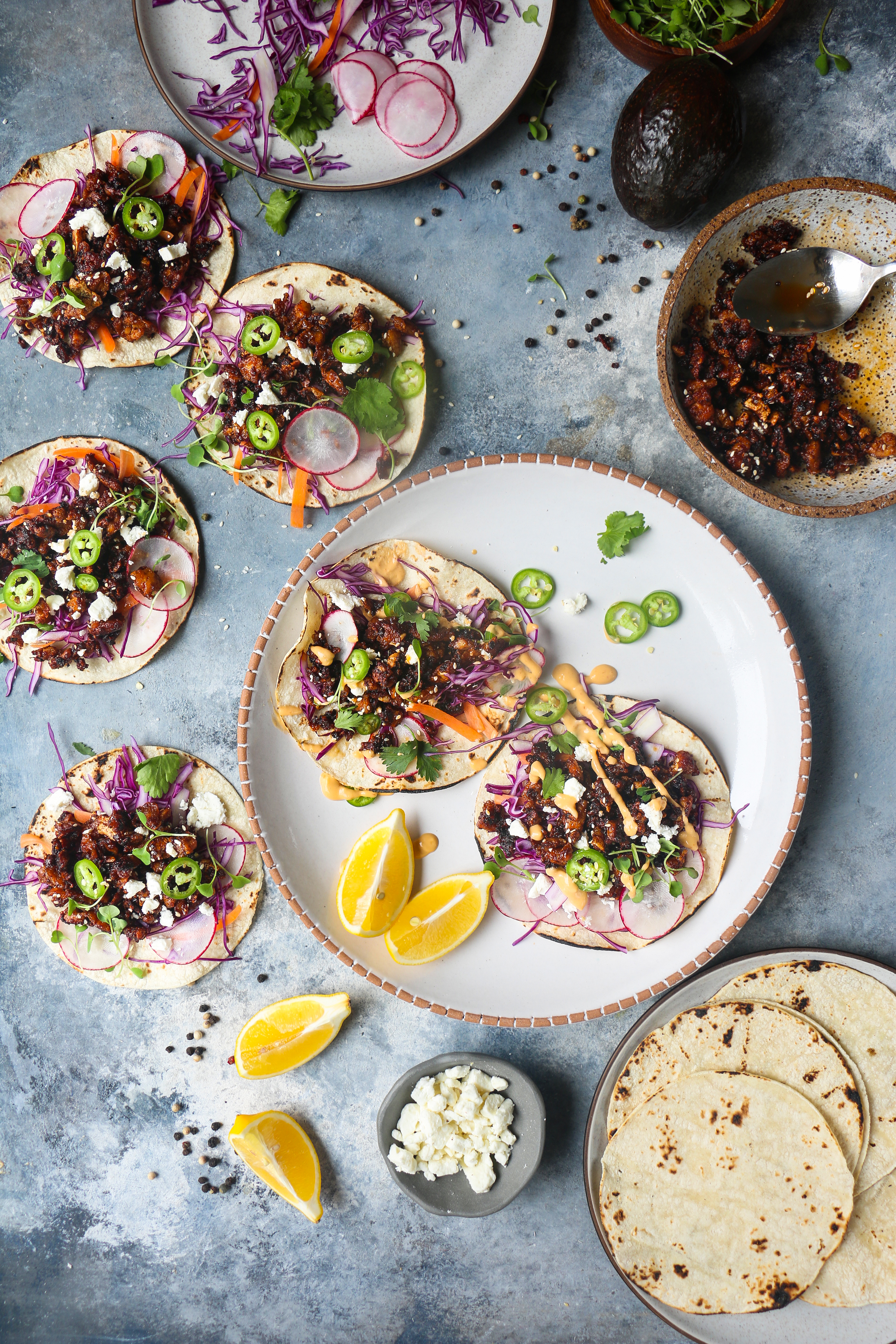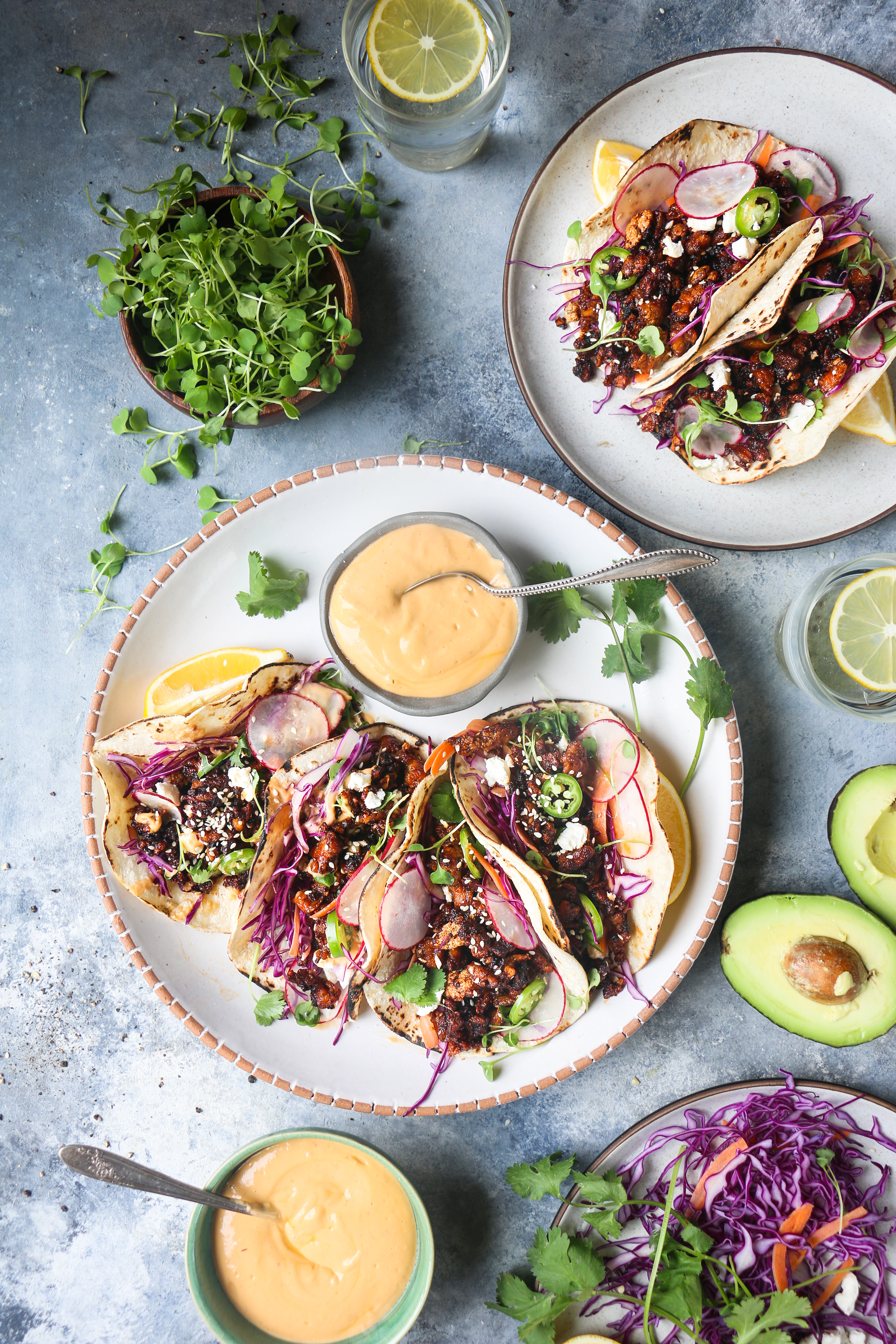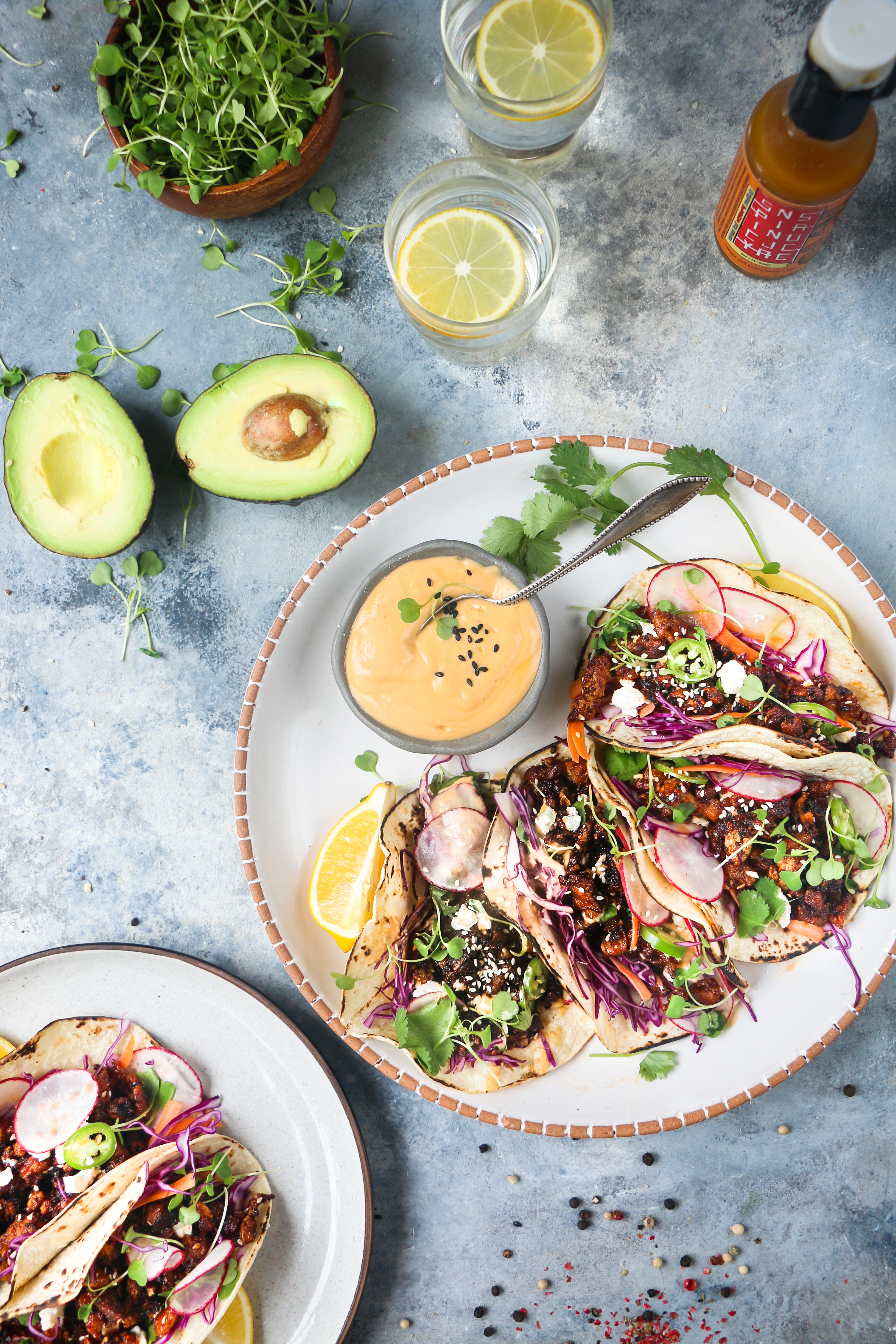 If you create this crispy Thai tofu tacos, please do let me know on social media by tagging #foodfashionparty.
Some delicious recipes for tofu that I've enjoyed seeing are:
The BEST Crispy Tofu – The Soup Solution
Crispy fried tofu – Husbands that cook
Spicy Vegan Burritos – The Bojon Gourmet
And here's my recipe for Crispy Thai Tofu Tacos.  Happy cooking!!!

Crispy Thai Tofu Tacos with Avocado Cream
Crispy Thai tofu tacos with avocado sauce, oh yum!! Once you make this tofu once, you'll not stop. It's so addictive, and oh so good.
Ingredients
12 ounce extra firm tofu
2 tsp peanut butter
2+1 tbsp sesame oil
⅓ cup light low sodium soy sauce
¼ cup rice wine vinegar
2 tablespoons chili paste (like sambal oelek)
2 tablespoons white sugar or turbanado sugar
3 cloves garlic, minced
1 inch fresh ginger, peeled and grated
Slaw
½ cup thinly sliced red cabbage
1 carrot, thinly sliced
Avocado Cream
½ good ripe Avocado
2 tbsp sour cream
⅓ cup full fat yogurt
1 tbsp hot sauce
2 garlic, minced
1 tbsp lemon juice
⅓ tsp lemon zest
salt
pepper
1 tbsp olive oil
Assembly
thin corn tortillas - 8
2 tbsp cojita cheese or feta cheese
few springs cilantro
1 jalapeno, thinly sliced
sliced radish
Sliced avocado
lemon
Instructions
Steps for the Crispy Thai tofu
Drain all the water from the tofu and crumble and set aside.
In a mixing bowl or jar, add the peanut butter, sesame oil, soy sauce, vinegar, chili paste, sugar, garlic, ginger and mix it very well.
In a non-stick pan, add a 1 tbsp of sesame oil and add the crumbled tofu. Do not touch the pan for a minute. Let it brown and crisp, and then start tossing it around and crisp up all the sides. This will take anywhere from 5-7 minutes on medium heat. After it is golden brown, add the sauce that you have prepared. Reserve 2 tbsp and add the rest. Mix and toss, cook and crisp. It will dry up. Once it is completely crispy and dried up, add the remaining sauce and toss again. Turn off the heat. Set it aside.
Slaw:
Thinly slice the red cabbage and carrots and mix it, set aside.
Avocado Sauce:
You can use a mini blender or you can mix with a fork. In a bowl, add the avocado and smash and break up the avo very well, until it resembles a smooth paste. Add the sour cream, full fat yogurt, hot sauce, garlic, lemon juice, lemon zest, oil, salt and pepper. Mix very well. Check for seasoning and set aside in the refrigerator until you are ready to use.
Assembly:
Grill a tortilla on direct flame and get some char for a good tasting taco.
Arrange the tortilla on a plate. Add some crispy tofu, jalapeno, radish, some greens, and few slices of avocado. Drizzle the sauce generously over the taco.
Serve warm with some lemon wedges.
Notes
Mix the thai sauce for the tofu and you can keep it in the refrigerator and use it when you are ready to use.
You can even crispy up the tofu and use it later.
A little bit of sliced avocado works well with the crispy and dried tofu.