This vegan healthy vegetable dal is filled with ton of good veggies, kale and yam and carrots.  Perfect hearty meal.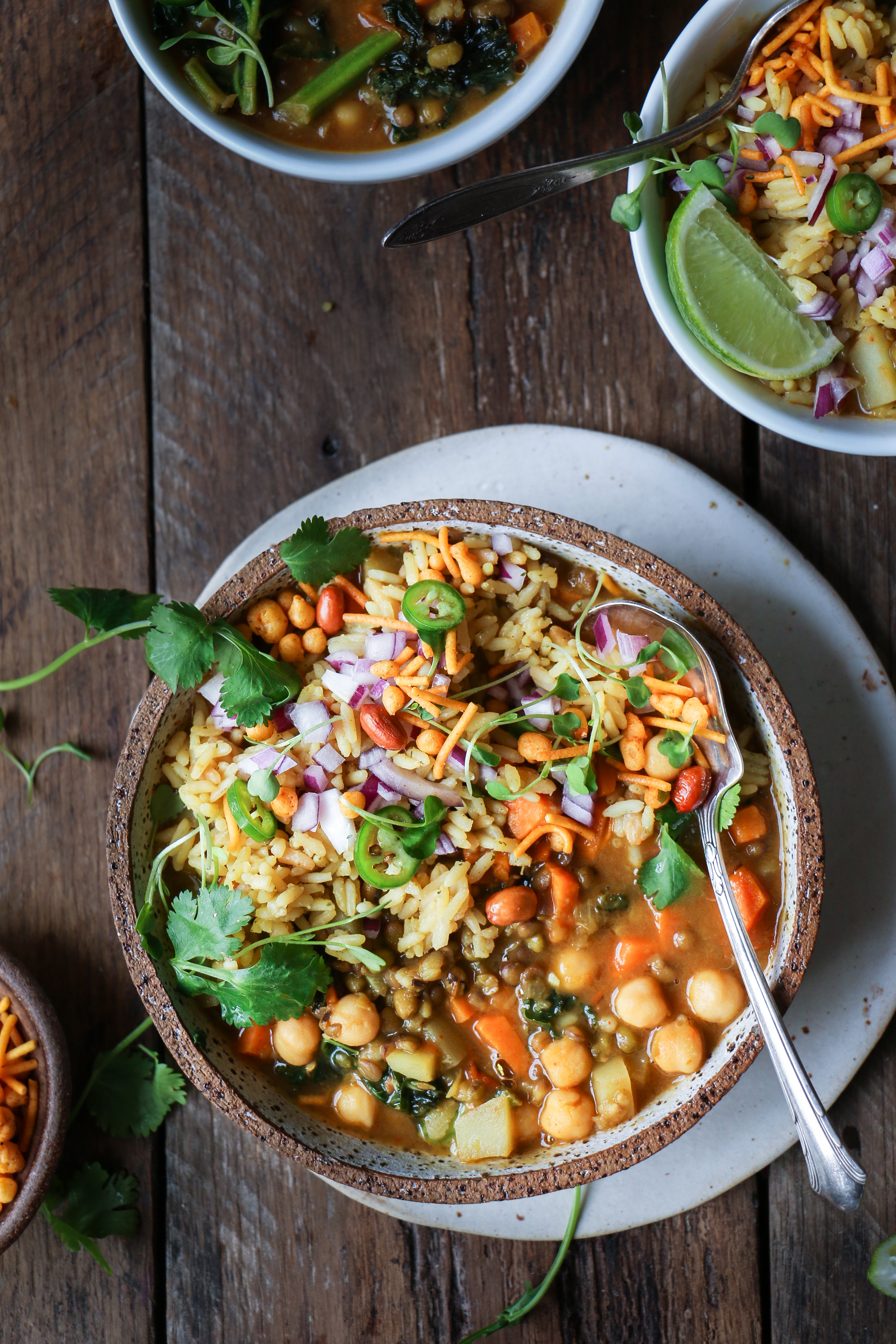 We are mid Jan and I have been on a vegetable high this month on the blog and otherwise.  We make many different types of dal and I've been fond of mixing a few different legumes for a hearty and delicious meal.  Dal seems to be one of the biggest source of protein for vegetarian eaters.  South Indians love their dal and this has become one is become by absolute favorite, healthy vegetable dal.
I make it when I have my girlfriends over, and I know they appreciate it because its a guilt free meal and even meat eaters seem to enjoy it with so many add-ons.
I also call this my DETOX vegan Healthy Vegetable dal.  Just means, we get full faster with all the good stuff in it and it has all the right things to make you feel good. We did sneak a few detox foods into this soup (kale, onions, garlic, carrots, yam and olive oil) and anyways, in my book, the best kinds of detox foods, healthy food are the ones that ACTUALLY TASTE GOOD.
And while this healthy vegetable dal tastes good without the extras, it tastes BETTER with them. Add some crusty bread, just perfect.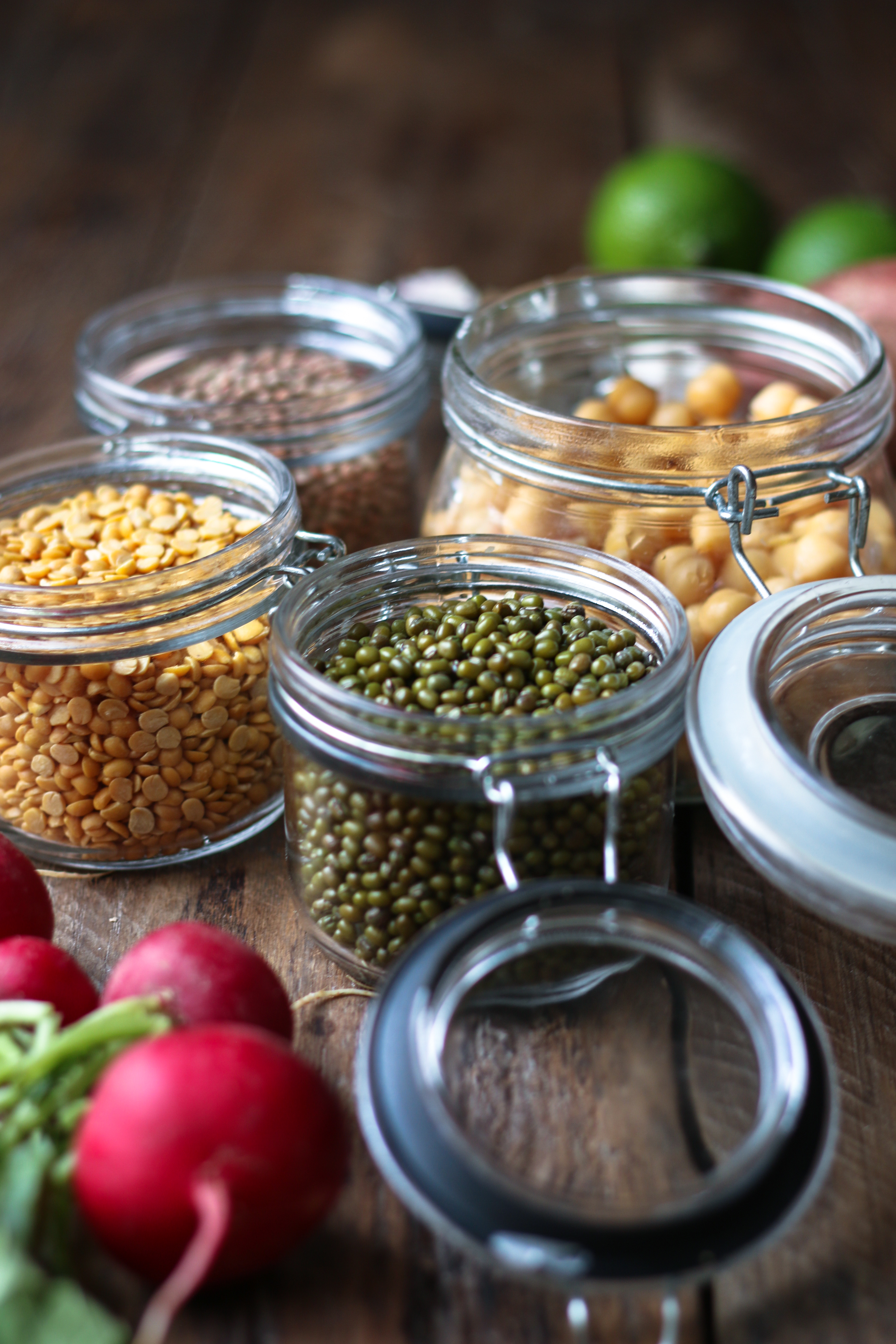 The making of healthy vegetable dal
My goal is to share a good comforting meal can can be healthy, this one is a true example.  This healthy vegetable dal is real life food that we make always.
We're starting with a solid base: onions, garlic, yam, kale, spices, salt, and broth. Then the mixed dal, creamy from the tuvar daal, little bite from the green moong, creamy from the chickpeas are all added in later.  The mix of all this is just WOW in color and flavor. It simmers to up and perfumes the whole home with it's warmth.  It's seriously so comforting and the best is it is a "feel good" food.
I like to top it off with some naughty sev, chickpea snack and some rice.  Although, you can totally omit that and eat it as is with some cracker or just onions topped off.
That's it. That's the healthy vegetable dal. This is so hearty, that it serves upto 6 people, which is always nice.
Cheers to you and for eating more veggies and hearty meals. 👍👍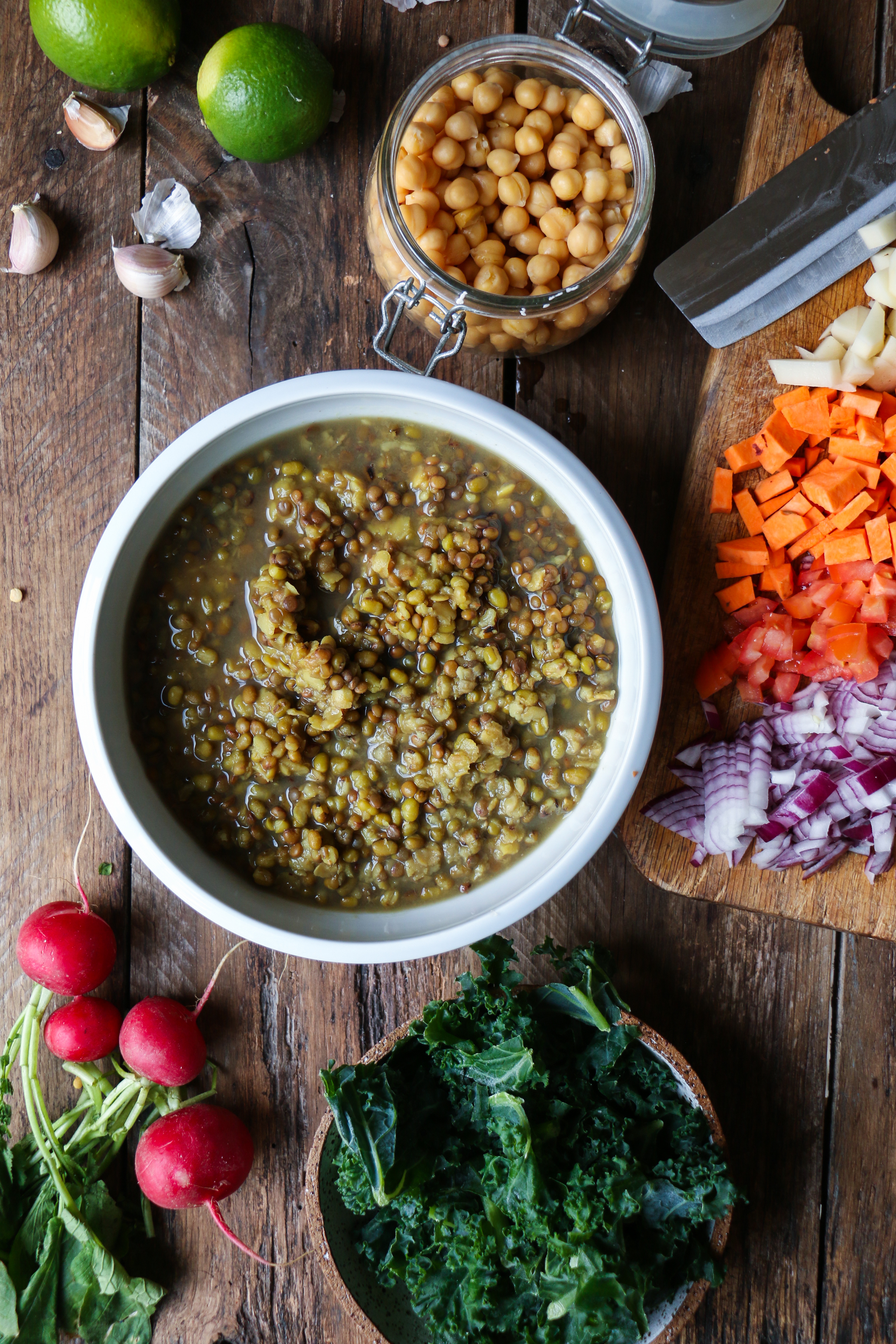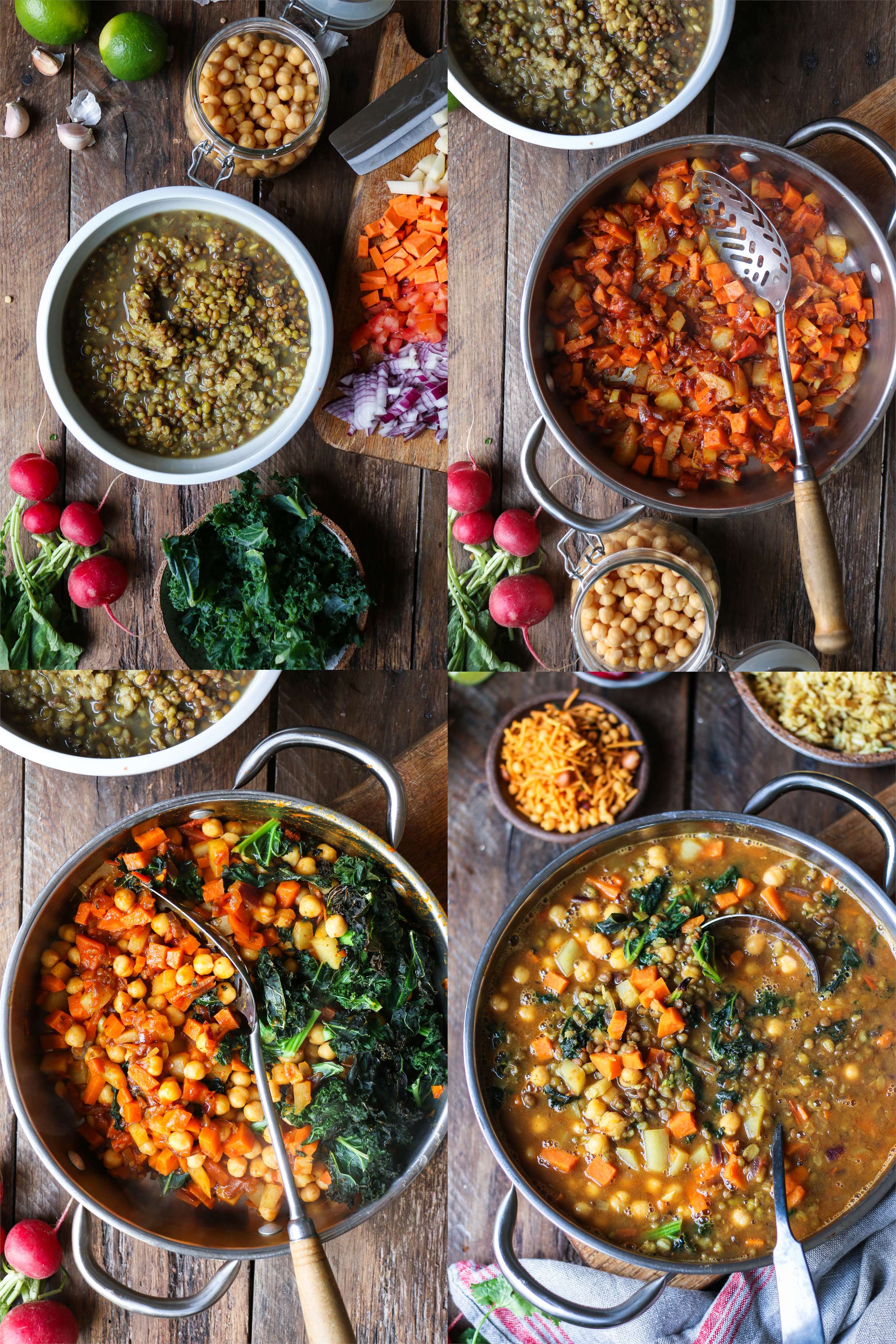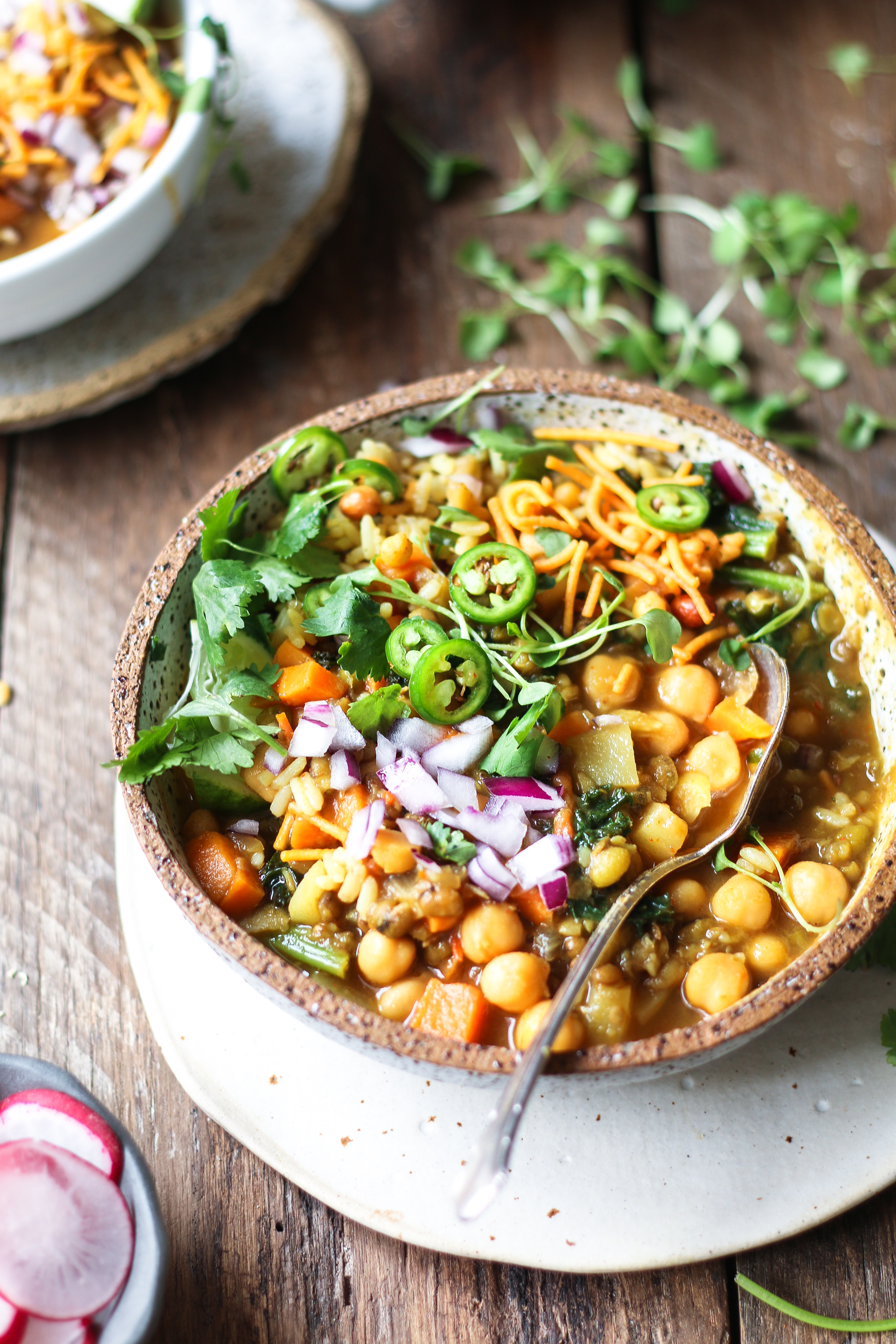 GIVEAWAY Announcement:
The winner of the LAUNCH GIVEAWAY IS Sonya9 (smallard79@live.com). CONGRATULATIONS!!!!!  You will be sent a Kitchenaid soon. Please send me an email or dm me on Instagram your shipping address.

The winners of a special gift for PREORDERS is Vaishnavi Reddy and Proportional Plate.  You both will get a special gift sent from me. Please email me at foodfashionparty@gmail.com.
Thanks for entering everyone.

Panchratan chickpea Daal - Jan post
Recipe type:
Lunch, Dinner
Ingredients
⅓ cup Green moong whole
⅓ cup tuvar daal
⅓ cup brown lentil
⅓ tsp turmeric
pinch asafoetida
1 can or 1 cup chickpea, rinsed with hot water and drained
2 tbsp olive oil or coconut oil
1 tsp cumin seeds
2 tbsp olive oil
1 tsp cumin seeds
2 green chilies, finely chopped(optional)
5 garlic, finely diced
1 tbsp red chili powder(spicy variety)
1 tsp salt, or accordingly
½ large onion, finely chopped
2 tomatoes, finely diced
1 russet potato, diced
1 yam, diced
1 cup packed kale
2 cups vegetable stock or water
Accompaniments
Fried chickpea, sev
raw onions, finely diced
greens chilies
sprouts
brown rice or herbed wild rice
Instructions
Wash green moong, tuvar daal, brown lentil well. You can use a pressure cooker or an instant pot to cook everything. I cook it in a pressure cooker. Add it in the pressure cooker with 4 cups of water ,turmeric, asafoetida and let it boil. Cover with lid, and add the weight. Wait for 2-3 sounds and turn off the heat. Let the pressure calm down while you prepare for the masala that goes into the dal.
In a large pan, add oil. After it gets hot, add the cumin seeds. Once it brown, for 10 seconds, add the onion, green chilies and garlic. Saute it for a minute before add the tomatoes. Add the potatoes and yam, saute on high heat and keep stirring. Add the chili powder and enough salt. Saute and let the veggies cook 60 perfect which will take only about 4 minutes. Add the chopped kale and Vegetable stock or water. Check for seasoning. Let it boil on medium heat and let it cook for another 3 minutes.
Then add the boiled dal, a can of drained and wash chickpeas and simmer for another 5 minutes.
Turn off the heat and serve with brown rice, raw onions, green chilies, and some sev. You can have it without rice too, great stew.
*Please do tag me on Instagram @foodfashionparty if you make this, using the hashtag #foodfashionparty.  Check out my book MASALA AND MEATBALLS.
Stay in touch for more delicious food on Instagram and Pinterest. Follow on Snapchat (@ashfoodfashion) for daily doses of food.*