The BEST Indian style chicken nachos ever!!!! The thin crisp corn chips with the spicy chicken mince, its so so good. And it's all in one single pan. MINIMAL CLEAN UP! YES!!!!  Hit in all parties!!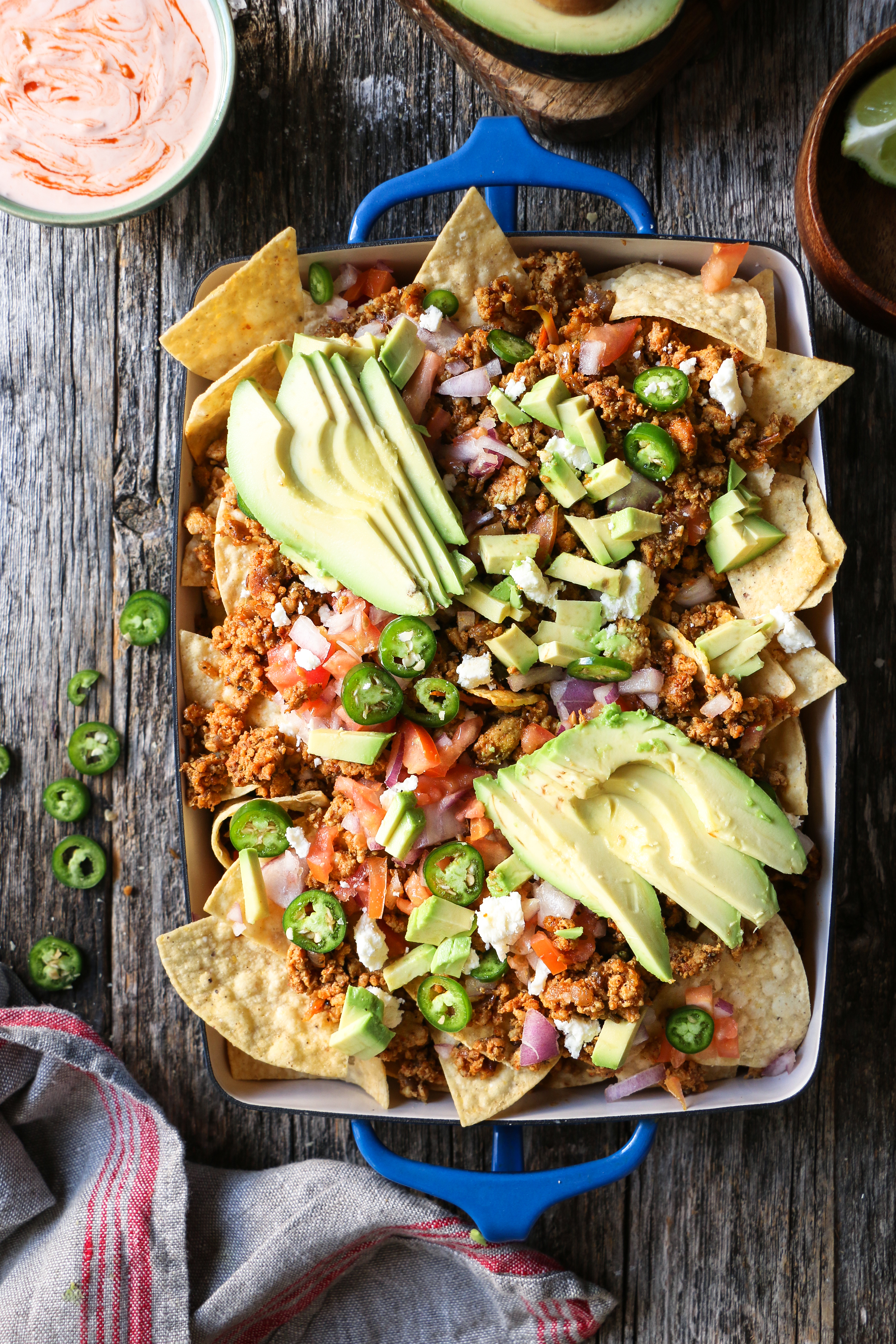 I sit here, a fully shot and styled post staring at me and I am blank. I've made these Indian style nachos for years now, but how am I not finding the words to describe a dish that disappears in minutes of getting to the table.
It's one of my best back-pocket meals, the chicken mince.  One I can make on short notice, assuming that I can get my hands on the freshest mince from my butcher.  It's one of the things I get asked plenty of times:"can you share your Indian style nachos".  It's one of those recipes that missed getting into my book MASALA AND MEATBALLS, it sure gave a tough fight with hush puppies:).
I might have been ignorant of who won the superbowl, how it's played and how a nacho was built.  Both I'd attribute that to my pre-baby times,  the time when I didn't find any interest in strong men fighting for a ball all huddled, and a huge pile of chips with cheese on it. I didn't get both. How does having boys change you? I'll never know.  Now, I watch the game because I want to be a part of the "cool super bowl group".  And I make my famous nachos because I love this version and everyone looks forward to it.
Although I have to say, I still I had to call my little boy to ask who was playing this week's finals(Philadelphia Eagles vs New England Patriots) and, I know I have to make a triple batch of these Indian style chicken Nachos.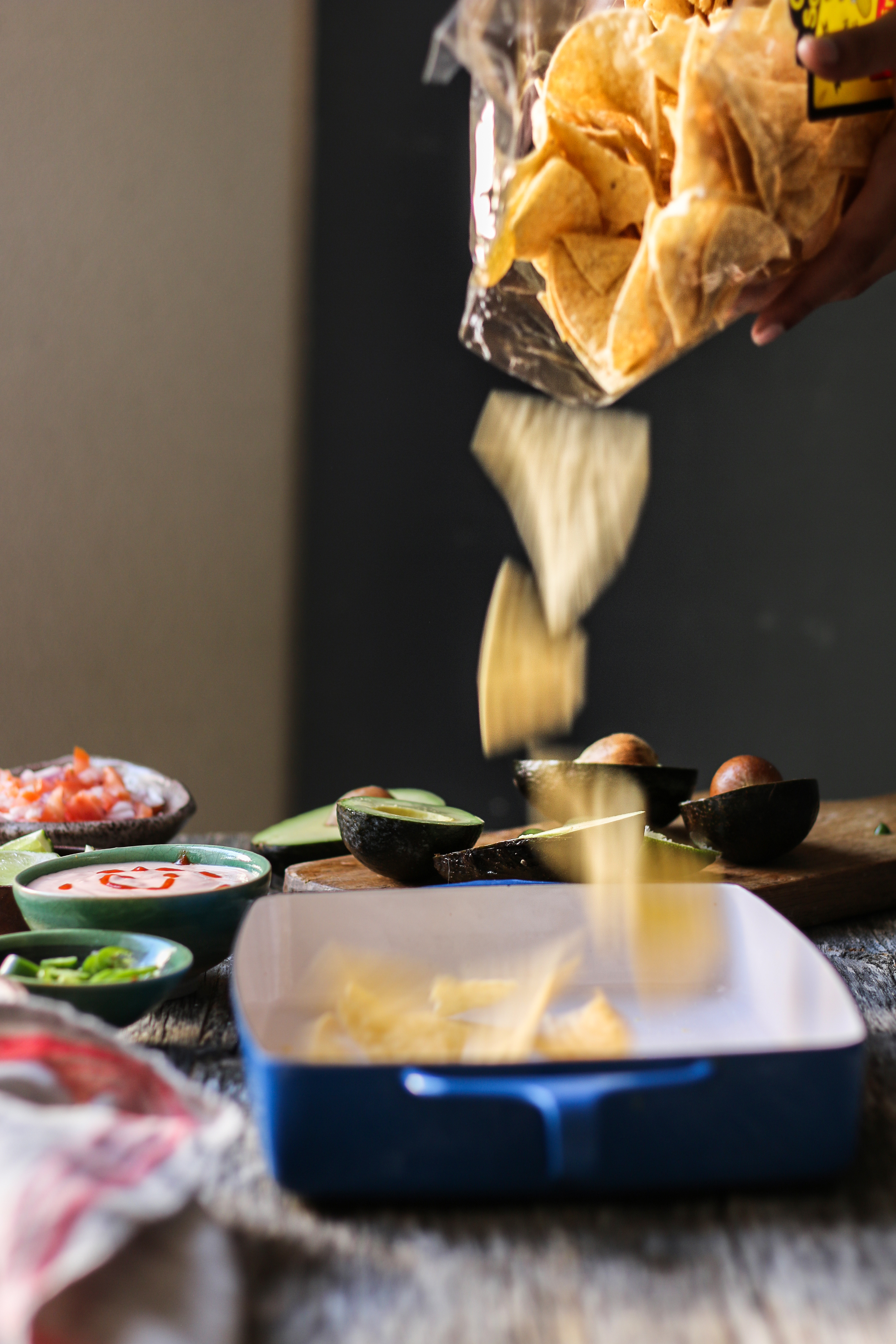 Build the PERFECT INDIAN STYLE CHICKEN NACHOS
Nachos is all about layering.
Layering the thin, light and crispy(my favorite brand of chips to use is from Casa Sanchez) , followed by some protein, something fresh, topping it off with some more creaminess. Cheese if you like, and make sure to serve it the moment you assemble it.
And that's all it is to create an amazing Nachos.  Make it on a sheet pan or any platter.  Add cheese if you like, I like queso fresco or top it with some Monterey Jack cheese and heat it up lightly.  Serve this Indian style chicken nachos after assembly and see it disappear.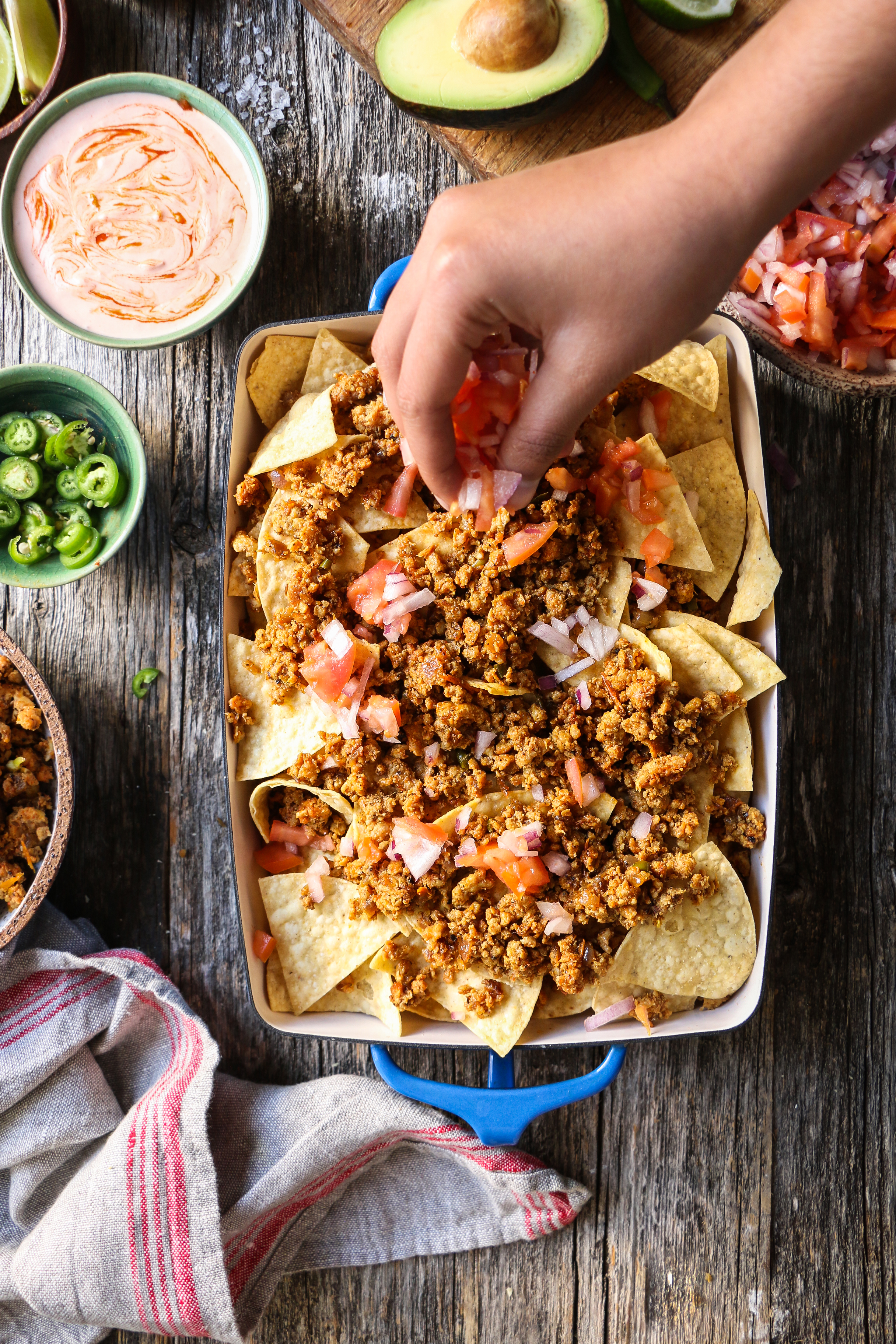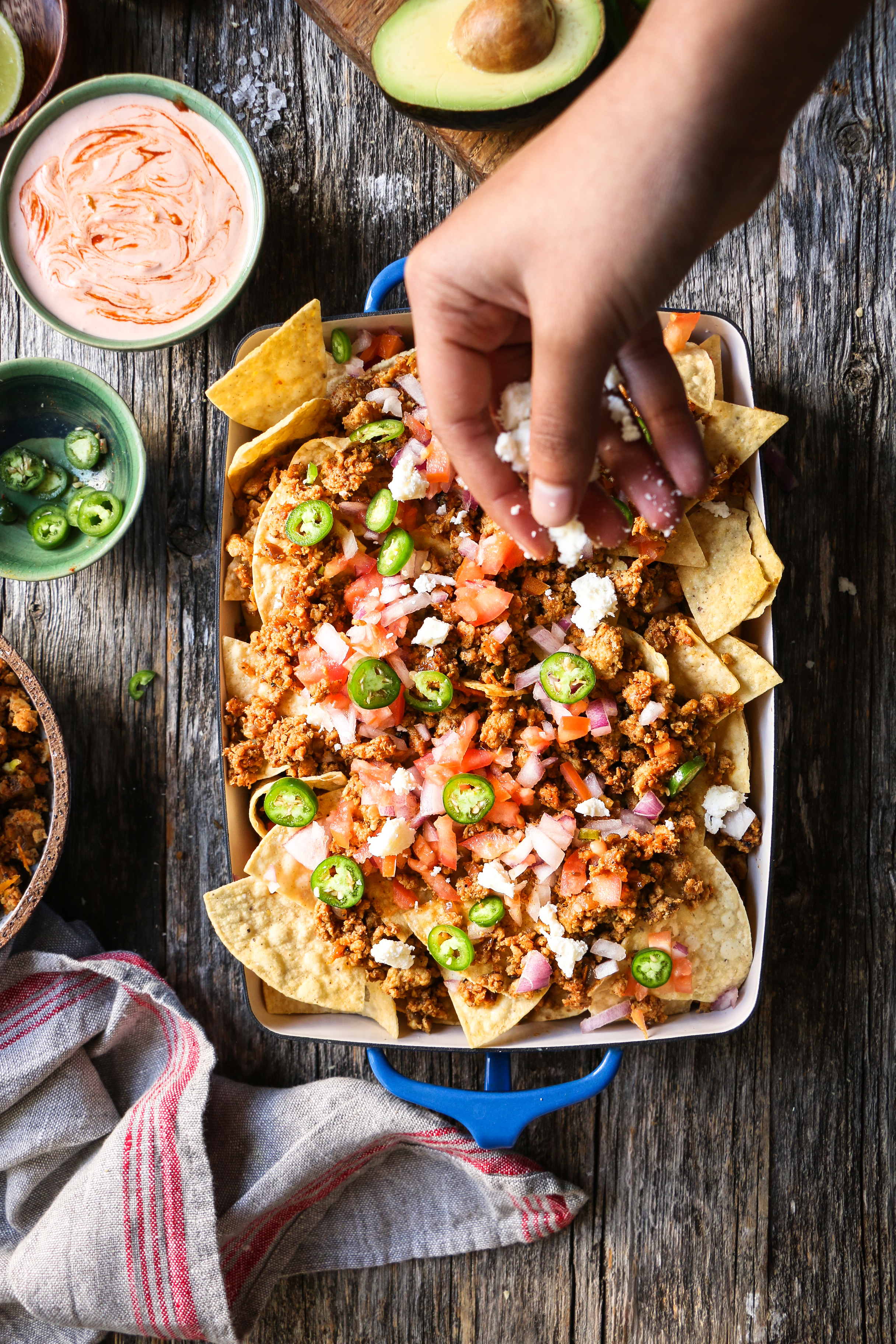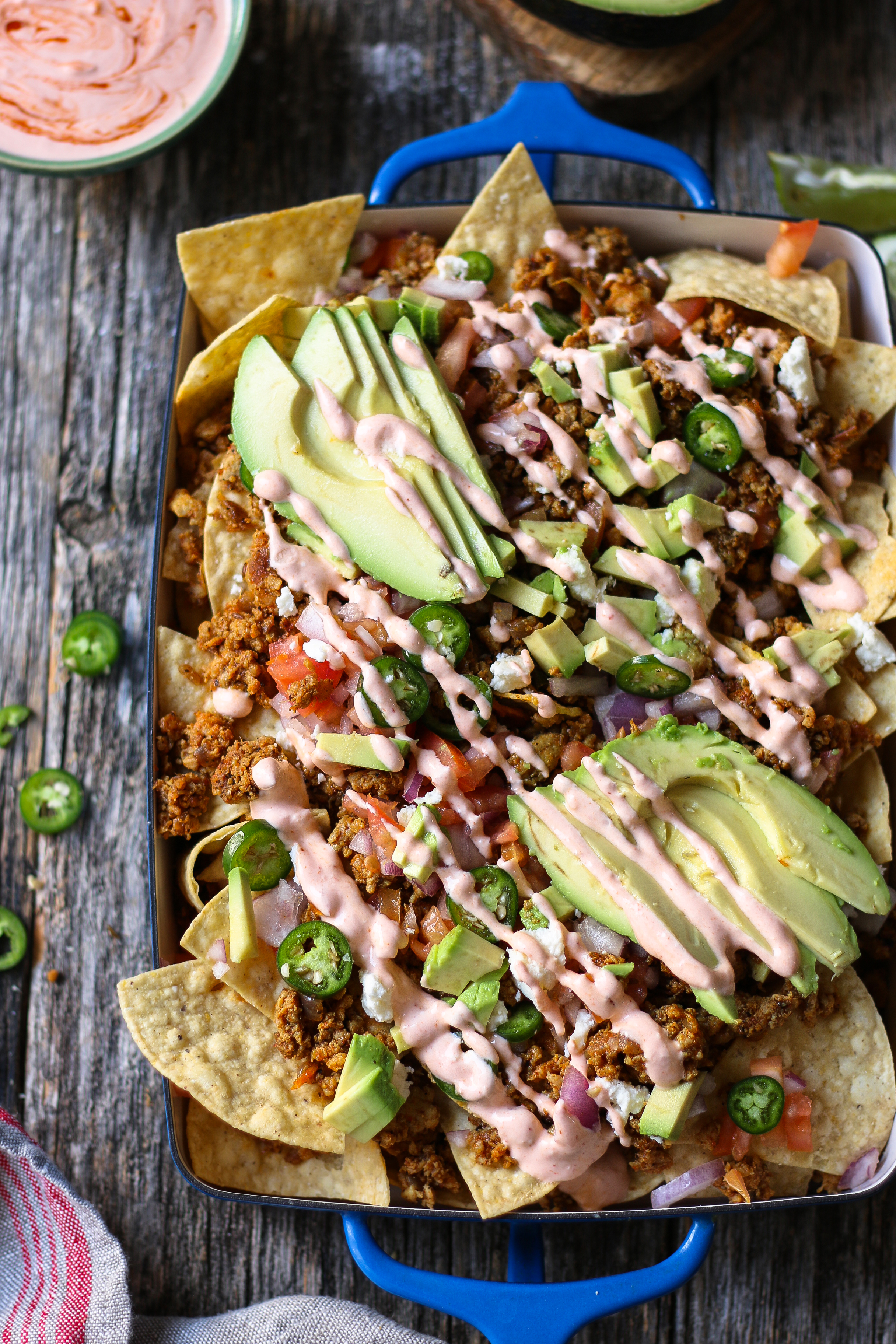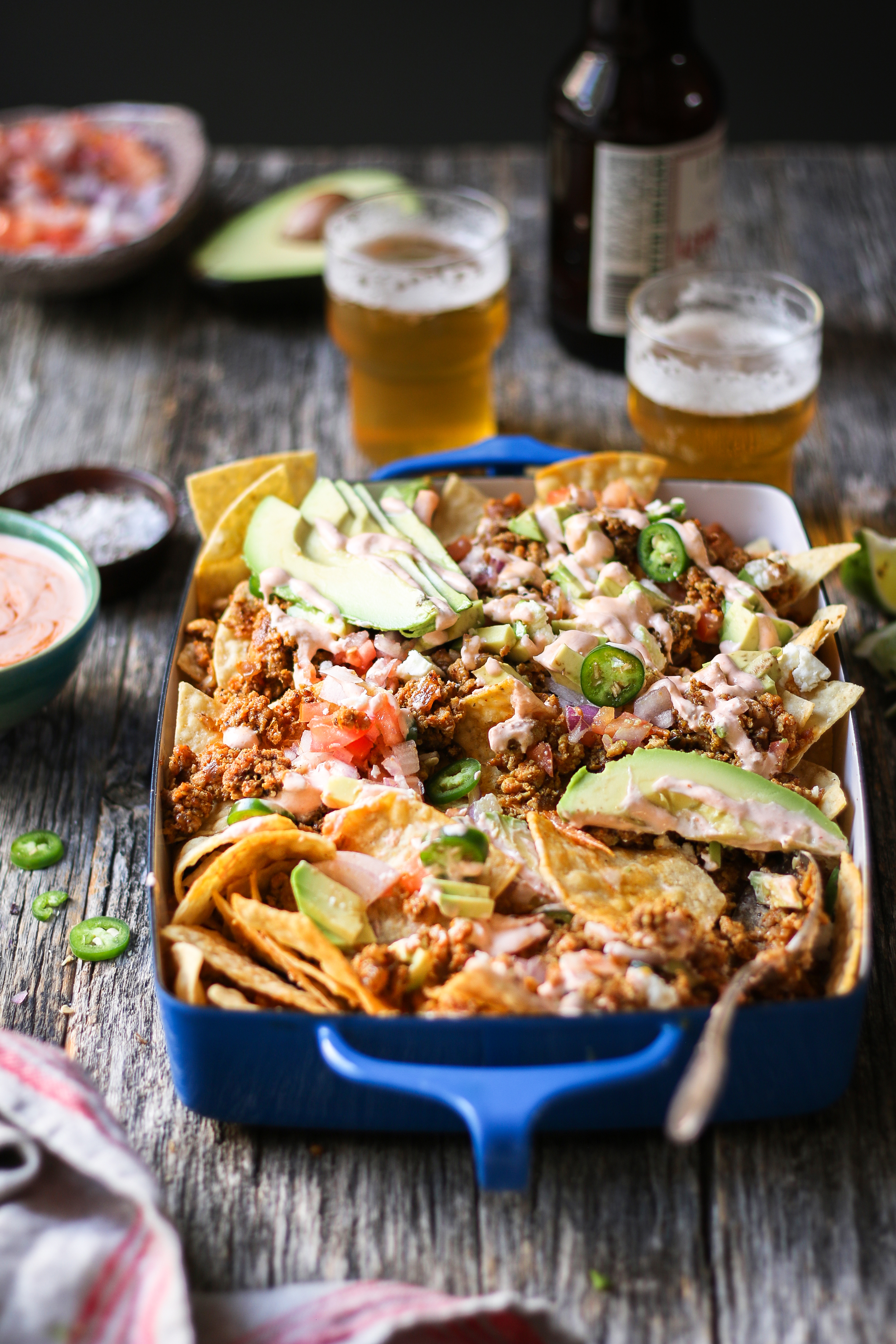 Indian Style Chicken Nachos
The BEST Indian style chicken nachos ever!!!! With thin crisp corn chips and kheema, its so so good. And it's all in one single pan. MINIMAL CLEAN UP! YES!!!! Hit in all parties!!
Recipe type:
Starts, Appetizer
Ingredients
Chicken Mince
2 tbsp canola oil
1 tsp cumin seeds
1 red onion or 3 shallots finely chopped
3 green chilies thinly sliced horizontally
2 tsp fresh ginger-garlic paste
1 small tomato finely diced
2 tsp pure red chili powder,more or less depending on your spice level
1 tsp garam masala powder
⅓ tsp turmeric powder
1 tsp salt
2 tsp thick yogurt
¾ cup peas(you can par boil it or if frozen sweet peas, add in the end)
1 pounds Ground chicken or ground lamb
2 tbsp ketchup any kind( I like sweet and sour from Maggi)
½ bunch coriander leaves,finely chopped to garnish
Toppings:
1 onion, finely chopped
Tomato, finely dicedonion tomato
3 jalapenos, sliced
2 avocados, sliced lenghthwise or diced
½ sour cream
⅓ cup thick sour yogurt
2 tbsp sriracha( or any hot sauce available and you like)
Salt
juice of 1 lemon
cilantro to garnish
Queso Fresoco- 2-3 tbsp
Instructions
In a large kadahi or non stick pan, add the oil and let it get hot. Add the cumin, let it pop and add the finely chopped onion and saute for a minute. Then add the ginger garlic paste, green chilies and saute for another minute. Add the tomatoes, red chili powder, garam masala, turmeric powder and saute and cook for another 2 minutes until you see the tomatoes disintegrated a little.
Add the yogurt, uncooked fresh peas at this point and ground chicken or lamb and make sure to break it up and toss, saute well for 2 minutes. Cover and cook for 15 minutes on medium flame.
While the meat is cooking, crush the black pepper and the garlic with a mortar and pestle and set aside.
After about 15 minutes, open the lid and check if it is fully cooked. Uncover and dry the masala for 5 minutes. If you use frozen or par cooked peas, add it at this point. Add the ketchup and mix and dry it down for another 2-3 minutes.
Mix the sour cream, yogurt, sriracha( or any hot sauce), lemon juice and mix well. Check for salt and season it. If you are not using sriracha and use any other other sauce, add a pinch of sugar. Set aside in the refrigerator until ready to use.
Assembly
Add the chips in a pile, top it with the chicken mince, add the onion tomato, jalapenos, chopped and sliced avocados and drizzle it liberally with the yogurt-sour cream sauce.
Top it with some queso fresco if you prepare.
Serve immediately.
*Please do tag me on Instagram @foodfashionparty if you make this, using the hashtag #foodfashionparty.  Check out my book MASALA AND MEATBALLS.
Stay in touch for more delicious food on Instagram and Pinterest. Follow on Snapchat (@ashfoodfashion) for daily doses of food.*