The first festival of the year for Tamilians, Pongal.  This quinoa pongal with gotsu is a slightly healthier alternative to the classic pongal that is usually made on this festival with rice.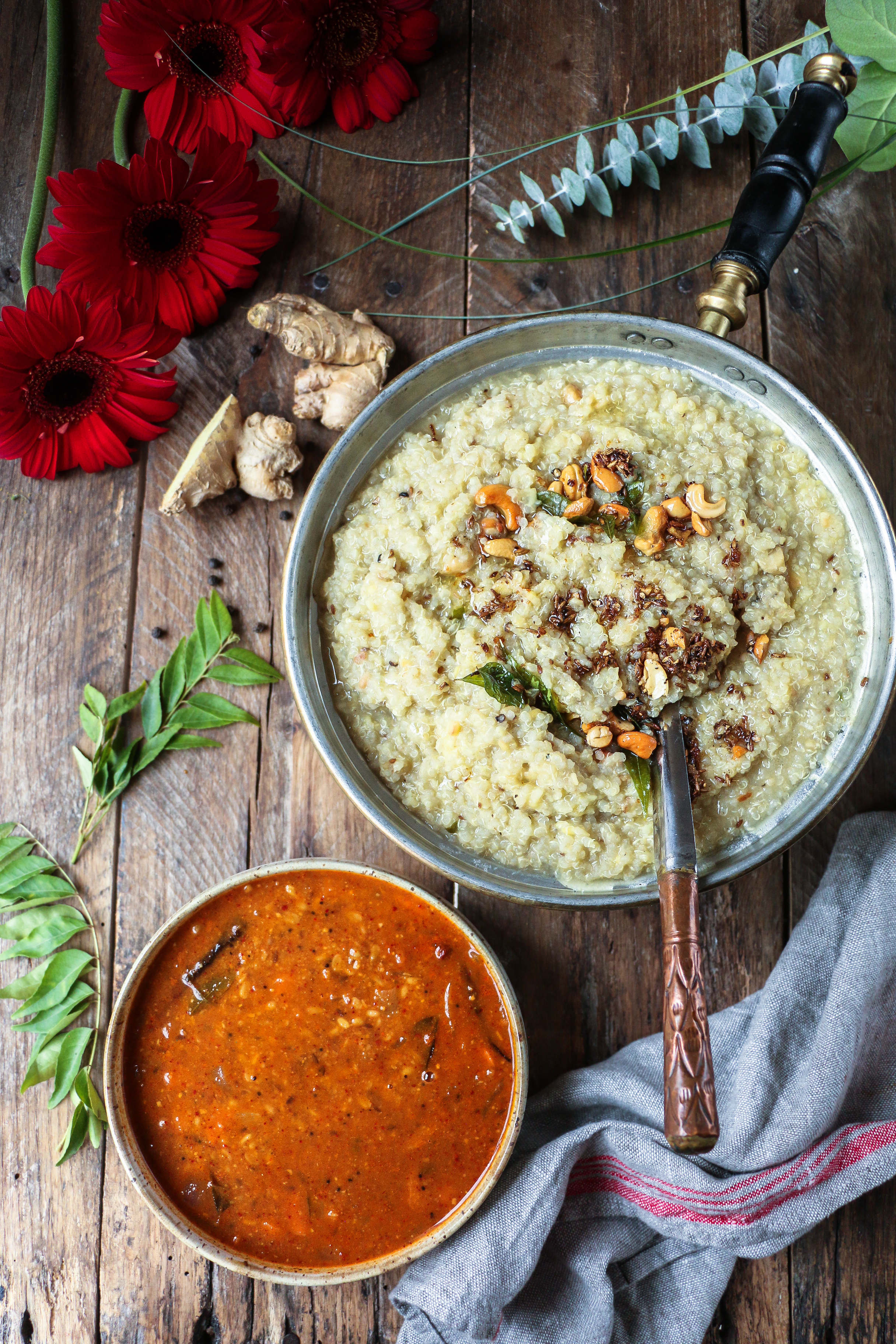 Happy Pongal / Sankranti to all who celebrate!! When they say India is a land of festivals, it is true.  We probably have a festival every month of the year.  The crazy part is that they are not small festivals; each one is big.  Pongal is a harvest festival dedicated to Sun God. It's a celebration of the first crop.  It's celebrated over four days, each day with its own significance.  You can read more about the mythology and significance behind Pongal here.
Pongal last year
Last year at this time, I spent my Pongal with my parents in India.  Being in India is special enough, but being there during a festival is exceptionally special.  Something I enjoy during festivals in India is going festival shopping with dad.  I love the sights of the sugarcane, fresh turmeric pulled just that morning from the soil, arrays of colorful flowers, and fruits and betel leaves lining the markets.  Lovely women draped in their cotton or poly sarees full of smiles.  You can smell the happiness in the air.  The fresh aura screams positivity.
Celebration
The celebration started a couple of days before the big day Pongal.  Dad and Mum started cleaning up and getting the home ready to celebrate.  Dad and I went shopping the previous day and bought all that we need. During the day off, I helped with draping flowers all around our home and drawing designs (kolam) on the floor for the festivities, while Mum is busy getting everything ready.
She makes my favorite spicy pongal with gotsu, vada, sambhar with seven different vegetables, three different vegetable sides, and a kheer(dessert).  I can't contain myself.  I can't wait for the pooja to begin, and I can't wait to dig in.  The pooja is set up on our little balcony and facing the Sun.  Dad finishes the pooja, and I rush to start eating the fancy festival meal that I wait all year to eat.  It's every bit worth the wait.  Whether they celebrate the festival or not, many south Indian homes make pongal with gotsu on the festival day.
To me, festivals are all about family, the memories, the moments.  Having a peaceful and quiet time with family is so important.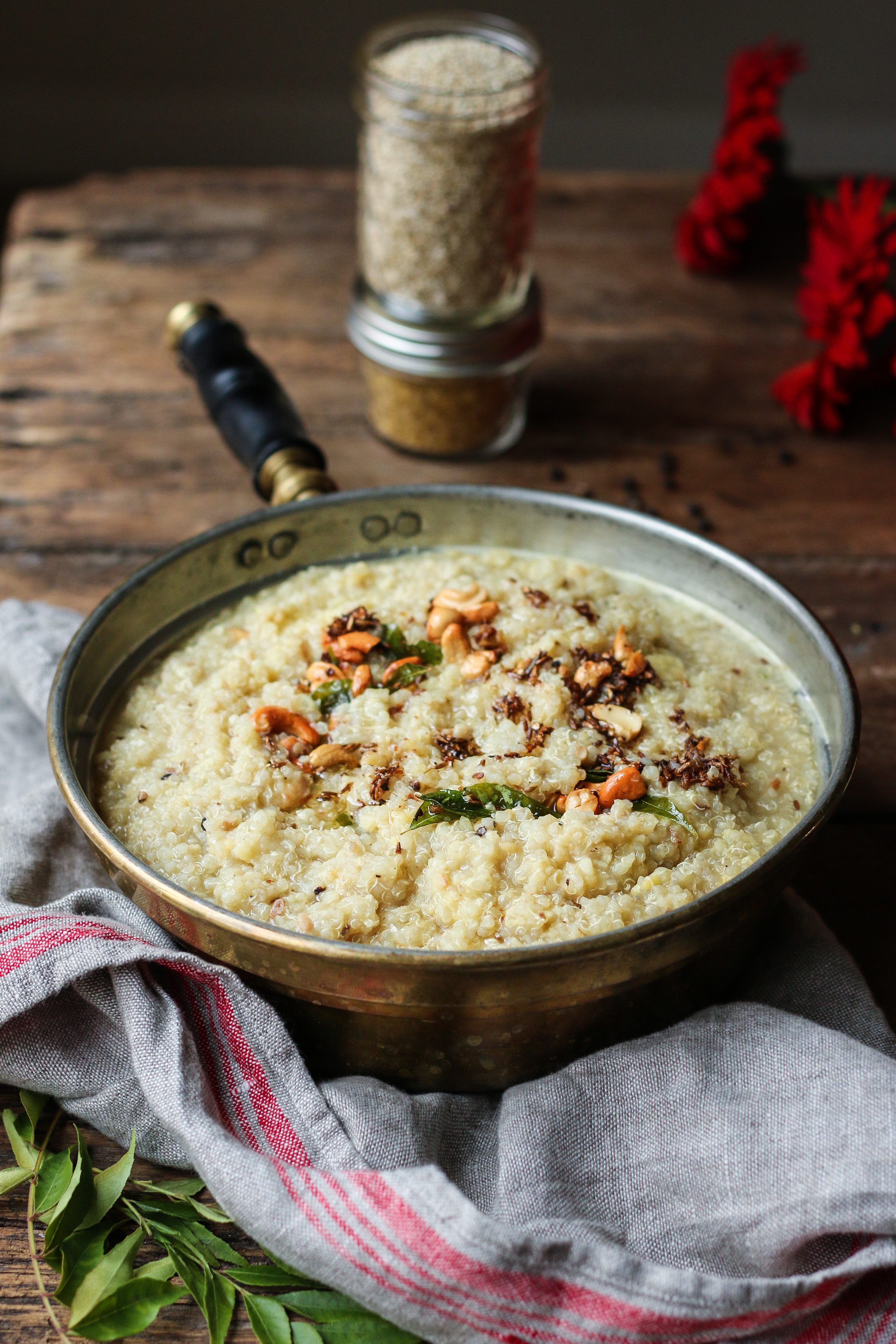 Pongal with Gotsu
Pongal is a risotto/grits sort of dish which is made with white rice and moong daal.  It's pressure cooked to get it to a mushy texture, and it's tempered with some delicious spices.  With Pongal being a harvest festival, the farmers use the first rice crop to make pongal.  The first rice, if not aged turns very soft automatically. When making pongal, it's always nice to use  new rice, which is not aged.
To me, Pongal and Gotsu is a combination that screams comfort.  Gotsu is a curry traditionally made with eggplant.  There's also the tomato gotsu which is very popular in Karnataka.  It's a spicy curry which is somewhat similar to sambhar, but also quite different.
I'm a purist when it comes to most traditional recipes, but this one is an exception.  Here, I've used quinoa, which is amazing. The quinoa in this dish works equally well, if not better.  It doesn't congeal up like rice does even with a little bit of toasting.  I absolutely love it, and the good thing is it's much healthier.  I have the traditional recipe with rice in my book, Masala and Meatballs.
There are few dishes/sides that go great with pongal.  Kathrikka/eggplant gotsu and tomato gotsu, and yes, coconut chutney. I don't remember mom making eggplant gotsu, and I'm guessing because I wasn't fond of the vegetable.  But, also because tomato gotsu was preferred by dad.  The eggplant gotsu has a unique distinct taste which goes very well with pongal. Just add at the time when the onion is sauteeing.  To me the spice powder is key to magically transforming this dish.  I like using bydagi chilies which lends a beautiful color, that pungency.  It's a popular chili in Karnataka.   Pongal and gotsu is simply an amazing combination.  It's one of those healthy dishes that is made during a festival.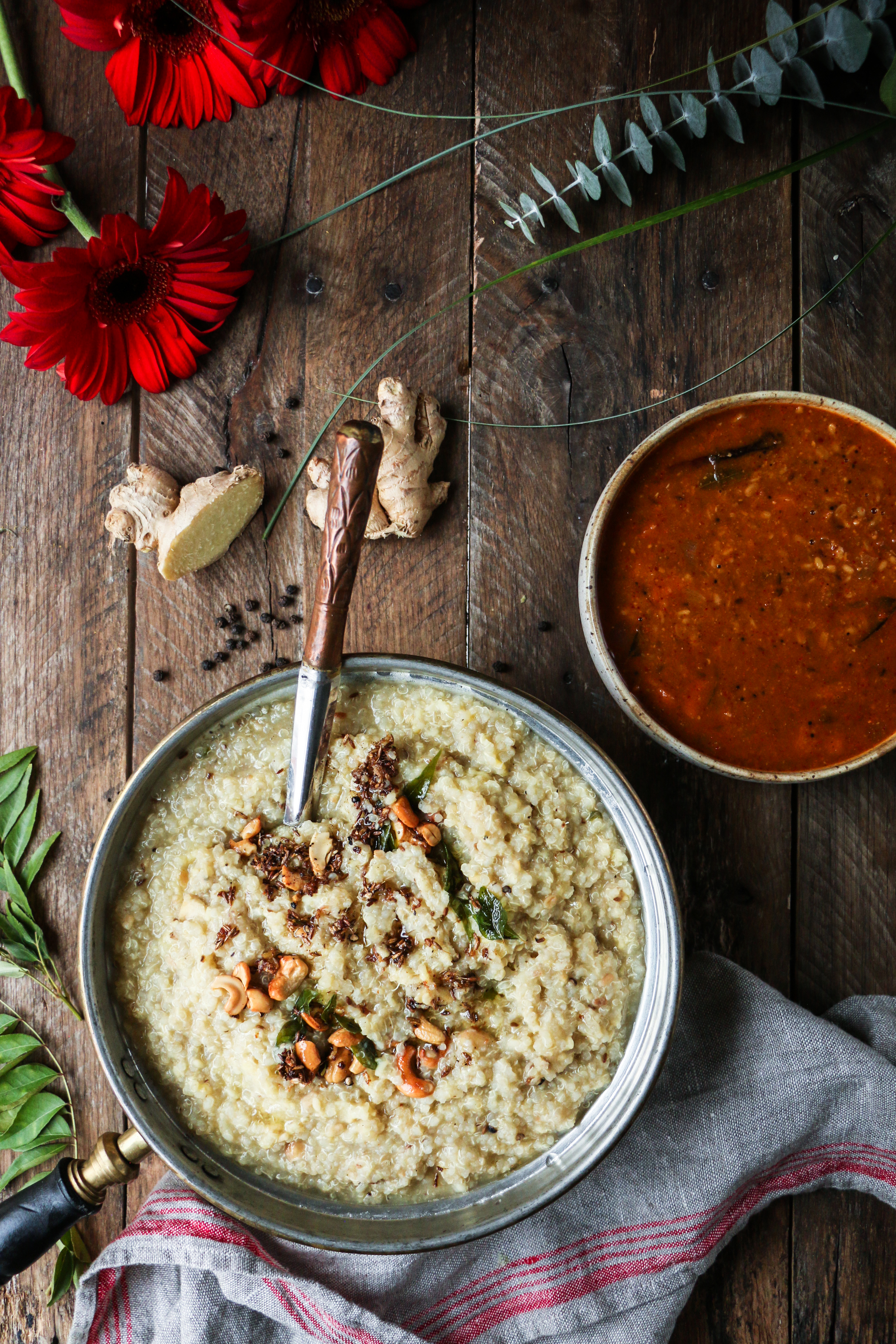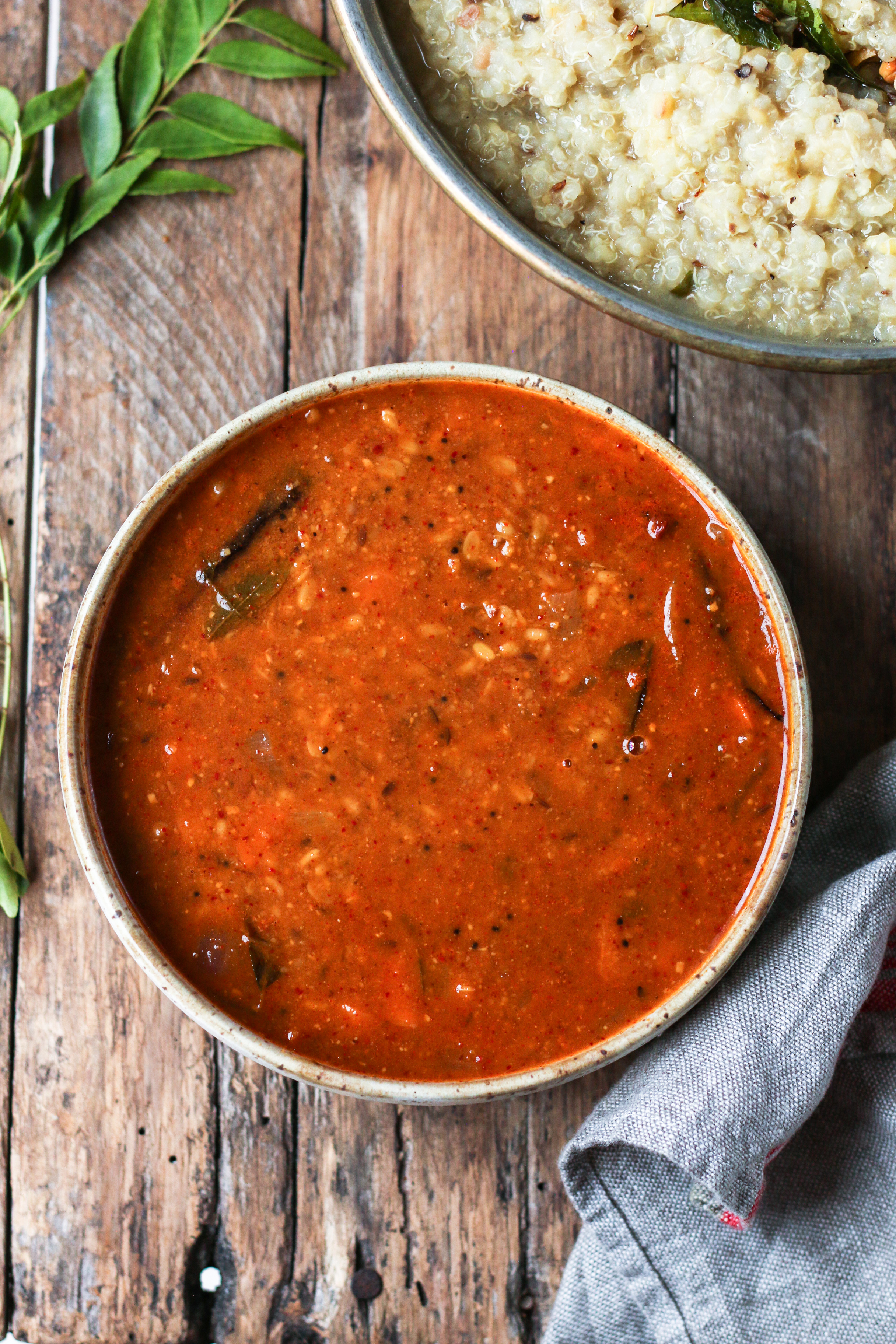 I have to thank each one of you'll for commenting, sending me lovely messages and buying the book. BIG HUGE THANK YOU!!
If you make this pongal with gotsu, or just one or the other, please tag me and I'd love to know how you like it.
*Please do tag me on Instagram @foodfashionparty if you make this, using the hashtag #foodfashionparty.  Check out my book MASALA AND MEATBALLS.
Stay in touch for more delicious food on Instagram and Pinterest. Follow on Snapchat (@ashfoodfashion) for daily doses of food.*

Pongal with Gotsu
This quinoa pongal with gotsu is a slightly healthier version of the classic dish pongal that is made on this festival with rice.
Ingredients
PONGAL
1 cup of white quinoa
½ cup of split yellow moong daal
4 cups of water
1 tbsp salt or according to your taste
Tempering for Pongal
3 tbsp ghee
1 tsp cumin seeds
1 tbsp of coarsely crushed black pepper(important that it has to be coarse, half or quarters)
pinch of asafoetida (important)
10-15 curry leaves ( important)
1 inch ginger, thinly sliced to tiny pieces
15 cashews, broken
TOMATO GOTSU
⅓ cup yellow split moong daal
1 carrot, diced
Powder
5-8 red byadagi chilies
1 tsp coriander seeds
½ tsp cumin seeds
pinch meethi(optional)
1 tbsp channa daal
1 tsp urad daal
Masala
2 tbsp flavorless oil
½ tsp mustard seeds
½ tbsp cumin seeds
10 curry leaves
2 byadagi red chilies
1 red onion, diced
1 tomato diced
one mini lemon size tamarind, soaked in 1 cup hot water, and strain the juice.
1 tsp or more salt
1 cup of water
small piece of jaggery or 1 tspsugar
Instructions
You can use the pressure cooker or instant pot to cook the quinoa and split moong daal.
First light roast the quinoa and yellow moong daal on medium to low heat for couple of minutes, a very important step. It should not get any color. Make sure to keep tossing it. Turn off the heat and add water and wash very well. Then add 4 cups of water and let it pressure cook for 1 whistle and simmer it and let sit for 20 minutes.
In a separate pan, add ghee, let it get hot. Add the cumin seeds, black pepper, asafoetida, curry leaves, ginger and cashew and toss them until the cashews are golden brown. Turn off the heat.
Open the lid of the pressure cooker, add salt to the pongal and add the tempering to it and mix well. If your pongal is thicker in consistency, add another cup of water. Mix and serve hot.
TOMATO GOTSU
Wash the moong daal and in a sauce pan add it with 2 cups of water and let it cook an boil on medium heat. After about 7 minutes, add the carrots and cook it until the carrots are cooked and the moong daal is cooked, but not mushy. It will take another 5-8 minutes. Turn off the heat and set aside.
In a pan, toast the byadagi chilies, coriander seeds, cumin seeds, meethi, channa daal, urad daal on low heat. Toast it until you smell the spices and you see some color on the urad daal. For about 2 minutes. DO NOT LET IT BROWN TOO MUCH. Take it out and let cool. Grind it to a fine powder. Set aside.
In a pan, add the oil and let it get hot. Add the mustard seeds, cumin, curry leaves, red chilies and once that pops, add the onion and saute. Saute for a minute, add the tomatoes. Add little salt and toss and cook. Once the tomatoes have broken down a bit, add the tamarind juice and let it boil for 4-5 minutes. It will boil and condense. After about 5 minutes, add the cooked urad and carrots, 1 cup of water. Sprinkle the masala powder that you made. At this point, it's up to you to use as much or little as you want. I use about 3 tbsp. Sprinkle, mix and simmer for 5 minutes. Add the jaggery and turn off the heat.
SERVE hot with the Pongal.
Notes
You can use rice instead of quinoa and follow the exact same method.
There are few ingredient for this and it's key to use everything.
For the Gotsu, you can add eggplant, the long ones, when you are sauteeing the onions and cook well before add the tamarind juice. It's very very flavorful and it's quite traditional to use eggplant.