This quick yellow Thai curry will both impress you and leave you craving for more.  It's so easy, and you don't even need any paste. It's a weekly staple in our home.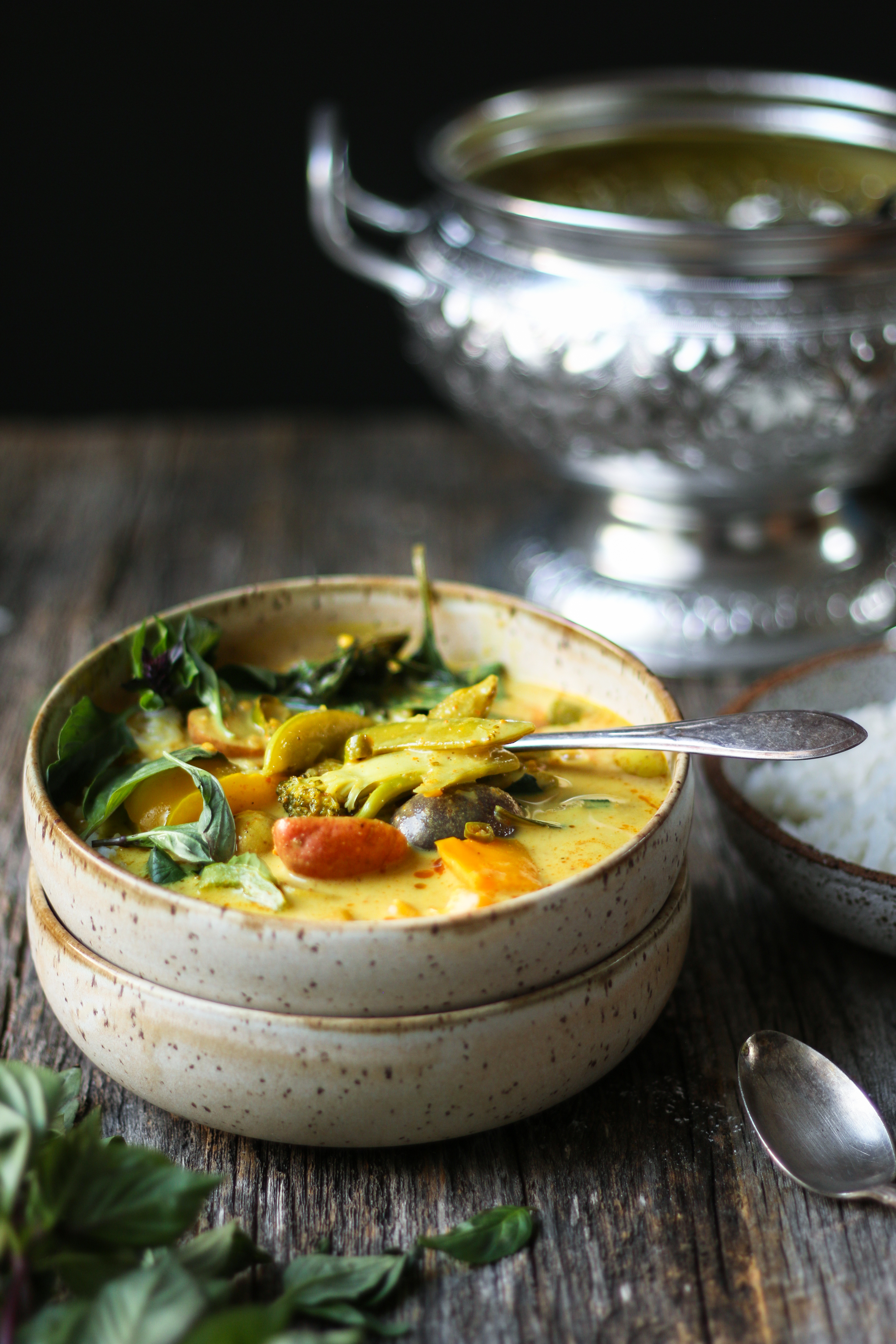 If there's one thing we would take out quite often, but I was still overwhelmed by, it was Thai food.  For some reason, for years I thought making Thai curry with Thai paste was laborious.  Well, making a Thai curry paste does require a few ingredients, but it's actually quite simple as I later learned.  However, on the days I run out of my curry paste and have a hankering for Thai Curry, this is my go to.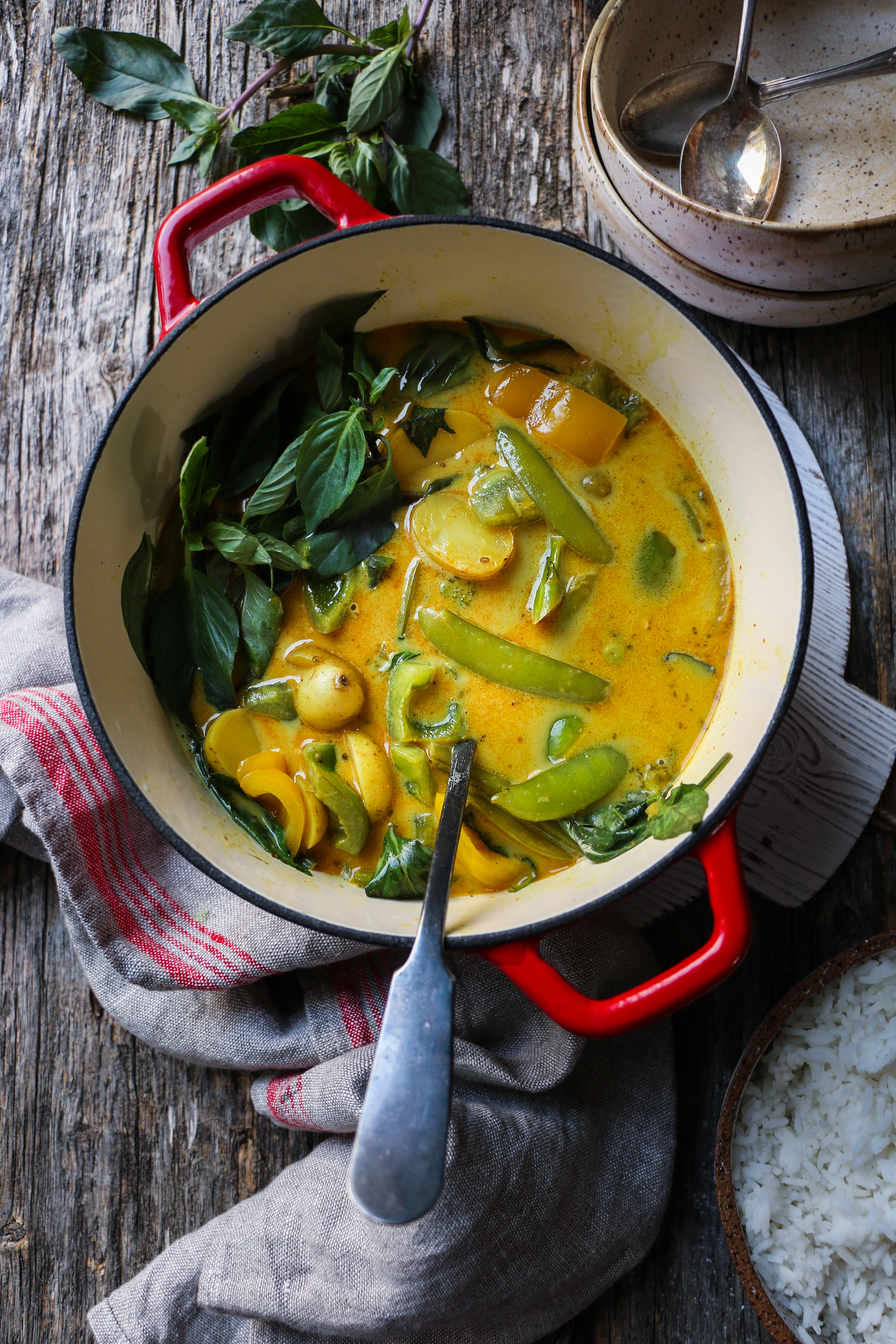 Quick Yellow Thai Curry
There's not much you need to make this quick Thai yellow curry.  It's just comprised of basic ingredients, pantry staples, and madras curry powder.  That's it.  Twenty minutes later, you have piping hot yellow curry, which will leave you surprised and impressed.
The vegetables that you use in this dish are all up to you.  A combination of veggies that you like and that you have on hand.  I like potatoes since it gives a creamy aspect to the curry.  You can even make it a little thicker if you like by boiling a bit more.
The secret to making amazing Thai curries is to use plenty of aromatics (garlic, fresh green chilies, thai basil), full-fat coconut milk for richness (you won't regret it!), and just a little bit of rice vinegar and sugar, which add loads of complexity. Skip the curry paste, skip those steps and make this and you will be making this quite often.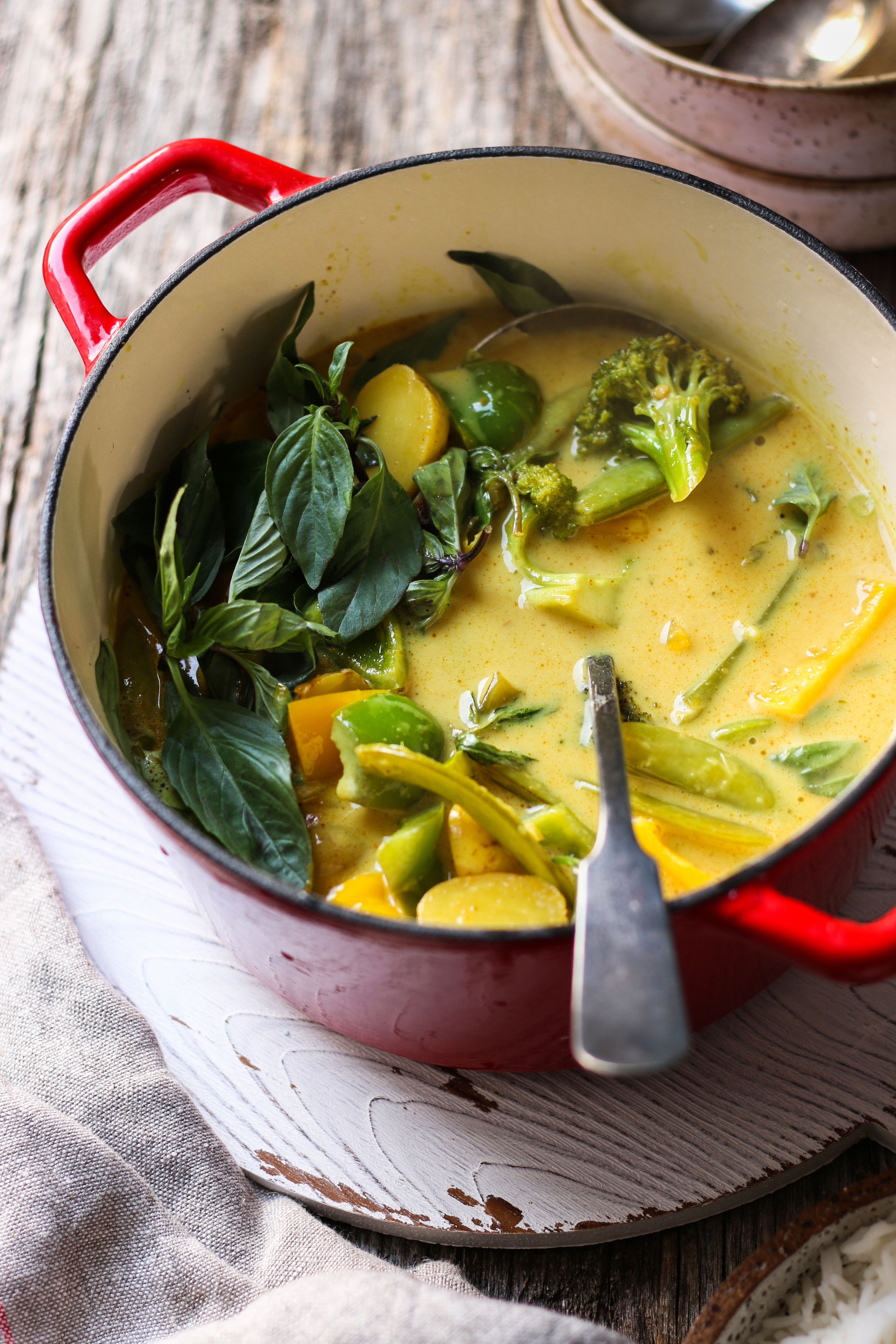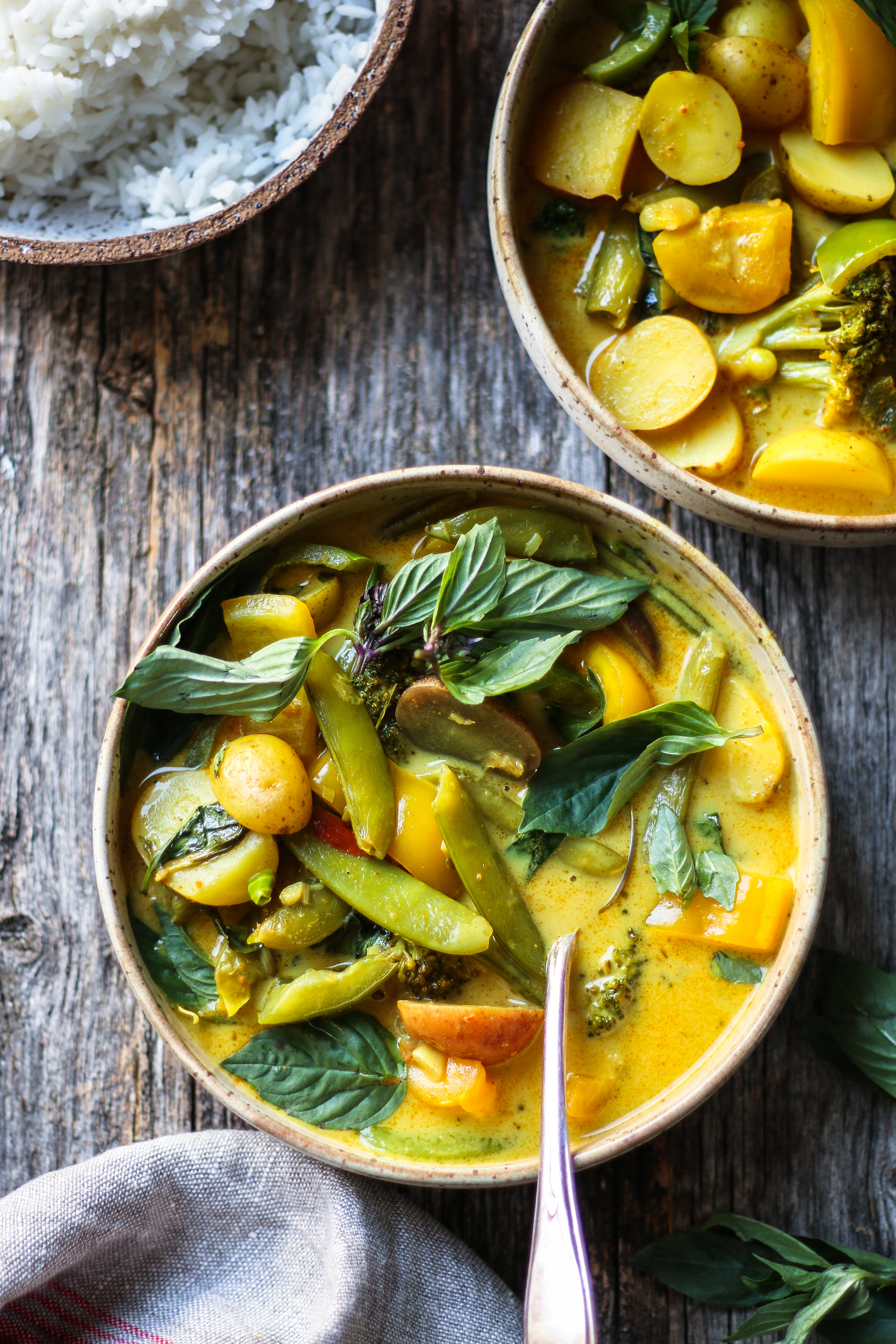 *Please do tag me on Instagram @foodfashionparty if you make this, using the hashtag #foodfashionparty.  Check out my book MASALA AND MEATBALLS.
Stay in touch for more delicious food on Instagram and Pinterest. Follow on Snapchat (@ashfoodfashion) for daily doses of food.*

Quick Yellow Thai Curry - 20 min
This quick yellow thai curry will impress you and leave you craving for more. It's so easy and you don't need any paste.
Ingredients
2 tbsp vegetable oil
1 potato or 10-12 mini potatoes
6 cloves garlic, finely chopped
4 green chilies, thinly sliced
1 tbsp curry powder
⅓ tsp turmeric powder
1 green bell pepper
1 red bell pepper or red bell pepper
½ head of broccoli, cut to 2 inch pieces
20 snow peas
baby corn(optional)
Sauce:
1 can thick coconut milk
1 can thin coconut milk
3 tsp soy sauce
1 tbsp rice wine vinegar(or less for less tart taste)
⅓ tsp chili flakes
½ tsp sugar
lot of thai basil
Instructions
In a large pan, add oil and let it get hot. Add the potatoes and saute on high heat to brown and caramalize it. After about 2 minutes, turn the heat to medium low, add the garlic, green chilies and curry powder. Keep sauteeing to toast the curry powder for about a minute. Then add the turmeric powder, green bell pepper, red bell pepper, broccoli and snow peas. On medium heat, saute and cook for few mintues. Stirring it continuously until the vegetables have slightly lost their rawness, but still has a bite. Add the thin coconut milk and bring to simmer. While that is cooking, mix everything for the sauce.
In a bowl, add the add the thick coconut milk, soy sauce, rice wine vinegar chili flakes, sugar and mix it very well.
Add all of this to the vegetable mixture. Add lots of thai basil and mix very well. Bring it to a boil and turn off the heat.
Serve hot with some steamed rice and extra basil for some added fresh and tasty curry.