This white chocolate panna cotta is smooth, silky, and perfect for any occasion.  The white chocolate adds a touch of sweetness, the blood orange gelee adds a citrus punch, and the amaretti cookies add a great crunch.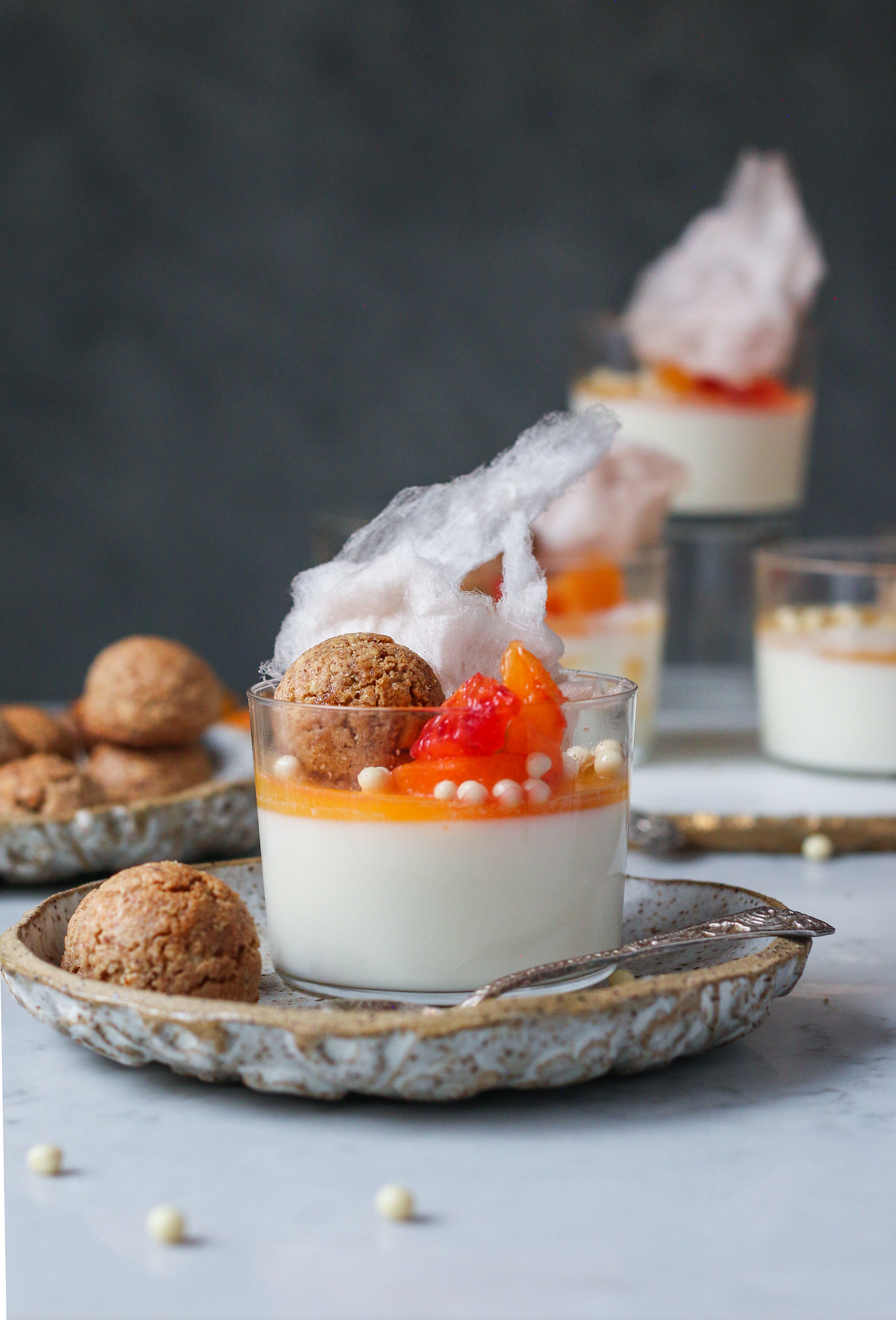 Happy February!!
This dessert was inspired by my love of white chocolate and blood oranges.  I think they are a match made in dessert heaven.  I tried hard to capture both of their strengths while maintaining their integrity.
I'm generally not a big fan of citrus fruits, but blood oranges are something I wait for, every year.  A good glass of fresh juice in its freshest form is such a refresher, but I also love using it desserts like this.  This panna cotta is such a sexy and smooth dessert, and I thought, what better day to share it than on Valentine's Day?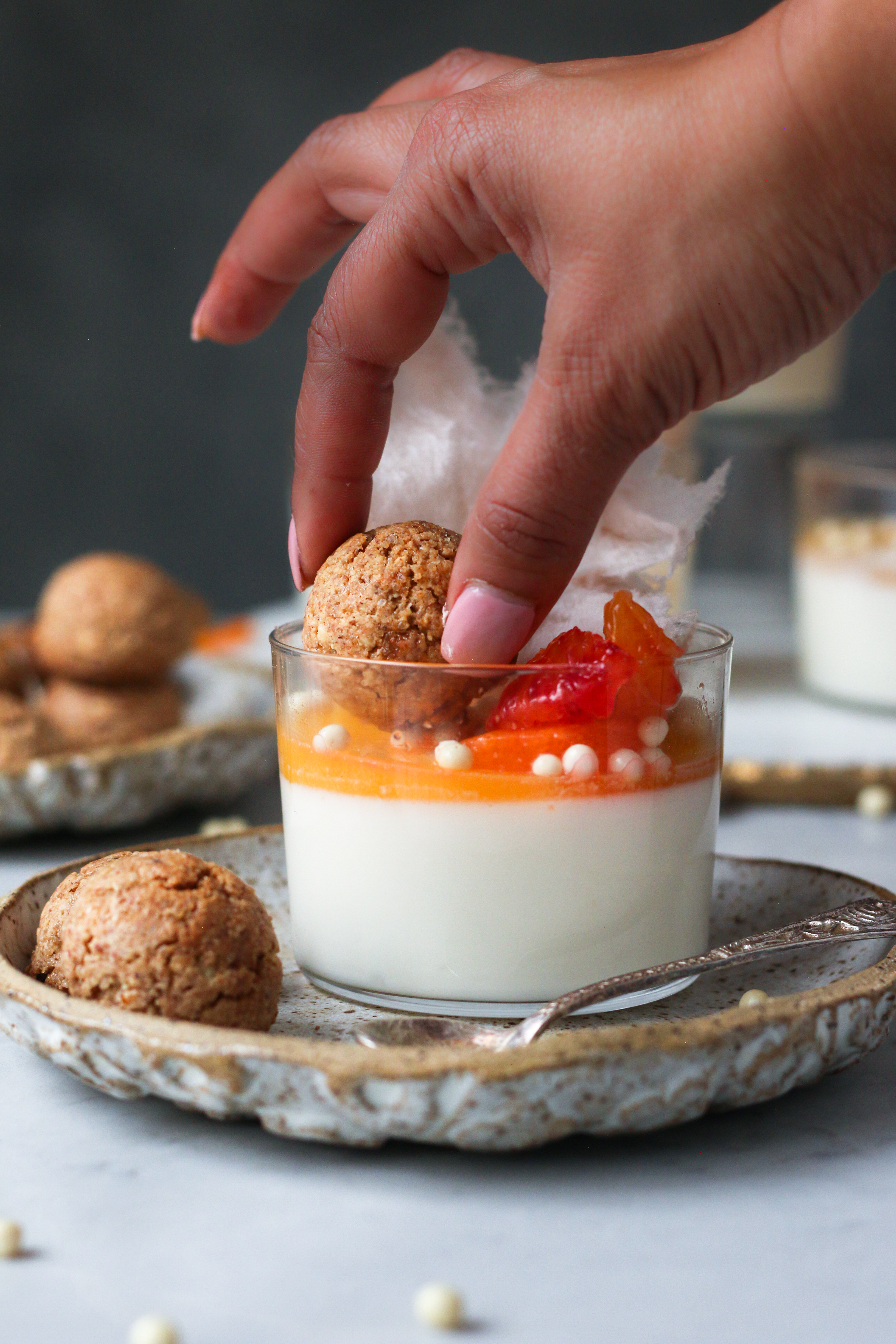 This dessert is very simple to make, and quite an impressive one.  I have a love relationship with simple desserts like this. Although I'm not necessarily a big fan of this holiday, I do make desserts for the boys to share at their school or with their friends.
White Chocolate Panna Cotta
This panna cotta is sweetened with white chocolate and real vanilla beans.  The creaminess and the sweetness are perfectly balanced with the blood orange topping.  The colors, for one, are pretty, but the flavors and textures truly make a sensational combination for your taste buds.  The crunch from the cookies is like a cherry on the cake.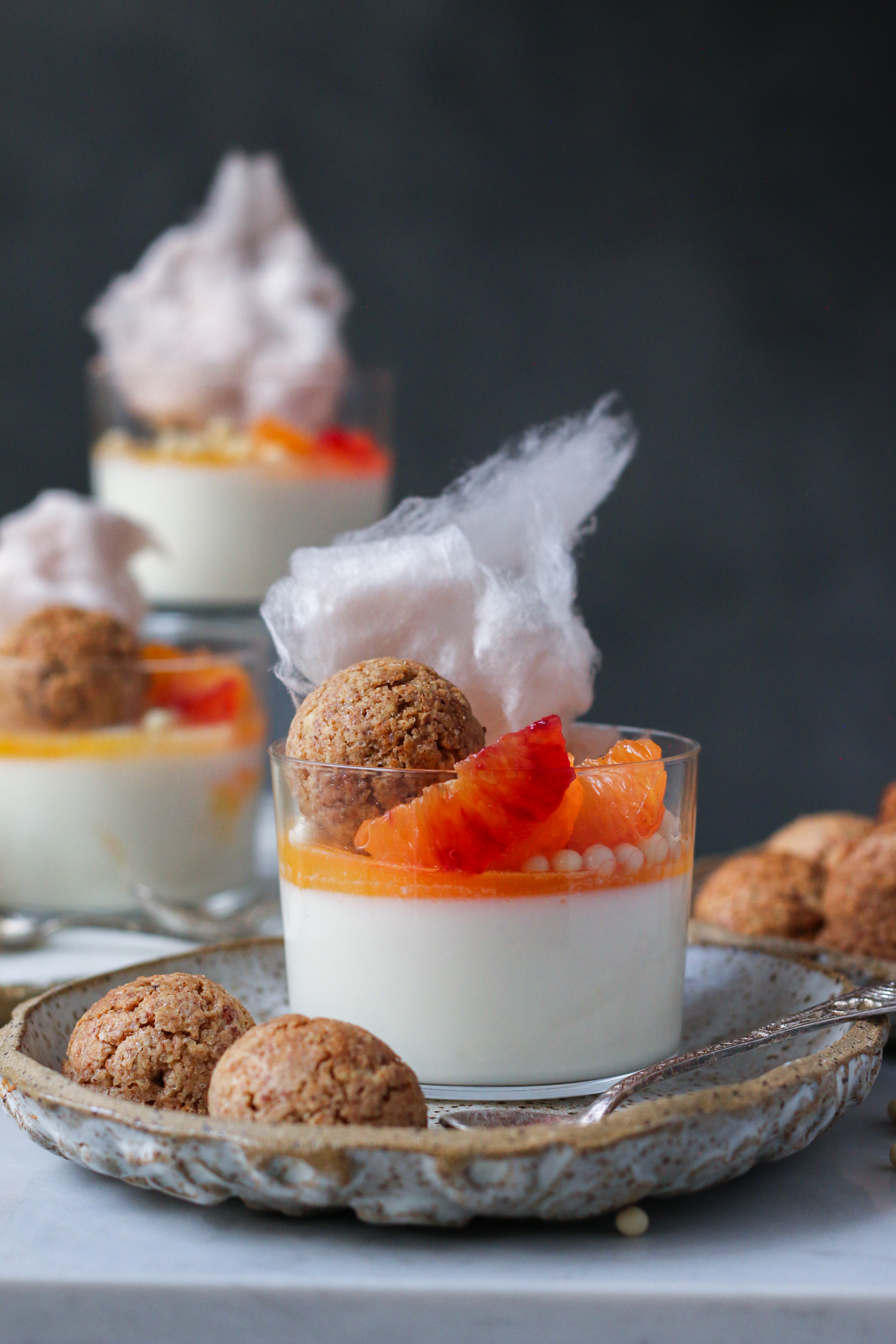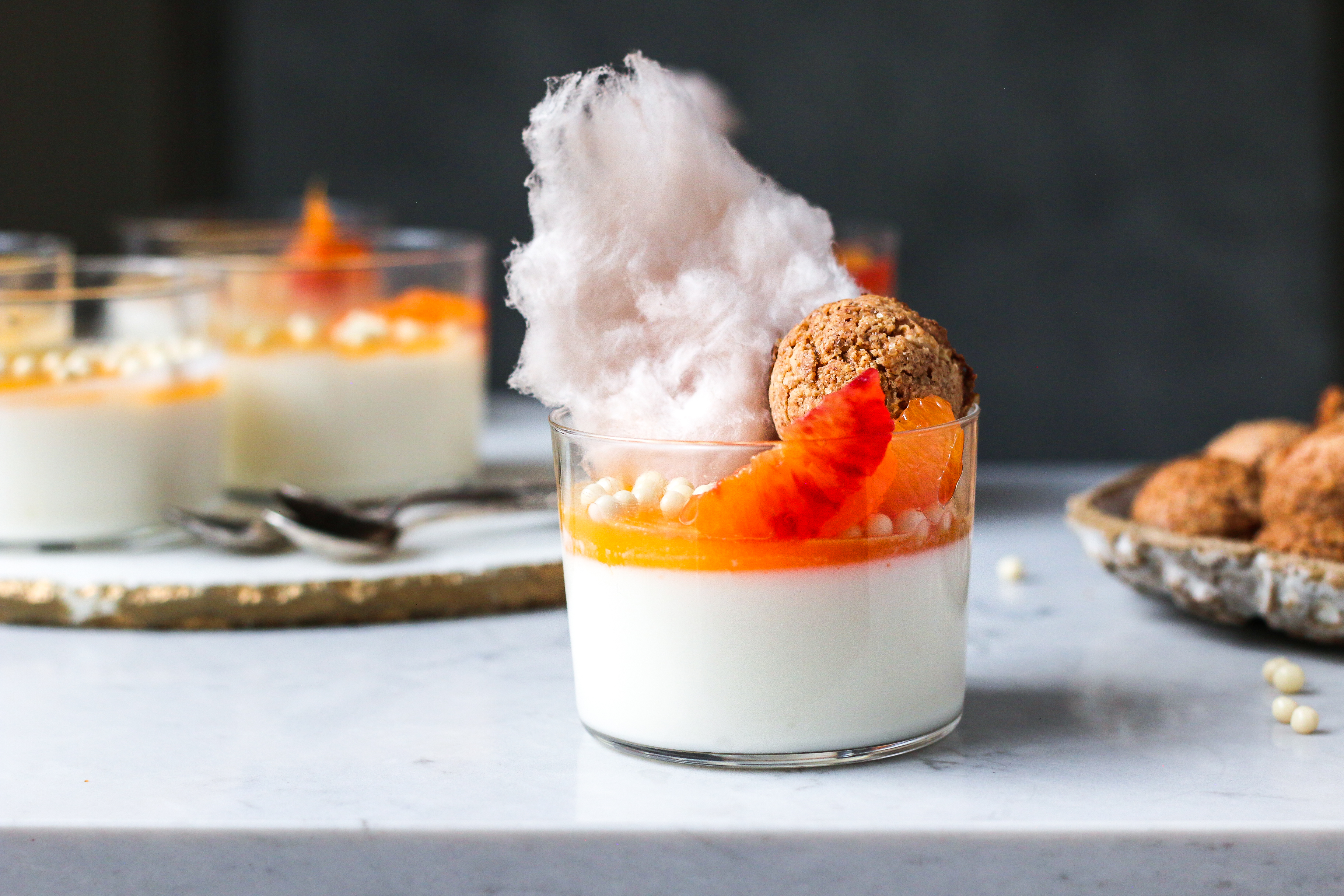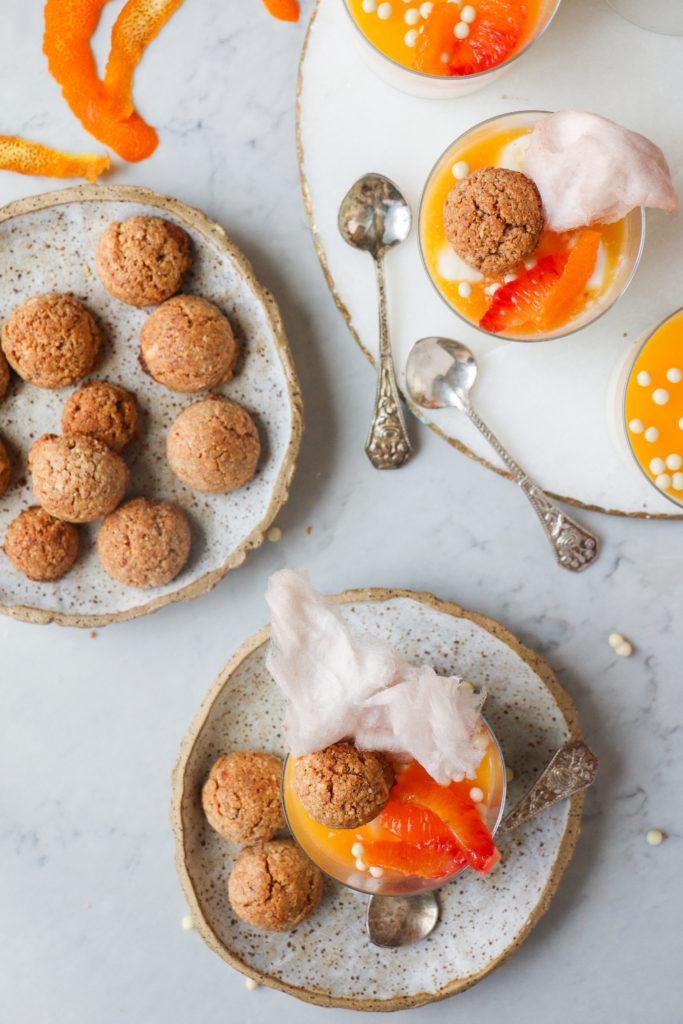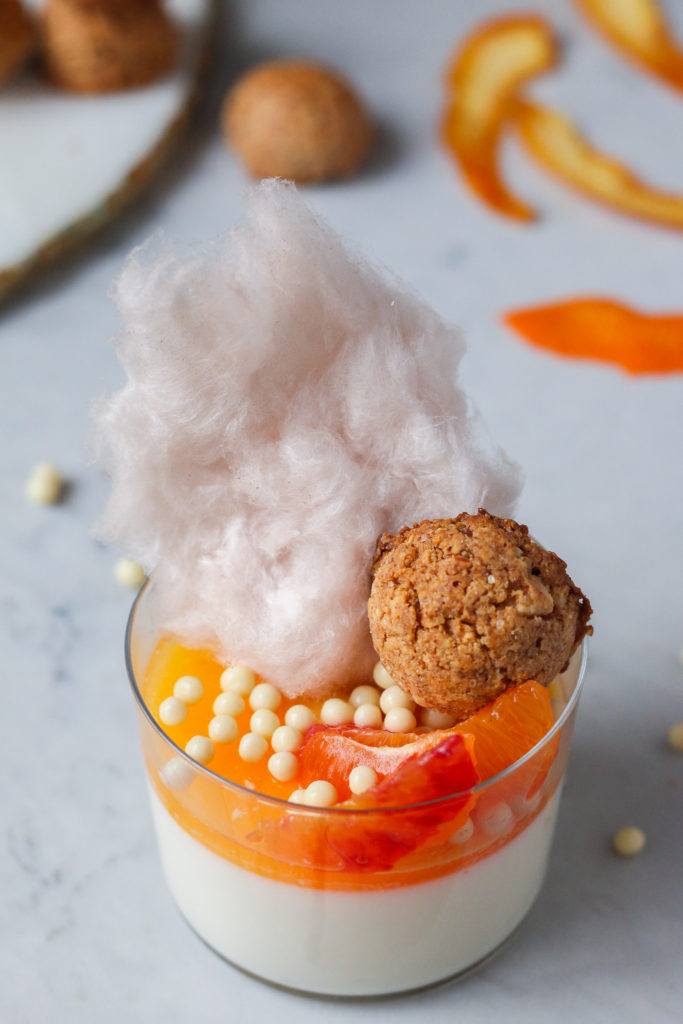 One of my favorite panna cotta recipes is with espresso and blood oranges.  I've made many varieties and this is one of our favorite ones.  White chocolate panna cotta with blood orange gelee. If you recreate this recipe, please tag me and let me know how you like it.
Where to buy:
Chocolate pearls – Here

white chocolate espresso panna cotta with gluten almond cookie crunch
This white chocolate panna cotta is smooth silk and perfect for any occasion. It's sweetened with white chocolate, the blood orange gelee adds a touch of citrusy flavor and the amaretti cookies add a great crunch.
Ingredients
White Chocolate Panna Cotta
1 pint or 16 oz or 2 cups heavy cream
½ cup milk
1 cup white chocolate roughly chopped or chips
¼ cup caster sugar
3 sheets 6 gms – 0.2 oz. of gelatine or 2 tsp of gelatine powder
2 tbsp baileys irish cream or coconut rum
½ vanilla bean, the beans scraped off
Blood Orange gelee
1 cup blood orange juice
1 tsp gelatine or 1 sheet of gelatine
For the amaretti cookies (small-batch recipe):
6 tablespoons granulated sugar, plus more for dusting
13 tablespoons plus 1 teaspoon almond flour
1 egg white
½ teaspoon almond extract
for garnish
Instructions
Put the gelatine sheets in ½ cup of water or gelatin powder in a bowl with little cold milk for 10 minutes or until soft.
Put the cream, milk and sugar in a pot and cook it on a slow fire until the mixture boils.
Remove from the fire and add the chopped chocolate. Mix well until melted.
Now squeeze the excess water from the gelatine sheets and add them to the hot chocolate cream. Mix well until completely incorporated. Add the baileys irish cream and vanilla bean and bring it to a simmer stirring continuously for about 3 minutes. Turn off the heat.
Let it come to room temperature, and every couple of minutes keep mixing so it doesn't set. Pour into the glasses you want to serve in. And refrigerate it overnight or 4 hours minimum
The Orange Gelee
Add the blood orange juice and gelatin and bring the mixture to a simmer. The gelatin should be completely dissolved. Turn down the heat. Let it cool for a bit.
Pour it over completely chilled and set panna cotta. Make sure to pour it gently on top. Now refrigerate it for another 2 hours.
Amaretti Cookies
To make the amaretti cookies:
Preheat the oven to 350F and line a baking sheet with parchment paper.
Place the granulated sugar in a food processor and process on high until for about 30 seconds to make the texture more fine.
Add in the almond flour and pulse to combine.
Add in the egg white and almond extracts and pulse until a smooth dough forms.
Scoop teaspoons of the dough onto the lined baking sheet and dust with more sugar. Bake for 25-30 minutes or until the cookies have turned light brown. Turn off the heat, leaving the cookies to cool and crisp up in the oven for an additional 2 hours.
Serve chilled with any garnish you like, and with the cookies on the side.
*Please do tag me on Instagram @foodfashionparty if you make this, using the hashtag #foodfashionparty.  Check out my book MASALA AND MEATBALLS.
Stay in touch for more delicious food on Instagram and Pinterest. Follow on Snapchat (@ashfoodfashion) for daily doses of food.*